A Cremora tart or coffee creamer tart is one of our favorites down here in South Africa.
It's a really smooth, sweet and absolutely delicious fridge tart that will leave you wanting seconds. I've made this on a number of occasions and everyone always loves it.
Apparently some people struggle to get a coffee creamer tart to set, however, this recipe is infallible and I've never once had any problems with it not setting, it's probably the easiest coffee creamer tart you'll ever make! Try it out and let me know what you think!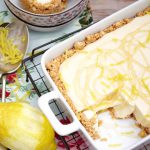 Ingredients
500 grams or 17.64 oz Cremora (or your favourite coffee creamer powder such as Coffee Mate)
2 Cans of Condensed Milk (14 oz)
2 Teaspoons vanilla flavouring
1 Cup Lemon Juice
2 Packs of Tennis Biscuits or Graham Crackers
1 Can (432 gram or 15.25 oz) of Crushed Pineapple in pineapple juice
Instructions
Separate the crushed pineapple pieces from the juice with a strainer.
Mix the pineapple juice, condensed milk and vanilla together with a spoon or spatula.
Add the cremora to the mixture and whisk for 1 minute with electric mixer.
Add the lemon juice and crushed pineapple pieces to the mixture and mix with a spoon or spatula.
Arrange the biscuits into a square or round tart dish for the crust (line the bottom and sides of the dish) and pour the mixture inside.
Let set in the fridge overnight.
Notes
If you have some biscuits left over that wasn't used for the crust, you can crush them and sprinkle them on top to make the tart look more presentable. Alternatively you can also decorate the tart with your favourite fruit, or a drizzle of honey and lemon zest.
And that's it! Hope you enjoy and if you tried the recipe do let me know what you think of it!
Also if you have any questions or comments please feel free to leave them below – I would love to hear from you!
---
*Image from PNP