Unless you've been living under a rock these past few years, you probably know that unicorn desserts are incredibly popular right now. And it's easy to see why.
Unicorn Desserts
Magical, colorful and tons of fun, you simply cannot go wrong with unicorn desserts. And no, it's not just for the children. We even got one of those adorable unicorn cakes for my sister's 24th birthday!
1. Unicorn Ice Cream
This unicorn ice cream is magic on a cone!
There's nothing better on a hot day than rainbow ice cream that's covered in star sprinkles and glitter!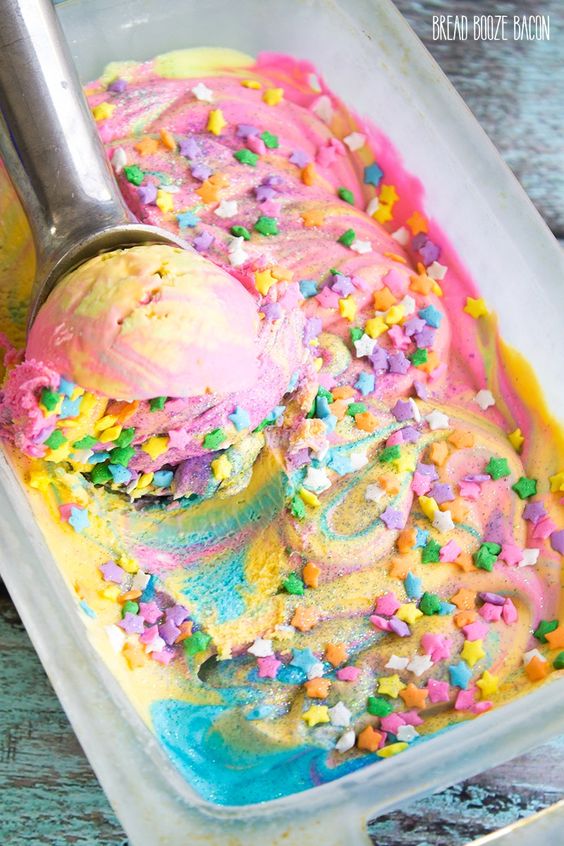 Found from breadboozebacon.com
2. Glitter Chocolate Bars
Unicorn colors, glitter and chocolate. Could there be anything better?!
Just make double sure that you use edible glitter!
Found from studiodiy.com
3. Unicorn Milkshake
These unicorn milkshakes are pure MAGIC!
A rich, thick strawberry milkshake is topped with a rainbow of different sprinkles and candies to make a delicious drink fit for a unicorn. Plus, learn how to make this cool polka dot glass effect!
Found from sugarhero.com
4. Vanilla Unicorn Sugar Cookie Bars
Colored frosting and lots of sprinkles add a fun flair to these easy Vanilla Unicorn Sugar Cookie Bars.
Making and frosting the cookies in one pan makes them a very easy treat to make and share.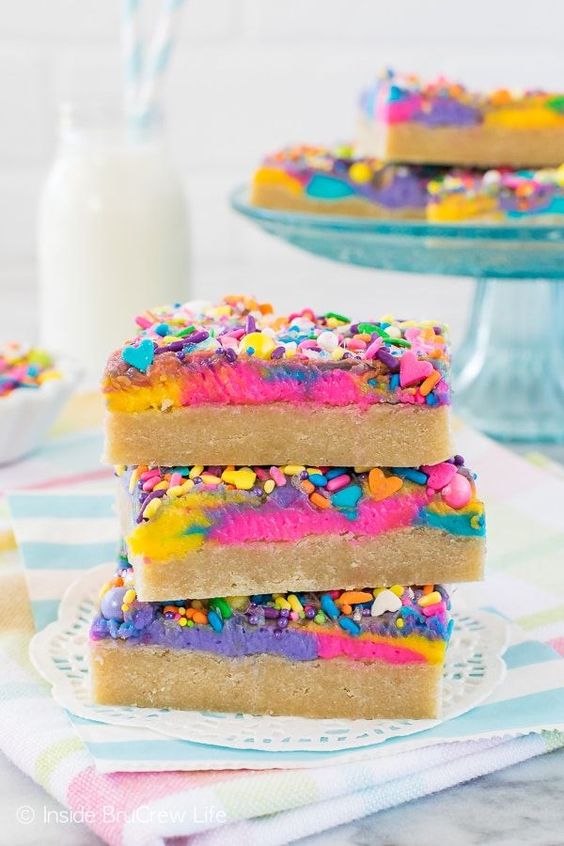 Found from insidebrucrewlife.com
5. Unicorn Macarons
Unicorn macarons are here to stay!
Perfect almond French macarons with pink and blue swirls, topped with as many sprinkles as all of your dreams will allow. Filled with cotton candy buttercream
Found from southernfatty.com
6. Unicorn Poop Cookies
These tri-colored, pastel confections are actually meringue, making them sweet and light as air. What I imagine unicorn poop would actually be like!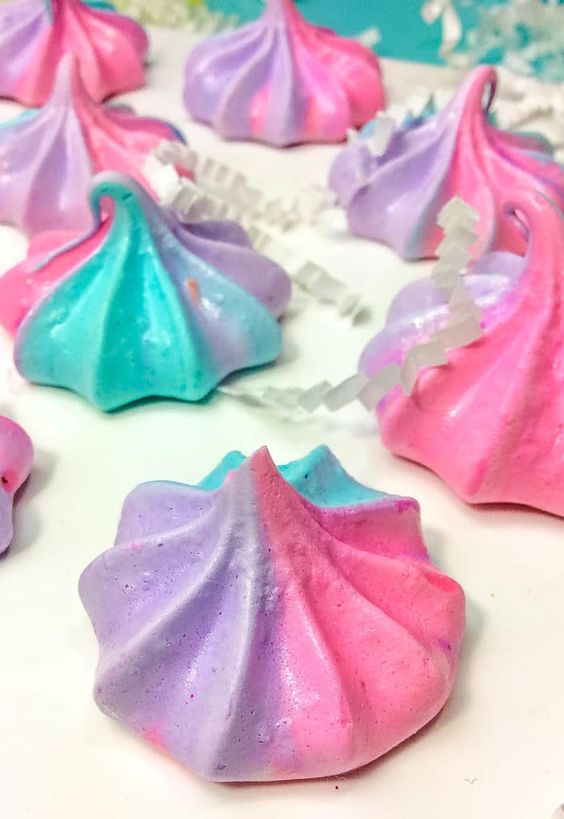 Found from mommymusings.com
7. Rainbow Lucky Charms Munch
This delicious Lucky Charms Munch is an easy snack recipe made with pretzels, M&Ms, white chocolate and lucky charms marshmallows.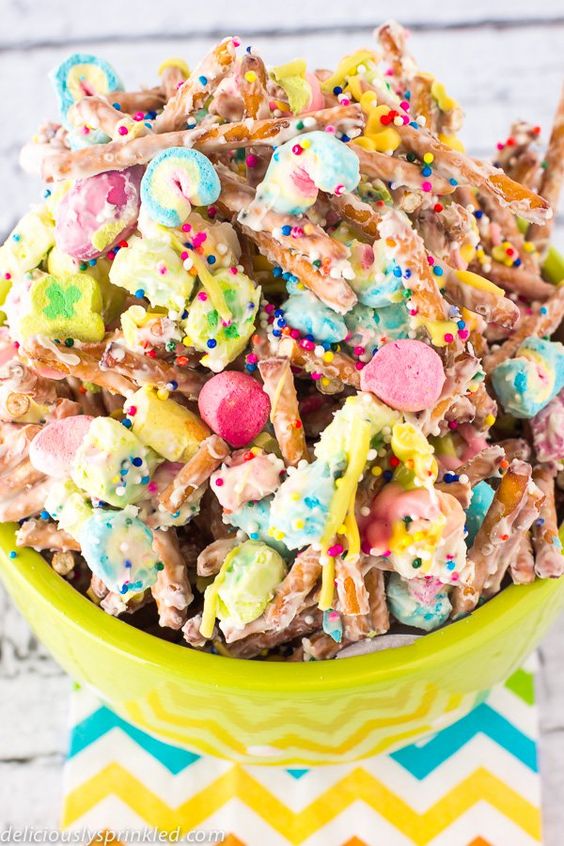 Found from deliciouslysprinkled.com
8. Unicorn Mini Cheesecakes
Light and creamy mini no-bake strawberry cheesecakes in a Lemon Oreo cookie crust, topped with a colorful swirl of whipped cream and an Oreo crown!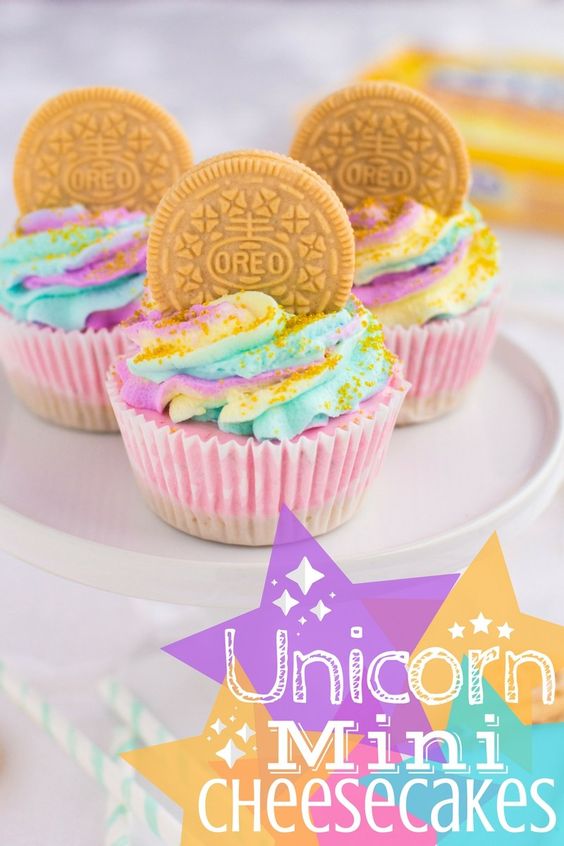 Found from abajillianrecipes.com
9. Cotton Candy Unicorn Party Parfaits
Ride the rainbow craze with this unicorn party dessert made with cotton candy flavor whipped cream, crushed golden Oreos, and Lucky Charms marshmallows.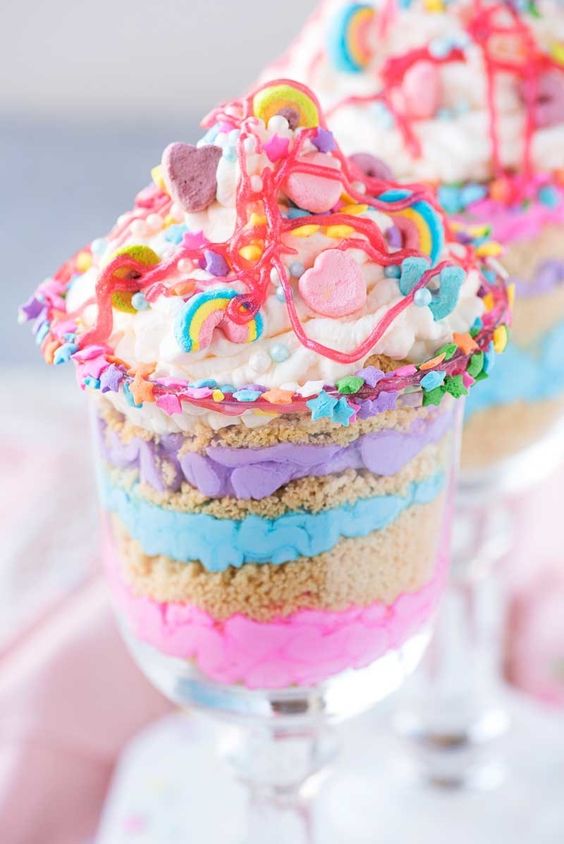 Found from homemadehooplah.com
10. Rainbow Marbled Pop Tart Recipe
This project is not only good for showing you how to make rainbow pop tarts, but you could also use it to make pink pop tarts (or any other color)!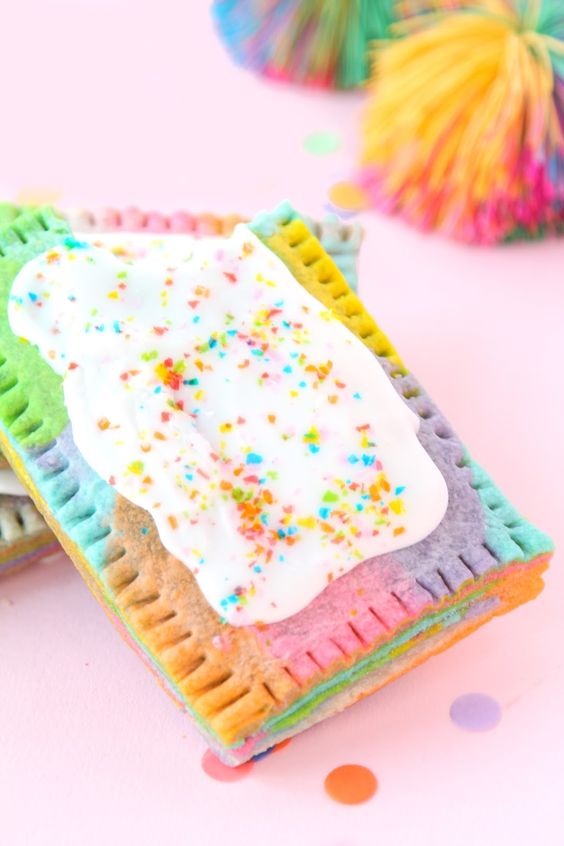 Found from awwsam.com
11. Unicorn Fudge
This Unicorn Fudge is guaranteed to brighten up anyone's day and is great for a birthday party! This fudge will stay fresh for 2-3 weeks in the fridge or 3 months in the freezer.
Found from sprinklesforbreakfast.com
12. Unicorn Funfetti Cookies
One of my all-time favorite kinds of cookies are FUNFETTI!
First of all, sugar cookie dough is so easy to make (so they're perfect for late-night baking). And the addition of tons and tons of rainbow sprinkles just takes them to another level.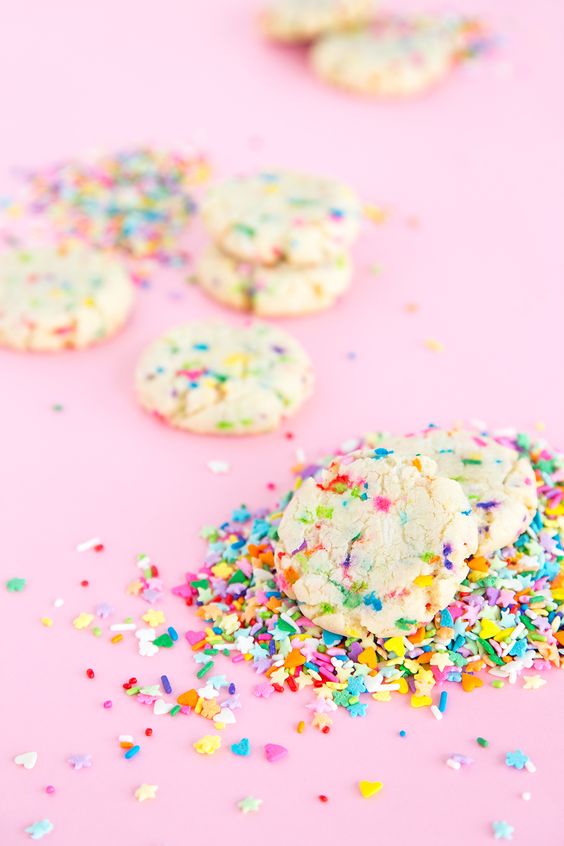 Found from awwsam.com
13. Magical Unicorn Donuts
These colorful and magical unicorn donuts are so easy to make and are sure to be a hit with unicorn fans young and old! Get ready to taste the magic!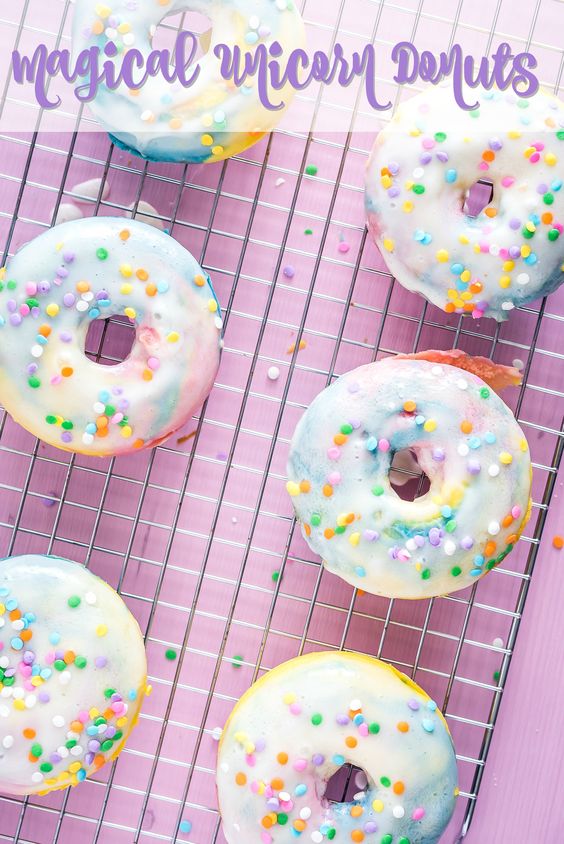 Found from almostsupermom.com
14. Rainbow Unicorn Cake With Twinkie Filling
This whimsical unicorn cake is super festive with its layers of rainbow cake, vanilla frosting, and Twinkie filling!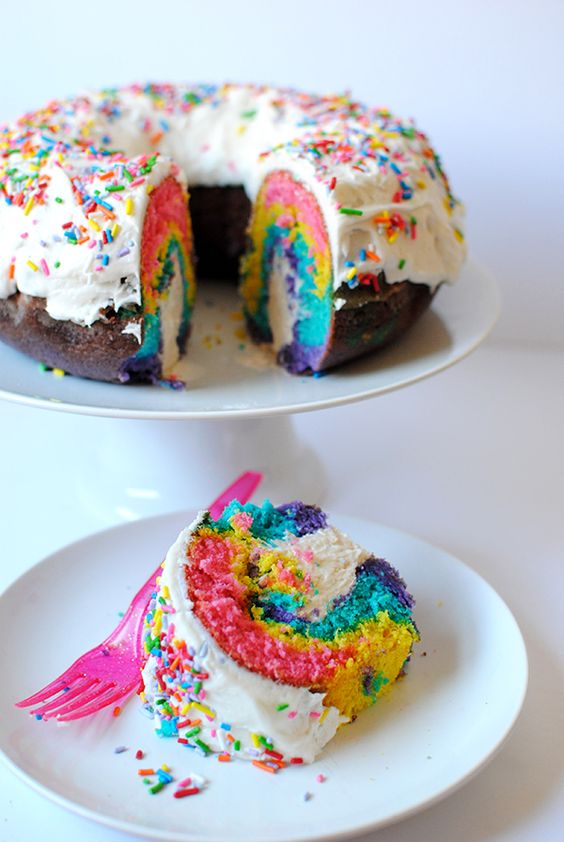 Found from letseatcake.com
15. No Bake Rainbow Unicorn Cheesecake Bars
These creamy No Bake Rainbow Unicorn Cheesecake Bars are loaded with colored marshmallows and topped with sprinkles.
It's the perfect spring dessert for any party or celebration!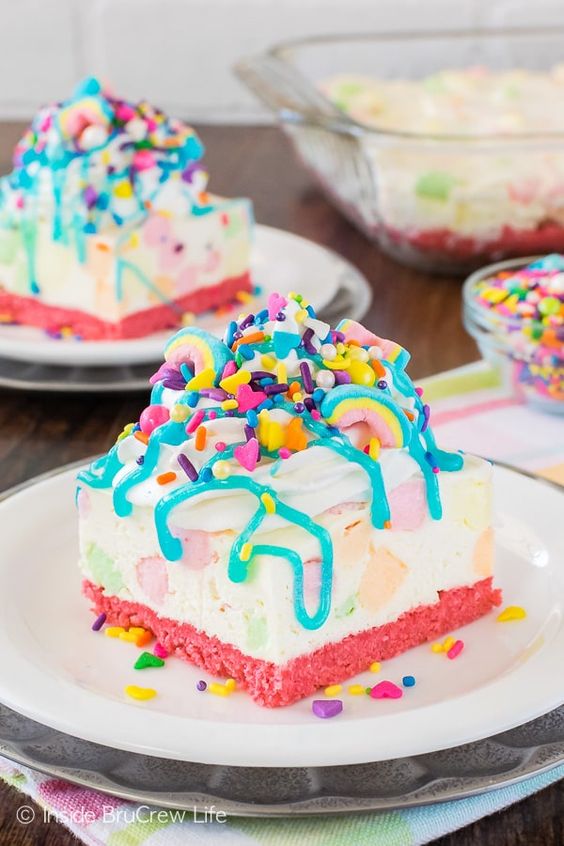 Found from insidebrucrewlife.com
Pin these unicorn desserts for later!
If you don't have time to make any of these unicorn desserts right now but want to try them out later (which you will!), pin it to your unicorn or desserts board on Pinterest.