It's that time of year again. Christmas is around the corner and all the stores are busy busting out their best Christmas decorations. Christmas trees, sparkling lights and gifts all around, the festive feeling is already in the air. So why not plan to decorate your tree this year with some super easy DIY Christmas ornaments?
Decorating your Christmas tree doesn't have to be expensive, boring or typical. If you're tired of using the same old Christmas tree decorations, or if you're just looking to give your tree a personal touch, you should definitely try out some of these completely easy DIY Christmas ornaments. They'll make your tree look super cute and will impress all your family and friends!
Best of all, most of these can be made with items you possibly already have or have easy access to. And if you have children, ask them for a helping hand and make it a fun family activity!
Note: This post may contain affiliate links. Please see my affiliate disclaimer here.
1. Popsicle Stick Sleds
Found from CleanAndScentsible
These popsicle stick sled ornaments are so easy and quick to make! Not to mention they can serve multiple purposes if you get creative. Hang them as ornaments on your tree, use them to decorate gifts or even use them as name tags!
2. Glitter Dust Balls
Found from TheVaultFiles
Add a bit of sparkle to your life (and tree) with these beautiful glitter dust filled balls. It can get a bit messy while making them but they are so fun to make!
If you're looking for clear fillable plastic balls, you can easily get them here. Or if you want to opt for glass balls, you can also get them here.
3. Pom Pom Pinecones
Found from One Little Project
How adorable are these colorful pom pom pinecones?! All you'll need to make these are some pinecones, pom poms, glue and some ribbon or string.
4. Wine Cork Angels
Found from One Little Project
Looking to add some friendly faces to your tree? Then you should absolutely try making these lovely wine cork angels.
If you already have some wine corks saved up, you finally have a use for them! If not, you can also easily get some at your local craft store.
5. Frosty Pinecones
Found from KidsCraftroom
If you're not too fond of the pom pom pinecones, an alternative you can consider are these gorgeous frosty pinecone ornaments. They're perfect for a white, winter themed tree!
If you're in need of some pinecones, you can easily buy them from Amazon here.
6. Rustic Twig Ornaments
Found from SimpleAsThatBlog
If you're looking for a more rustic, down to earth feel for your tree, check out this tutorial that shows how you can make various ornaments from twigs and twine.
7. Photo Keepsakes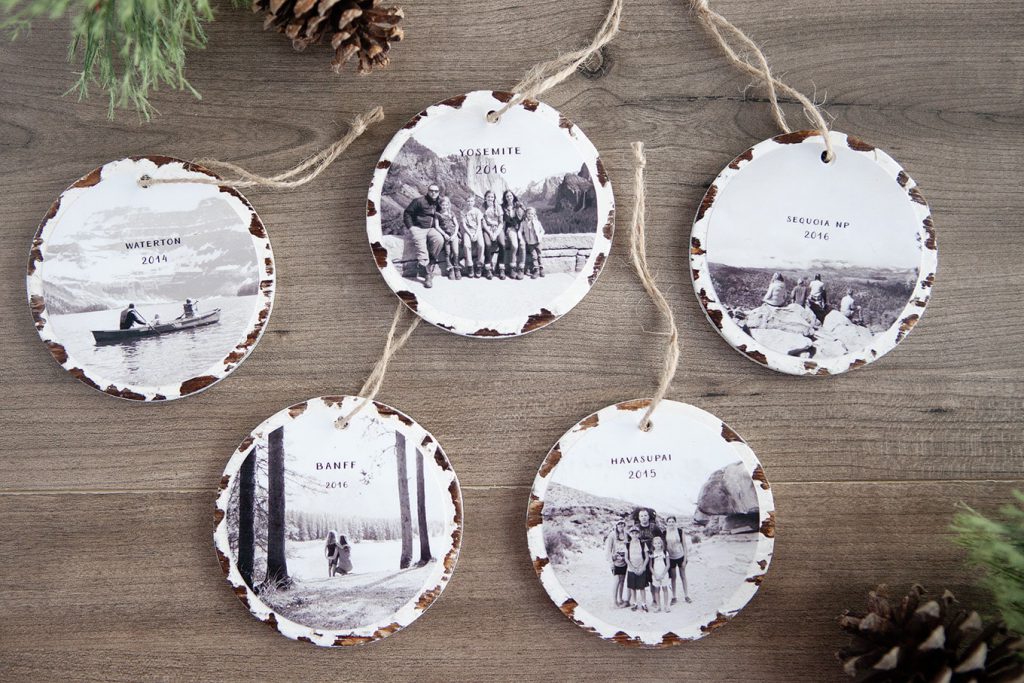 Found from SimpleAsThatBlog
Fill your tree with memories by using some of your favorite photos to make these amazing photo keepsake ornaments. They only take 10 minutes to make and will truly give your tree that personalized touch!
8. Clothespin Snowflakes
Found from KristenHewitt
Got a lot of clothespins lying around? Then try making these creative snowflake ornaments from clothespins! Paint or spray them any color you like to match your tree.
Want to stock up on clothespins? Easily get them here.
9. Mini Woodland Wreath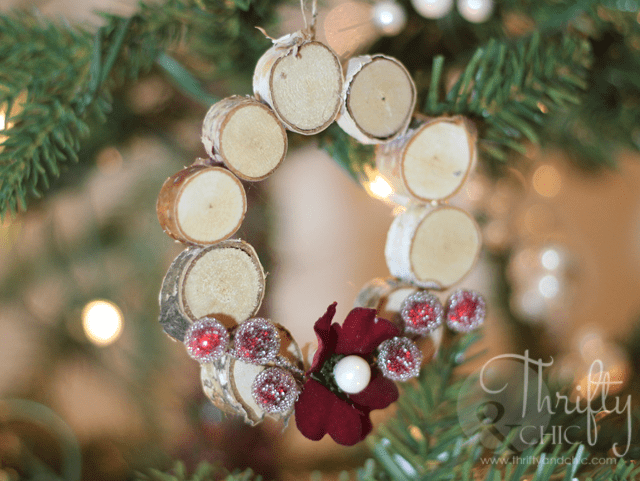 Found from ThriftyAndChic
With a few birch discs that you can get from your local craft store (or backyard if you're lucky) and some glue, you can make this cute mini wreath to decorate your tree.
10. Cinnamon Stick Trees
Found from CraftsUnleashed
How adorable are these cinnamon stick tree ornaments!? Not only will they make your tree look festive, but they'll make your whole home smell amazing too!
11. Wooden Strips Message Ornaments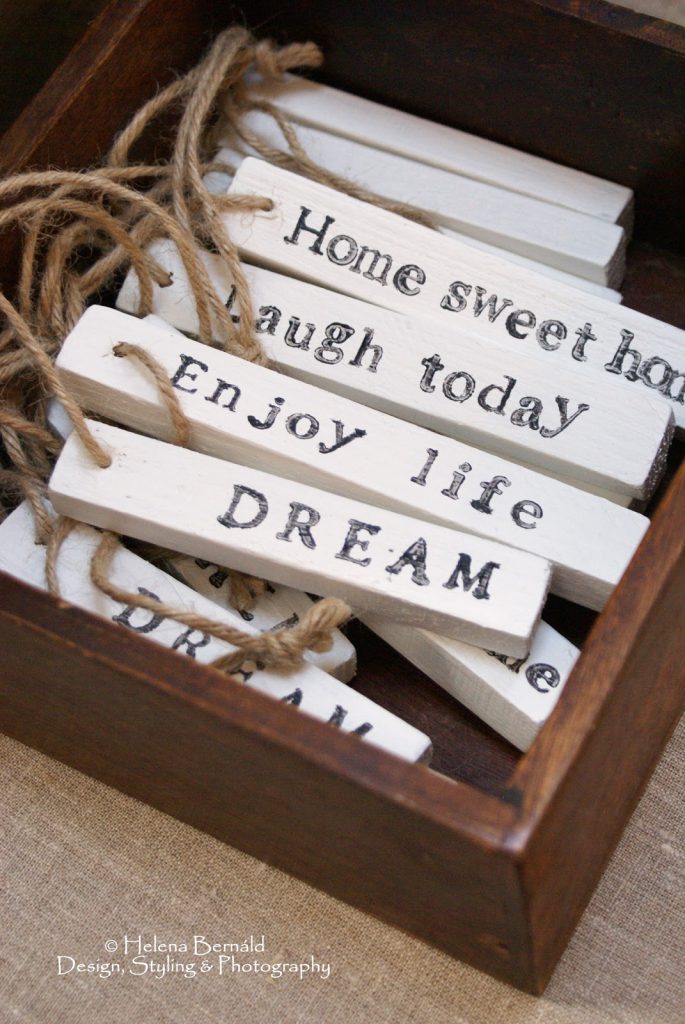 Found from TheSwenglishHome
These wood strips ornaments are so inexpensive and easy to make and will still give your tree that personalized feel. Paint them any color you like and add your very own messages to them.
12. DIY Paper Ornaments
Found from DiyInspired
These paper ornaments may seem daunting to make, but they're actually quite easy and super fun to make if you follow the tutorial linked above. Definitely give them a try if you like paper arts!
13. Mini Pallet Ornaments
Found from LoveCreateCelebrate
Love the look of these mini pallet ornaments. You only need popsicle sticks and some wood stain to stain them if you want to achieve the same look for the pallet.
In this tutorial Lindi uses a Circut Explore to cut the deer shape, but you can just as easily cut out a shape from some fabric with scissors or even paint something on the pallet yourself!
14. Jingle Bells
Found from TheCraftingChicks
Create your own jingle bell ornaments easily with some bells, ribbons, hot glue and silver pipe cleaners. Really quick and easy to make!
Get tons of pretty jingle bells in assorted colors here.
15. Chalkboard Ornaments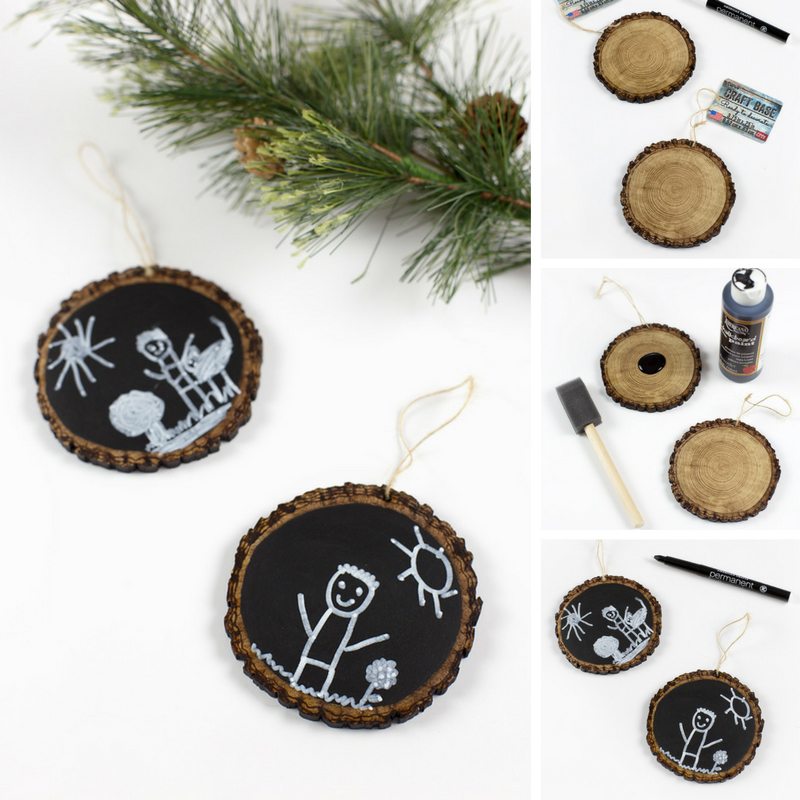 Found from FirefliesAndMudpies
These chalkboard ornaments are so creative and also really easy to make! Get the whole family involved and have everyone draw or write something unique on their own ornaments.
---
So, there you have it! These are some great ideas to create your own easy DIY Christmas ornaments. Do let me know if you try any of them this Christmas or if you have any questions or comments, I'd love to hear from you!