You've probably heard a lot about the Paleo diet in the last couple of years and have heard how many people have had success with weight loss and maintaining following this eating style. Perhaps you're only just beginning your Paleo journey and need some inspiration for meals you can make. For this reason, I've rounded up some of my favorite Paleo recipes for beginners that I hope will help you on your Paleo journey.
Eating Paleo definitely doesn't have to be boring – there's a HUGE variety of foods you can eat. You just need to be creative with your meals. Remember, this shouldn't be like a diet to you but rather like a lifestyle and way of eating. Keeping your meals interesting and yummy truly helps with this.
The Paleo recipes down below are seriously delicious and easy to make. If you want to see the full recipe you can click on the link below each image. Let me know if you like them or not and what your favorite Paleo meals are!
This post may contain affiliate links, see my full affiliate disclaimer here.
1. Paleo Tuna Green Chile Zoodle Casserole
An easy, paleo, zucchini noodle casserole that's Whole 30 approved, high protein, and low carb. Wholesome yet healthy, this dish can feed a family! A great way to use your spiralizer and boost your nutrition.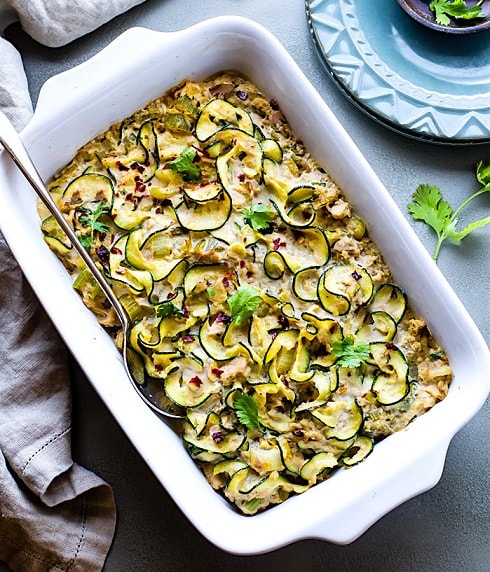 Found from Cotter Crunch
Tip: If you don't have a spiralizer yet, you definitely need one in your life – trust me it's worth it! You can easily get a great one on Amazon here!
2. Oven Baked Bacon Wrapped Chicken Breast
This Oven Baked Bacon Wrapped Chicken Breast has an avocado salsa for a quick and easy, kid friendly dinner that's paleo, keto and Whole30 compliant!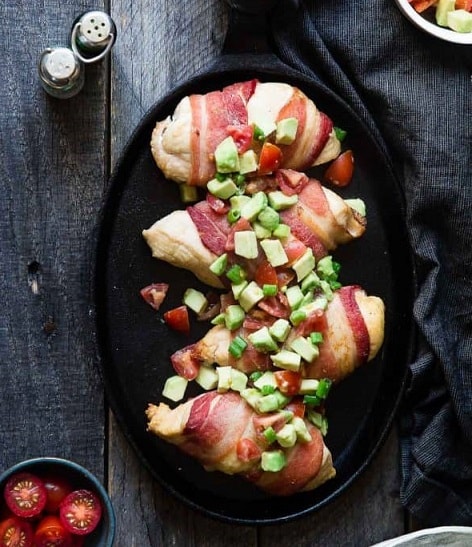 Found from Food Faith Fitness
3. Creamy Bacon Garlic Spaghetti Squash
Easy Whole30 creamy bacon garlic spaghetti squash bake. Paleo, healthy, and easy to make! Get ready to dig into some serious delicious and healthy eats!!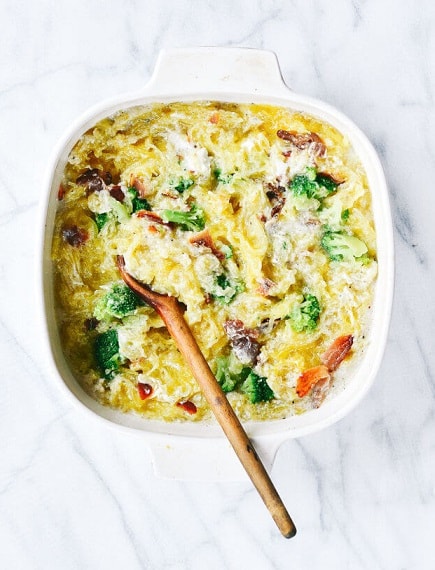 Found from Paleo Gluten Free
4. Cashew Beef Stir Fry
Here is a Cashew Beef stir-fry recipe that pairs well with cauliflower rice. It can easily be doubled to make enough leftovers for lunch the next day or re-purposed into a new meal by adding some vegetables and making an egg frittata out of it.
Found from Cook And Savor
5. Loaded Sweet Potato Fries
These Whole30 loaded sweet potato fries will surprise you with just how delicious they are. With bacon, fried eggs, guacamole, green onions, and garlicky ranch dressing, you'll never feel like you're depriving yourself on a Whole30 with this recipe in your arsenal.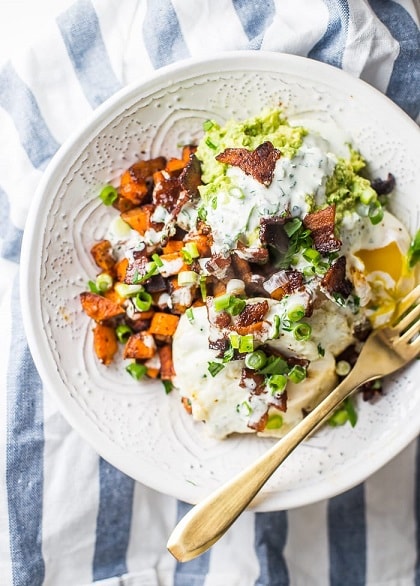 Found from 40 Aprons
6. Slow Cooker Stuffed Peppers
These slow cooker stuffed peppers are so easy to make, only require a couple of ingredients, and can be added right to the slow cooker or assembled and frozen for later.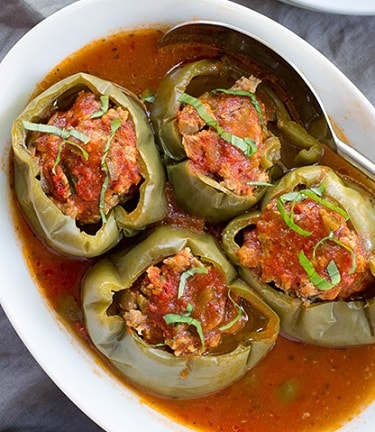 Found from New Leaf Wellness
7. Citrus Grilled Shrimp and Zoodles
Fresh citrus grilled shrimp and zoodles create a light, healthy and super tasty lunch or dinner! A cilantro, lime, and orange vinaigrette acts as both a marinade and dressing for the dish, which can be served warm, or cold, as a zucchini noodle salad.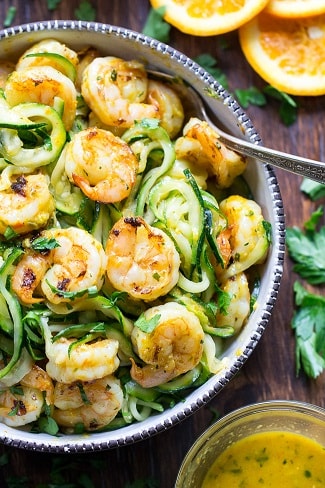 Found from Paleo Running Momma
8. Mushroom Risotto with Cauliflower Rice
Cauliflower rice soaks up the savory flavors of garlic and beef in this Paleo version of risotto!
Found from Paleo Hacks
9. Sweet and Spicy Paleo Chicken Fingers
These paleo chicken fingers are sticky and sweet with just the right amount of spice. They're quick and easy to make, and your whole family will love them!
Found from The Endless Meal
10. Paleo Pizza Soup
This Paleo Pizza Soup is so delicious! Filled with all the flavors of pizza and so easy to make. Gluten free, dairy free, and Whole30.
Found from Jays Baking Me Crazy
---
If you liked this collection of easy Paleo recipes for beginners and would like to keep it close at hand or share it with others, save this pin below to your recipes board on Pinterest.