So, you've decided to take the first step and start a money making blog. It's definitely a decision you won't regret! Blogging can change your life in so many ways. You can earn a full time income, connect with people all over the world, and have a platform to voice your opinions. Whatever your reason – you won't regret it, trust me!
In order to start a blog and get your blog online, you'll need a domain name as well as hosting. The domain name is the name of your blog and the address people will see when they visit your blog – my domain name is blastaloud.com. Hosting is the service that will allow your blog to be visible on the internet.
Now if this all sounds complicated to you, please don't worry! Below I'll show you step by step where and how you can get all these things to get your blog up and running in no time. And it will be much easier than you might think! In fact, you can do all this in 10 minutes or less! And don't worry, you don't have to be tech savvy to do any of these things, you can just follow the steps below! Ready? Okay, let's get your blog set up!
Note: This post may contain affiliate links. Please see my affiliate disclaimer here.
---
Click here to sign up for hosting with Bluehost from as little as $3.95 per month with a free domain name!
---
Step 1: Sign up for hosting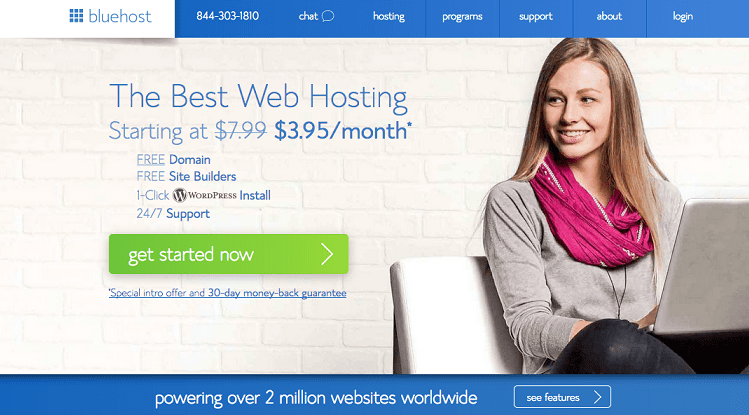 There are many different hosting providers out there, but the number one I recommend is Bluehost, mainly because they make starting a blog super affordable. You can start your blog from as little as $3.95 per month on the basic plan, which is the one I recommend because it has everything you need. And as an added bonus, you'll also get a free domain name if you sign up for a year of web hosting, how awesome is that!? I don't know of any other web hosting that does this, so it's definitely a bargain to get right away!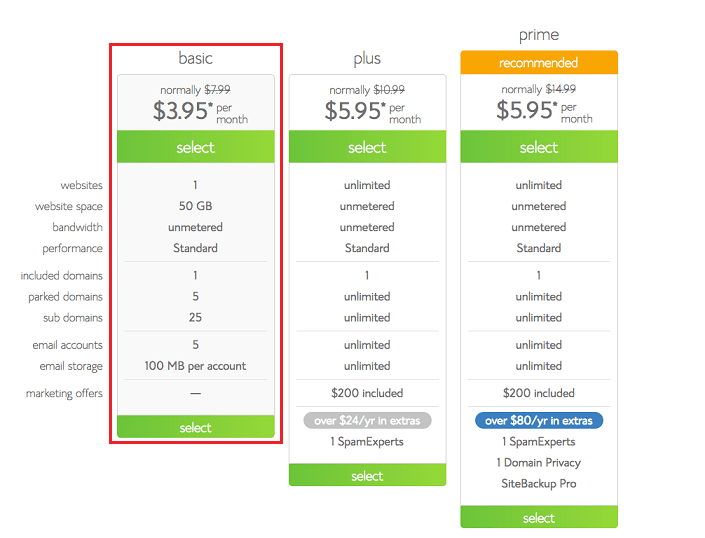 With Bluehost, its really simple and easy to get your blog up and running with WordPress. They have an easy to understand panel and they offer one click WordPress installation, which is what you'll use to start your blog. And if you ever get stuck, they have 24/7 technical support so you'll never have to worry about not having someone around to ask for help!
---
Click here to sign up for hosting with Bluehost from as little as $3.95 per month with a free domain name!
---
Step 2: Choose your domain name
Now that you've chosen your hosting package, it's time to choose your domain name. Bluehost will tell you whether the domain name is available or not.
Choosing a domain name can be a bit difficult at first, especially since there are already so many websites out there. But be patient and try to come up with a list of possible names for your blog, so that you have some backups if your first choice isn't available. When I tried to come up with names for my blog, I probably went through about 15 names that were unfortunately already taken before I decided on this one which was available at the time.
Tip: I'd definitely recommend that you go with a .com domain name, as search engines tend to trust domains ending in .com better. This becomes important later when you start driving traffic to your blog.
Step 3: Complete your personal information
After you've chosen your domain name for your blog, fill out your personal information.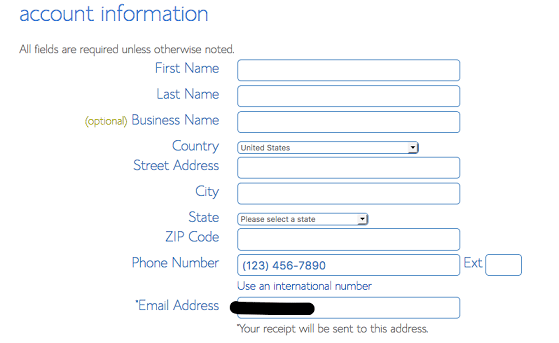 Step 4: Choose the right package & optional add-ons
On this step, it's important to make sure that you have the right hosting package selected. I'd highly recommend that you take the 36 month plan, that way you get the lowest price for your domain and you don't have to worry about renewing it every year. Now guys, its only $142.20 for a whole THREE years, which is an amazing price. I monetized my site in my second month of blogging and made MORE than $142.20 in my third month of blogging (and my income has been climbing each month). So it's definitely an investment that pays itself off really quickly – within the first few months of starting your blog!
On this page you can also select additional add-ons and services for a small fee that's then added to your purchase. The only thing I'd recommend you take here is the Domain Privacy Protection option. This will keep your personal contact information private in WHOIS databases. If you'd like more information on this, you can read about it here.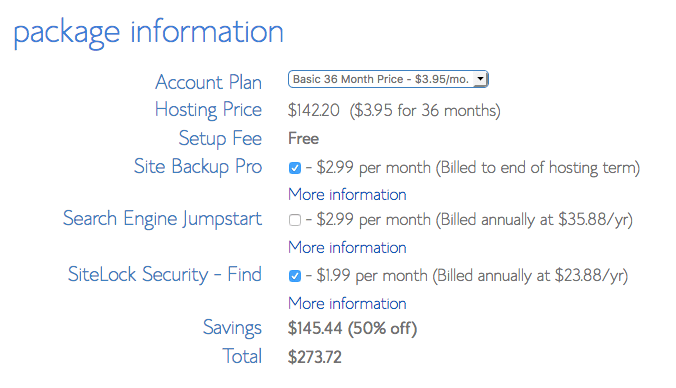 Step 5: Add billing information and password setup
Next, you'll need to add your billing information. Once you've done that, you'll be able to choose the password for your account.
Step 6: Create your account password
Great job for making it this far! You've now created your Bluehost account, so it's time to choose a password. Make sure it's a secure password as this is the password to gain access to all of your site's content! And of course, don't forget this password.

After you've successfully chosen a password, you should see the success show below screen below. Don't stress if it doesn't appear immediately, it can take a minute or so to process.
Step 7: Choose a theme
Bluehost will allow you to choose one of these free themes for your blog. You can choose anyone you like here for now. You can easily change your theme again later.
After you've chosen your theme, you should see the success message below. Go ahead and click "Start Building" to start building your WordPress blog.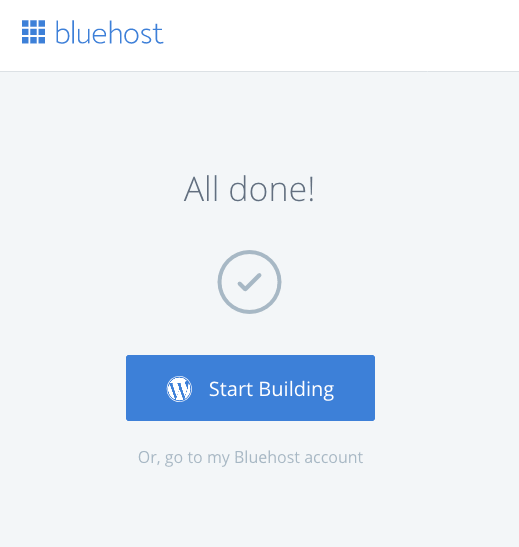 Step 8: Choose your blog type
You'll now be prompted to choose what type of site you want to create. In most cases, this will be a personal site such as a blog, but if it's for your business you can also select that.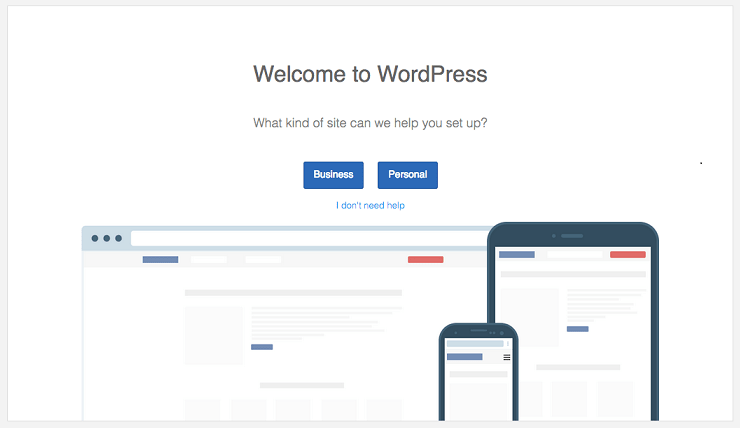 Step 9: Fill in site details
After you've chosen your site type, you should see a screen with an option to launch your site. After you click it, you'll have to fill in your site title and description. The site title will typically be your blog name (e.g. BlastAloud), and the description is just a few words to say what your site is about.
Step 10: Launch your site
After filling in your site title and description, click on "Next Step".
Congratulations! You have just set up your very first blog!
You can visit your site domain name (e.g. mine is www.blastaloud.com) to see what it looks like. Typically WordPress will create a sample page and post for you titled "Hello World". You will be able to delete these and create your own posts and pages.
So, what now?
Now that that your blog is successfully up and running, there are a few things you'll likely want to work on.
Create pages
Before anything else there are two pages I'd recommend you create: An "About" page and a "Contact" page. The "About" page is just a page with a little bit of background about you and the reason you started your blog. This is just for readers to get to know you a bit better. The contact page is where you tell readers how they can get in touch with you. This page can have a contact form on the page and/or include your email address or social media links.
Create posts
Now I've seen a lot of bloggers recommend that you first have to write 15-25 blog posts before you launch your blog and make those posts public. I personally didn't do it this way. Rather, I made my blog public with 0 posts, and published each post as I created it. There was no waiting until I had a certain number of posts before I published them all. I can however understand why some bloggers recommend you do it this way, because if you have plenty of posts, you'll have more content for readers to go through. I didn't really find that it made much difference, so I think it's up to your personal preference.
Find a theme you like
You don't have to keep the free theme you chose when you set up your site. You can if you want to though. There are some premium themes that give you a lot more functionality and ways of customizing how your site looks. I found my theme on ThemeForest for $49. Of course, you can always use a free theme at the beginning and upgrade to a paid theme later if you want.
Get traffic
Once you've got your basic pages and a couple of posts available on your website, it's time to start focussing on traffic. When your blog is still new, you can't really rely on getting traffic from Google. But one platform that can bring in a lot of traffic is Pinterest. It's what I use to drive traffic to my blog and it works like a bomb, trust me!
Monetize
When you have enough content on your site to keep users interested and you're starting to get a bit of traffic, then it's time to start thinking about monetizing your site.
Now there are lots of ways to do this. The easiest, and quickest option is running ads on your website. As a newbie blogger I'd recommend you sign up for Google AdSense as they don't have strict requirements in regards to the number of page views you need a month.
Another way to monetize your site is through affiliate marketing, such as with Amazon. This way you can promote products/services on your site and you'll receive a small commission whenever someone makes a purchase using your link.
Don't give up
Now guys, this is really important. Do not give up! There will be days where you feel overwhelmed, frustrated or even just too lazy to work on your blog. But don't give up. That's the only way your blog will be successful. And the sooner you start, the sooner you will get there. So start a money making blog today!