With Independence Day coming up, many people are already starting to think about 4th of July decorations and crafts to make.
Whether you're hosting a party or barbecue, or just want to add a festive touch to your home, these easy DIY 4th of July decorations are perfect to celebrate Independence Day.
Patriotic 4th Of July Decorations And Crafts
There are many crafts you can make to decorate your home for the 4th of July that won't require you to spend a lot of money.
From paper garlands to candles to patriotic wreaths, I hope this list will inspire you and give you some ideas of how you can decorate your home to celebrate America.
To see the full tutorial for any of these crafts (if available), please click on the link below each image.
This post contains affiliate links, which means I earn a small commission – at no extra cost to you – if you purchase something through one of my links. Please see my full affiliate disclaimer here. 
1. Paper Star Garland
This paper star garland is available from Etsy but is easy and simple enough to make yourself.
You just need some paper stars and some string, then you can sew the string through the stars. You could also glue two stars together around the string to get the same result.
Found from Etsy
2. Patriotic Clothespin Wreath
If you're looking to make a wreath for your door for Independence Day, this one is really easy to do and only requires a few supplies.
Found from Home Crafts By Ali
3. Patriotic Paper Chain
Another inexpensive paper craft you can make that will add a patriotic touch to your home. It looks adorable hanging from a mantle, dessert table or even as a party backdrop.
It's also the perfect craft to make with children as a fun activity that everyone can enjoy.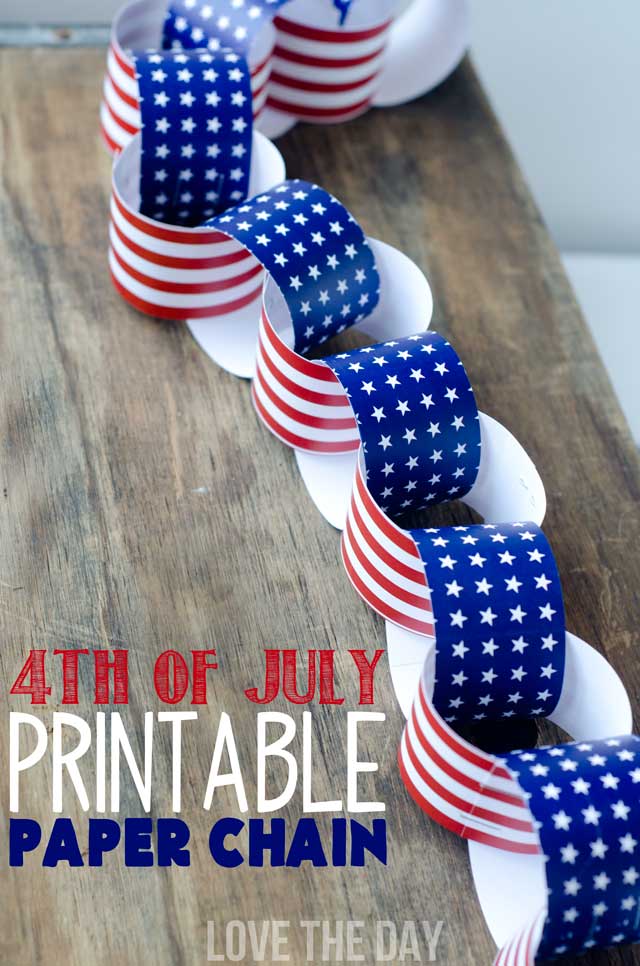 Found from Love The Day
4. Painted Lawn Stars
Okay, this is not really decor per say, but I think this is such a creative idea if you're hosting a 4th of July party or barbecue and have a big lawn. It will really add to the fun and excitement of an Independence Day celebration.
The paint the author used is construction marking paint intended for grass which you can find at any home improvement store. The paint will NOT kill the grass but it is permanent. This means you will only get it off by letting the grass grow out and then mowing it off (worth it in my opinion).
Found from The Concrete Cottage
5. Star Candles
If you've got some plain white candles you can turn them into these star candles for minimalist Independence Day decorations.
Just get some blue and red star stickers and white candles and you're good to go!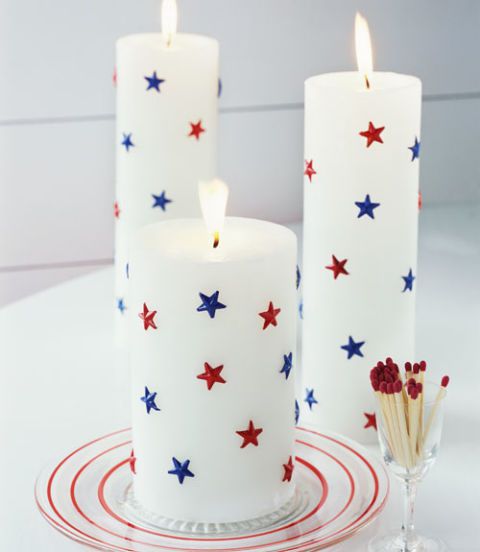 Found from Good Housekeeping
6. American Flag Pillow
To create this flag pillow, the author used an old sweater with an embroidered American flag and turned it into this cute pillow cover.
You can also recreate this look with a blank white pillow by sewing or by gluing a small American flag onto the pillow.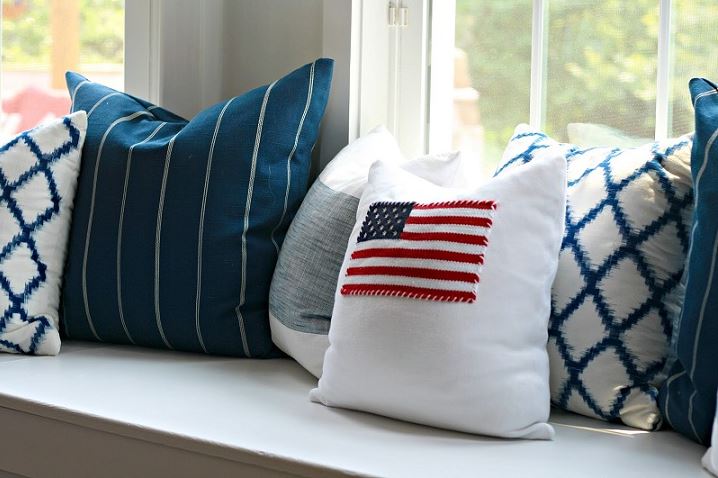 Found from Thrifty Decor Chick
7. American Flag Mason Jars
Adding some 4th of July spirit to your home can be as easy as jazzing up a couple of mason jars!
You can paint your mason jars or just add the American flag to them and then use them however you like. I would put flowers in them!
Found from Our Unexpected Journey
8. Pallet Flag
With some paint and a wooden pallet, you can easily recreate this wooden pallet flag for your front porch.
Of course, you don't necessarily have to use a large pallet to do this. You can also do something similar with a smaller pallet and hang it on your door or wall for some 4th of July decorations.
Found from Saving By Design
9. Easy Patriotic Centerpiece
You can make this celebratory 4th of July centerpiece in a couple of minutes once you have all the items. You just need a mason jar, some rice, a couple of star picks and small flags to create this centerpiece.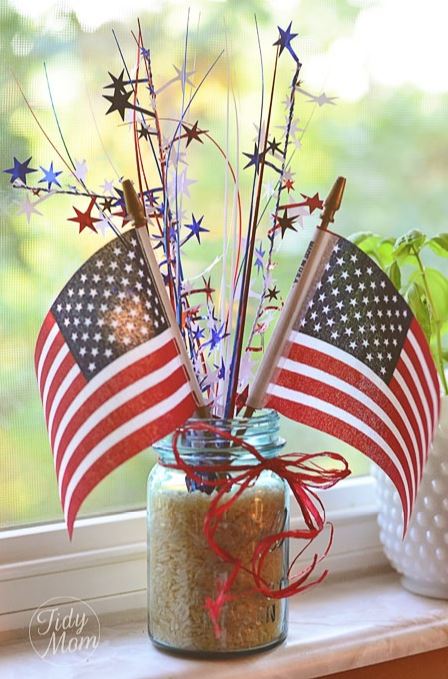 Found from Tidy Mom
10. Patriotic Shutter
You can decorate your home, yard or front porch with this easy to make patriotic shutter.
You'll need an old shutter, some tape and spray paint of the correct color. If you want to soften up the edges you can also drape some burlap and ropes over it like the author did in this case.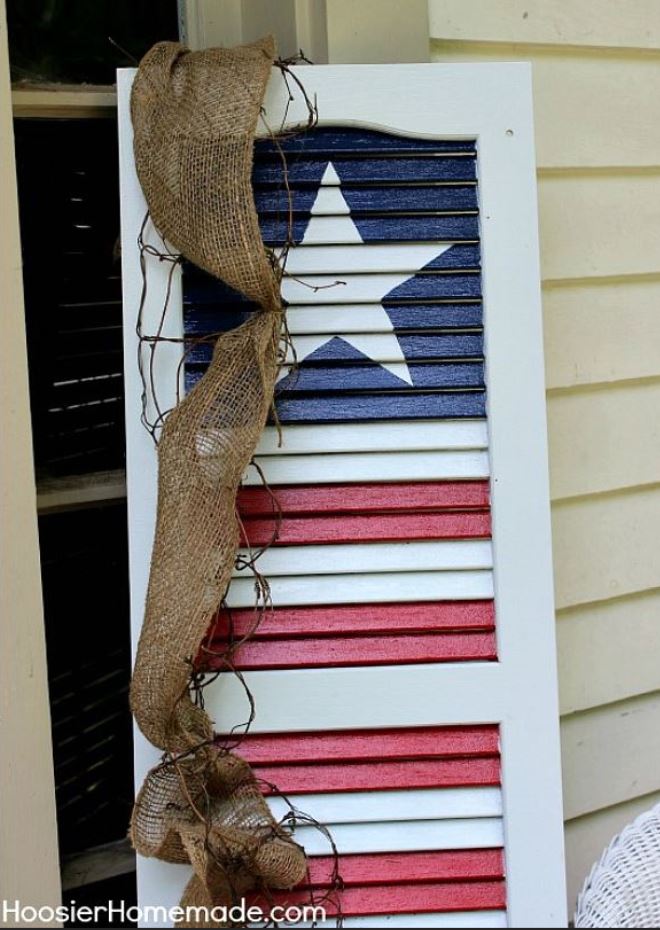 Found form Hoosier Homemade
Want to make some of this 4th of July decorations later? Pin it to your Independence Day decorations board on Pinterest!