Okay, so today I thought I'd tackle my linen closet. Who would've thought that a small closet like that could become so messy and unorganized so quickly? Unfortunately, it happens all the time. Luckily with a little help from Pinterest, I found some great linen closet organization ideas that not only organize your linen closet but also makes it look beautiful.
Beautiful Linen Closet Organization Ideas
When you're doing laundry and cleaning up your home, it's often so easy to just shove anything into your linen closet.
And after a while, it becomes so cluttered that you don't even want to open the door. You know that once you do, various blankets, towels, sheets, and whatnot will come flying out at you.
If you've been avoiding tackling your linen closet, then it might be time to get down to business. And I've got some help.
With these linen closet organization ideas, you'll be able to organize your linen closet and keep it organized for good this time.
Whether your linen closet is small and narrow or big and wide, the ideas below are some of the best I found online. Use them as a source of inspiration to get your linen closet back in shape.
---
This post contains affiliate links, which means I may receive a small commission – at no extra cost to you – should you purchase something through one of my links. For more information, please see my affiliate disclaimer.
---
1. Organize with decorative baskets and bins
You can use baskets and bins to group similar items together, making it easier to find something when looking for it.
It also helps to conceal some items which you do not necessarily want to see each time you open your closet, like cleaning supplies and toilet paper.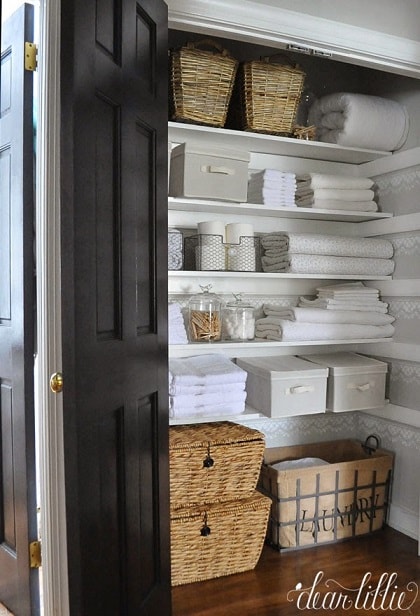 Image from Dear Lillie Blog
2. Creative extra storage with an over the door organizer
If you've got some space in your linen closet, you can add an over the door organizer to create even more storage space.
Use this storage to store smaller items that you need more often so that they'll be easier to grab.
Image from Amazon
3. Roll your towels and/or blankets
Maximize your space by rolling your towels and blankets and stacking them on top of each other instead of folding them.
You can keep similar colored towels together to create a more cohesive look and feel.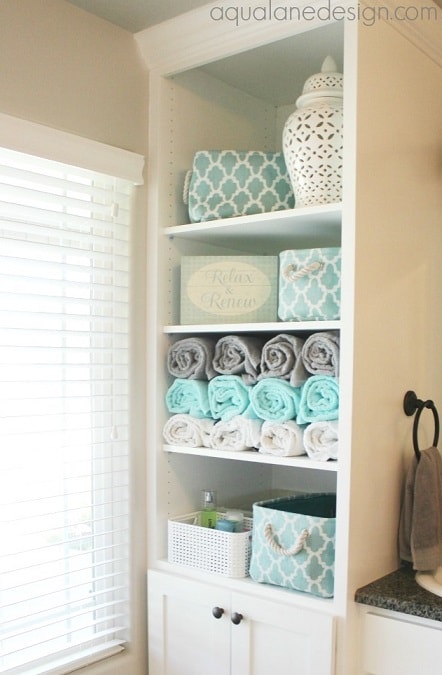 Image from Aqua Lane Design
4. Label your storage containers
If you're using baskets and bins for storage, you might find yourself looking through a number of them to find the item you want.
Adding labels to your storage containers can help you find items quicker and will help make sure that you store items in the correct containers going forward.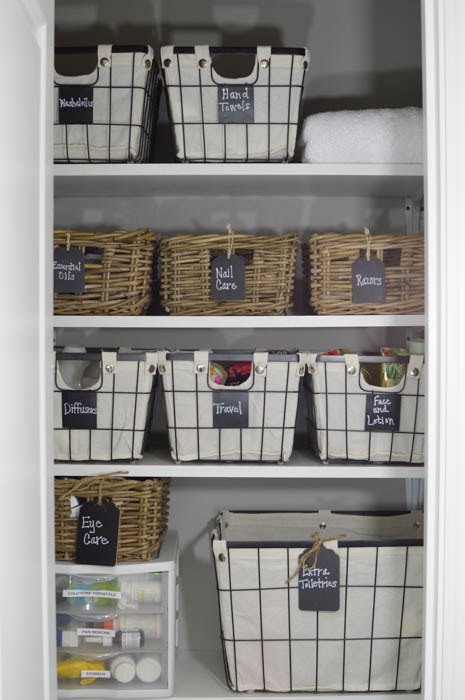 Image from The Simply Organized Home
5. Add a cute curtain
Add a small curtain to sections of your linen closet if you don't want the items stored there to be immediately visible.
This also helps make your linen closet look neater and will help you hide sections that you don't find aesthetically appealing.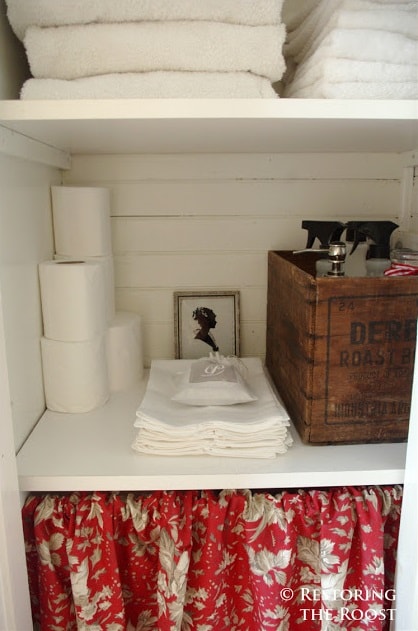 Image from Restoring The Roost
6. Use wire baskets or clear containers
If you don't want to label containers in your linen closet, another solution is to use clear containers or wire baskets.
This also makes it easy to find what you're looking for as you can see exactly what you have and what goes where.
Image from Simply Organized
7. Store sheets in pillowcases
Fold your sheets and insert them into their matching pillow cases before storing them in your linen closet.
This is a quick and easy way to make sure that all your sets always stay together.
Image from Lemons Lavender And Laundry
8. Add towel bars
Add towels bars to the inside of your linen closet door to store sets of clean and ready to use towels.
This will make it easier for guests to find the towels they can use for their next shower.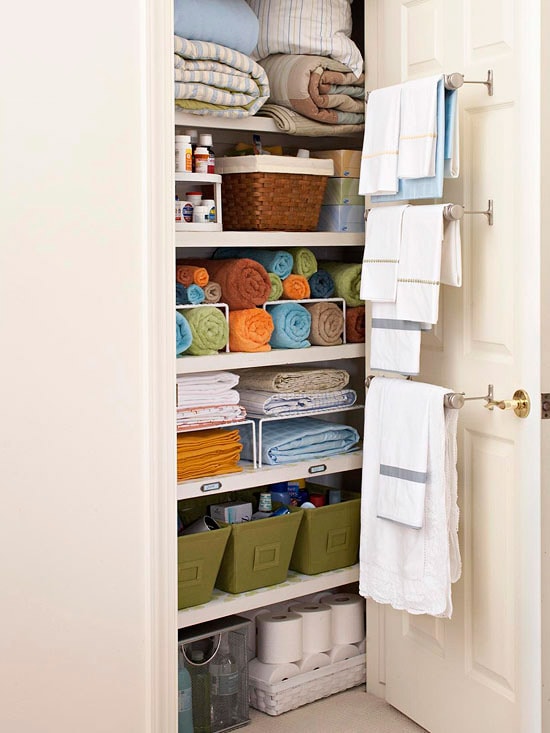 Image from BHG
9. Use a hamper
Add an elegant hamper at the bottom of your linen closet to store used linens, rags, and towels.
This keeps everything out of sight until laundry day.
Image from A Mrs Among Magnolias
10. Shelf dividers
You can also use shelf dividers to keep items separate on your linen closet shelves.
Image from Amazon
---
Related organization tips & hacks:
Pin these linen closet organization ideas for later!
If you've been avoiding your linen closet because it's unorganized, it might be time to declutter and finally get it organized.
I hope these linen closet organization ideas will inspire you to do just that.
And if you don't have the time just yet but would like to get back to these ideas later, please pin one of the images below to your organization board on Pinterest.