There's no denying that a cluttered and unorganized working space can have a negative impact on your productivity. Thankfully there are some pretty useful and creative desk organization ideas floating around on the internet that anyone can implement and recreate!
An organized desk and working space doesn't just help your productivity, but also makes you feel more happy and on top of your game. I've scoured the internet for the best desk organization ideas that you can implement today to help increase both your productivity and creativity.
Clipboard Wall Art
Found from Joann
Instead of piling your clipboards on top of each other and creating a jumbled mess on your desk, hang them on your wall instead! You can even create some pretty covers for your clipboards so they look like decorative wall art!
DIY Clip-On Desk Organizers
Found from Brit+Co
If you've got a small desk with little space, you should definitely give these DIY clip-on desk organizers a try. They can create a ton of extra space around your desk. Use it to store anything from writing utensils and books to flowers and plants to give your desk a personalized touch.
Organization Trays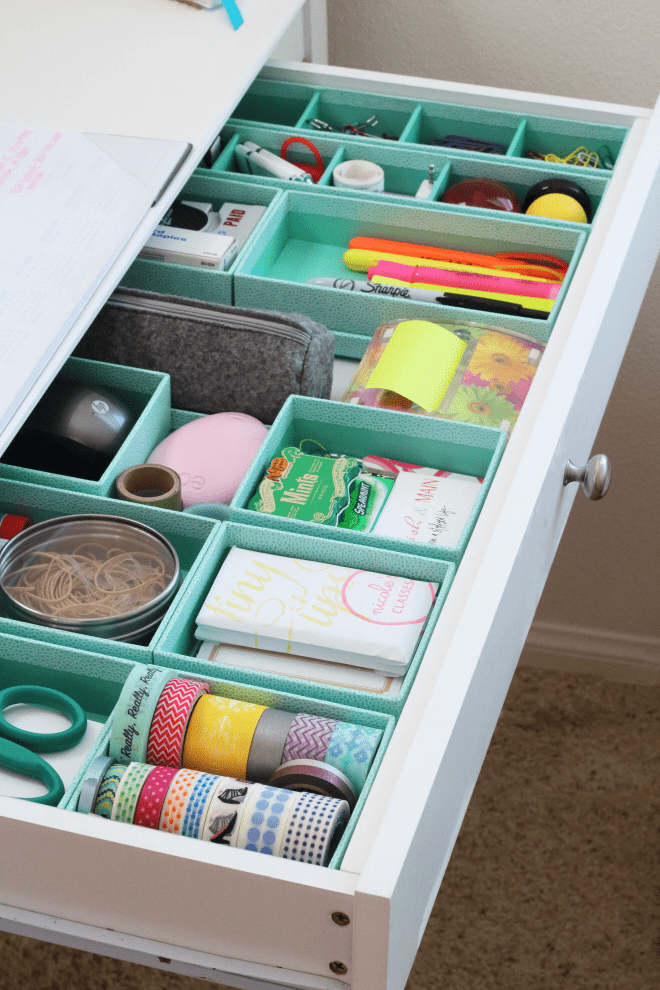 Found from ModishAndMain
Drawers can easily become a cluttered mess when nothing has a designated place. You can create your own organization tray in your drawers with a mixture of office supply holders and boxes. This way you will never have to rummage through your drawers to find something!
Use Clear Containers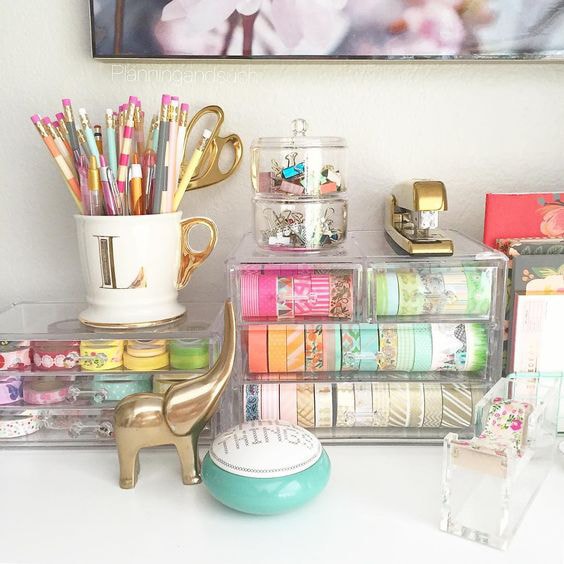 Found from PeachPom
If you use containers on your desk to organize your things, opt for clear containers. Not only do they keep things tidy and in place, they also make it super easy and quick to find something at a glance!
Use A Cart For Extra Storage
Found from TheEveryGirl
If you have a small desk that doesn't have any room for storing items, you can always invest in a separate cart for storing your items. Put it next to your desk to keep items close and easy to reach.
Extra Storage With Pegboards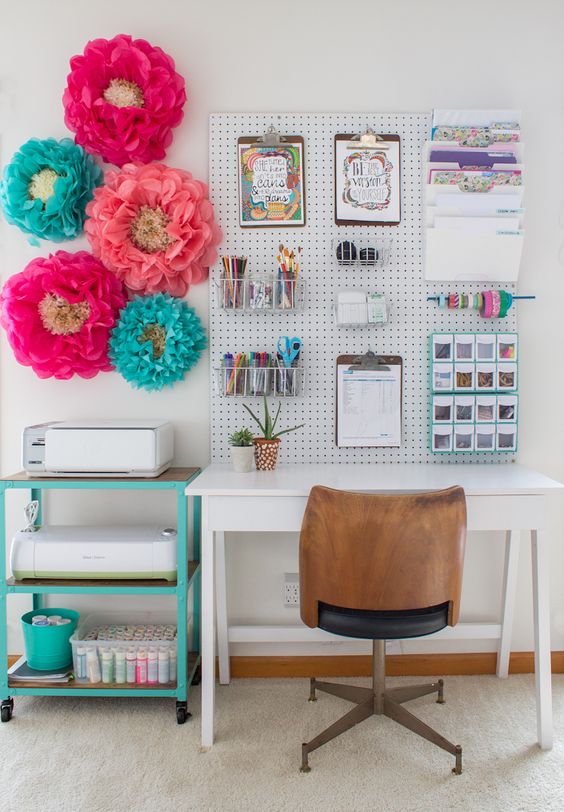 Found from Shelterness
I've said it before, but, pegboards are sooo versatile guys! If you don't have shelves or drawers, you can mount a pegboard on your wall and use it to clip on and hang a great number of things!
Related: Also check out this post to see how you can use pegboards to organize your closet.
Magazine Holders Shelves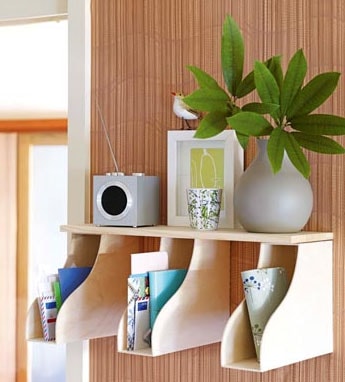 Found from 101DaysOfOrganization
Create shelves from magazine holders to store items such books and papers. Adding shelves above your desk can help remove clutter from your desk and keep things looking clean and organized.
Tin Cans And Mason Jars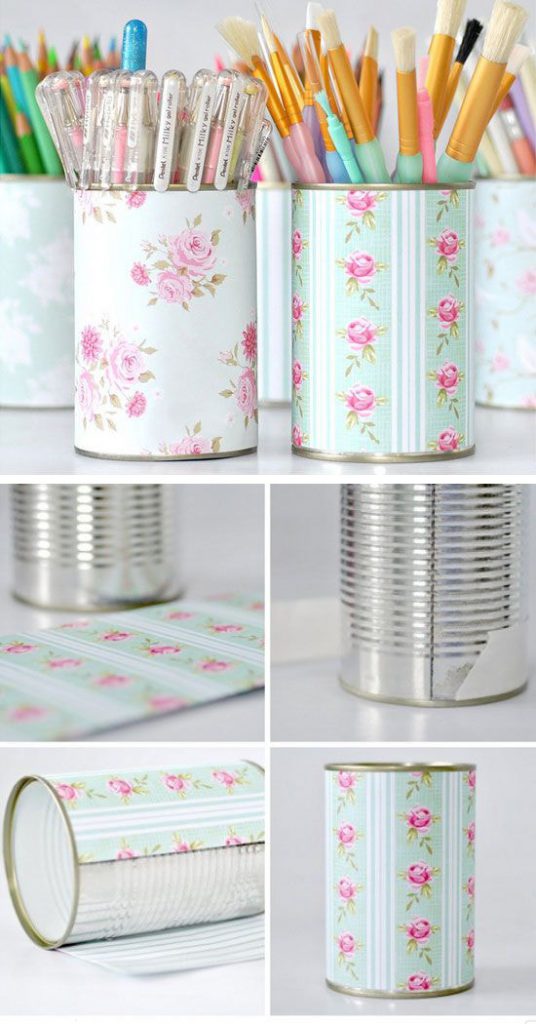 Found from Gurl
Create your very own unique storage containers by utilizing old tin cans and mason jars. Use wall paper, washi tape or anything you'd like to cover tin cans and mason jars to create pretty containers for things like your pens and pencils.
Cork Pencil Holder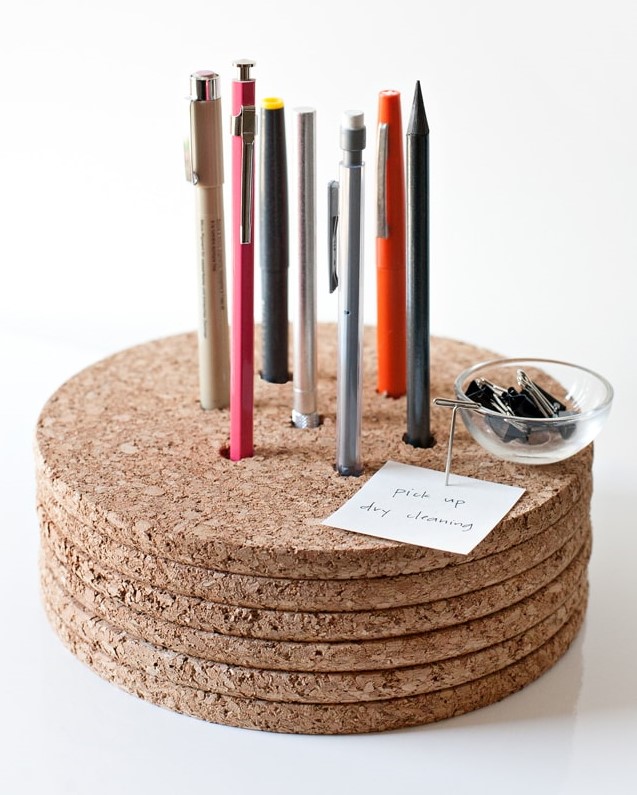 Found from DesignForMankind
These mini cork trivet pencil holders are super functional and can double as a memo board. Keep your pencils and pens organized by creating this DIY cork pencil holder. They are a stylish addition to any desk!
Use a Folder Organizer
Found from PolishedHabitat
Instead of piling your files on top of each other, use a file organizer to instantly clear up space on your desk. Turn a black mesh organizer into a stylish addition to your desk by painting the trims gold.
---
So whether you're short on space or just looking to declutter your desk, you can definitely use some of these desk organization ideas to transform your desk.
Now if you have any questions or comments, please leave them below, I'd love to hear from you!
Don't forget to Pin it for later!