Keeping everything in your home organized can be tough and may seem like a never ending job. If you have lots of things, it can also be hard to find a place for everything in your home. Keeping organized doesn't have to be difficult however, nor does it have to be expensive. If you're looking for creative ways to organize your home, you should definitely try some of these DIY mason jar organization hacks.
I use mason jars all the time in the kitchen for cooking, but they're very versatile and can actually be used for storage and organization too. Let me know if you try any of these and how they work for you!
Note: This post may contain affiliate links. Please see my affiliate disclaimer here.
1. Mason jar bathroom organizer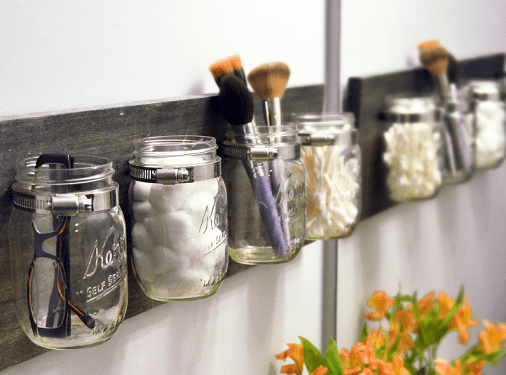 Found from The DIY Playbook
If you have a small bathroom with little space, or if there's not enough space for everything in your cabinet, this bathroom organizer rack will work perfectly for you. Best of all, you can use them however you want!
If you're concerned about dust, leave the the mason jar lids on, there's no need to keep them open at all times. To see the full tutorial on how to do this, click on the link below the image above.
2. Store cupcake liners in mason jars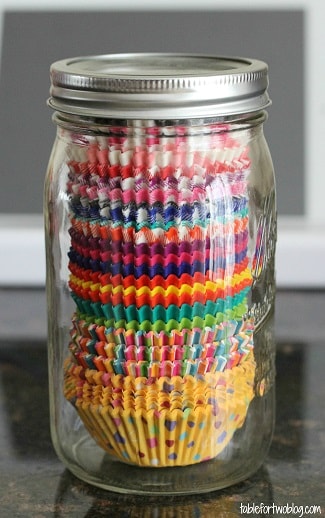 Found from Table For Two Blog
If you have a bunch of cupcake liners lying around, they can actually take up a lot of space by themselves. A genius way to store them and keep them organized is to put them inside a big mason jar. Its super easy to see and get to, and can even double as a cute display on your counter tops.
3. Organize your herbs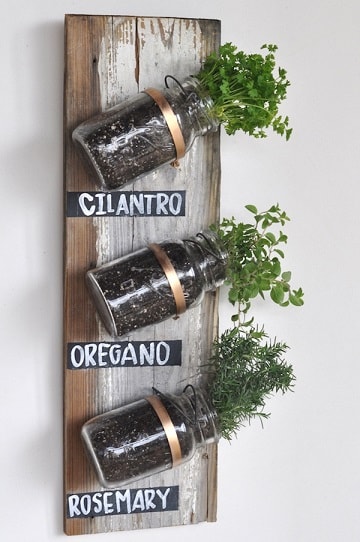 Found from Camille Styles
If you like having fresh herbs around but don't have enough space for them in your kitchen, consider using vertical space on a wall to store them. Not only does it save you space, it also looks awesome!
4. Double your shelf space with mason jar hangers
Found from Kickstarter
The shelves in your pantry is likely not utilizing all the available space. Often, there's lots of space available above the items on your shelf. With this genius method of hanging mason jars, you can actually double your shelf space!
5. Spice organization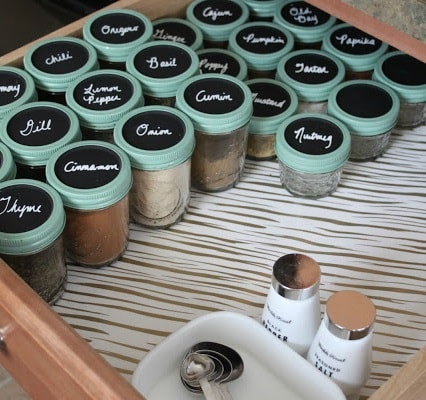 Found from Dwellings By Devore
Keep your spices organized easily by using mason jars. Simply paint or paste some chalkboard paint/paper on the lid for easy labelling.
6. Organize your pantry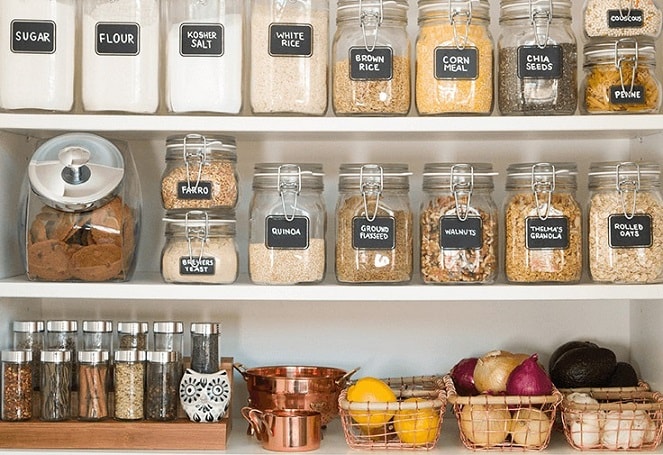 Found from Mrs Meyers
It's easy for a regularly used pantry to get cluttered and unorganized. Use mason jars to store things like grains, nuts, seeds, flours, pastas, cereal etc on your pantry shelves. You can also add labels to the jars to make it even easier to find what you're looking for.
7. Mason jar desk organizers
Found from HGTV
Keep your desk organized by putting all your writing utensils in mason jars on your desk. It looks neat and everything is close at hand.
8. Craft room organization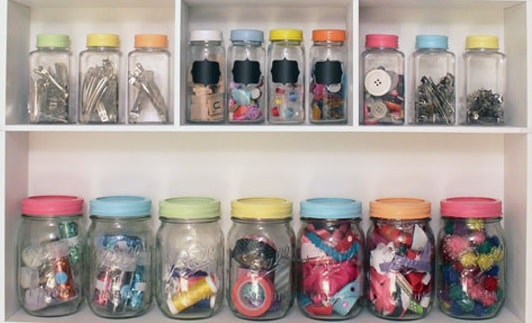 Found from Craftaholics Anonymous
Use mason jars to store all your small craft items. It keeps everything together and you can easily find everything you need because of the clear containers.
9. Kitchen utensil organizers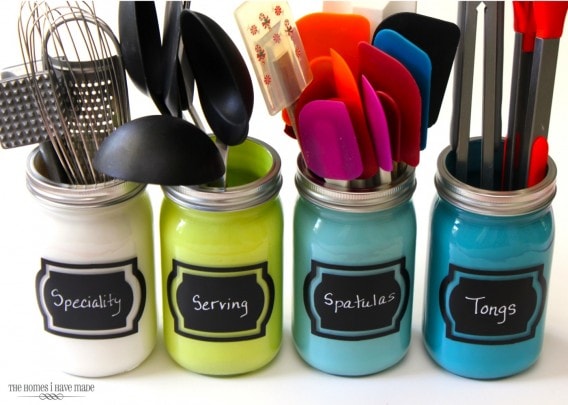 Found from Forrent
Don't have enough drawer space for all your cooking utensils? If so, you should definitely give these cute mason jars organizers a try!
10. Sewing organizer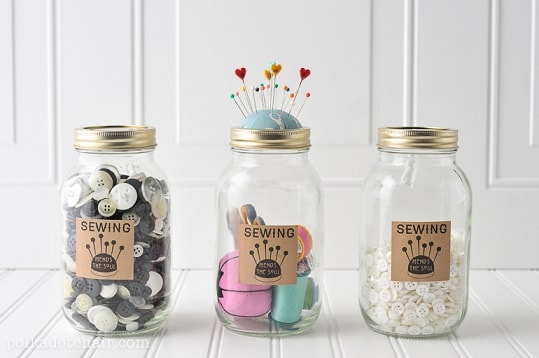 Found from Polkadot Chair
Organize items in your sewing room with these cute mason jars. Add a pin cushion on top of the mason jar lids to store all your pins.
Looking for mason jars to organize your home? I'd highly recommend these awesome ones from Amazon!
---
Mason jars can come in real handy to organize different parts of your home. Hope you found some inspiration from these mason jar organization ideas. Let me know if you use any of them and how they work for you!
As always, if you have any questions or comments, please feel free to leave them below. I always love hearing from you guys!