Don't you hate it when your favorite clothing item gets damaged or stained and becomes unwearable? I know I do. Luckily there are a couple of creative DIY clothing fixes you can apply to make your items wearable again.
From stopping that tear in your stocking or tights from spreading any further to fixing holes in your jeans, I've rounded up 10 super easy and quick DIY clothing fixes that'll extend the life of your favorite clothes!
1. Fix a Stuck Zipper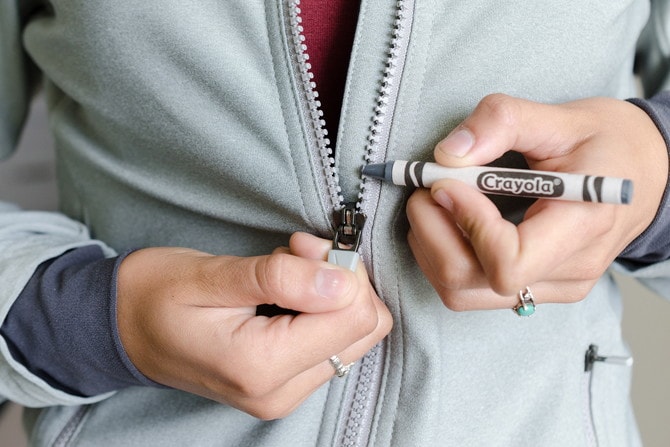 Found from TheKrazyCouponLady
It turns out fixing a stuck zipper is as easy as rubbing some crayon on either sides of the zipper. This should make it come loose. Just be sure to use a crayon that's the same color as the zipper!
Note: If you don't want to use crayon, I've heard that applying Vaseline the same way can also do the trick.
2. Mend Torn Jeans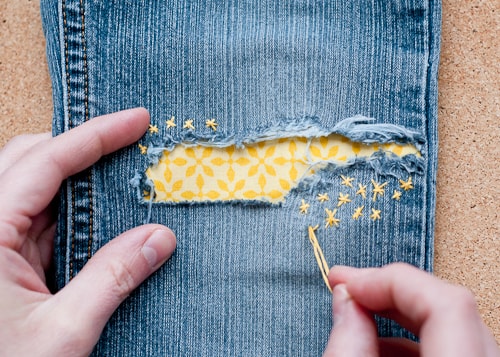 Found from DesignMom
If you've torn your jeans in a weird place and want to fix it, why not highlight the tear by patching it up with some colorful material.
If you don't like the idea of adding color to your jeans, you can also patch it up with denim.
3. Use a Razor to Remove Pilling from Clothes
Found from Hamidow
No one wants those little balls of fluff or pills on their clothes that often appear after washing.
Luckily it seems there's an easy way to get rid of them by using an item we all have – a razor!
Simply lay down the clothing item on a flat surface and use a sharp razor to shave the pills off. Really simple and useful!
4. Stop the Tear In Your Stocking/Tights from Spreading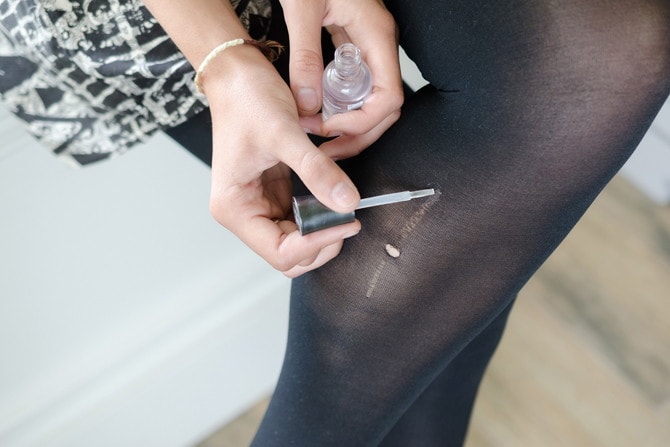 Found from TheKrazyCouponLady
As much as we love tights, they are unfortunately prone to tearing and getting runs in them. Sometimes it can even happen the first time you put them on.
If you notice a run appearing in your tights, you can apply some clear nail polish all along the run to stop it from spreading any further.
5. Fix a Sweater Snag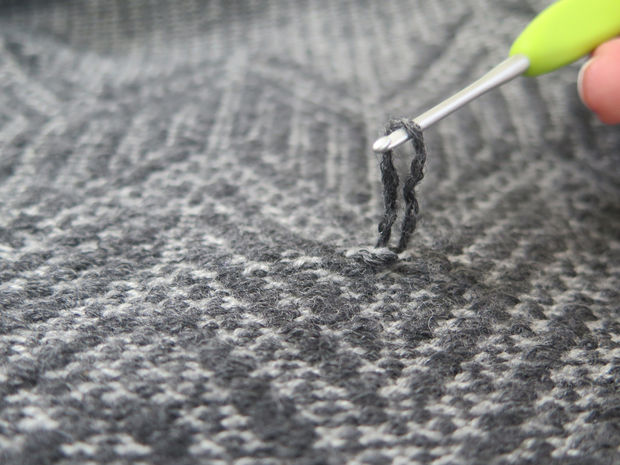 Found from Instructables
I've had so many of my favorite sweaters snagged by accident.
This tutorial is super useful and shows how you can pull the loop back and spread out the tension in the fabric.
I've done something similar to this where I just pulled the loop to the inside of my sweater so it's not visible on the outside anymore.
6. De-fuzz Your Coat With a Pumice Stone
Found from LifeCrust
If you don't want to try a razor to get rid of the fuzz on your coats, why not try using a pumice stone?
It will remove all the little pieces of fluff and fuzz and make your coats look brand new!
7. Remove Makeup Smudges with Shaving Cream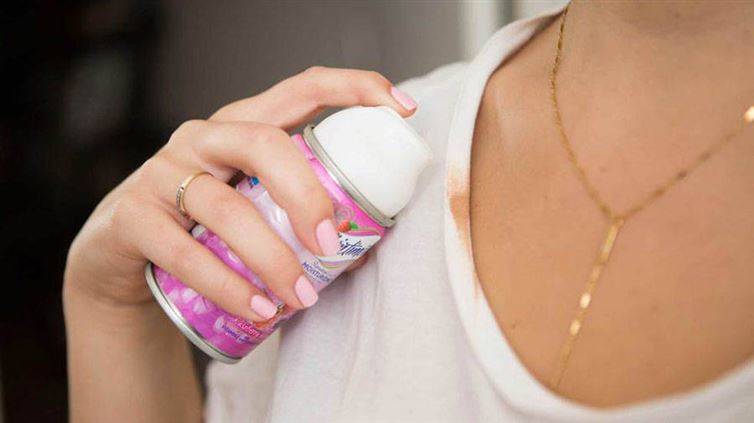 Found from HeartBows&Makeup
If you're ready to head out and notice a makeup smudge or stain on your clothes, try removing it with some shaving cream.
Simply rub the shaving cream on the stain to remove it. For heavier stains you might need to repeat this a few times, but you'll notice it'll disappear in no time!
8. Remove Oil Stains From Clothes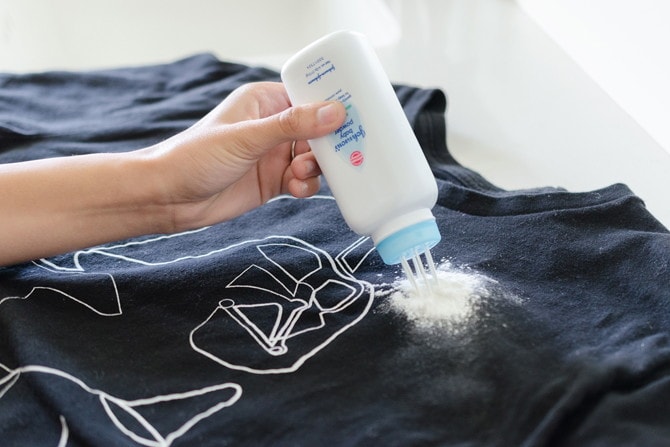 Found from TheKrazyCouponLady
Who knew baby powder could be so useful!
If you want to remove oil stains from clothes, pour some baby powder on the oil stains and leave it overnight to soak up the oil.
Nice and easy way to get rid of those nasty oil stains!
9. Never Lose a Button Again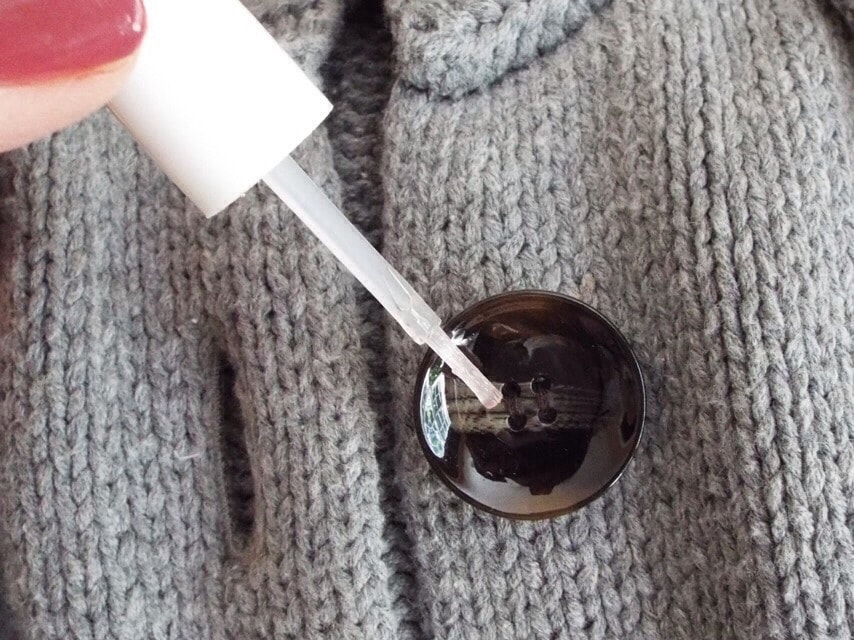 Found from Musely
I'm sure it's happened to all of us. You wear your favorite shirt or sweater and suddenly notice you have a loose or missing button.
With this trick, you can fix loose buttons by applying clear nail polish to the button's thread. This should seal the threads in place and stop them from unravelling.
Just be sure to remove any loose strands before applying the nail polish.
10. Reinsert a Drawstring With a Safety Pin
Found from Buzzfeed
If you've ever had a hoodie with a drawstring that came out, you know hard it can be to get it back in place.
This hack makes it so easy to reinsert a drawstring.
All you need to do is add a safety pin to one end of the string to help you pull it back through. Wish I knew about this sooner!
---
And there you have it! These 10 awesome DIY clothing fixes can be pretty handy if your favorite clothes suffer from some wear and tear.
If you have any questions or comments, please let me know below in the comments section, I'd love to help you out!
Found these DIY clothing fixes useful? Pin these clothing hacks for later!