Everyone wants to live happily and freely. But that cannot be possible in a cluttered and messy environment. A cluttered home can take up a lot of mental energy, whether you realize it or not! That's why I want to share some ideas on how to declutter your home fast so you can create more space in your life.
---
One of the reasons your life may have seemed so uneasy is because you've got a lot of things to pay attention to. A lot of items to manage, a lot of files to arrange, a lot of books to contain and lot of appliances to maintain!
Once you've got lots of things cluttering in or around your home, your life is always going to be a mess. Simply because you'll be choked up.
The truth is, most of those items in your home are not as useful as they seem. You will only understand how frivolous they are once you start getting rid of them. No matter how old your belongings are, getting rid of them will definitely be a tough decision. After all, you acquired them with your hard-earned money, and frankly, they hold some "sentimental" value, right? 
But you shouldn't consider the money you spent on purchasing them, rather, you should be more concerned about how useful they are to you. 
For instance, ask yourself questions like; 
When last did I wear these clothes/shoes? 
Do they fit me? 
Are they torn, damaged, or worn-out? 
Have I gotten their replacements? 
After asking these questions about your clothes and shoes, you will ascertain how useful (or not) they are to you. And hence, it will be easy for you to dispose of them in order to create some space in your life.

Declutter Your Home Fast
You'll agree with me that any needless item in your home is no longer your property but a source of discomfort. You need to discard them quickly.
But then, it's often complicated to get started with this whole decluttering process. Especially if you have a lot of clutter to deal with. You'll likely be overwhelmed – but don't panic. Breathe in…hold… keep holding… still holding?…breathe out. It is normal to feel that way at first.
You just have to start anyways. And from there, you can take it gradually – one thing after another. You definitely didn't accumulate all the stuff in your home in just one day… It took many years or even decades!
Now, this article will make things easier for you because I will be emphasizing on how to declutter your home fast! If you need some help on where to get started, I have an extensive list of things to declutter right here.
It will definitely take some time to clear the clutter and create some space in your life. You just have to acknowledge that reality. But in order to get your desired results as quickly as possible, here are some tips on how to declutter your home like, today.
Related reads:
1. Be Consistent And Intense 
When it comes to creating space, more attention should be given to consistency, because just 15-20 minutes of decluttering is enough to make a huge difference over time – as long as you are consistent.
However, when you want to declutter really fast, then just your consistency is not enough… You have to be intense as well! So, to obtain a rapid result, you have to combine both consistency and intensity. 
Consistency: 
In order to be more consistent, you have to schedule your decluttering sessions as often as possible – probably  3 sessions every week. 
Ensure you stick to your schedule. And treat it as important as any other official engagement.
When you are consistent, you will be able to create some time (and energy) to handle other tasks because you won't have to spend extended time and energy on each session. After all, it won't be long before you have another (decluttering) session.
Intensity:
Once your aim is to obtain a maximum result within a short time, then you should be more intense each time you want to declutter your home. 
Sure, in a bid to add more intensity to the decluttering process, extra energy must go in. However, the relief you'll have (after seeing the massive results you've attained in a short while) will be a good consolation!
When you are intense, you'll definitely be fast. And when you are fast, you will achieve a whole lot. Now, if you add consistency to your intensity, it can take you just days (instead of months) to declutter your entire household.
Isn't that a perfect way to declutter your home fast?
2. Set Some Decluttering Goals 
Another way to declutter your home fast is by setting certain goals regarding the decluttering exercise. Setting a specific goal will give you a point of focus which will motivate you to reach your desired target. 
You will definitely need a sense of purpose in order to be serious about clearing your trash. That's why you need a goal. And if you fail to set certain decluttering goals, you will end up procrastinating till you are totally engulfed in clutter.
With that said, some of the goals you should set for yourself are:
Property Goals: How many items you want to get rid of and how many you want to keep.
Time Goals: A certain time frame in which you intend to finish decluttering a specific room. 
Frequency/Consistency Goals: How frequently or consistently you want to declutter. 
Space Goals: The amount of space you intend to create in your home within a given period. Or the final result you are looking to obtain at the end of the entire process.
In order to achieve your decluttering goals, you have to be specific about them. Know exactly what you want to achieve at the end of the day and create a benchmark to achieve it.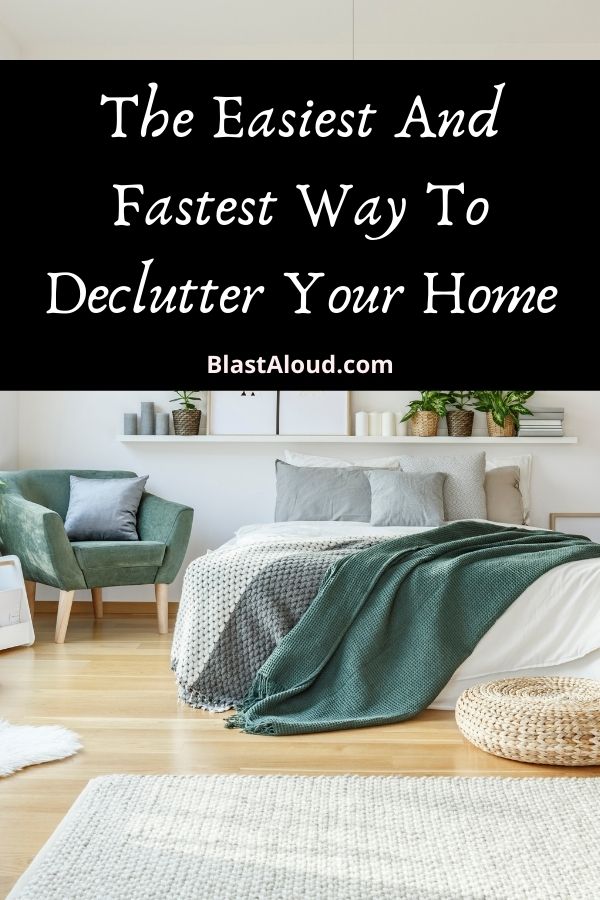 3. Work On Those Goals – Take Action!
Trust me, it is not enough to set goals. You have to act on them. Setting a goal is cool. Planning on how to achieve those goals is even better. But then, the most important thing – if you want to get quick results – is to take action! 
There is no way a goal or a plan will automatically executive itself. You must do it yourself. And the sooner you start taking the necessary action, the faster the whole process becomes. Now, irrespective of how difficult it might seem to start off, rest assured, it will be easier once you commence. 
Where you start from (or how you start) doesn't matter… just start!
4. Concentrate On High Impact Spaces 
If you have limited time and you want to declutter your home fast, then focus on decluttering those spaces that will have a massive impact on your home once they are free of clutter. 
What this simply entails is that you must start by tackling the most-used, high-traffic spaces like the kitchen, toilet, wardrobe, living room, lobby, etc.
In a nutshell, pay attention to decluttering those spaces that will considerably make life more convenient for you once you're done decluttering. Don't spend much time on spaces that make little or no impact on your life.
5. Declutter As You Go About Your Normal Day
One of the easiest ways to quickly declutter your home is by making "decluttering" an involuntary activity. Making it something you do automatically and simultaneously as you go about your daily activities.
Just ensure you always keep an eye out for anything that is not necessarily useful and is occupying space in your home.
When you get into the habit of decluttering as you go about your day, the general workload will be reduced drastically when you eventually decide to go into a full-on decluttering session.
For instance, when preparing to go out in the morning – and you are just choosing a suitable outfit for the outing – also pick out those clothes you no longer need from your wardrobe and discard them! 
You can do exactly the same when you're doing your laundry. Get rid of those clothes that are worn-out or unfashionable. 
Similarly, when preparing your meals (in the kitchen), discard all the needless utensils, condiments, empty cans, spoiled food, etc.
To be more efficient about this, get yourself a decluttering box and keep it in a strategic position around your home. There, you can easily dispose of anything you no longer deem useful. When the box is full, you can either discard it or donate the contents.
6. Be A little Ruthless 
You have to be a little vicious (yeah yeah in a positive way) if you must discard that clutter without having a double mind. You need to have the right mentality before you can part ways with your belongings. This is because you can easily come up with reasons why you have to keep them – no matter how needless they are.
Hence, you have to keep your primary decluttering goal in mind which is – getting rid of all that clutter as quickly as possible. Focus more on why you don't need those items. And think less about why you need them… That's what it means to be ruthless.
The more ruthless you get with your decluttering decisions, the quicker you discard the mess. And hence, you will create the much-needed space in your life once and for all.
7. Avoid Distractions
If your main aim is to declutter your home fast, then you have to avoid unnecessary distractions. Always stay on task during each decluttering session – and remain focused.
Don't use the time you scheduled for cleaning your home for something else. If it is about cleaning, then let it be all about cleaning! Don't allow a Facebook or WhatsApp message to redirect your focus. Moreover, those Netflix movies can wait till you're done with the task at hand.
That way, you will be more productive and pretty fast with your decluttering. Just so you know, the highest obstacle that slows down the whole process of decluttering is when you allow yourself to be carried away along the line. 
8. Get A Helping Hand
If you are consistent and intense, set goals, and focus on the task, you will certainly declutter your home fast enough to surprise even yourself. But in all, nothing can be faster than when you declutter as a team.
Getting a helping hand is an ultimate solution to decluttering – if you want to get it over and done with as quickly as possible. A task that could have taken you one full day to accomplish could be completed in a couple of hours if you get yourself a teammate(s).
You can recruit your close friends, family members, or other relatives. While you tackle the rooms, another person can handle the kitchen, then someone else the bathroom… And so on.
Trust me, it's going to be absolutely easier.
9. Know When To Walk Away 
You need no soothsayer to tell you when it becomes a "mission impossible". When you notice that you're not making any headway in a particular task, you have to readjust or better still walk away.
Look for something relatively easier and get busy with it for the time being. Walking away in this manner will help you conserve time, because instead of wasting time on something you cannot deal with, it's better to spend it on something you can easily accomplish. 
For instance, if you're decluttering your kid's room (in their absence of course) and you find it difficult to ascertain which clothes are suitable or oversized. Or you find it tricky to decide which toy is useful or needless, then you have to step out and move to a less complicated task – instead of wasting the whole time in your kid's room! 
Sure, you can come back and tackle it at a more convenient time. This way, you'll make the most of your time.
Final Thoughts
And there you have it folks! It is one thing to declutter your home, but a whole different ball game to declutter your home fast! Moreover, creating some space in your life can be a little bit problematic, especially if you're new to this whole "decluttering"  stuff.
So, try to follow all the tips discussed above to get the best possible result in a (relatively) short period of time.
Please pin these tips to declutter your home fast!