Let's face it, it's no fun sifting through an unorganized closet looking for a specific item, and it often leaves your closet even more jumbled. Having a neat and organized closet doesn't have to be difficult. With these insanely creative and easy closet organization ideas, you'll be able to keep your closet neat and tidy without too much effor. No more rummaging through your closet to find your favorite top!
Make Use of Unused Space
Found from HowToNestForLess
Even when you think your closet is full, there is likely a lot of unused space left in your closet. Think about the sides of your closet or the inside of your closet door. These are spaces that can be used to hang additional items. Simply add some hooks or bars to these spaces and you have additional storage space. You can use it to hang anything from scarves, tank tops, jewellery pieces to purses and bags.
Use Pegboards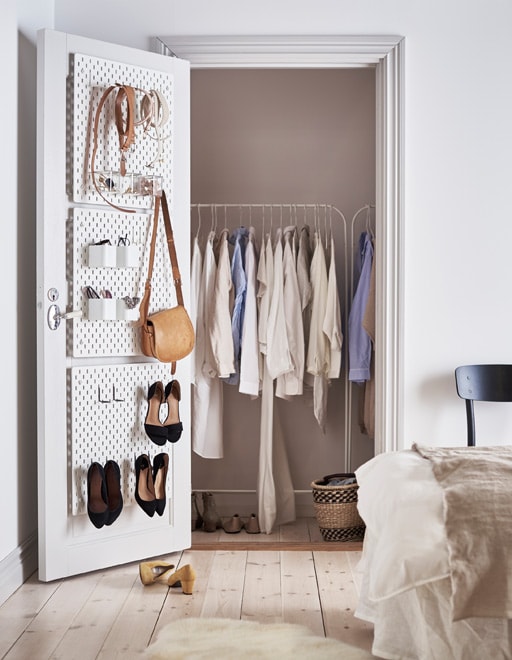 Found From IKEA
Another way to utilize wasted space in your closet is to use pegboards. Mount pegboards on the inside of your closet door or on the walls inside your closet to create more storage room. Pegboards are really verstatile and you can use them with s hooks or additional hangers to create more hanging space.
Use Shoe Organizers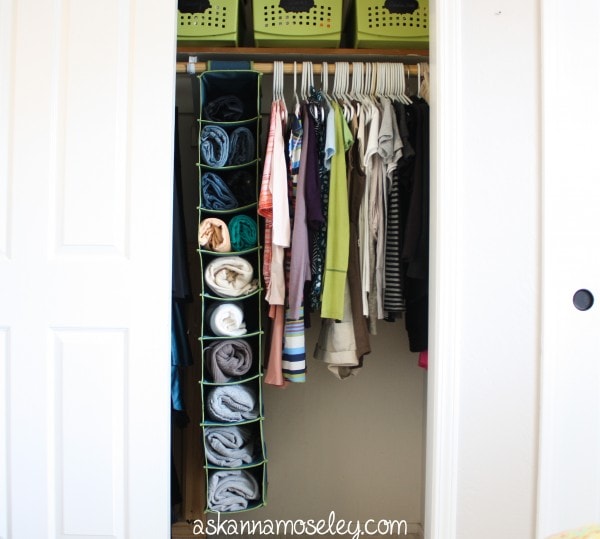 Found from AskAnnaMoseley
Those hanging shoe organizers can be pretty handy for storing your shoes. But they can be just as useful for storing some of the clothers you don't necessarily want on a hanger.
Double Up Your Hangers
Found from TescoLiving
If you've got no more space in your closet for hangers, then you should absolutely try out this genius way to double up on your hangers space. Use a simple soda can tab on a hanger to make space for another hanger. This is a super easy and quick way to declutter the rails in your closet!
Use Shower Rings
Found from Hip2Save
From what I've seen, shower curtain rings can be exceptionally handy. I love this idea of using shower rings to create extra storage space. Add a bunch of rings to a hanger and you have tons of hanging space for things like scarves, belts, tank tops or whatever else you need more space for!
Use S Hooks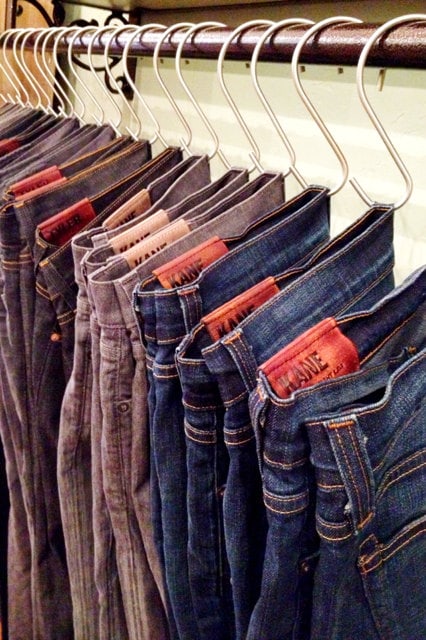 Found from Etsy/CustomCitizen
Using lots of bulky hangers can quickly fill up your hanging closet space. Instead, try these handy S Hooks to hang all of your jeans. It takes a lot less space and also looks super neat!
Hang Your Scarves
Found from The Krazy Coupon Lady
If you have a ton of scarves like I do, you should try using a normal clothing hanger to keep them organized. It looks neat and tidy and also makes it really easy to grab one of them when you go out.
---
If you find yourself constantly wishing your closet was more organized, you should definitely try out some of these closet organization ideas. They are really simple to implement and won't take up too much of your time.
If you have any questions about any of these closet organization ideas and tips, please let me know in the comments down below, I'd love to help you out!