You guys, you need these bullet journal ideas in your life. And it doesn't matter if you're just getting started with your bullet journal or if you're already a seasoned bullet journaler. There's always room for more bullet journal inspiration, right?
You can use a bullet journal to basically keep track of any and every aspect of your life. You can organize your appointments, track your sleep, activities, eating habits – you name it! And it's completely customizable, so you can use it to fit in with your personality and lifestyle.
30+ Bullet journal ideas that you'll want to steal:
Writing down your plans and goals is often more effective than just keeping them in your head. If you write it down, you're far more likely to stick to your plan and get things done.
Doing this in a bullet journal just allows you to let out your creative and artistic side. And it looks a lot prettier (in my opinion anyway)!
And remember, there's no right or wrong way to do this. It all depends on what works for you.
I'd recommend you experiment and try out different layouts and spreads, especially if you're just getting started. It will become easier the more you do it.
So use these bullet journal ideas to plan out your day, week or even your entire month.
If you'd like to see more detail on any of these bullet journal ideas listed below, you can click on the link below each image, and it will take you the relevant site.
1. Weekly Layout
Found from The Journal Tea
2. Song Tracker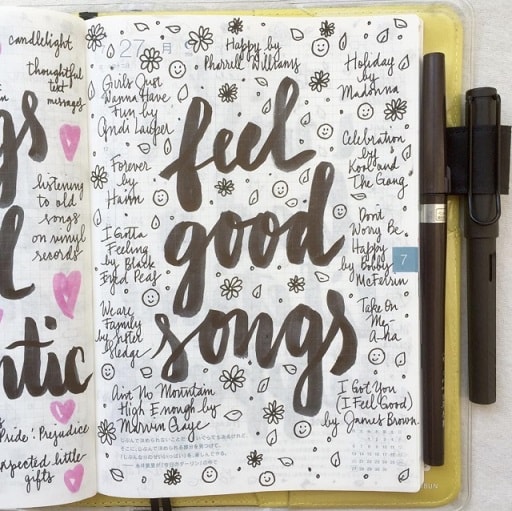 Found from MomSpark
3. Easy Weekly Layout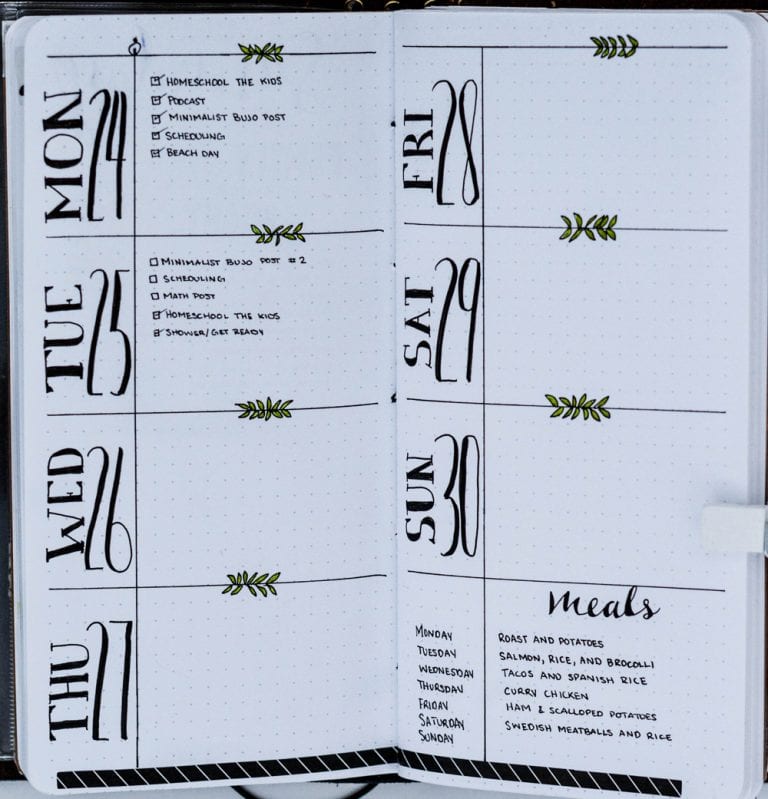 Found from Home School On on Instagram
4. Goal Spread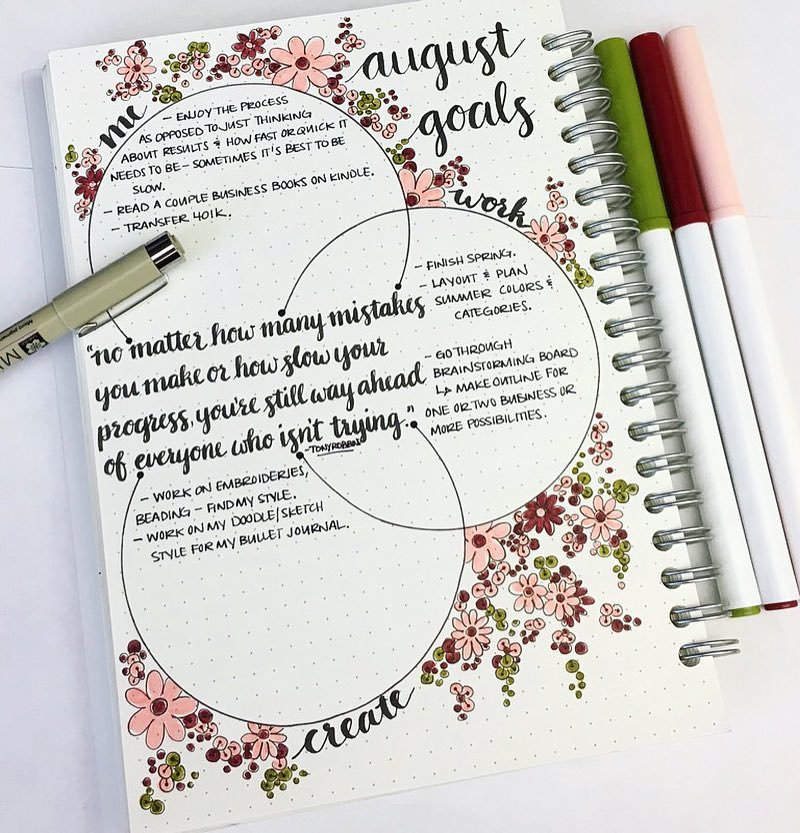 Found from Journalrella on Instagram
5. Exercise Log
Found from Librariana on Instagram
6. Easy Yearly Spread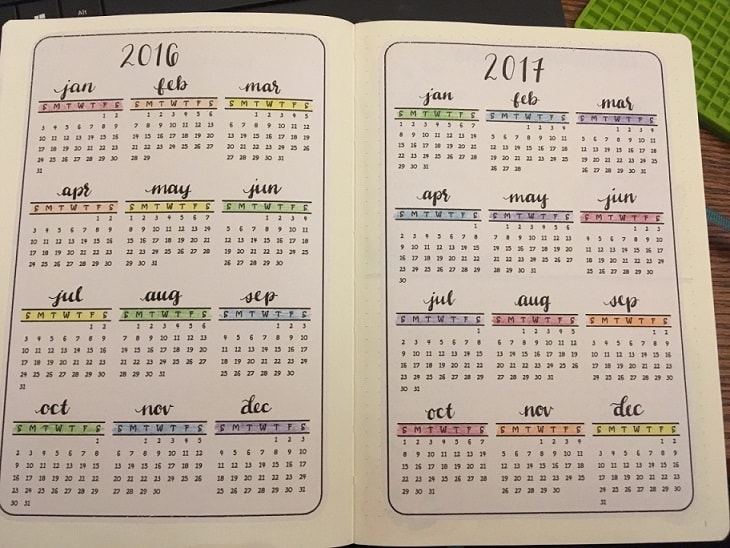 Found from Neta Marie Designs
7. Meal Planner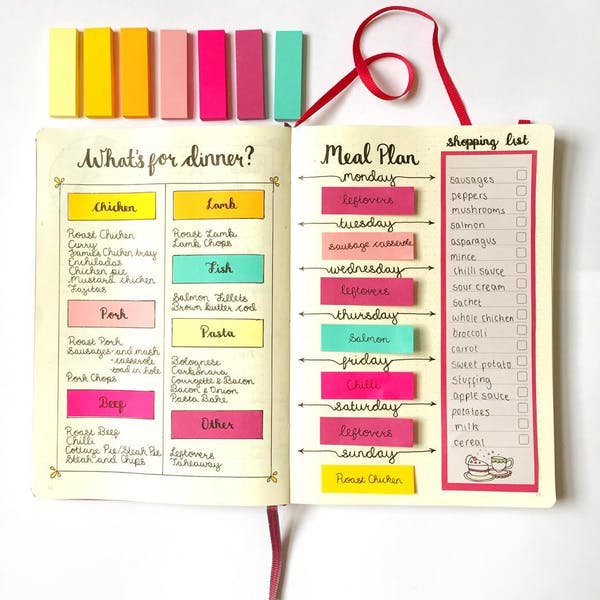 Found from That Journal on Instagram
8. No Hustle List
Found from Katie the planner
9. Home Projects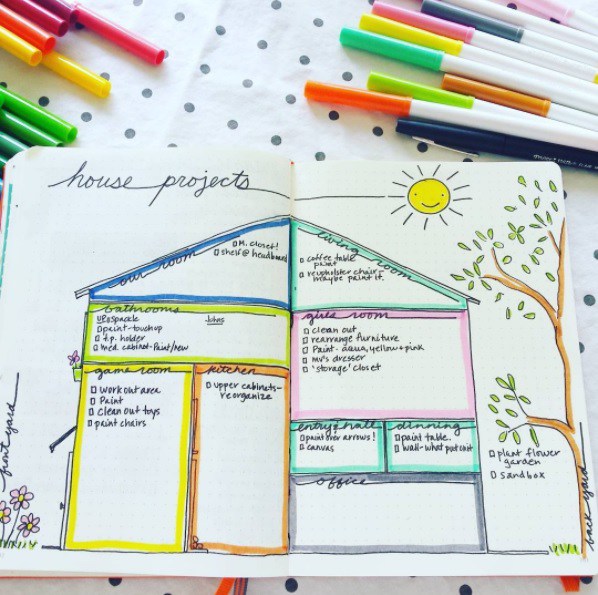 Found from Mebeleen on Instagram
10. Easy Weight Tracker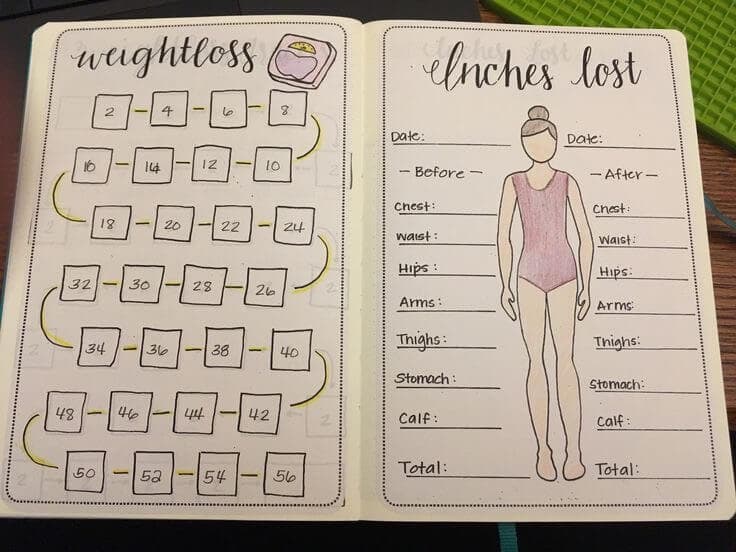 Found from Neta Marie Designs
11.Monthly Habit Tracker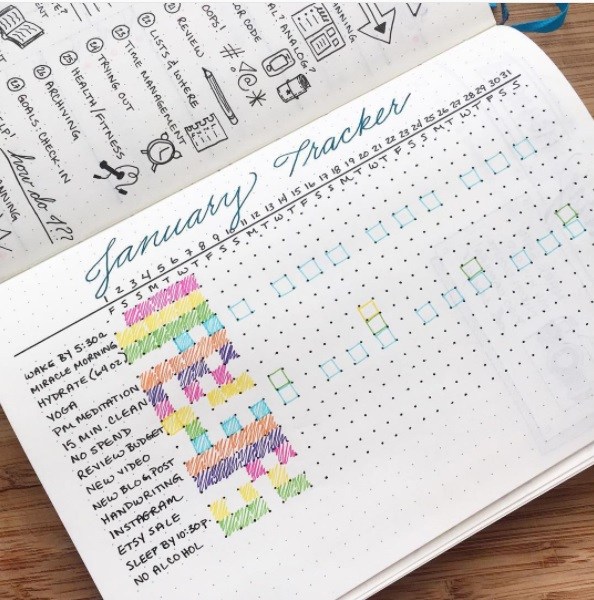 Found from Boho Berry on Instagram
12. The Clock Wheel
Found from MyLifeInABullet on Instagram
13. Simple Weekly Spread
Found from StudyingMood on Instagram
14. Minimal Weekly Spread
Found from JournalBeanie on Instagram
15. Travel Logging
Found from MomSpark
16. Easy Goals Spread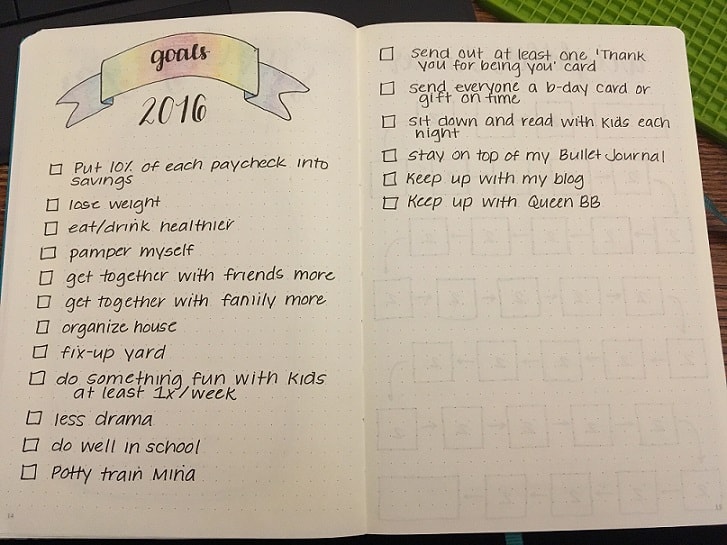 Found from Neta Marie Designs
17. Date Nights
Found from Katie the planner
18. Maximum Happiness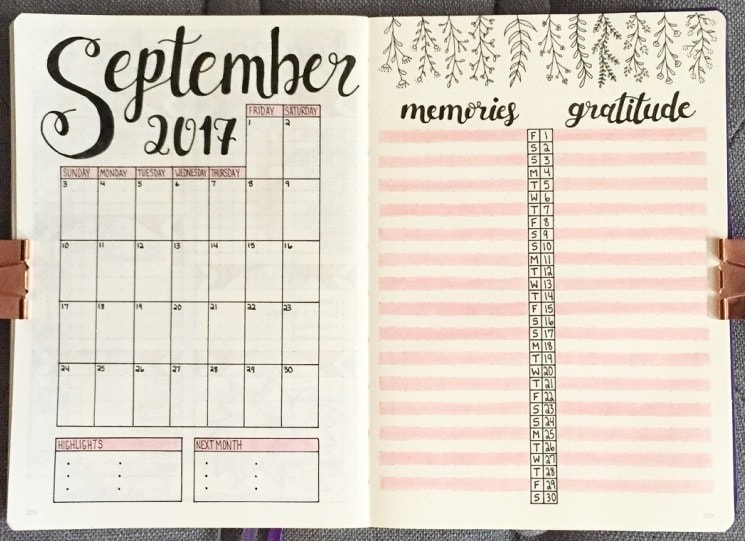 Found from BujoBlossoms on Instagram
19. Bucket List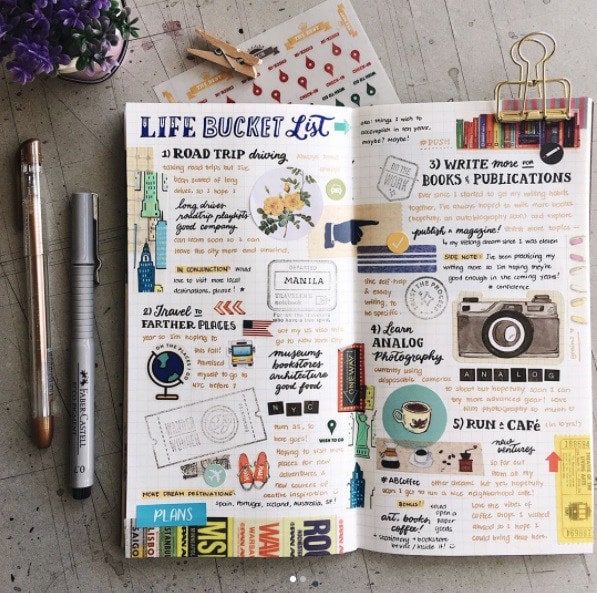 Found from Abbeysy on Instagram
20. Flower Spread
Found from MyFirstBujo on Instagram
21. Wishing Spread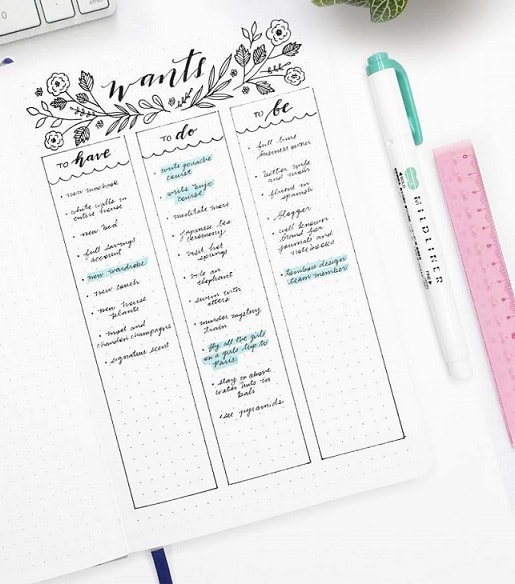 Found from ArcherAndOlive on Instagram
22. Birthday Tracker
Found from BelovedArt on Instagram
23. Books to Read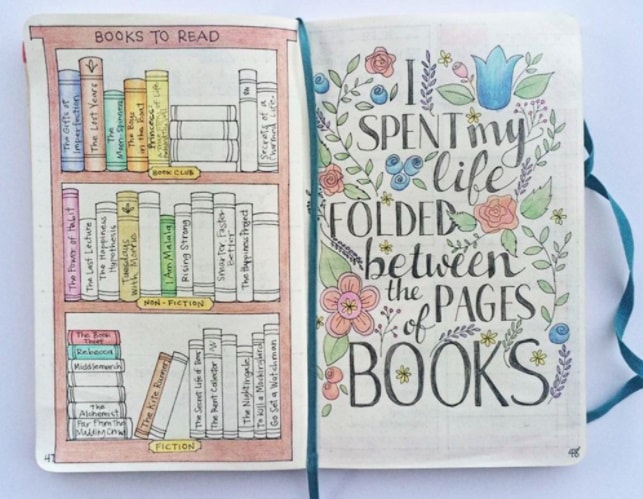 Found from PaperAndInkCo Heidi on Instagram
24. Saving Goals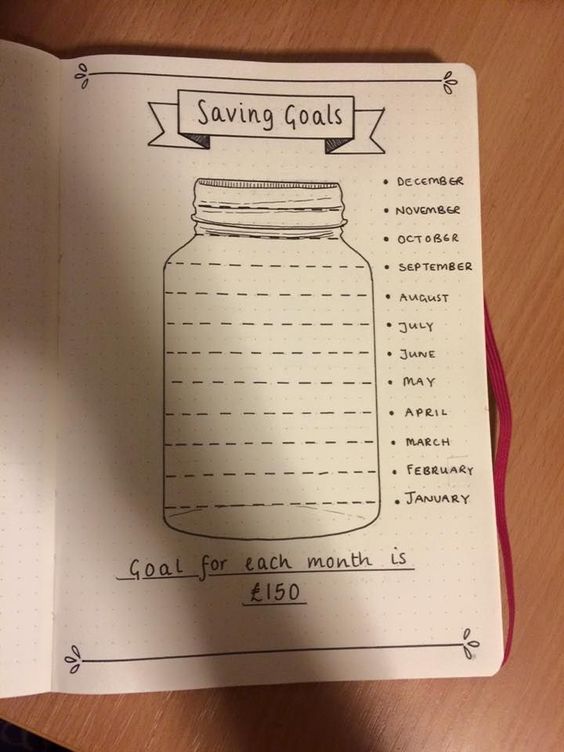 Found from KaetheVeganete
25. Task Completing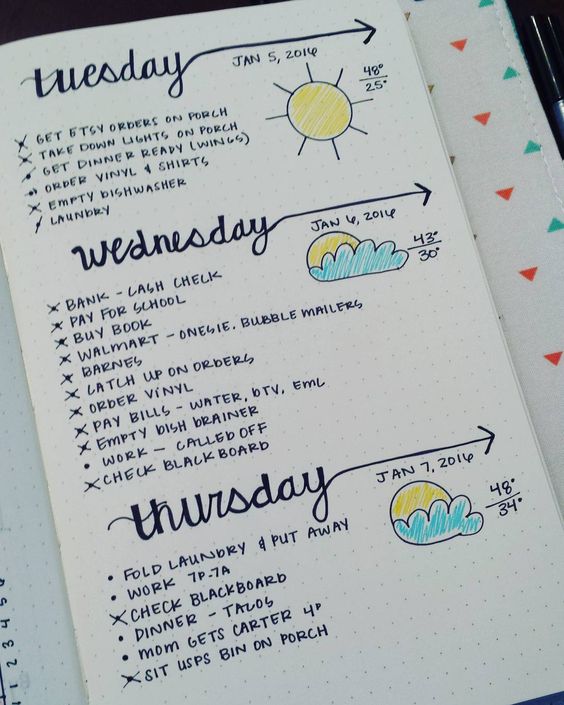 Found from MomSpark
26. Morning Routine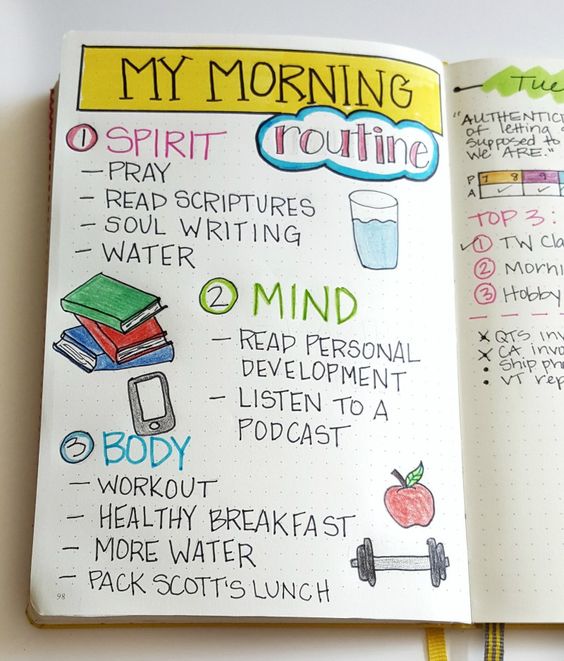 Found from SublimeReflection
27. Drink Water
Found from HouseBeautiful
28. Monthly Layout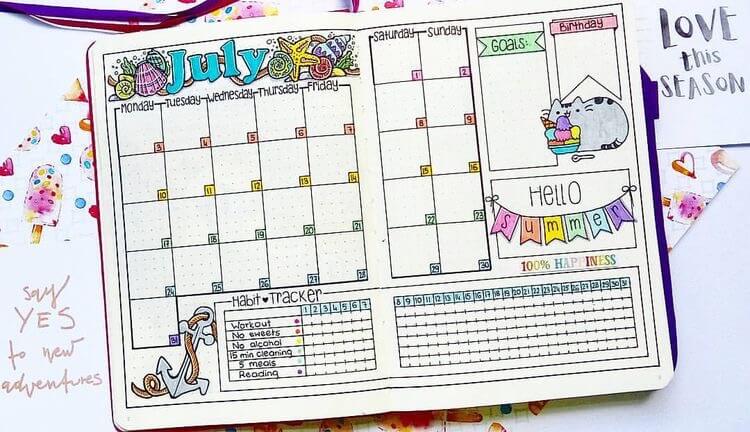 Found from KobietaZPasja on Instagram
29. Weight Tracker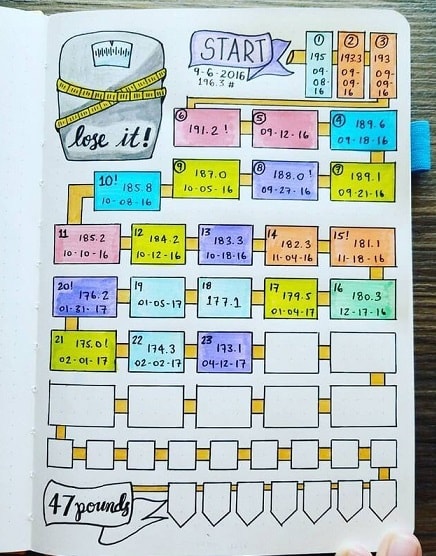 Found from MyBlueSkyDesign on Instagram
30. Bullet Journal Keys
Found from AlexandraPlans on Instagram
31. Debt Tracker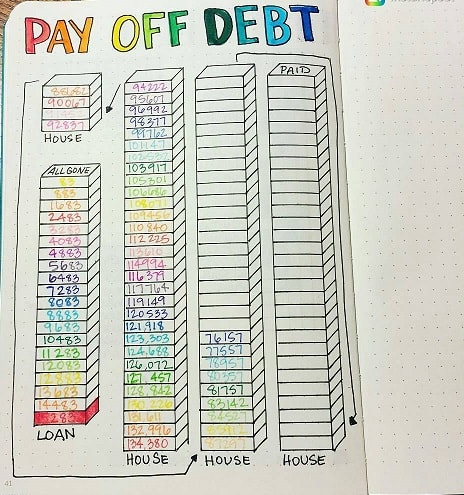 Found from LilGirlSummers on Instagram
---
If you liked this list of bullet journal ideas, please pin it to your bullet journal board on Pinterest!
Sharing is caring, please pin for later: