Sometimes eating on the Keto plan can be quite hard. This is especially true if you have a hectic schedule and struggle to find time to make your own meal. When you're busy, it's just so much easier to grab something that's quick and readily available. But the quick and easy option isn't always the healthiest option. That's why I've rounded up some of the best low carb Keto snacks on the go.
Low Carb Keto Snacks On the Go
Please note, this post contains affiliate links, which means I may receive a small commission at no extra cost to you if you purchase something through my links. Please see my full affiliate disclaimer here.
If you are just starting out with the keto diet and are ready to transform your life, I'd definitely recommend you listen to this Keto Beginning audiobook. It's packed full of useful information that will help motivate you and take you on a 30-day journey towards healing your body and transforming your life.
My favorite thing about these low carb Keto snacks for when you're on the go is that they're quick and easy to make. They will also save you a lot of time when you're in a hurry but still want to stick to the Keto eating plan. And did I mention they also taste amazing? If you'd like to see the full recipes for each of these snacks, click on the link below the images.
1. Mini Chicken Pizza Bites
Mini chicken pizza bites make a great snack or appetizer and best of all, they are low carb and gluten free! They are easy to make and can be whipped up in minutes.
Found from Divalicious Recipes
2. Keto Cheddar Cheese and Bacon Balls
These cheese and bacon balls aren't just fantastic, they're ketotastic! They're loaded with smoky bacon and sharp cheddar cheese.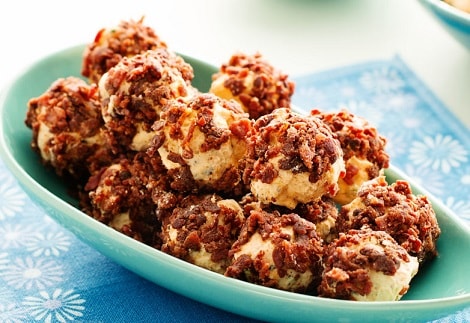 Found from Diet Doctor
3. Low Carb Pinwheels With Bacon And Cream Cheese
This quick and easy keto recipe is versatile and is great as an appetizer or as a snack.
Found from 730 Sage Street
4. Keto Breadsticks
If you've been missing cheesy breadsticks or cinna-stix from your local pizza place, these will really keep those cravings at bay.
Found from Ruled
5. Low Carb Pizza Bites
This is pizza without the drawbacks: Instead of dough, these crustless low carb pizza bites have a base entirely made out of mozzarella. All the taste, none of the carbs.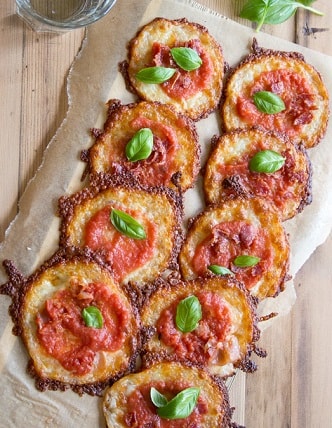 Found from Sugar Free Londoner
6. Low-Carb Keto Spring Rolls
Low-carb, keto spring rolls made with cabbage leaves instead of rice wraps. Filled with keto tender pork pieces, cilantro coleslaw and MCT oil.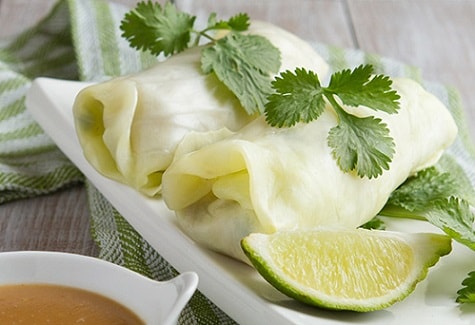 Found from Healthful Pursuit
7. Keto Steak Tacos on Pork Rind Tortillas
The best part about these Keto Steak Tacos on Pork Rind Tortillas is they are extremely low carb. With so few ingredients, they are sure to become a fast favorite!
Found from Hey Keto Mama
8. Salami and Cream Cheese Roll-ups
Feel free to add additional ingredients to/instead of the green pepper, such as jalapeno, shredded cheddar, thinly sliced swiss, or hot pepper cheese depending on your mood.
Found from Pixfiz
9. Low Carb Zucchini Fritters
These easy low carb zucchini fritters (zucchini pancakes) can be baked or fried and are delicious on their own or with a dollop of sour cream or yogurt. Enjoy at breakfast, lunch, dinner or as a snack.
Found from Low Carb Maven
If you're currently on a diet and feel like it isn't working, then it might be time to try something different. The keto diet has proven to work for so many people out there. And it's not just a diet, but a lifestyle. If you currently feel stuck with your diet, check out this complete beginner's guide to Keto living which includes a 30-day meal plan to get your life back on track.
10. Low Carb Taco Bites
These cheesy Low Carb Taco Cups are the perfect low carb appetizer!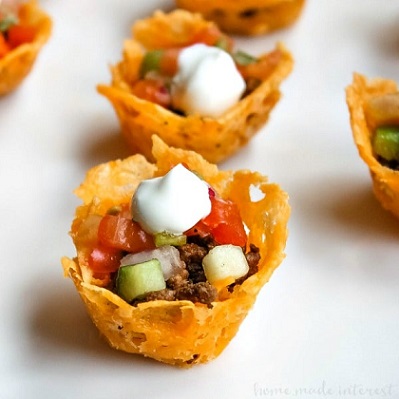 Found from Home Made Interest
11. Bacon & Egg Fat Bombs
Eat immediately or store in the fridge in an airtight container for up to 5 days.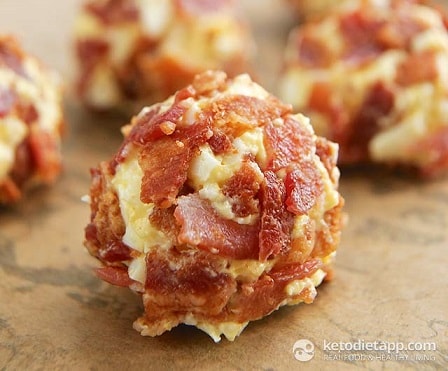 Found from Keto Diet App
12. Buffalo Chicken Meatballs
Eating the keto way does not been you have to give up your favorite foods! Even though we love wings on keto, I like to change it up a bit with these keto buffalo chicken meatballs!
Found from How To This And That
13. Low Carb Mozzarella Sticks
These low carb mozzarella sticks are breaded with parmesan cheese instead of breadcrumbs, but they're still delicious. They're also easy to make!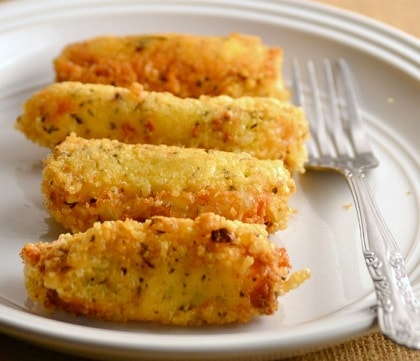 Found from Glue Sticks & Gumdrops
14. Easy Baked Jalapeno Cheese Crisps
These healthier baked crisps are simple to make with minimal ingredients. Can be made mild or super spicy. You choose!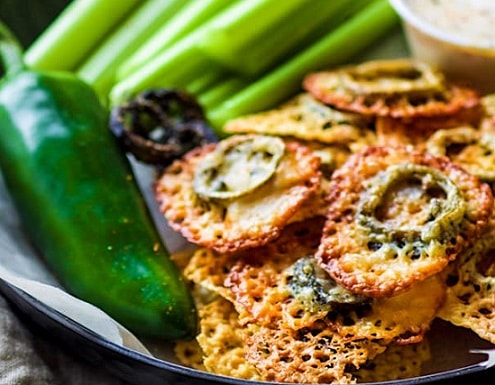 Found from Cotter Crunch
15. Low Carb Cheese Crackers Recipe
If you have twenty minutes and these few ingredients, you can have one heck of a treat!
Found from I Save A to Z
---
Having readily available low carb Keto snacks in the house will make your life so much easier! And it will help you stick to your Keto diet too, as you don't need to reach for any non Keto items. If you're looking for more Keto ideas, check out my post of 36 easy Keto Christmas cookies. I know it's not Christmas anymore, but you can enjoy them any time of the year!
If you already feel quite comfortable with the Keto diet but are struggling to come up with meals to make, you can also check out this balanced Keto weekly meal plan guide. It delivers weekly meal plans straight to your inbox, complete with shopping lists, allergen guides, alternatives, and much more! It will REALLY save you a lot of time and will set you up for long-term success. A small investment to make for your future health and wellbeing!
Also, check out some of my other posts on things you can eat on the keto diet:
Pin these low carb keto snacks on the go for later!
Hope you enjoyed this list of easy low carb Keto snacks on the go. To keep it available to you at all times, save this pin to your Keto/Recipes boards on Pinterest! You can also follow me on Pinterest for more recipes and ideas!