You know what they say about breakfast being the most important meal of the day? Well, this is also true on the ketogenic diet. Having a list of easy keto breakfast recipes can set you on the path to success.
If you're on the keto diet, you have to make sure that you're getting a good amount of healthy macros in to start your day off right.
---
Please note, this post contains affiliate links, which means I may receive a small commission – at no extra cost to you – if you decide to purchase something through one of my affiliate links. For more information, please see my full affiliate disclaimer here.
---
Keto Breakfast Recipes for Fat Burning
These keto breakfast recipes are easy to make and will keep you full until lunchtime. This is important as staying full will prevent you from snacking throughout the day. It will also provide your body with the fuel it needs to stay in ketosis and burn fat.
I hope that these recipes will also inspire you and show you that eating keto doesn't mean you always have to eat the same old boring eggs.
You can get really creative with your food and make a great variety of breakfast meals that actually taste amazing.
To view the full recipe for any of these dishes, please click on the link provided below each image.
Keto Ham & Cheese Hot Pockets
Craving a toasted ham and cheese sandwich? Opt for a keto friendly version instead.
These hot pockets can be made with only 5 ingredients and will take you under 30 minutes to prepare.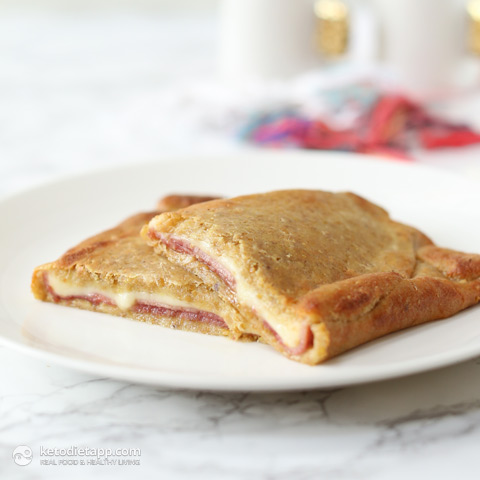 Recipe from Keto Diet App
Keto Breakfast Roll-Ups
These breakfast egg roll-ups are stuffed with yummy sausage, bacon and cheddar cheese.
They're also packed full of healthy macros that will keep you full for hours. Also, a perfect breakfast to make ahead of time so you can easily grab them on the go.
Recipe from Ruled.me
Keto Approved Lemon Blueberry Muffins
I love muffins. I feel like I can have them for breakfast, lunch or even as a snack.
That's why I want to share these low carb, high fat keto muffins with you.
They're easy to make, kids love them and you can also freeze them. Definitely worth a try.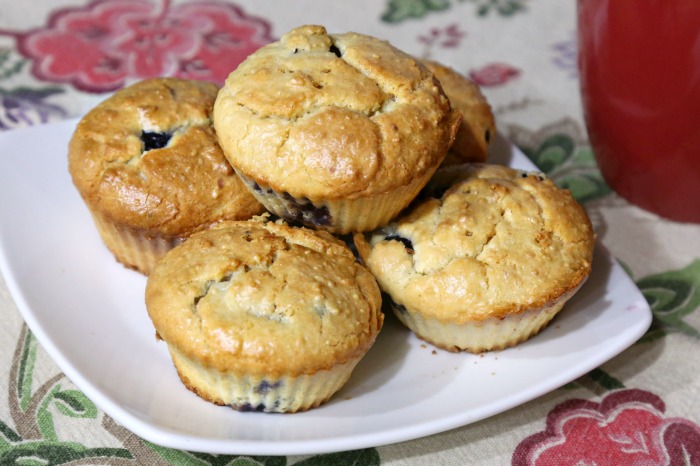 Recipe from Keto Size Me
Jalapeno Popper Cups
Love bacon, jalapeno poppers, and cream cheese? Then do yourself a favor and try this keto friendly jalapeno popper cups.
It's the perfect mix of heat, cream cheese, bacon, and eggs.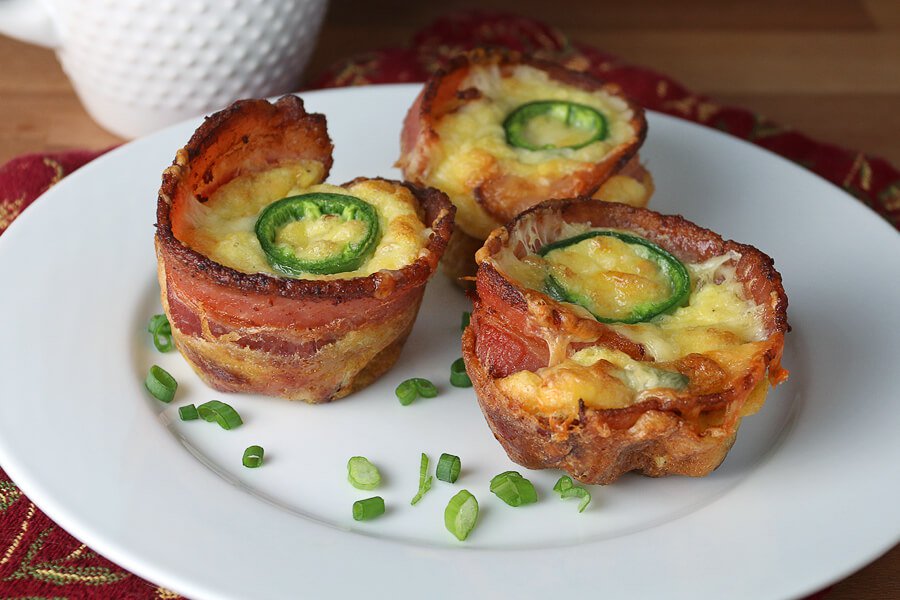 Recipe from Ruled.me
Almond Cream Cheese Pancakes
Eating keto doesn't mean you can't enjoy pancakes, it just means you have to make a low carb alternative.
There are some keto pancake recipes out there that consist mainly of eggs and cream cheese. They are okay, but they usually still taste very eggy.
This recipe adds a bit of almond flour which makes all the difference!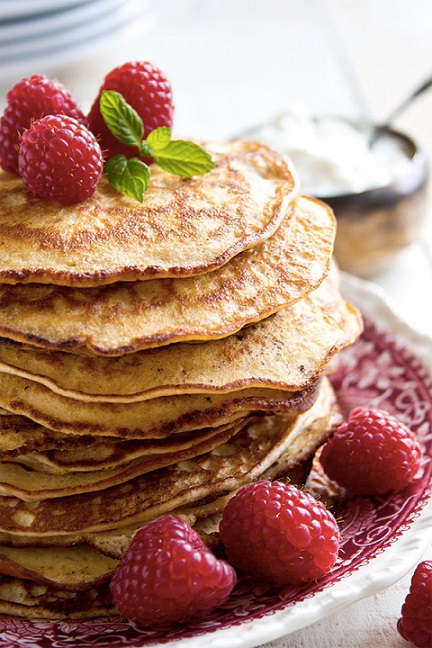 Recipe from Sugar Free Londoner
Chorizo Omelette
It's no secret that eggs are a staple of the keto diet. But if you are tired of eggs, give this Chorizo Omelette a try.
The salty and meaty combination is a great way to still get your eggs in without feeling like you're eating eggs all the time.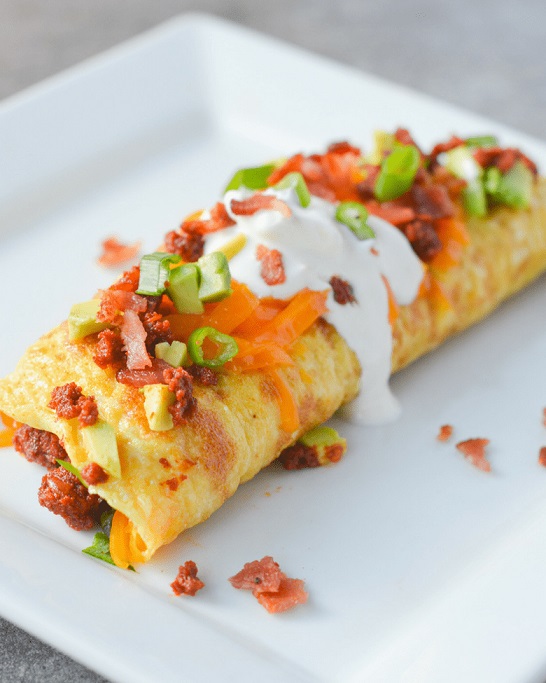 Recipe from Hey Keto Mama
Bacon, Egg & Spinach Muffins
What I love about these muffins is that they are the perfect make-ahead breakfast.
If you know that you have busy mornings coming up, then you can make a batch of these and keep them in the fridge for a few days.
They're also great to have around for those days where you just feel like you want to snack on something.
Recipe from Savory Lotus
Strawberry Keto Smoothie
If you're someone who prefers something light and cool in the mornings, you'll love this strawberry keto smoothie.
It's made with only 4 ingredients and can be made in just a few minutes.
Recipe from Wholesome Yum
Egg-Crust Breakfast Pizza
I love this creative way to spice up your usual egg breakfast. Instead of eating eggs with some other sides, try combining them all to create an egg pizza.
The recipe above uses pepperoni, tomatoes, mozzarella, and olives, but you can always substitute them with your own favorite (keto friendly) toppings.
Recipe from Kalyn's Kitchen
Strawberry Chia Seed Breakfast Jars
This yummy chia seed strawberry breakfast relies on the natural sweetness of strawberries and cinnamon, so you don't need to add any sweeteners (though you can if you want to).
For those of you who can't or prefer not to eat dairy, you can also make this with coconut milk or creamed coconut milk.
Recipe from Keto Diet App
---
Starting your day off right is very important for long-term success on your keto journey. These keto breakfast recipes are just some of the many meals you can enjoy while on the keto diet.
---
If you're new to the keto diet and looking for a great resource to find out what it's all about, I highly recommend checking out this keto beginner audiobook. It will guide you through everything you need to know, help you get started on keto the right way and provide you with a great number of recipes. You can also check out this keto beginner ebook if an audiobook is not your thing.
---
Also check out some of my other keto posts:
Pin it for later!
If you enjoyed this roundup of keto breakfast recipes and would like to get back to it later, please save it to your Keto board on Pinterest!