There are so many cheap and easy DIY Halloween decorations that you can use to turn your home into the perfect setting for Halloween.
Here I round up some of the best ideas I've found around the web that you can easily do with a few items from the dollar store.
Bloody Candles
Found from LilyShop
These bloody candles make for some creepy decor and they are super easy to make!
All you need is a red candle, some white candles and a lighter and you are all set!
Spooky Candles

Found from ThoughtfullySimple
If you're looking for some easy, quick, inexpensive Halloween decorations, these dollar store ghost candles can literally not be easier to make!
Simply draw some ghostly faces on the white candles with a black Sharpie and you are good to go!
Creepy Mummy Hand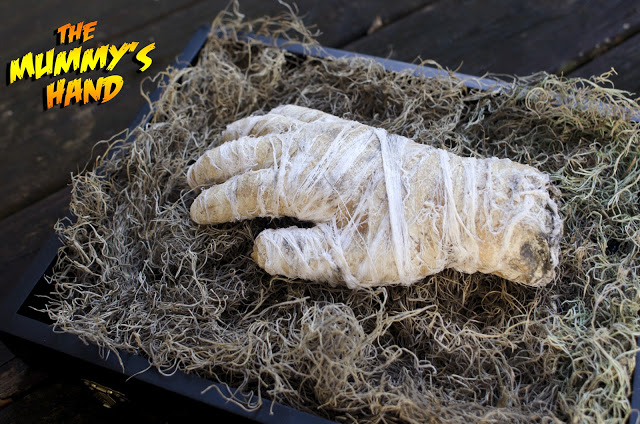 Found from ChristyBuonomoPhoto
Definitely one of my favourite dollar store halloween decorations!
Who would've thought it could be so easy (and fun) to make such an authentic looking mummy hand?
I'm thinking you can probably also use some garden gloves filled with sand or something if you can't find a plastic hand to use.
Dancings Ghosts

Found from Listotic
Really love these DIY dancing lawn ghosts!
They have a sort of creepy haunting feeling to them – will definitely transform your space into a scary setting.
Zombie Dolls

Found from JustCraftyEnough
These DIY zombie dolls can look really creepy and is also inexpensive (and fun) to make! You can also use bigger dolls to make it even scarier.
Skulls in Vase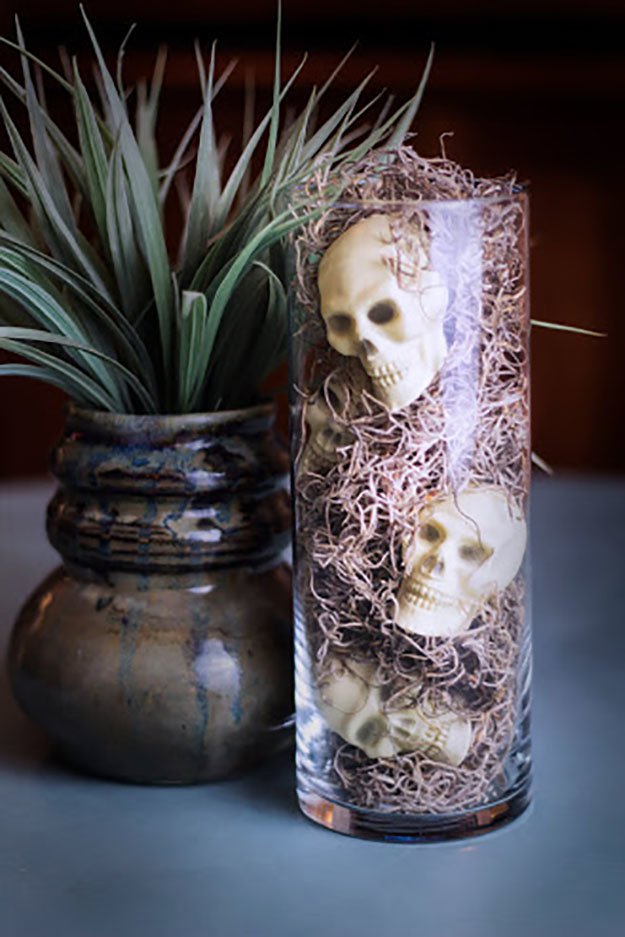 Found from DiyProjects
If you're looking to whip up some easy or last minute halloween decorations, this vase of skulls is the perfect idea.
All you'll need is some Spanish moss, a tall glass vase and some skeleton heads. You can even replace the skeleton heads with any other creepy items you can find, like plastic spiders or snakes.
Hanging Ghosts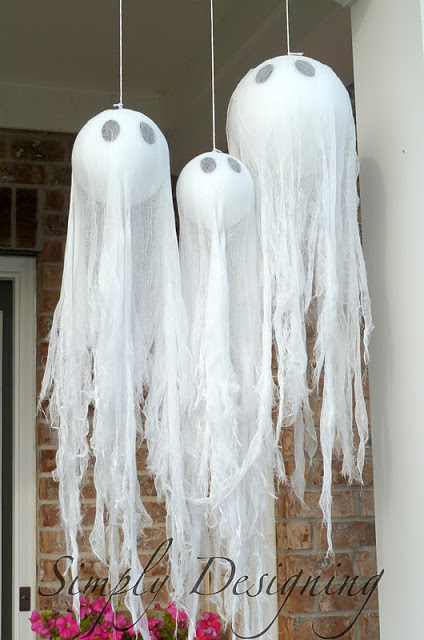 Found from SimplyDesigning
These hanging ghosts are super creative and also easy to make.
Use them either outside or inside to give your home a spooky feel!
Creepy Spiders

Found from DeliaCreates
Using faux critters from the dollar store is a really easy and super quick way to decorate any surface in and around your home. Place them on your walls or your door to give off a creepy vibe.
Creepy Eyeballs

Found from EpBot
Love this tutorial that shows how you can easily make some creepy and realistic eyeballs.
You can use the eyeballs for decorating in any way you like, from placing them in the center of a bunch of roses to arranging them in a glass vase or mason jar to create chilling decorations.
Head in a Jar

Found from CraftyMorning
Really simple, easy and inexpensive to make, these heads in a jar will freak everyone out!
Place some glow sticks in the jar together with the masks to give it an even creepier look at night!
---
Hope you enjoyed these easy DIY Halloween Decorations ideas. Let me know if you're planning on decorating your home for Halloween and if any of these work for you!
Looking for other Halloween ideas? Check out these posts:
Loved these easy DIY Halloween decorations? Don't forget to pin it to your Halloween board on Pinterest so you can get back to it later!