It's time to start saving up on those mason jars again, and this time for some awesome Halloween creations! Now I'm not sure if its normal to give gifts on Halloween, but I'm always looking for opportunities to give gifts. So, of course, today I'm sharing some of my favorite Halloween mason jar gift ideas I came across.
Halloween Mason Jar Gift Ideas
If you're having a Halloween party or just want in on some Halloween fun, there's always something you can do with mason jars.
Mason jars are super versatile cause you can use them for almost any occasion. Not to mention they're also really affordable and adorable (or spooky, in this case). You can decorate your mason jars in so many ways for Halloween and use it as decor, treat holders, and also for Halloween gifts!
The Halloween mason jar gift ideas below are perfect to gift to friends, family,teachers and even co workers. They all have the personal touch of being handmade so people will surely appreciate them (I know I would!).
Hope you enjoy!
1. Halloween Cookies Mix in a Jar
Cookie mix in a jar is one of my favorite types of gifts. It looks really cute and also works well for any occasion as you can simply decorate the mason jar to fit whatever occasion it is for.
In this case, we have Halloween cookies with red, white and yellow M&Ms to create Candy Corn cookies.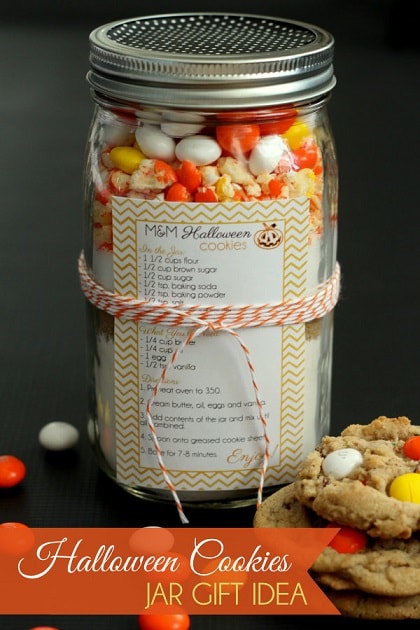 Found from lilluna
2. Pumpkin Mason Jar Holders
These pumpkin mason jars could work perfectly well for either Halloween, Thanksgiving or fall in general.
If you want to give them a more spooky Halloween feel, you could draw or paint faces on the "pumpkins". Fill them with any Halloween sweets and candies you like!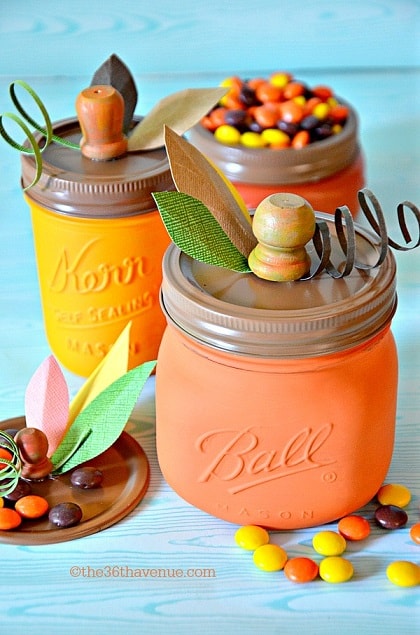 Found from the36thavenue
3. Halloween Mason Jar Mini Cakes
Instead of giving a cake mix in a mason jar, you could also opt to make the cake inside the mason jar yourself.
Check out these cute Halloween cakes and how the decorations on the mason jar compliments the cake.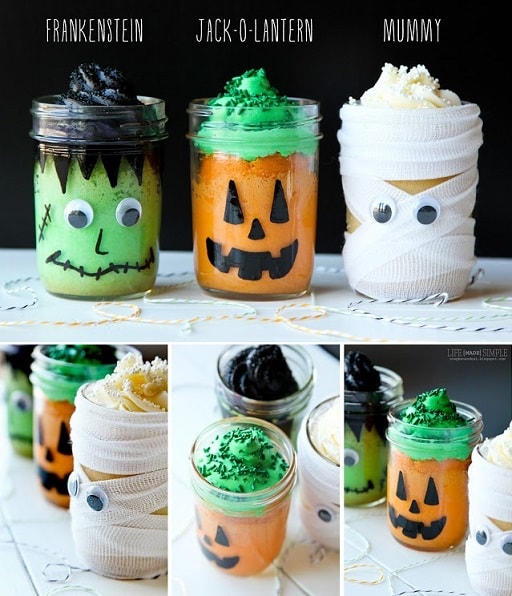 Found from lifemadesimplebakes
4. Bugs & Kisses
Really simple and hassle free, this bugs & kisses Halloween mason jar gift is a really cool idea.
You just need to add your kisses and some bugs/spiders to your mason jar. Top it off with a ribbon and the label and there you have it. You can find the free printable over at the website linked below.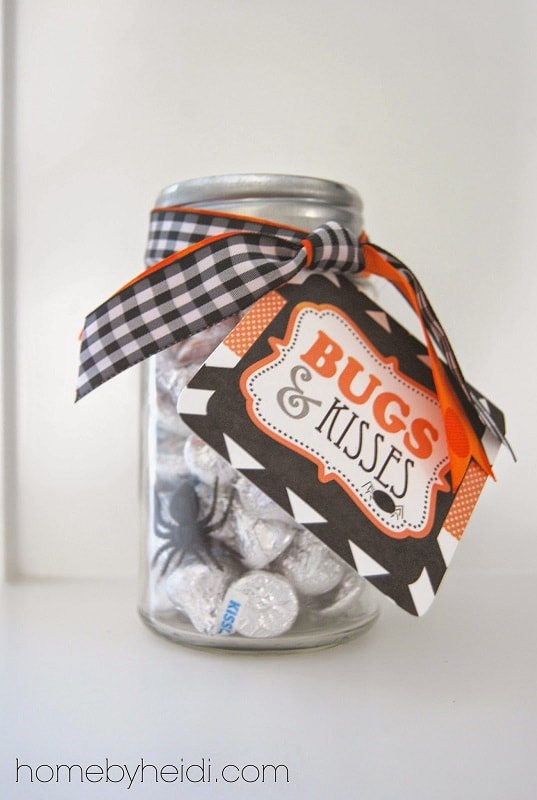 Found from homebyheidi
5. Brains Cupcake in a Jar
Another cup cake, this one with a more gory twist perfect for Halloween!
This would be perfect as a brainy gift to someone or even as treats at a Halloween party.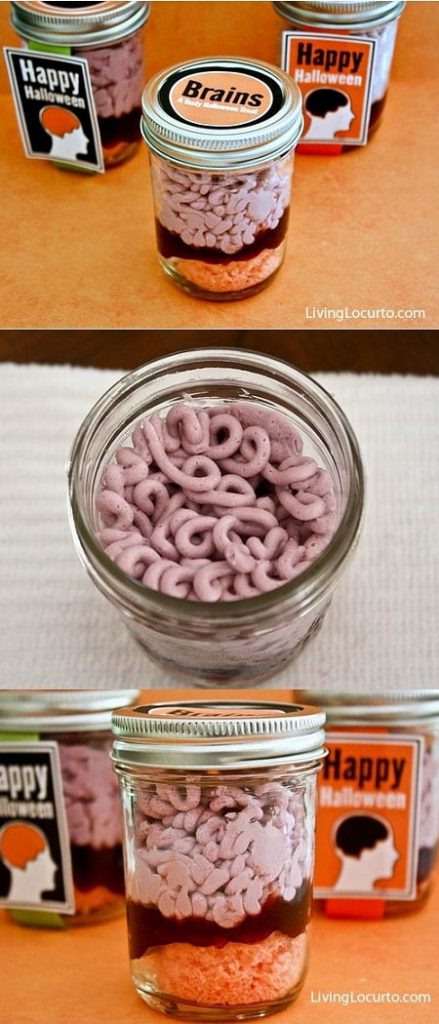 Found from livinglocurto
6. Witches' Vitamins
How cute are these mason jars with witch hats?
You can fill them candy corn or any Halloween appropriate mix for a witch's brew or vitamins mix.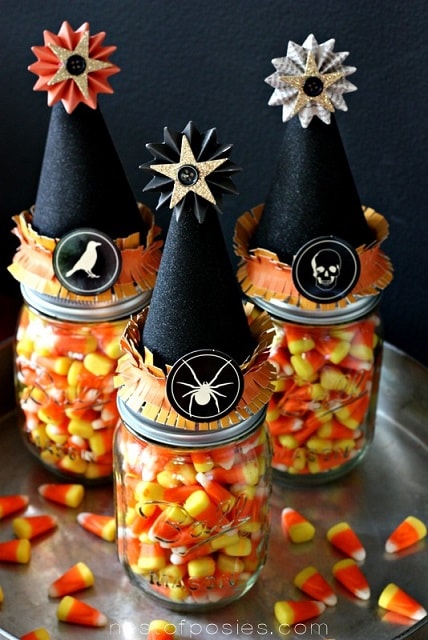 Found from nestofposies
7. Toxic Treats Mason Jar Gift
Moving away from the more traditional orange Halloween colors, this toxic treats mason jar would be the perfect gift for friends or teachers.
And it only takes a couple of minutes to make!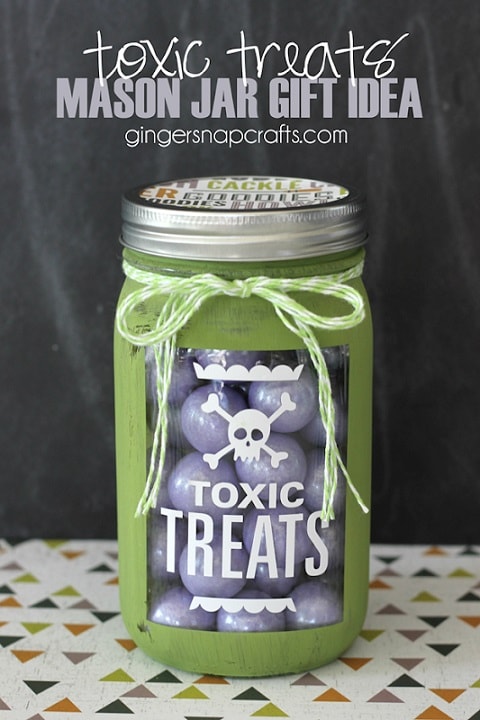 Found from gingersnapcrafts
8. Halloween Snack Mix
Perfect as Halloween party favors or thank you gifts, these snack mix mason jars are colorful and fun.
If you already have the snack mix, then it's easy to make a couple of these quickly. Just fill the mason jars up and add the ribbons and printable labels.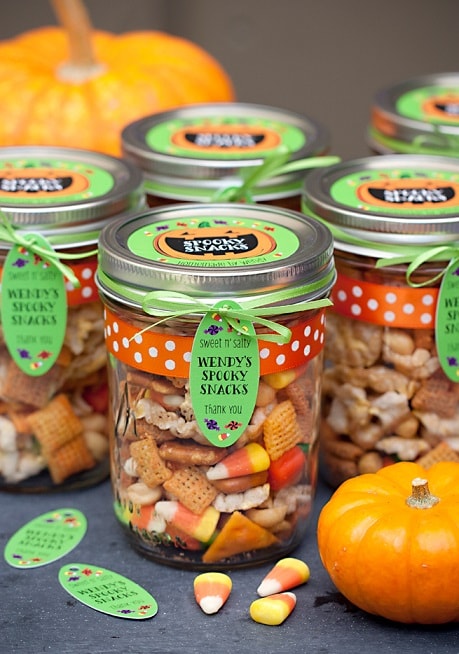 Found from evermine
9. Pumpkin Spice Pretzels in a Jar
This one is a bit on the simpler toned down side, but could still be a great gift or treat for Halloween. I had to include it cause I happen to like pretzels.
You could also use some of the other ideas in this post to dress this mason jar up a bit if you like.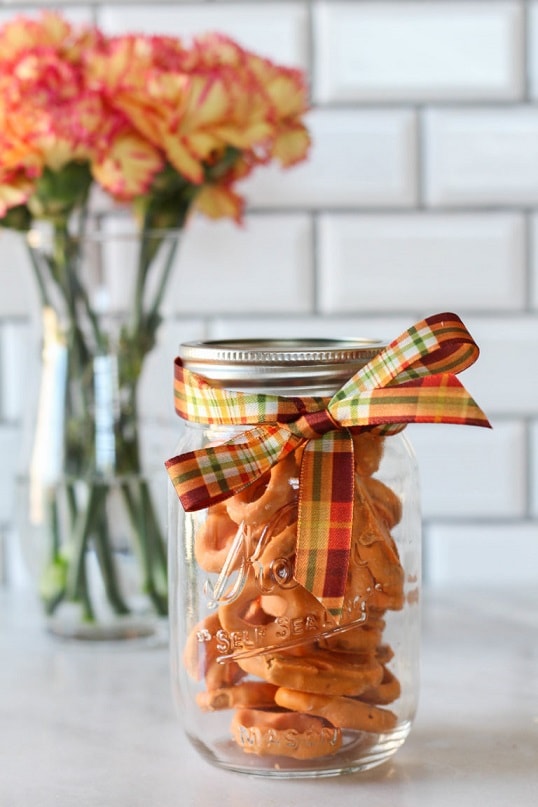 Found from zenandspice
10. Candy Corn Trifle
Another dessert in a jar, this time a trifle in Halloween candy corn colors. Candy corns are a classic Halloween treat so I really love the idea of this candy corn trifle.
These would be perfect as dessert at a Halloween party. Or, if you're looking to give this as a gift, I would just add make the trifle portion a tad bit smaller so that the lid of the mason jar can still fit on top.
Found from thissillygirlskitchen
Looking for other Halloween ideas? Check out these posts:
Pin These Halloween Mason Jar Gift Ideas To Pinterest!
I know its still while till Halloween, so if you want to get back to this post for inspiration closer to Halloween, save this post on Halloween mason jar gift ideas to your Halloween board on Pinterest!