Halloween is never boring, there are so many fun activities to do for kids and adults alike, including making Halloween crafts! If you're looking to keep your little ones busy this Halloween season, have them make some of this fun and creative Halloween crafts for kids.
Halloween Crafts For Kids That Are Fun Making
My love for Halloween stems from all the fun we had during this festive time when we were kids. There was always lots of crafts and activities to do during Halloween – there was never a dull moment!
Having your kids participate in decorating for Halloween and making Halloween crafts will leave them with many fond memories of Halloween. It will also keep them busy
I've rounded up some of my favorite Halloween crafts for kids that they will actually enjoy making. And who knows, maybe you will enjoy making it with them!
1. Stick spiderwebs
These stick spiderwebs are easy and really inexpensive to make, and its also lots of fun wrap the white yarn around the sticks.
The kids can experiment with different patterns and colors and you can use it for Halloween decor so it's a win-win!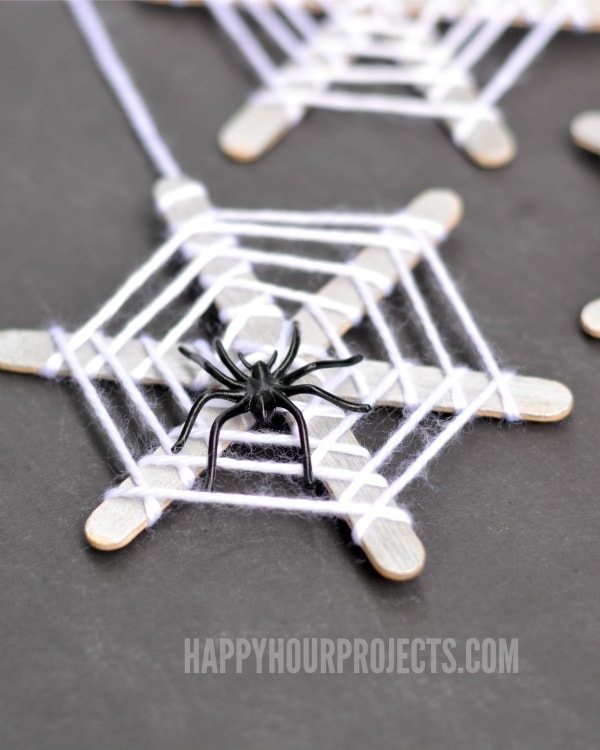 Found from happyhourprojects.com
2. Tin can ghost windsock
Another craft that the kids will enjoy making and that you can proudly hang inside or outside for Halloween.
There is a bit of wait time involved with this one as you have to wait for the paint to dry before you finish the final project. But while waiting you can start cutting the ribbon for the bottom so long.
Found from chickenscratchny.com
3. Yarn wrapped mummy
How cute is this mummy?
Have your kids draw and cut out a basic gingerbread man-like shape from cardboard. This can either be black cardboard or any color which they can then paint black.
Then just glue the eyes to the mummy and start wrapping the mummy with yarn. Glue or tape the end of the yarn to the back of the mummy for easier wrapping.
Found from iheartcraftythings.com
4. Clothespin bats
For these clothespin bats, paint the clothespins black using acrylic paint and let them dry.
While waiting for them to dry, draw out the shape of a bat wing on cardboard and cut it out. Use it to trace, draw and cut out multiple bat wings from the cardboard.
Fold over a small tab on the inner edge of each batwing (like shown in the picture) and glue them to the sides of the clothespin.
Found from parents.com
5. Halloween monsters
Amy shows how you can make various Halloween monsters from empty pill bottles. If you don't have this, I think this would also work perfectly with toilet paper rolls.
There are some monsters not included in the image below, so check out her blog if you want to see the other ones.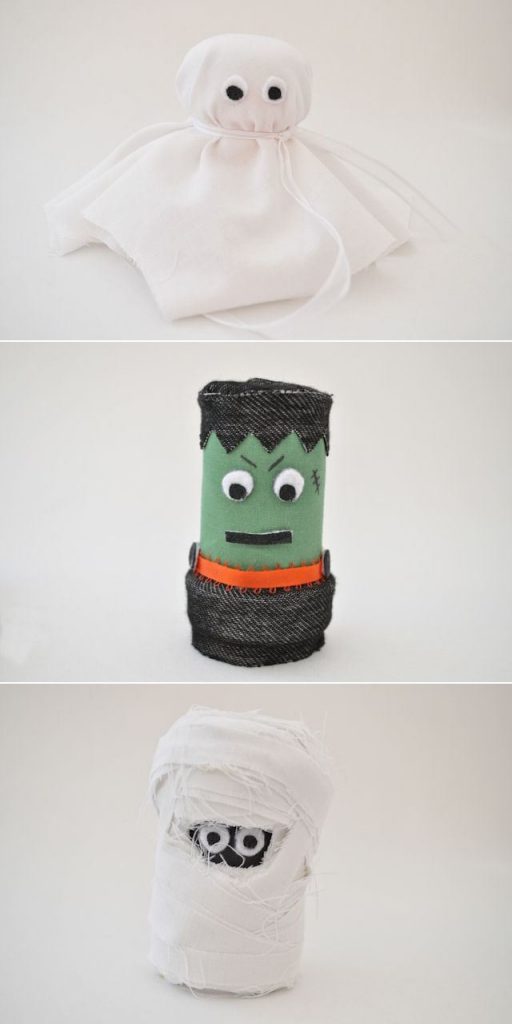 Found from thisheartofmineblog.com
6. Halloween spider slime
Is Halloween really complete without Halloween slime? I think not!
This slime is very easy to make with only a couple of ingredients. Let the kids help you by mixing the ingredients and kneading the sticky mixture until it is proper slime.
This recipe makes a big bucket so there should be enough slime to play with for 3-4 kids.
Found from thetiptoefairy.com
7. Halloween ghost bombs
If you don't mind a bit of a mess outside, these ghost bombs are the bomb (ha)!
They are a bit delicate to make as you have to work with the eggshells, but they're definitely worth making and a ton of fun to throw around outside!

Found from growingajeweledrose.com
8. Pumpkin popsicle stick door hangers
What a cute idea to decorate door knobs for Halloween! Have them make these cute door hangers and hang it on their doors during Halloween.
You'll need popsicle sticks (if you don't have any you could buy them at any craft store), glue, paint and pipe cleaners (ribbons could work too).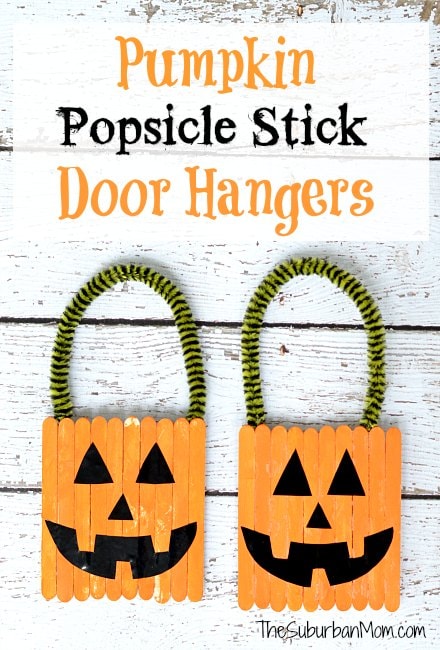 Found from thesuburbanmom.com
9. Cardboard box spiders
These cardboard-box spiders are really cheap and easy to make with items you probably already have in your house!
You can use any type of small cardboard box (e.g. a box that medicine or cream or some type of product came in) and paint it black for the body. Then just draw a mouth on paper, cut it out and glue it to the body together with eyes. Use pipe cleaners for the legs.
Found from mollymoocrafts.com
10. Toilet roll bats
These toilet roll bats are really simple and quick to make (aside from waiting for paint to dry) and will only take you about 5 minutes to do.
If you don't have empty toilet rolls at your disposal, you could also use a paper towel roll or wrapping paper tube and cut it down to smaller sizes.
Found from practicallyfunctional.com
Looking for other Halloween ideas? Check out these posts:
Don't forget to pin these Halloween crafts for kids to your Halloween board on Pinterest!
Pin these Halloween crafts for kids to your Halloween board on Pinterest so you can easily get back to it later!