Okay, maybe it's a bit early to start thinking about Halloween cupcake decorating ideas (or Halloween in general, ha!). But I couldn't help myself. It's one of my favorite holidays. I just love all the Halloween decor, crafts and also Halloween treats!
Last year I did a roundup post of some of my favorite Halloween treats and Halloween decorations so check it out too! This year though, I'm definitely planning on making some cute and scary Halloween cupcakes!
The Best Halloween Cupcake Decorating Ideas
Every year I like to make some yummy snacks and treats for Halloween. This year I'm planning on making spooky cupcakes.
I love cupcakes because they're so versatile and you can decorate them to match any theme. So Halloween cupcakes it is!
I haven't decided quite yet how I'll decorate my cupcakes, but I've found plenty of inspiration online. If you're also thinking about making Halloween cupcakes, check out these wonderful Halloween cupcake decorating ideas from around the web.
1. Halloween Ghost Cupcakes
Okay, let's start with a super simple and easy one – ghost cupcakes!
This is super simple to do, you just add your normal white frosting and use something dark like chocolate chips (the author used chocolate covered pomegranates) for the eyes and mouth!
Found from everydaysouthwest.com
2. Monster Cupcakes
Another really easy one to do. All you need is frosting of different colors and some candy eyes and you're set!
Would be a hit at any kids party!
Found from lifewiththecrustcutoff.com
3. Spider Cupcakes
There are a lot of ideas for spider cupcakes but I found this to be one of the easiest to do.
You just need candy eyes and Oreos. Then you can draw the legs yourself with melted chocolate or frosting.
Found from texanerin.com
4. Dirt Worm Cupcakes
The early bird gets the worm with these creepy crawly dirt worm cupcakes! Super easy to do with Orea crumbs and gummy worms.
The author used plastic spider rings for added effect but I'd leave them off or look for edible spiders if you're afraid of the choking hazard.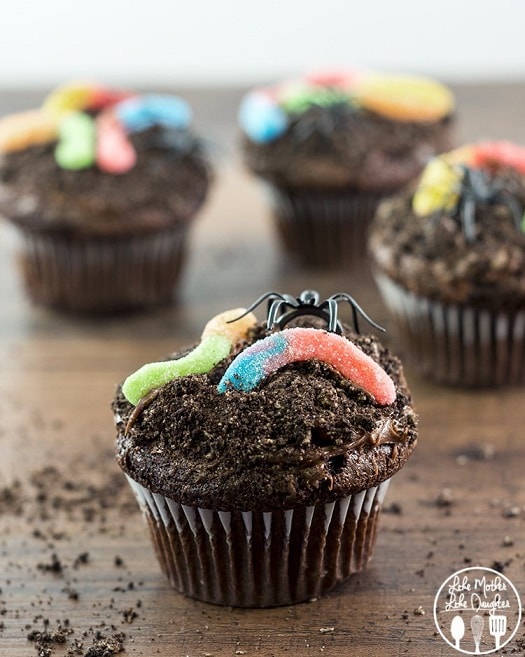 Found from lmld.org
5. Brains Cupcakes
These brains cupcakes would be great for any sort of zombie party for Halloween. Or for anyone who likes their cake just as much as the "Ewww" factor.
If you don't like the bloody organ look, these brains are probably not your cup of cake.
Found from thesimple-sweetlife.com
6. Witches' Brew Cupcakes
I'm not sure exactly what makes up a witch's brew, but there are all sorts of bubbly witchy brewy things going on in this cupcake!
Worth a taste I think!
Found from houseofyumm.com
7. Brownie Cupcakes
Okay these cupcakes aren't really scary or anything, but they're still perfect for Halloween with the orange and chocolate!
Found from twosisterscrafting.com
8. Marshmallow Spider Web Cupcake
These spider web cupcakes are so creative and unique!
It can be a bit on the sticky side as you'll have to melt the marshmallow and use your fingers to stretch and wrap the gooey mixture around the cupcakes. But the end result is so worth it and will be a big hit with everyone!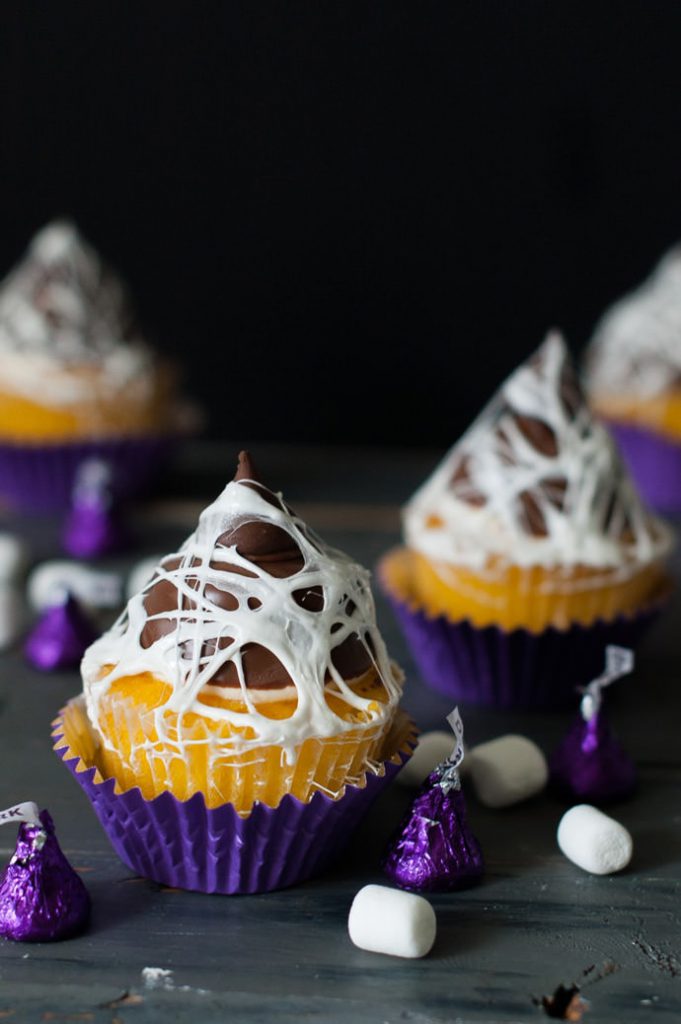 Found from handmadecharlotte.com
9. Frankenstein Cupcakes
These are probably more cute than scary, but I love it!
Easy to decorate with sprinkles, Tootsie Rolls, white melts and M&M's for the eyes. Use brown M&M's for the pupils for a cute look, or red ones for a more scary look!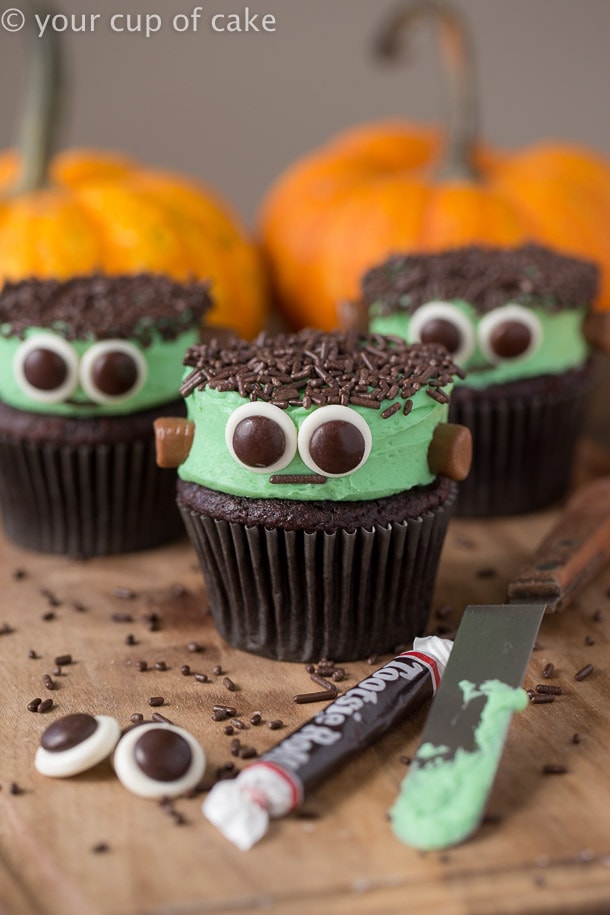 Found from yourcupofcake.com
10. Tombstone Cupcakes
These tombstone cupcakes use Milano cookies dipped in chocolate for the tombstone and crushed Orea cookies for the dirt piles around the tombstones.
You can use melted white chocolate to pipe the word "RIP" onto each cookie.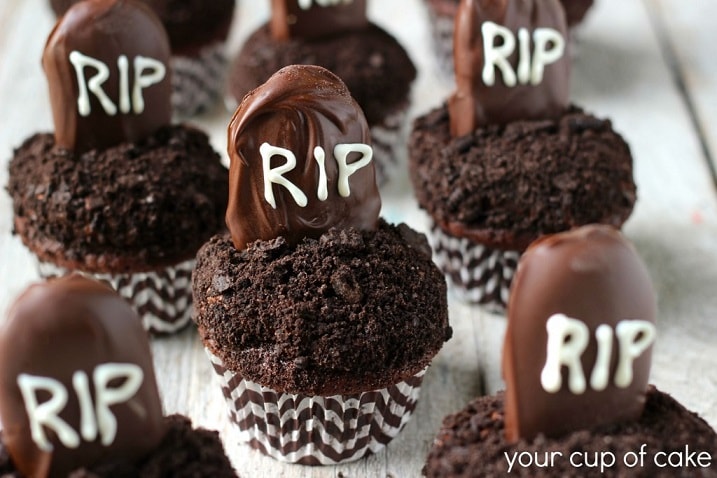 Found from yourcupofcake.com
11. Broken Glass Cupcakes
I would call these Dexter cupcakes, but I guess they bear the markings of all sorts of horror movies.
Anyway, these are red velvet cupcakes (yum!) with glass candy and edible blood made from condensed milk!
Found from easybaked.net
12. Monster Claw Cupcakes
There are two versions of this cupcake, the silly version (pictured below) and a scary version (click the link below if you want to see).
It's also really easy to make these – you roll your claws with marshmallow fondant (you can use marzipan too). And to get the fuzzy 'fur' the author simply used a grass tip for the frosting.
Found from bakingdom.com
13. Candy Corn Cupcakes
Moving away from the scary cupcakes to something a bit more on the cute side, these candy corn cupcakes are adorable!
You'll need 3 different shades of frosting – the author used white, yellow and orange buttercream.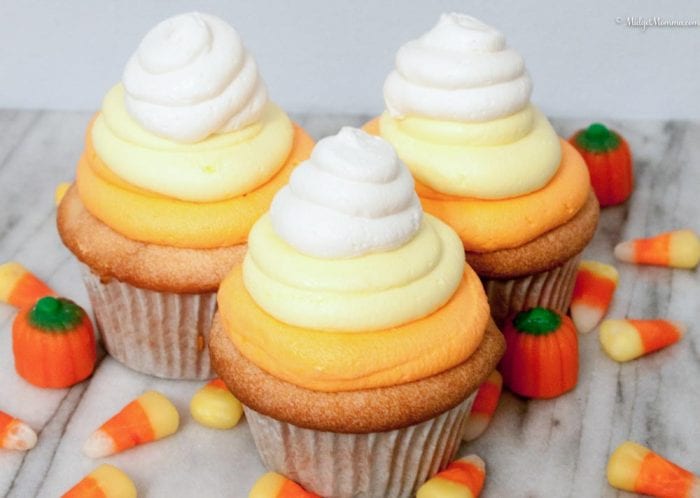 Found from midgetmomma.com
14. Witch's Hat Cupcakes
These witch hat cupcakes are really festive and fun and will be a hit at any Halloween event.
All you need is some green frosting for the base, chocolate wafer cookies and sugar cones, melted chocolate and tinted frosting for decorating the 'hat'.
Found from thecraftingfoodie.com
15. Cauldron Cupcakes
Okay, it might look deceiving, but the cauldrons, in this case, is actually just silicone cauldrons that you serve the cupcakes in. I initially thought it was perhaps made or marzipan or something, but that would be too much effort for me anyway!
It's still a really cool idea for a Halloween party though!
Found from apumpkinandaprincess.com
16. Black Cat Cupcakes
These black cat cupcakes are all chocolaty goodness and still perfectly fit for Halloween.
The ears and whiskers are cut out from chocolate taffy (could also use a Tootsie Roll) and the eyes are made with fondant but you could also just use yellow M&M's.
Found from onelittleproject.com
17. Mummy Cupcake
These mummy cupcakes are a spooky but fun treat that kids and adults alike will love!
For the frosting, you'll need a flat tip to create the mummy look by weaving back and forth and just leaving a small space for the eyes. The author shows you very well how to do this.
Found from frugalmomeh.com
18. Skeleton Cupcakes
When first looking at this cupcake you might think that it's difficult to make or too much work, but it's really not!
The ribs and arms are simply yogurt mini pretzels and the head is a marshmallow stuck on a lollipop stick. Because it looks more difficult to make than it really is – these are sure to impress family and friends!
Found from womansday.com
19. Spider Web Cupcakes
If you're looking for something Halloweeny but don't want to go cute or scary necessary, these spider web cupcakes fit the theme very well!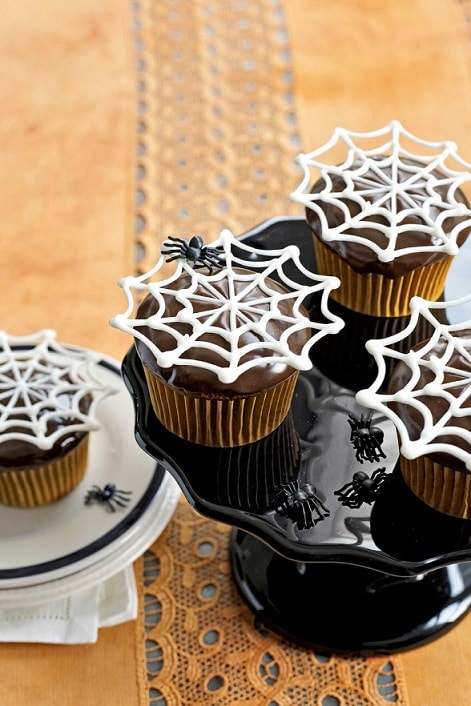 Found from countryliving.com
20. Halloween Bat Cupcakes
No collection of Halloween cupcakes would be complete without some sort of bat cupcake!
I found these ones to be really cute and easy to make with mini Oreos for the body and round wafer cookies broken in half for the wings!
The eyes are just white chocolate chips with chocolate pips stuck to the back (flat) side of the chocolate chips.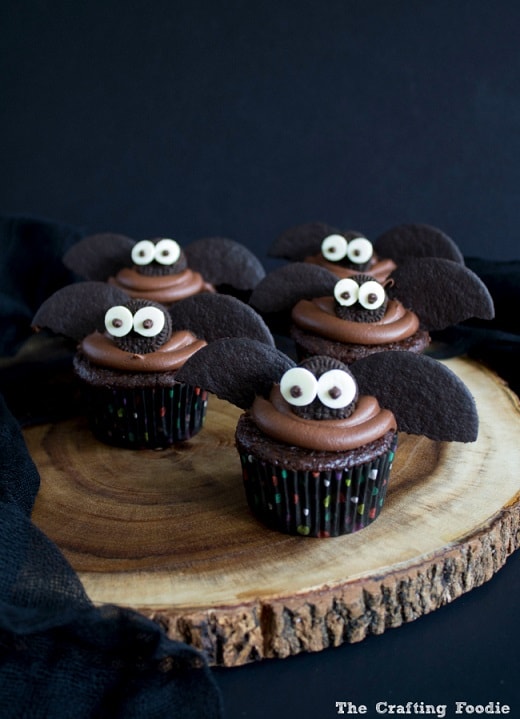 Found from thecraftingfoodie.com
Loved these cute Halloween cupcake decorating ideas?
If you enjoyed this roundup of Halloween cupcake decorating ideas, remember to save this pin to your Halloween treats board on Pinterest so you can get back to it later!
After saving this pin, you might also want to check out these other awesome Halloween posts too: