If you want to have the prettiest front porch on your block this fall, check out these beautiful DIY fall porch decorating ideas that will instantly brighten up the entrance to your home.
Gorgeous DIY Fall Porch Decorating Ideas
Your front porch is the first thing you see when you look at your house, so why not make it look pretty and inviting? And with fall around the corner, it's easier to achieve than ever.
The warm and bright colors of fall can instantly add life and excitement to any plain or dull looking front porch. And best of all? You can create decorate your front porch for fall without breaking the bank!
I've rounded up some of the prettiest DIY fall porch decorating ideas so they can serve as inspiration for decorating your own porch.
For more info or instructions on how to do any of these projects, you can click on the link below each of the images.
1. Vintage Harvest Fall Porch Decor
This farm fresh vintage themed front porch decor combines the farmhouse appeal with a hint of glamour.
If you've got space for a small bench on your porch, you could give this look a  try. I can envision being able to do something similar with a small ladder too.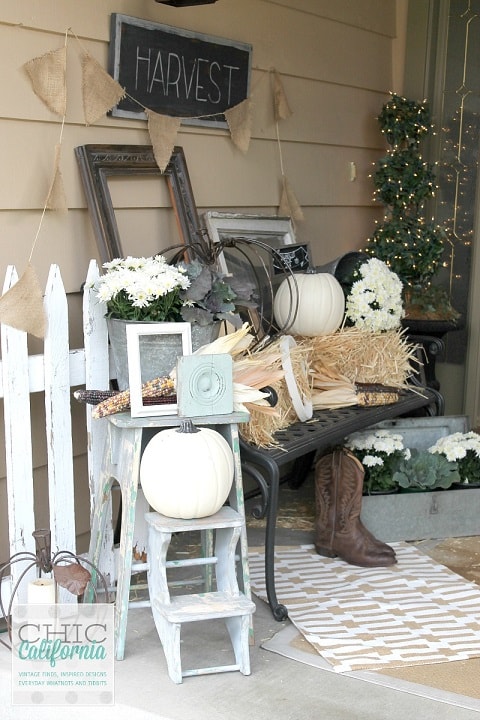 Found from aehomestylelife.com
2. Wheelbarrow Pumpkins
If you have a wheelbarrow, wooden or not, you can definitely spruce it up for fall!
Fill it with gourds, pumpkins, dried leaves, berry springs, and any other fall items you can get your hands on to create a beautiful entryway piece.
Found from bhg.com
3. DIY Marquee Light Letter Pumpkins
This one may be a little more effort because you have to cut out the shapes of the letters from the craft pumpkins.
But the finished result is definitely worth it and the lights look gorgeous at night!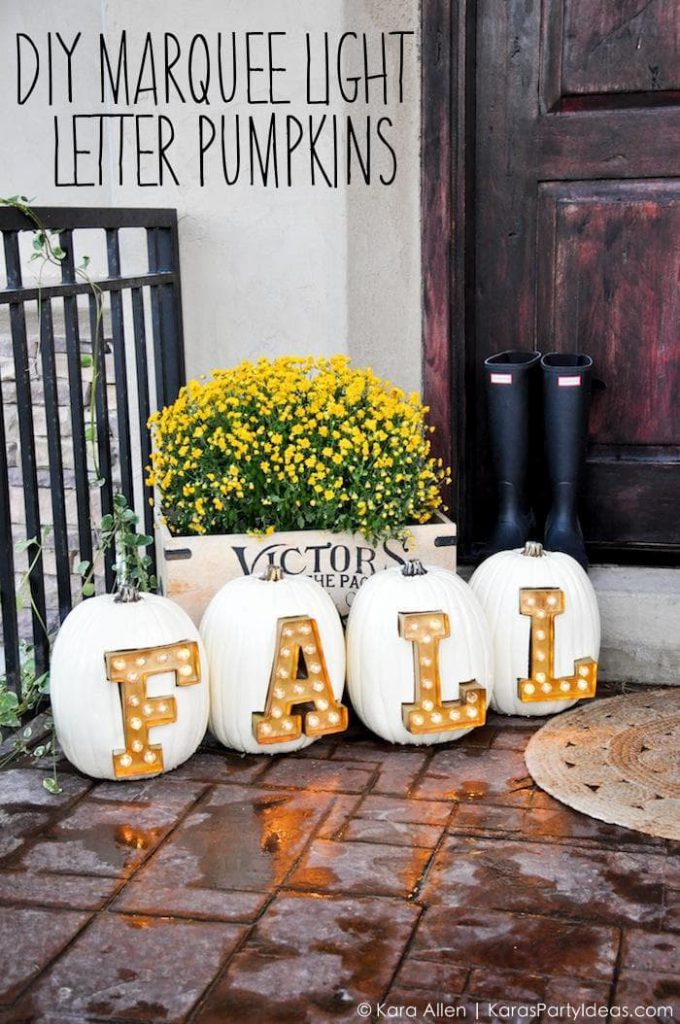 Found from karaspartyideas.com
4. Overflowing basket
If your looking for something simple and easy to do, try your hand at this overflowing basket arrangement.
Simply add a basket, assorted fake pumpkins, a fall leaf garland and a small bale of hay next to your front door.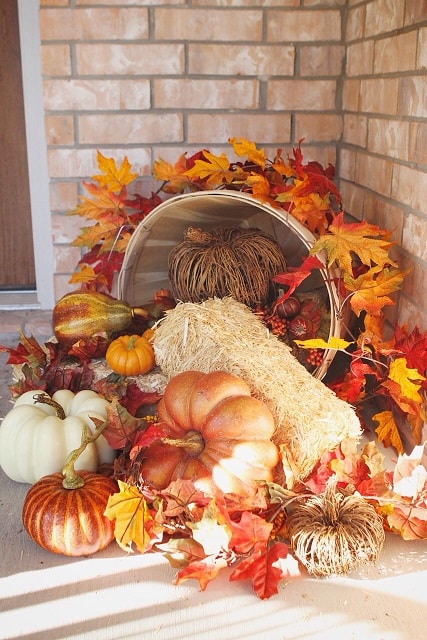 Found from indeeddecor.com
5. Rustic Metallic Fall Porch
If you don't want to go all bright and orange with your front porch, give this neutral metallic color scheme a try. It looks elegant and classy and welcoming at the same time.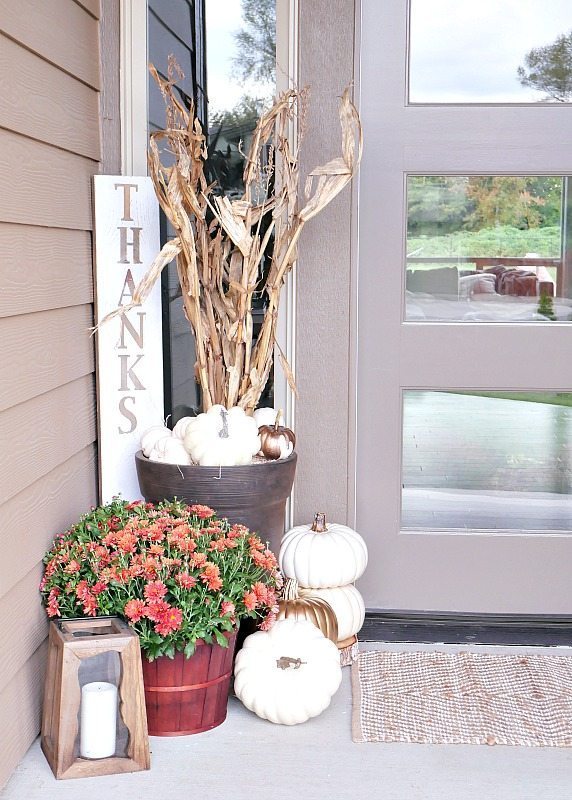 Found from tarynwhiteaker.com
6. Chalkboard Pumpkin
I never would've thought to paint a pumpkin with chalkboard paint, but it's such a cool idea!
You could use it for anything from a welcome sign to having it display your number.
Hint: Would also be perfect decor for Halloween, where you could draw monster faces on it or write spooky messages.
Found from jeanneoliver.com
7. Fall Mums in Olive Buckets
This is for someone who wants to move away from the norm and don't want to go overly dramatic in decorating their front porch.
These fall mums installed in olive buckets has a bit of an industrial feeling to them.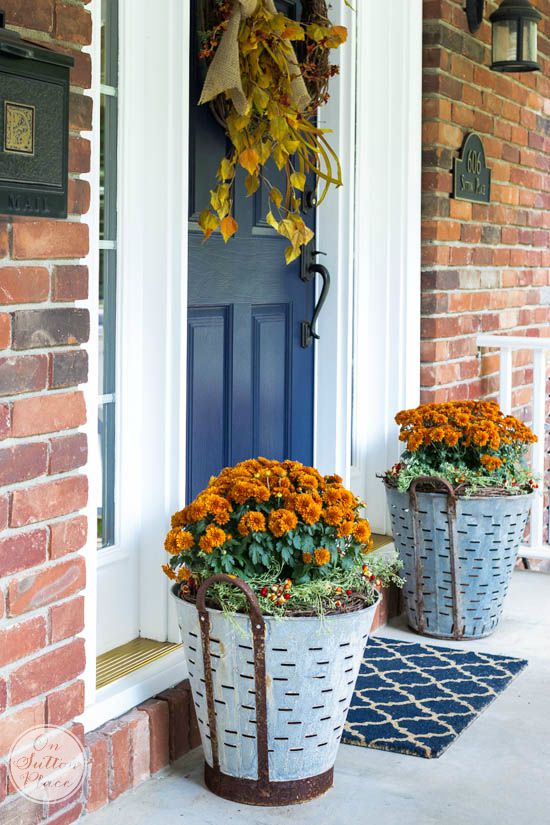 Found from onsuttonplace.com
8. Vintage Fall Porch
If you want to go for a vintage and more neutral color fall look, check out this lovely vintage fall porch decor.
The author made use of corn stalks, a bale of hay, an assortment of pumpkins and a re-purposed ladder with burlap letters.
Found from ourvintagehomelove.blogspot.com
9. Pillows and Throws
If you already have some chairs out on your front porch, a simple way to add some fall elegance to them is by simply adding some pillows and throws.
I love how well the color of these throws matches that of the pumpkins!
Found from onsuttonplace.com
10. Farmhouse Themed Fall Porch Decor
This farmhouse themed fall porch decor is perfect for anyone with a small porch. Just add some fake pumpkins, a small bail of hay, a lantern, a leaf garland and a rustic farmhouse sign to one side of your porch.
Found from thecraftingchicks.com
11. Pumpkins presents
Instead of just stacking your pumpkins, spruce them up with some ribbon. I think this would look pretty cute with some burlap ribbon too!
Found from fynesdesigns.com
12. DIY Fall Doormat
Besides just adding fall decor to your front porch, another thing you can consider is creating your own fall doormat.
This one is easy and cheap to make as you'll only need to find a plain doormat and paint some leaf patterns on it with a stencil.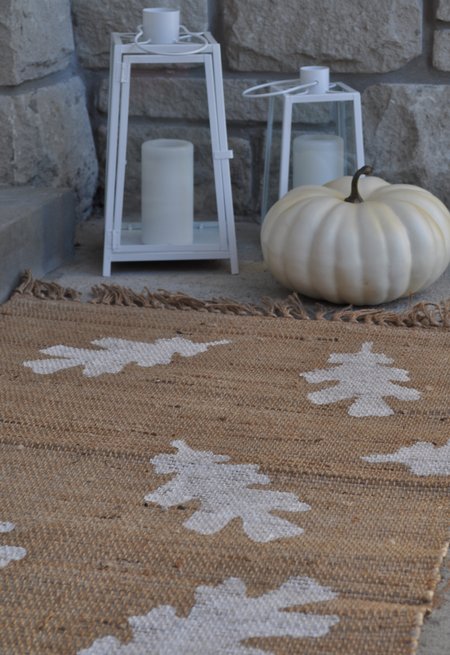 Found from lifeisaparty.ca
13. DIY Reclaimed Wood Pumpkins
If you've got some woodworking skills and want to make something that will last a long time, try your hand at these DIY reclaimed wooded pumpkins.
They're gorgeous and can be used inside and outside the house.
Found from findinghomefarms.com
14. Fall Decorated Outdoor Lantern
This fall decorated lantern is quick and easy to make and will give you a unique looking fall decor piece.
You can easily get everything you need – a lantern, candle, and a fall leaf and berry garland – in one trip to the dollar store.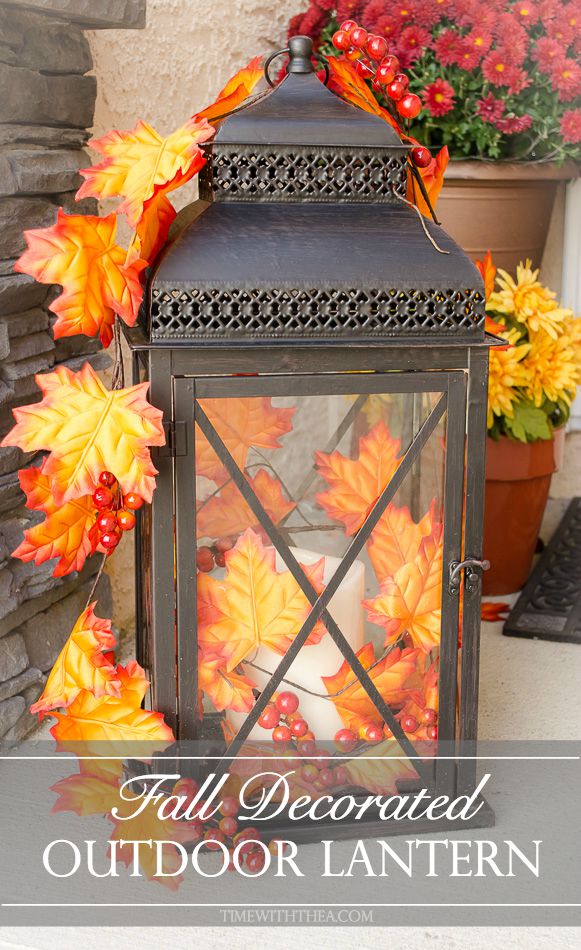 Found from timewiththea.com
15. Add a Rocking Chair
If you have a rocking chair (lucky you!), you can easily create this simple and cozy look.
Simply add a blanket, some pumpkins, and a basket filled with gourds, pumpkins and vines.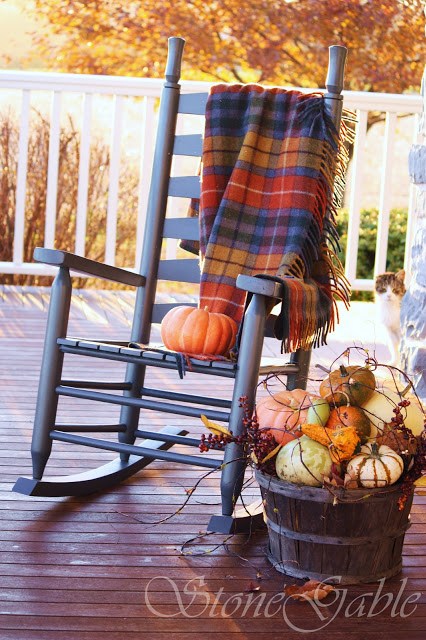 Found from stonegableblog.com
16. Fall Pallet
If you have a pallet lying around that you're not using, why not make this happy fall welcome sign pallet?
Found from themagicbrushinc.com
17. Pumpkin and Leaf Porch Decorating
Got some steps leading up to your front door? Try decorating them with a mixture of small and big pumpkins.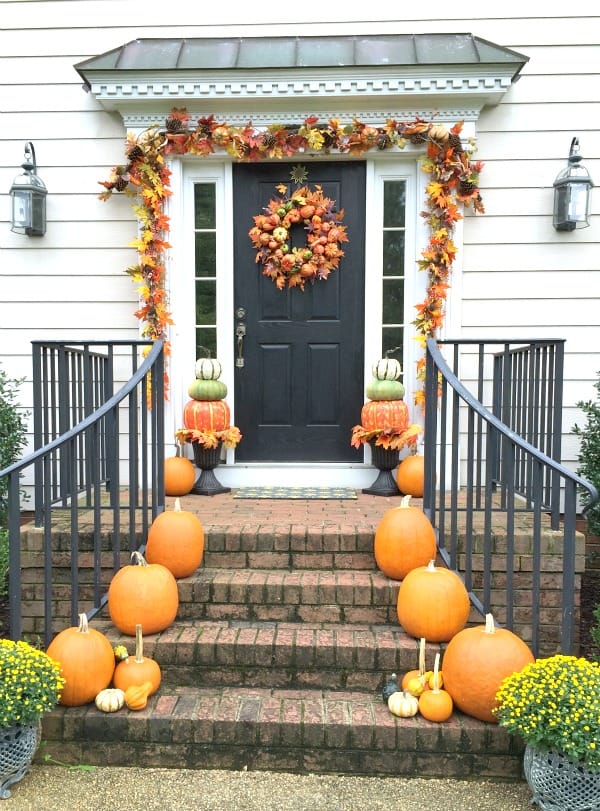 Found from lauratrevey.com
18. Re-purpose a Ladder
Okay, this picture is actually from a fall garden tour, but I think it could work equally well on your front porch!
You could also go with less flowers and more pumpkins and gourds if you'd like.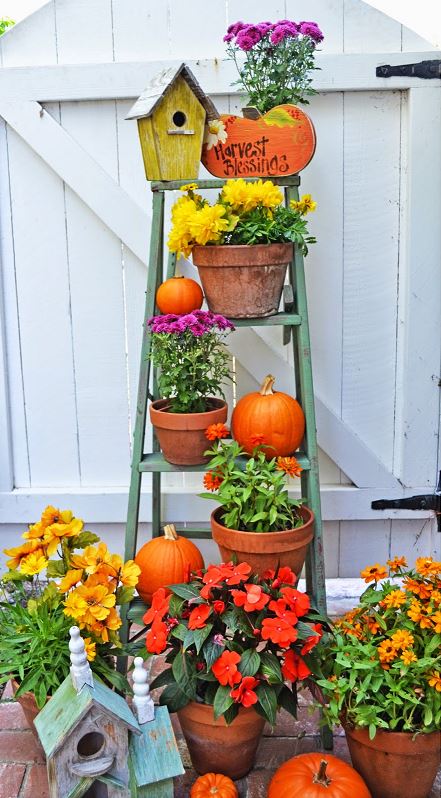 Found from mypaintedgarden.com
19. Minimal Fall Porch Furniture
You don't need a bench on your porch to decorate for fall, but if you like the look/idea and don't have a bench, you can also consider doing something with a chair.
This fall porch look is really effortless to create and shows that you don't need to have fancy decorating skills to create something beautiful.
Found from lollyjane.com
20. Harvest Display
Looking for an easy display where you can just throw everything together and be done within minutes?
Then try this harvest display where you can just add hay, pumpkins, corn and berry vines to a galvanized tub.
Found from threepixielane.blogspot.com
21. Giant Distressed Fall Sign
Want to make a big impact without going crazy with the decorations this fall? Then try out this giant distressed fall sign with some minor decor pieces to round it off.
Found from lovegrowswild.com
22. Farmhouse Fall Table
If you have the space and want to go with a farmhouse look, you can try setting up this fall table and chairs display.
It requires a bit more work but looks really cozy and inviting!
Found from yellowprairieinteriors.com
23. Huge Front Porch Welcome Sign
Welcome family and friends to your home with this huge fall inspired welcome sign. It's easy enough to make and looks friendly and inviting when dressed up with some pumpkins and other fall decor.
Found from thewoodgraincottage.com
24. Neutral Fall Porch
This vintage fresh corn farmhouse sign is so cute and looks great on any front porch.
If you're going with a neutral color scheme this is definitely something to try!
Found from tarynwhiteaker.com
25. House Numbers Pumpkin Topiary
How cute is this idea to show your house numbers with pumpkins is a basket?!
The perfect way to incorporate fall into your front porch decor!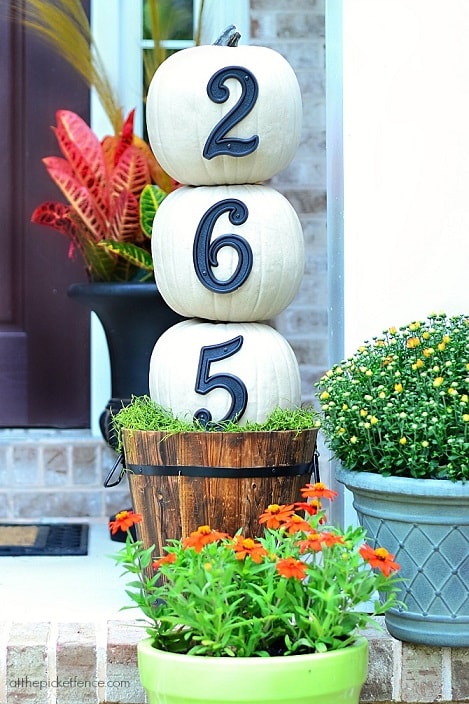 Found from atthepicketfence.com
26. Natural Fall Porch
If you don't want to go all out with your fall decor but want to keep it natural and understated, you can add a touch of fall by simply adding a few pumpkins and gourds here and there on your front porch.
Found from unexpectedelegance.com
27. Distressed Dollar Store Pumpkins
This tutorial shows you how you can easily create these distressed looking pumpkins with pumpkins from the dollar store.
Toss them in a metal bucket with a blanket and put them on your front porch for a cozy fall look!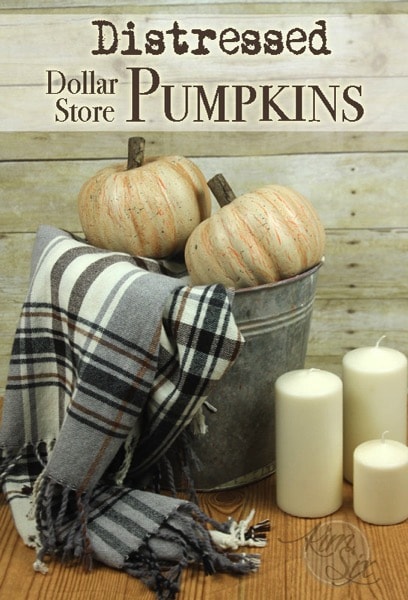 Found from thekimsixfix.com
28. Urban Farmhouse Fall Porch
Ahh, the pastels in this picture makes my heart happy!
The muted peach and blue cinderella pumpkins with mums in the center work so well with this front porch. And the wreath on the front door brings everything together to create a beautiful and soft fall theme.
Found from homestoriesatoz.com
29. Welcome Banner
Another idea for a welcome sign is to create a welcome banner. And what better material to use than burlap?
Found from forrent.com
30. Chalkboard Welcome Sign
If you like the idea of a welcome sign but don't want to try your hand at creating one yourself, why not write your welcome message on chalkboard?
What's great about this is that you can use it to decorate for any season simply by changing the text!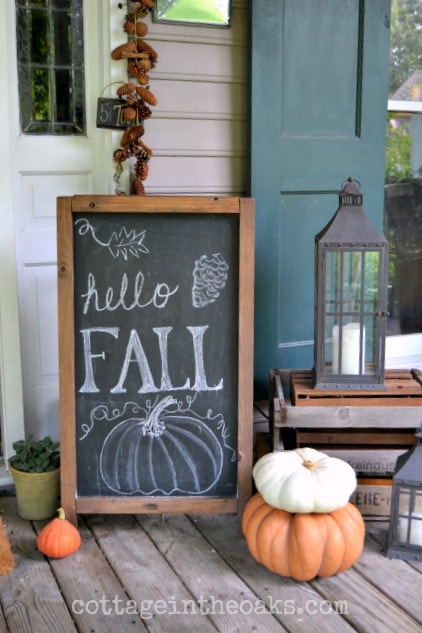 Found from cottageintheoaks.com
31. Burlap Pillow Bench
If you already have a bench for your porch, you can simply dress it up with some fall decor to make it fall friendly.
Adding minimal elements like a burlap pillow with some pumpkins and blankets is all that's necessary to recreate this subtle fall porch look.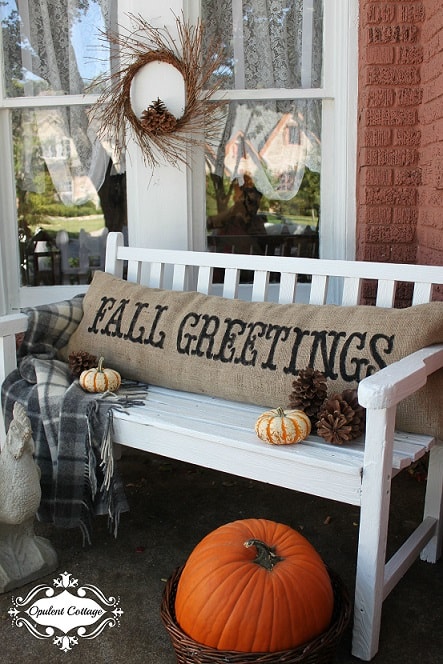 Found from opulentcottage.typepad.com
Want to spruce up your door with a wreath this fall? Check out my post on the best DIY fall wreath ideas to try this year!
Enjoyed this roundup of DIY fall porch decorating ideas? Then save it for later!
If you found some ideas to decorate your front porch this fall and want to get back to this post of DIY fall porch decorating ideas later, save it to your fall decor board on Pinterest!