Fall is probably my favorite season. I just love all the warm earthy colors that come into play this time of year. And I also love bringing those colors and fall feeling into my home. So I've been looking at some easy to do DIY fall wreath ideas so I can brighten up my front door and welcome the colors of fall.
Note: This post contains affiliate links, which means I may receive a small commission if you purchase an item through my links. Please see my full affiliate disclaimer here.
15 DIY Fall Wreath Ideas To Try
For some of these DIY wreaths you can use either a wreath frame or a grapevine wreath that you can find on Amazon or at your local craft store.
To see the full tutorial for each of these fall wreaths, please click on the link below each image. They contain some useful tips on making your wreath!
1. Neutral Fall Wreath
Thought I'd start out with a simple, neutral colored fall wreath.
This one is really easy to make. All you need to do is cut a drop cloth into lots of strips and tie them to your wreath frame until you can't see the wire anymore.
Found from livelaughrowe.com
2. Indian Corn Wreath
This one uses a straw wreath as the base, and is actually super easy to make and can be done in about 30 minutes.
You'll need some multi-colored corn (the author picked up hers from her local Amish greenhouse) and some hot glue. Just fluff the husks on the mini corn, and glue them to the straw wreath.
Found from stonegableblog.com
3. Burlap Bunting Wreath
If you're looking for a simple, minimalist wreath that still make a bold statement, this is the wreath for you.
Make your own burlap bunting with the letters of your choice and simply tie it to the grapevine wreath.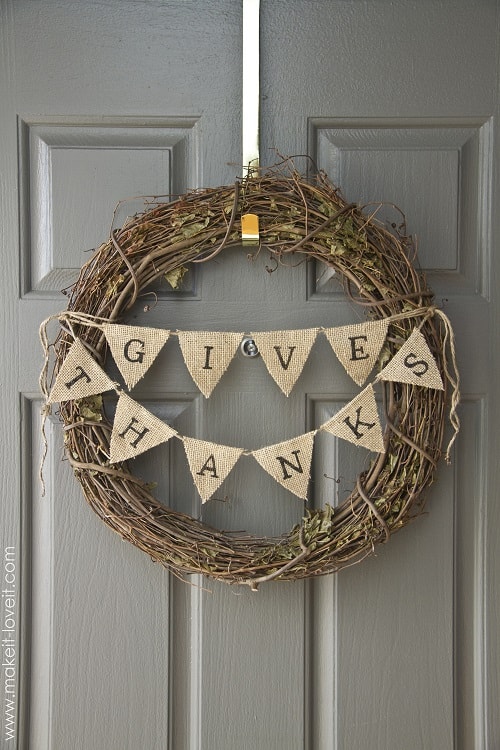 Found from makeit-loveit.com
4. Sunshine Wreath
This sunshine wreath actually uses some cut out cardboard for the wreath base.
It takes a bit more work to gather all the sticks and make the rosettes, but in the end it will be so worth it when you have this unique wreath!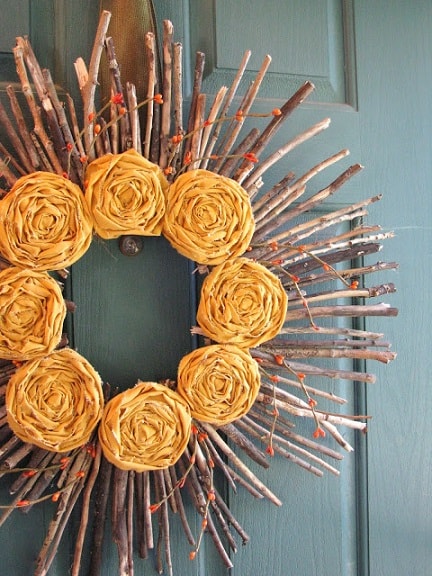 Found from yellowmums.blogspot.com
5. Felt Leaf Wreath
To make this wreath, you'll need to get a wispy wreath with swirly branches as your base. You can get this at garden nurseries and home stores.
Then you just need to cut out and add some felt leaves to create this stunning piece.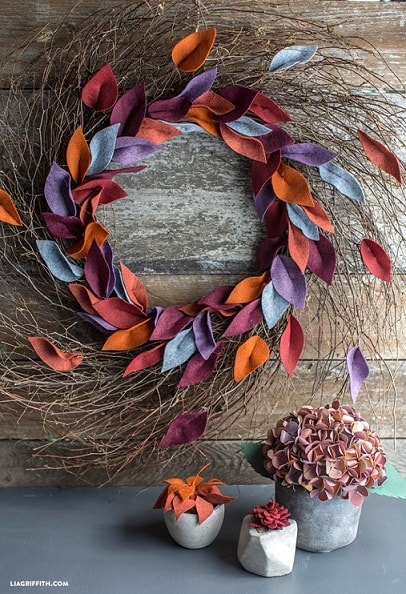 Found from liagriffith.com
6. White Pumpkin Wreath
This white pumpkin wreath uses a leaf wreath as the base, but you could also recreate this look by simply wrapping a leaf garland around a grapevine wreath.
Then you just need to add the mini pumpkins and the Japanese lantern spray to complete the look.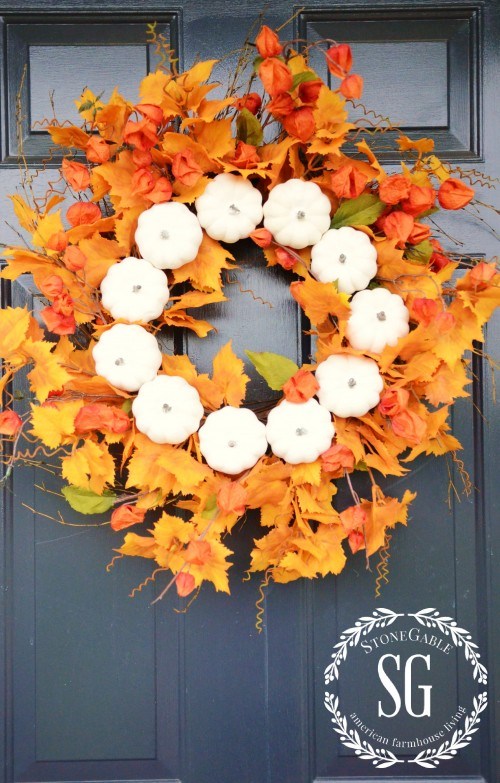 Found from stonegableblog.com
7. Decorated Fall Wreath
If you don't want to go for the oranges and yellows with your fall wreath, you can also go for shades of green, white and brown.
This beautiful wreath does just that while still giving off that cozy fall feeling.
Found from confessionsofaserialdiyer.com
8. Rustic Fall Wreath
This lovely rustic fall wreath again uses a stick/branch wreath as the base.
Then the author added some small paper pumpkins and faux fall leaves (you could use real ones too!).
Found from houseofjoyfulnoise.com
9. Moss Wreath
This moss wreath keeps a neutral color scheme and looks so simple and elegant.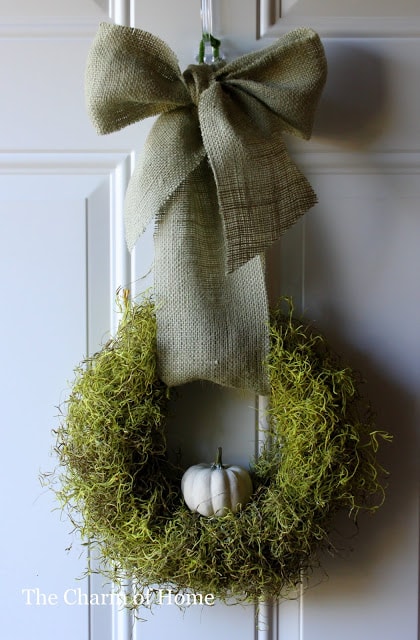 Found from thecharmofhome.blogspot.com
10. Raffia Wreath
Believe it or not, this wreath is actually really easy to make, and also cost under $15!
I just love the messy and fluffy look of this wreath, and it fills up the door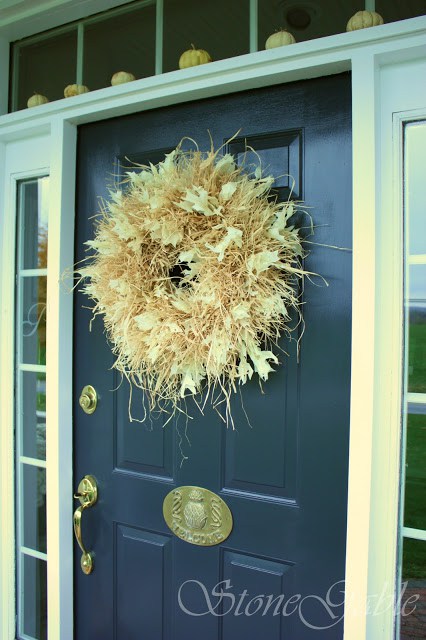 Found from stonegableblog.com
11. Circle Pumpkin Wreath
How cute is this wreath with mini pumpkins!?
This wreath actually uses real pumpkins, check out the tutorial to see how to make your pumpkins and gourds last longer and not mold.
Found from onsuttonplace.com
12. Felt Rosettes Wreath
This wreath is really simple and easy to make, the author of the tutorial purchased everything for less than $10.
The tutorial also shows an easy way to create those felt rosettes.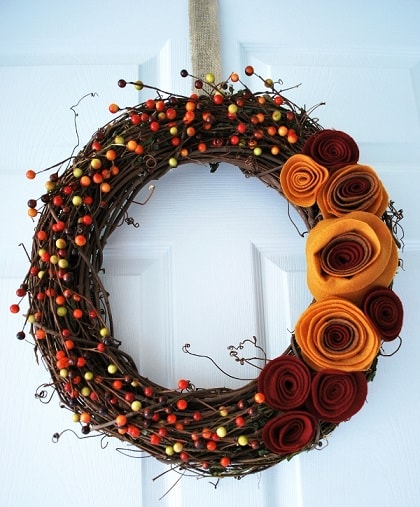 Found from craftingmom.com
13. Rustic Burlap & Yarn Wreath
Another neutral color palette wreath, this one uses a foam wreath form as a base, but you could just as easily cut out your wreath base from cardboard or something similar.
Found from blog.consumercrafts.com
14. DIY Fall Wreath With Bling
If you want to add a bit of bling to your wreath, why not try this one out?
Just spray paint some leaves and berries with colors of gold and silver and add it to your wreath base.
Found from frugalflourish.blogspot.com
15. Fall Leaf Wreath
This is also a super easy wreath to make that is bright and full of color.
You can use real leaves or preserved leaves that you can get from a craft store, and simply  stick the branches into your wreath base – no glue required.
Found from designimprovised.com
Pin these DIY fall wreath ideas for later!
If you enjoyed this roundup of DIY fall wreath ideas, please pin it to your fall or wreath board on Pinterest!