Keto fat bombs are an easy (and delicious!) way to make sure you get enough fat into your keto diet.
When you're eating keto, you have to make sure that you hit all your macros each day. This means you have to eat a certain amount of protein, fats, and carbs every day.
One of the areas in which people usually fall short when eating keto is eating enough healthy fats. This is especially true for beginners on the keto diet.
Please note, this post contains affiliate links, which means I may receive a small commission – at no extra cost to you – if you happen to purchase something through one of my links. For more information, please see my full affiliate disclaimer here.
10 Keto Fat Bombs To Help You Reach Ketosis
When starting on the keto diet, a lot of people struggle to reach their daily macros for healthy fats.
Falling short on your macros becomes a problem over time as you'll struggle to get your body into ketosis, which is where the fat burning happens.
Luckily, keto fat bombs will help you reach your daily macros a lot easier.
Below I've rounded up a list of some of my favorite fat bombs to help you reach your macros. And you'll be happy to know that not only are they full of good fats, but they're absolutely delicious too!
If you'd like more detail on any of the fat bombs below, you can click on the link below each picture, and it will take you to the original recipe.
---
PS: If you're new to the keto diet and want to know what it's all about, I highly recommend checking out this keto beginner audiobook. It will guide you through everything you need to know, help you get started on keto the right way and provide you with a great number of recipes. You can also check out this keto beginner ebook if an audiobook is not your thing.
---
1. Berries & Cream Fat Bombs
These fat bombs are made primarily with frozen mixed berries and cream cheese (yum).
And with only 1.4g net carbs, this one is sure to become a favorite quickly! Also, did I mention this recipe is also gluten free, grain free, vegetarian and refined sugar-free?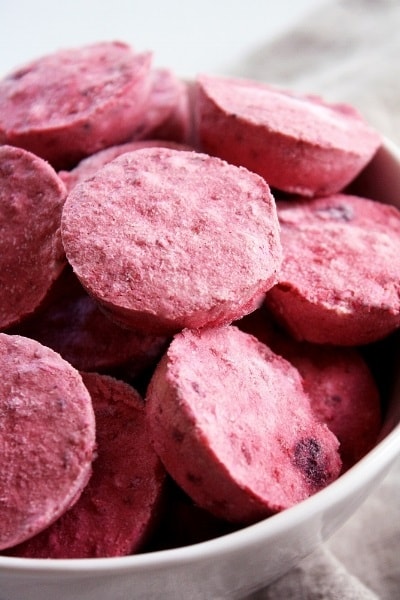 Found from Real Balanced
2. Jalapeno Popper Fat Bombs
Are you looking for a quick snack to satisfy your taste buds? Then look no further!
These jalapeno popper fat bombs combine all your favorite flavors of jalapeno poppers into a quick snack. And, with the added saltiness of the bacon, it's absolutely divine!
Found from Ruled
3. Low-carb White Chocolate Butter Pecan Candies
Okay, so you really don't have to give up on chocolate to eat Keto. I know I wouldn't be able to do it. That's why I'm so happy that I discovered this recipe!
These white chocolate candies made with cacao butter as the base. They are deep and rich flavored and will easily keep your chocolate cravings at bay.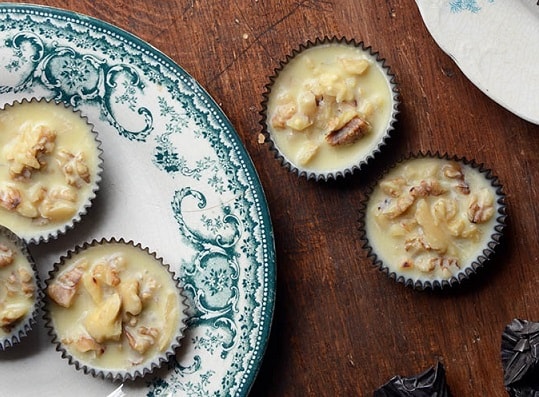 Found from Healthy Sweet Eats
4. Peanut Butter And Jam Cups
Love your peanut butter and jam/jelly sandwiches? Then you'll love these low carb peanut butter jam fat bombs!
They are full of healthy keto friendly fats and only take 15 minutes in total to make. Make a batch and keep them in the freezer for an easy and quick snack. Perfect for those busy days!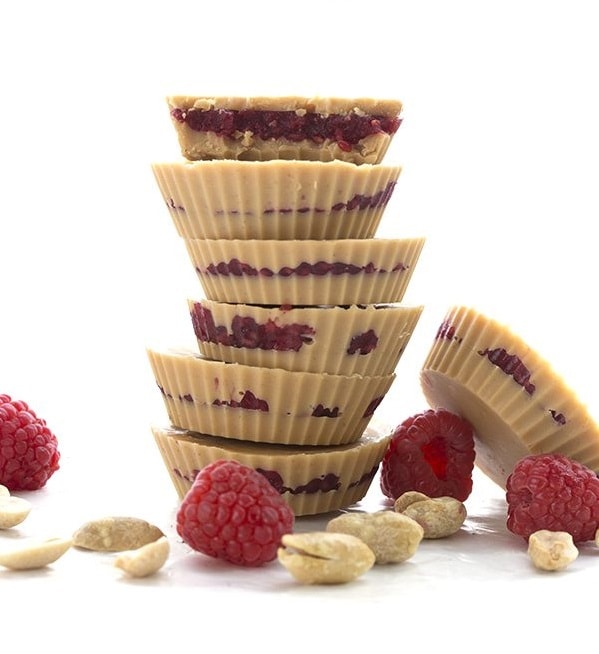 Found from All Day I Dream About Food
5. Bacon & Guacamole Fat Bombs
If you're not a fan of sweet tasting fat bombs, there are plenty of yummy savory fat bombs you can try.
Like this bacon and avocado fat bombs recipe. You'll want to make this again and again, trust me!
Found from Keto Diet App
6. Dairy Free Coconut Chocolate Fudge
These keto fat bombs are pure fudgy, chocolatey goodness!
And they are so simple to make. It's one of those recipes where you can just chuck everything together and it takes less than 5 minutes to make.
Found from Low Carb Yum
7. Almond Pistachio Fat Bombs
This creamy, nutty fat bomb will melt in your mouth and is sure to keep you full between meals.
And the pistachios just give it that extra delicious nutty flavor which you'll love if you like pistachios.
Found from The Healthy Foodie
8. Pizza Fat Bomb
Pizza in a ball? Yes, please!
With this fat bomb, you can combine all your favorite pizza flavors into a mini pizza ball.
You can also serve it as appetizers, and no one will even know its keto approved!
Found from Ruled
9. Matcha Maca Fat Bomb
I adore the way these fat bombs look! I know it doesn't really matter, but come on, they do look somewhat fancy, right?!
Anyway, they don't just look fancy, but they're also packed full of nutrient-dense ingredients that will keep you full until your next meal.
Found from Peachy Palate
10. Keto Cookie Dough Truffles
If you're like me and love cookie dough (and brownie dough of course!), then you'll love these keto cookie dough fat bombs!
They taste just like real cookie dough and are perfect for a midday snack.
Found from Keto Diet App
---
If you're struggling to lose weight on the keto diet, it could be that you're not hitting all your macros each day. Why not make your life easier and have someone plan out your meals for you?
If you're looking to take the guesswork out of your diet and just want something guaranteed to work, check out this awesome Balanced Keto Weekly Meal Plans service. They'll deliver your weekly meal plan to you straight to your inbox, every week.
And, they're so confident that you'll love it, they're willing to back it up with a 15-day money back guarantee if you sign up for the yearly or 3-month plan. So what have you got to lose?
---
Looking for more keto recipes and ideas? Then you might also want to look at this:
Loved this roundup of Keto Fat Bombs? Pin it for later!
If you enjoyed this roundup of keto fat bombs, please pin it to Pinterest so you can get back to it later.