If you're looking for a cheap way to improve the look of your IKEA Kallax drawers, then look no further than these creative IKEA Kallax hacks!
If you're in the market for some new home decor or furniture, there's no denying that IKEA is one of the best places to find affordable solutions. But out of the box IKEA items are often boring and plain looking, and this might not be look you're going for.
Luckily, there are some very creative people out there who are kind enough to share their ideas on how to spruce up your decor yourself. And today, I'm sharing some of my favorite IKEA Kallax hacks with you.
Most of these are quite easy to do and will only take an hour or so to do, but some may require a bit more complicated work. However the final results are definitely worth the effort in my opinion.
15 IKEA Kallax Hacks You Need In Your Home
Hope you enjoy these IKEA Kallax hacks, don't forget to follow me on Pinterest for more great ideas.
To view the full tutorial for these hacks, please visit the respective websites linked below the images.
1. Craft Room Work Table
This makes the perfect work table for any crafter. The top is replaceable for only $30 so even if you make a mess while working on your projects, there's no need to worry!
Found from landeeseelandeedo.com
2. DIY Rustic Cube Shelves
If you love the farmhouse style look, these rustic cube shelves will be perfect for you!
Found from homemadelovely.com
3. IKEA Kallax Nightstand
This one doesn't require much changing in terms of the item itself, but with proper decorating look how cute and functional this can be as a nightstand!
Found from theeverygirl.com
4. IKEA Kallax Turned into Kitchen Island
This took the author around four hours to complete, but it turned out amazing. Best of all, it's also incredibly affordable!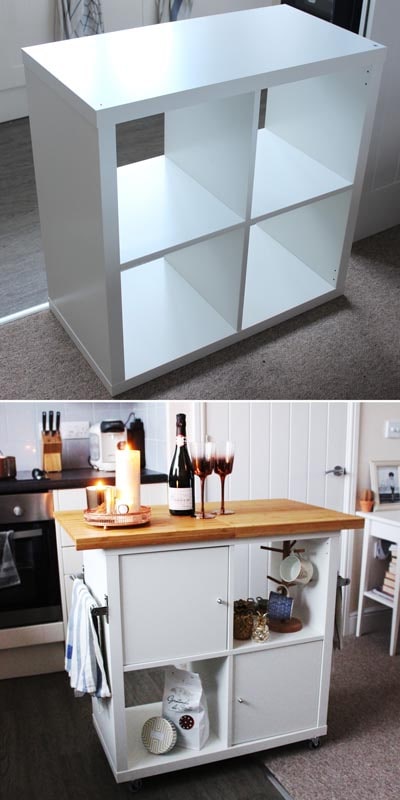 Found from jenloumeredith.com
5. DIY IKEA Bar Cart Hack
A bar cart with wheels? Yes please! And if you're not into wine, this could also double as a coffee cart.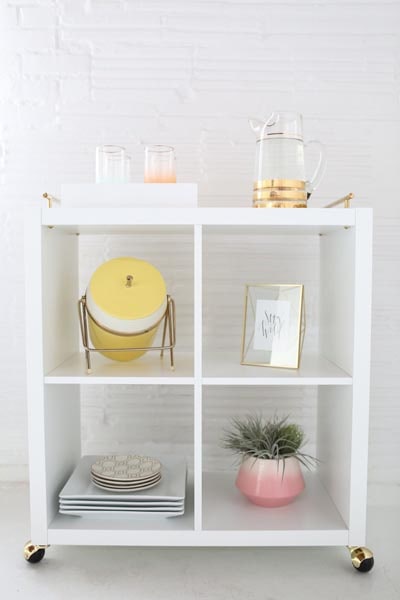 Found from sugarandcloth.com
6. DIY Bookcase Dollhouse
How adorable and creative is this dollhouse? It would look super cute in a playroom for a little girl!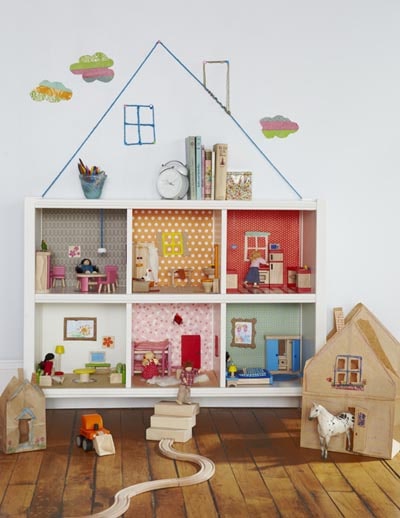 Found from crateandbarrel.com
7. IKEA Kallax Flat File Cabinet Hack
This cabinet will give you so much extra storage, and you can use it for many different storage options. 
And it looks so classy to boot!
Found from oheverythinghandmade.com
8. Quick and Convertible Toy Storage
The KALLAX system is so customizable (you can add drawers, doors, or bins in any way that you want) and perfect for storing books and toys of all sizes.
Found from themakerista.com
9. Kallax Unit With Doors and Overlays
This tutorial will show you how to transform the Kallax unit into an expensive looking piece of furniture by adding doors and overlays. This shelf unit can work in so many places, you can use as a TV stand, as a buffet or in a playroom.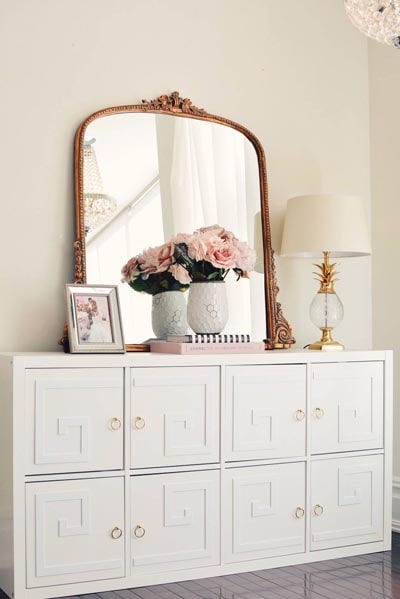 Found from thepinkdream.com
10. IKEA Kallax Door Panels Hack
While a cabinet looks great when used for displaying trinkets or photographs, it becomes quite cluttered when used as a storage unit.
This is a great hack if you want to hide all the clutter behind something beautiful like these panels.
Found from jonacodesigns.blogspot.com
11. DIY Banquette Seat
Turn an Expedit shelving unit on its side to create this gorgeous and fancy looking Banquette seat.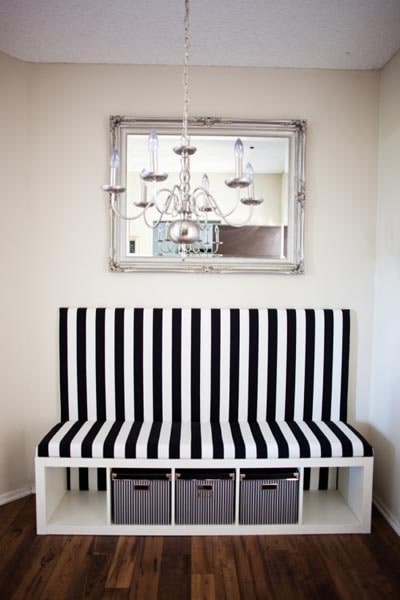 Found from melo-drama.com
12. Kallax Bookcase Turned Into Lockers
An IKEA bookcase gets a huge makeover to resemble the look of storage lockers. Perfect to hide away any clutter that you have no other place to put.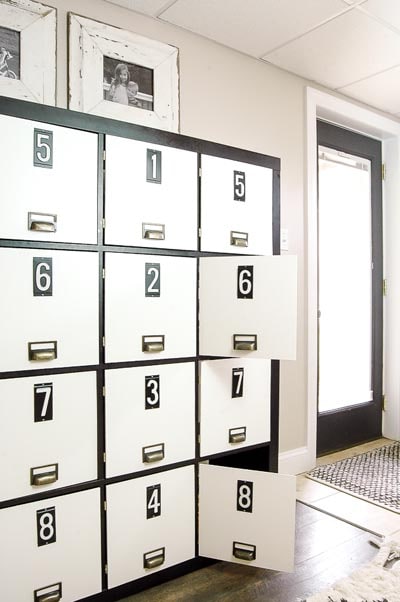 Found from littlehouseoffour.com
13. IKEA EXPEDIT As Wine Storer
A useful way to store all your wine with the IKEA Kallax unit.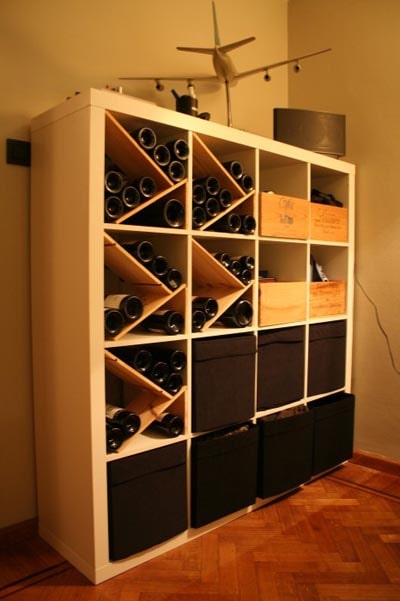 Found from ikeahackers.net
14. Shelving Unit To TV Stand
If you're in the market for a new TV stand, make your own with this shelving unit hack. No need to spend tons on an expensive TV stand.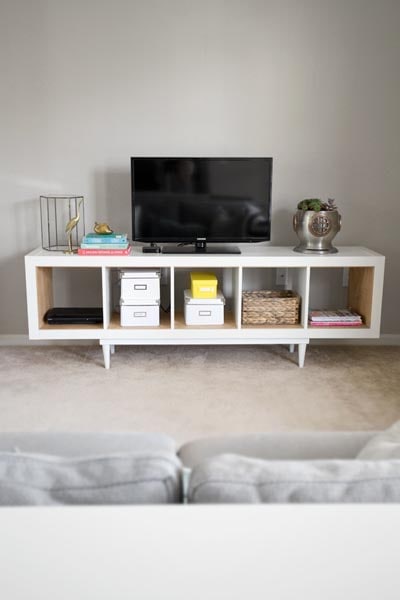 Found from infarrantlycreative.net
15. IKEA No-Sew Window Bench
With a bit of work, you can make your own beautiful window bench. This would be perfect for a nursery with all the extra storage space it offers.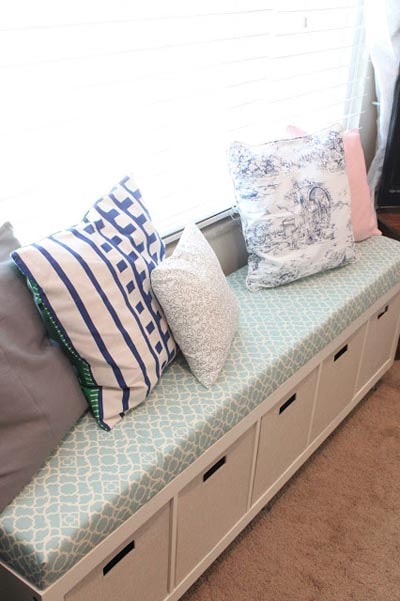 Found from mommyvignettes.blogspot.com
If you're looking for more IKEA hacks or home decor ideas, check out these posts:
Hope you enjoyed these IKEA Kallax Hacks! Please remember to Pin and share!