Want to host a Game of Thrones viewing party but not sure what to serve? Check out these 10 Game of Thrones recipes that will pair perfectly with this exciting series.
14 Creative Game Of Thrones Recipes
1. Deviled Dragon Eggs
No Game of Thrones party is complete without deviled dragon eggs.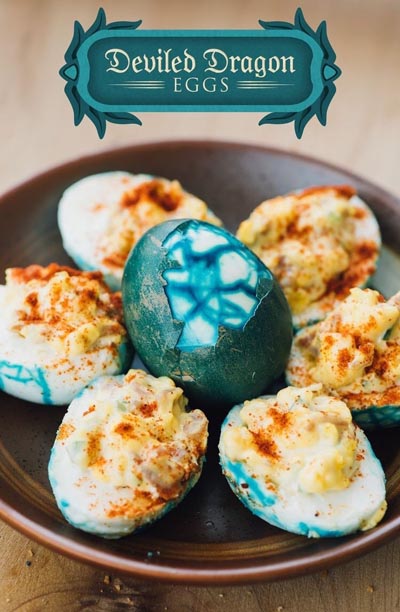 Found from buzzfeed.com
2. Dragon Egg Truffles
Game of Thrones Dragon Egg Truffles are a delectable dessert made with rich chocolate and finely sliced almonds.
Found from rosannapansino.com
3. Direwolf Bread
Hot Pie would be proud of this Game of Thrones Direwolf Bread – a hearty and buttery bread recipe with a hint of orange zest!
Found from rosannapansino.com
4. House Targaryen Dragon Eggs
For the a fun Game of Thrones party, make some painfully easy dragon egg truffles. These chocolate candies will become one of your favorites – they're simple and truly delicious!
They taste decadent and chocolaty, but they're actually deceptively healthy. You can even omit the booze if you want to…
Found from morselsandmoonshine.com
5. White Walker Ice Cream
This Game of Thrones recipe for black sesame ice cream —named after the cold, undead Whitewalkers — is the perfect addition to your Game of Thrones party.
Don't be scared off of by the color of the grey ice cream, the black sesame gives it a peanut butter-like flavor and the blue M&Ms add a nice chocolatey crunchiness!
Found from letseatcake.com
6. Iced Milk & Honey
This drink really doesn't need a recipe. Adjust the honey to your taste and serve ice cold! Please enjoy!
Found from feastofstarlight.com
7. Game of Thrones Frey Pie
Make your very own Game of Thrones Frey Pie, with carrots, parsnips, turnips, mushrooms, bacon, and ground PORK wrapped in a delicious buttermilk pie crust.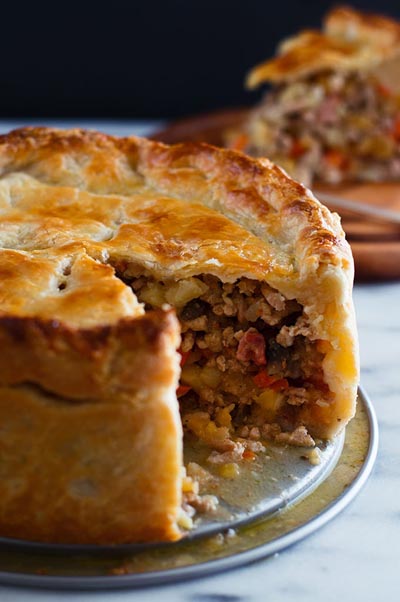 Found from bakingmischief.com
8. Direwolf Claws
These Direwolf Claws are the perfect fun and easy dessert for Game of Thrones watch parties!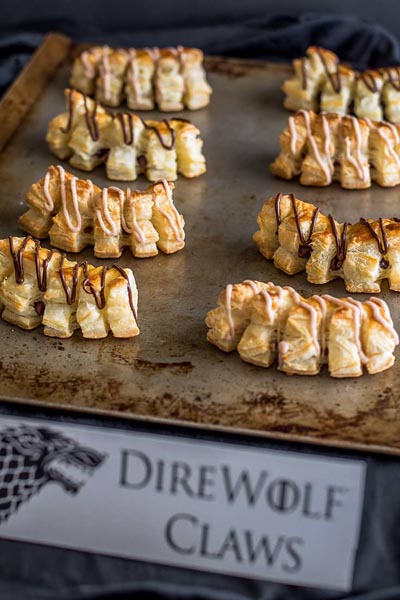 Found from bakingmischief.com
9. Sansa's Lemon Cakes
Inspired by Sansa's favorite dessert in Game of Thrones, these Lemon Cakes are a delicious and zesty magic cake that separates into different textured layers as it bakes!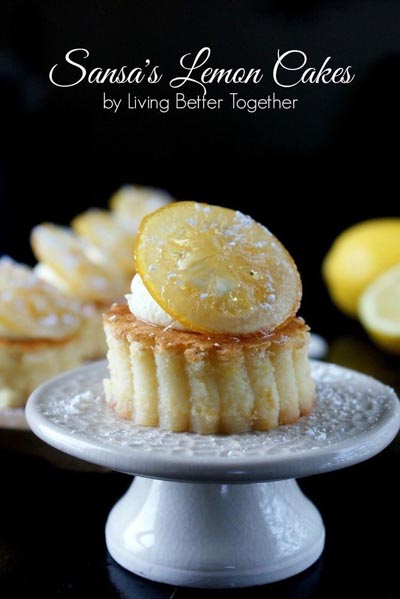 Found from sugarandsoul.co
10. Wildfire Cocktail
A recipe on how to make a Wildfire Cocktail. This flaming Game of Thrones inspired cocktail for is caught fire with Bacardi 151 rum and sweetened by using a mix of Midori and Watermelon Vodka to make a melon martini so good you might explode. Perfect for your next Game of Thrones viewing party.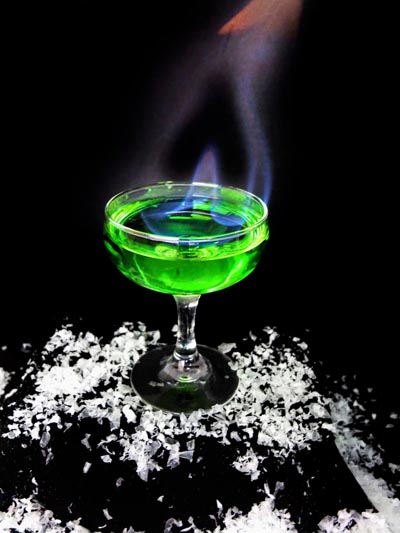 Found from elletalk.com
11. House Sigil Cookies
They're fun and cute, and you can use them to find out which Westeros family your friends belong in.
Just fill a cookie jar with house sigil cookies, blindfold your guests, and ask them to pick a cookie. The house sigil they pick will be the house they belong in.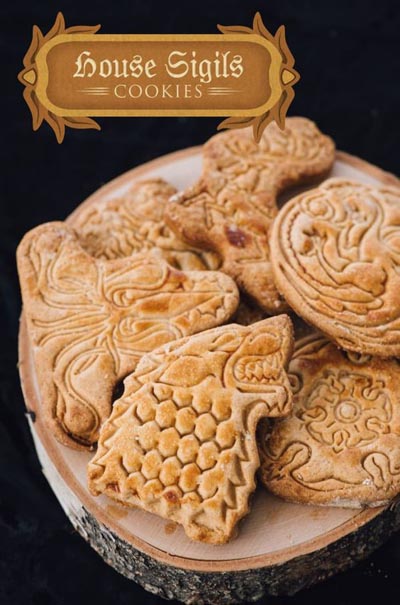 Found from buzzfeed.com
12. Beheaded Starks Cake Pops
Not gonna lie: These require some time, dedication, and a steady hand. But they're worth it!
Found from buzzfeed.com
13. Game Of Thrones Party Parfaits
Have your Game of Thrones viewing party in style with these fun party parfaits! Includes a quick and easy tutorial on how to make the flags, too!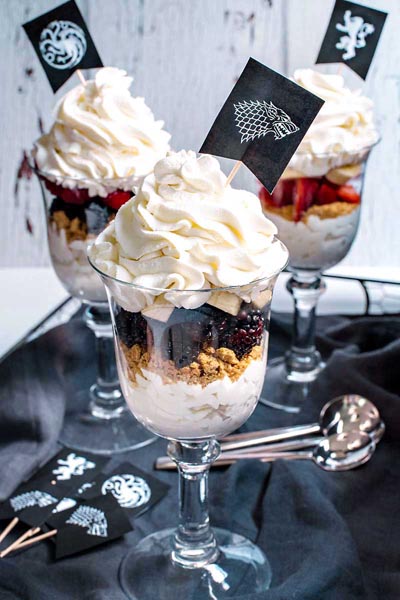 Found from homemadehooplah.com
14. Weirwood Tree Cherry Pie
In the Game of Thrones series, weirwood is a species of deciduous tree found all over Westeros; it has white bark with five-pointed, blood-red leaves and sap. Here, this iconic tree is turned into a tasty treat worthy of any GOT-inspired gathering!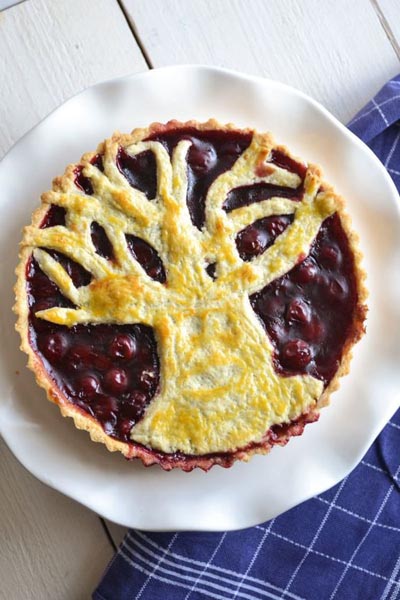 Found from koekbook.nl
Looking for more party appetizers or party food? Check out these posts:
Pin these Game Of Thrones Recipes for later
If you enjoyed this roundup of Game of Thrones recipes, please take a moment to share it to Pinterest or your favorite social media platform. Thank you!