Surprise everyone at your next party with these delicious party snack ideas. You are sure to be the hit of the party when you show up with these yummy appetizers!
35 Easy Party Snack Ideas
Instead of always bring the same boring snacks to the party, check out these fantastic and creative party snack ideas for the perfect bite sized snacks!
1. Pepperoni Pizza Puffs
These pizza puffs are not only delicious, they're quick and easy to whip up! The texture is nice and fluffy with a cheesy flavor!
Found from spendwithpennies.com
2. Spinach Balls
Spinach Balls are always a crowd-pleasing party favorite.
With the delicious combination of spinach and stuffing mix, who can resist?
Found from thekitchenismyplayground.com
3. Crunchy Taco Cups
How fun are these little Taco Cups made in a muffin tin??
I don't think I'll ever find another taco recipe I love more than these wonton tacos.
They have double layers of crunchy taco shell, seasoned beef, spicy tomatoes, and gooey cheese all in one perfect bite!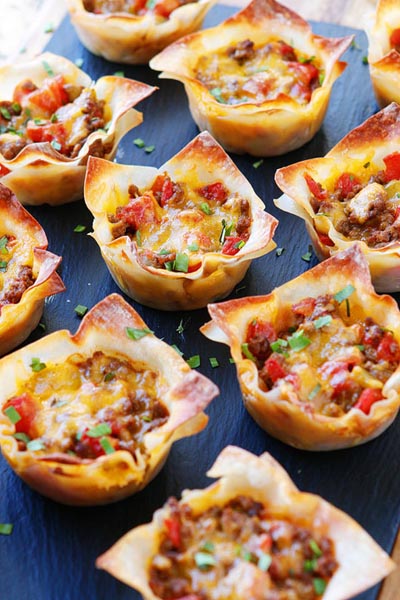 Found from kevinandamanda.com
4. Taco Pinwheels
Oh Taco Pinwheels, I can't stop, wont stop!!
All you need is puff pastry, taco meat, tomatoes and cheese plus a few bowls of toppings like guacamole!
Found from ohsweetbasil.com
5. Garlic Parmesan Clam Stuffed Mushrooms
Garlic Parmesan Clam Stuffed Mushrooms are perfect for the seafood lover.
Loaded with minced clams & 3 types of cheese make these the perfect appetizer.
Found from kleinworthco.com
6. Cranberry And Feta Pinwheels
These Cranberry and Feta Pinwheels have a sweet and salty combo that is the perfect Christmas appetizer.
The sweet cranberries with the tangy feta and onions make this 5 ingredient appetizer not only easy but delicious. I like to use spinach tortillas for an extra holiday touch.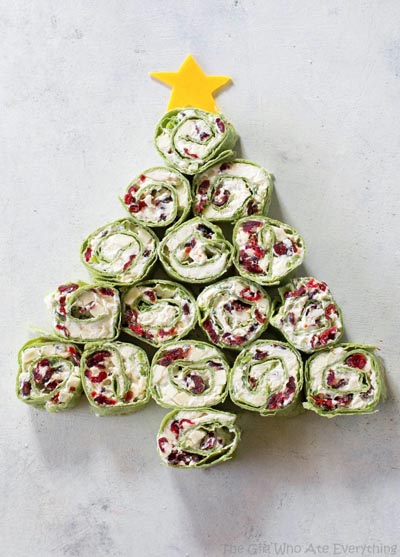 Found from the-girl-who-ate-everything.com
7. Cannoli Dip
This dip is so divine you really don't even need anything for dipping. It's light and fluffy and perfectly creamy.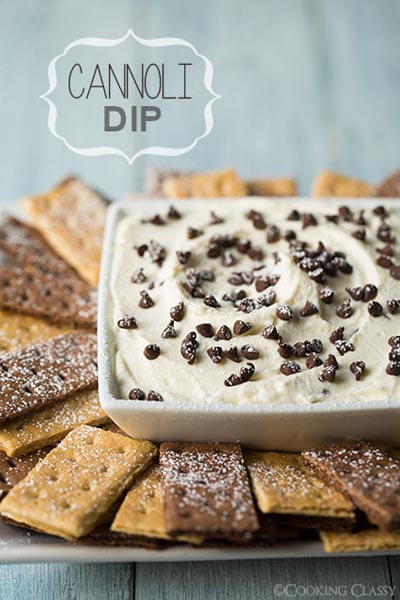 Found from cookingclassy.com
8. Cranberry Goat Cheese Mini Cheese Balls
Quick, easy, and totally delicious, these Mini Candied Pecan Cranberry Goat Cheese Balls make a tasty party appetizer for fancy yet fuss-free entertaining!
And it can be ready in 15 minutes!
Found from peasandcrayons.com
9. Cheesecake Factory Avocado Egg Rolls
Just like the restaurant-version, except it's so much cheaper to make right at home and it tastes a million times better too!

Found from damndelicious.net
10. Spicy Brown Sugar Bacon-wrapped Little Smokies
The classic little smokies appetizer gets an upgrade from the cayenne and brown sugar rub, not to mention crispy bacon wrapped around the smokies!
Found from thechunkychef.com
11. Garlic Pull-Apart Bread
Looks impressive?
It's really easy to make. 6 ingredients and 30 minutes are all you need for this cheesy garlic pull-apart bread.
Serve it as a side, an appetizer, or a snack. Bring it to a potluck or tailgate party to knock everyone's socks off!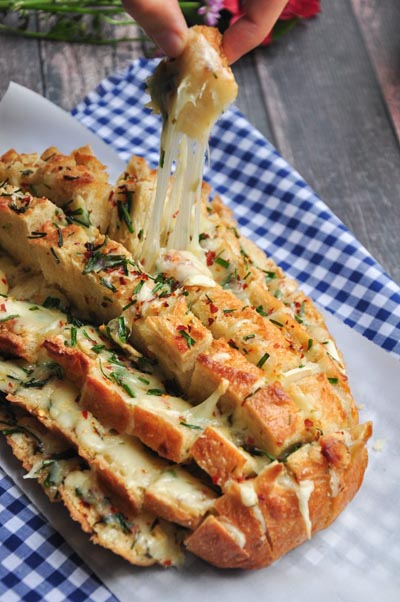 Found from streetsmartkitchen.com
12. Sausage Cheese Balls
These easy sausage cheese balls are the perfect appetizer, they're packed full of savory flavor!
Try serving bisquick sausage balls at your next party!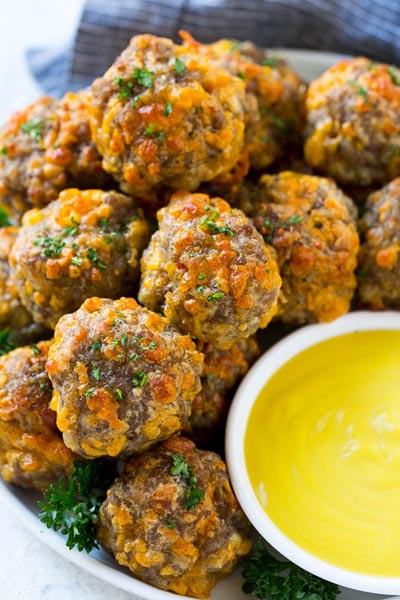 Found from dinneratthezoo.com
13. Homemade Mac and Cheese Bites
These bites are the PERFECT finger food or appetizer! Adults and kids alike go crazy for them.
If you are looking for a people pleasing recipe and/or appetizer, this recipe is fantastic!
The flavor is delicious and they are cooked to perfection!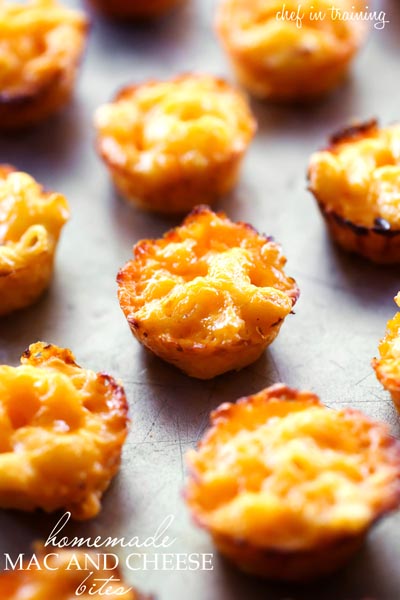 Found from chef-in-training.com
14. Buffalo Chicken Tortilla Pinwheels Recipe
Love buffalo wings? If you do, you'll love these! This Buffalo Chicken Tortilla Pinwheels recipe makes a delicious party food with all the flavors of buffalo wings and blue cheese, but without the mess.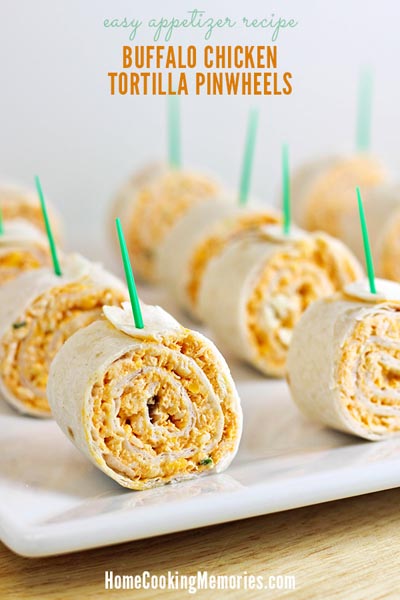 Found from homecookingmemories.com
15. Chip and Guacamole Bites
These gluten-free chip and guacamole bites are so fun to bring to parties and potlucks.
Found from mygluten-freekitchen.com
16. Mexican Shrimp Bites
This recipe for Mexican shrimp bites is seared shrimp and guacamole layered onto individual potato chips. A super easy appetizer that's perfect for entertaining!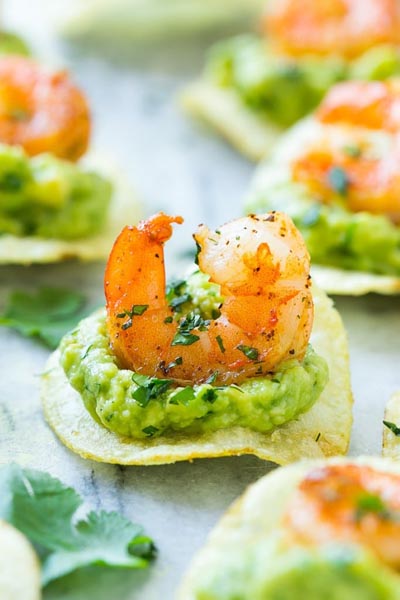 Found from dinneratthezoo.com
17. Baked Zucchini Fries
You're going to love these! Zucchini gets transformed into healthy, crispy, golden brown baked zucchini fries with a 3-ingredient pesto yogurt dipping sauce.
Found from cookincanuck.com
18. Easy Cinnamon French Toast Sticks
Wow! What a great discovery!
Breakfast you can eat with your fingers and dip in syrup, rather than pour syrup all over it.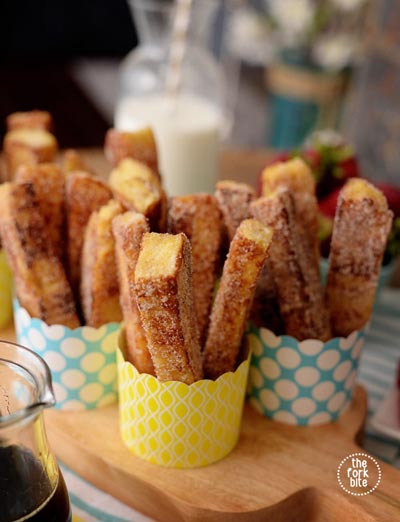 Found from theforkbite.com
19. Bourbon Bbq Little Smokies
Bourbon BBQ Little Smokies are a flavorful appetizer that's easy to make and oh so good!
They are the perfect fit for any occasion or get together!
Found from breadboozebacon.com
20. Pomegranate Goat Cheese Bites
These Pomegranate Goat Cheese Bites with Honey and Thyme are an easy party appetizer that is sure to impress your guests!
Perfectly balanced with tangy goat cheese, tart pomegranate arils and a hint of honey, these bite sized holiday party appetizers will disappear in seconds!
Found from foxandbriar.com
21. Sweet Chicken Bacon Wraps
This one is a definite crowd pleaser. There are only 4 ingredients and one of them is bacon.
How could you not want to give these bad boys a try?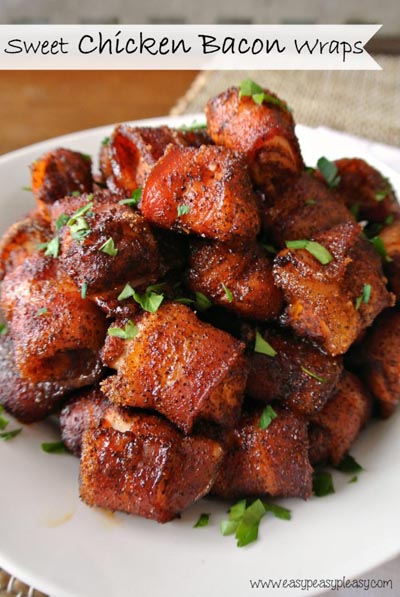 Found from easypeasypleasy.com
22. Maple Caramel Bacon Crack
It's highly addictive and extremely delicious. Smoky, sweet, crunchy, buttery, chewy — the perfect conglomerate of badassness.
And it has only four simple ingredients, all of which you probably have in your pantry right now.
Found from thedomesticrebel.com
23. Beer Cheese Dip Bread Bowl
This cheesy, creamy Beer Cheese Dip Tear Apart Bread Bowl is a crowd-pleasing appetizer that your guests will love!
Found from taketwotapas.com
24. Sweet Potato Bites with Avocado and Bacon
Sweet potato bites with avocado and bacon are a sweet potato appetizer recipe that is perfect for serving to a crowd.
Baked sweet potato slices topped with fresh avocado and crisp bacon.
Great finger food for game day! Paleo, gluten free, dairy free, and DELICIOUS. Who could ask for anything more?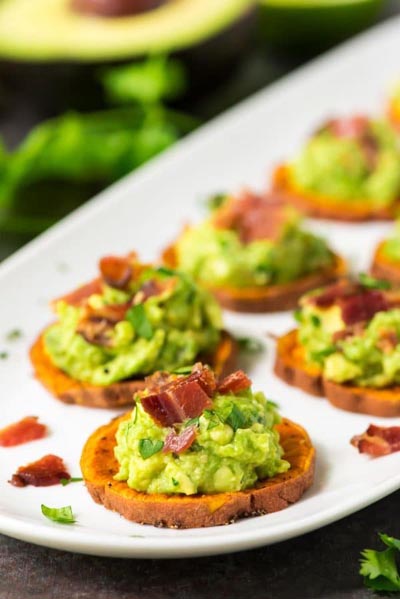 Found from wellplated.com
25. Parmesan Crusted Tortellini Bites
Cheese filled tortellini that's fried to golden perfection and dipped in warm marinara sauce.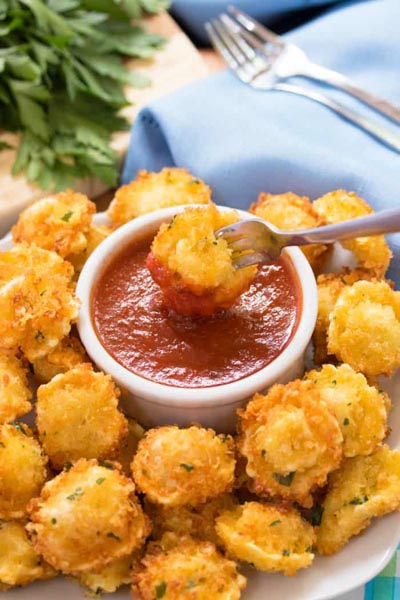 Found from thecozycook.com
26. Mini Cheese Ball Bites
Mini Cheese Ball Bites are studded with dried cranberries and blue cheese, rolled in pecans, and skewered with pretzel sticks for fun, easy party appetizers!
Found from fivehearthome.com
27. Spicy Italian Sausage Cheese Balls
The BEST Sausage Balls are guaranteed to be a hit at your next party! So easy to make and perfect for game day!
We like to dip them in ranch, BBQ sauce, or marinara – so good!
Found from momontimeout.com
28. Easy Potato Skins Recipe
Easy potato skins recipe topped with cheddar cheese, crumbled bacon bits and taste great topped with a little sour cream! The perfect appetizer for any party!
Found from iheartnaptime.net
29. Crab Rangoon Crescent Cups
Delicious crab and cream cheese are the perfect combination.
This is one of the easiest recipes to put together and my guests always rave about them!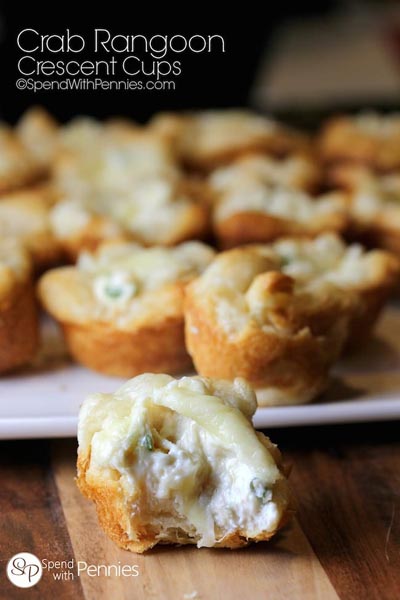 Found from spendwithpennies.com
30. Pretzel M&M Hugs
These Pretzel M&M Hugs are the perfect little festive treats for Christmas parties or gifts.
They take no time at all to make and couldn't be easier plus they look so impressive!
Found from cookingclassy.com
31. Jalapeno Popper Wonton Cups
Jalapeño Popper Wonton Cups are loaded with bacon, jalapeños, cream cheese, cheddar cheese, and sour cream….all in a crispy wonton shell.
This easy appetizer comes together quickly and is perfect for parties or game days. If you love jalapeño poppers, you'll LOVE this delicious twist!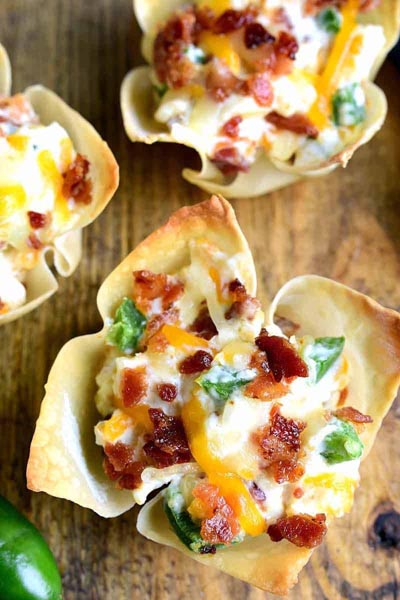 Found from lemontreedwelling.com
32. Zucchini Garlic Bites
This tasty zucchini garlic bites recipe combines shredded zucchini with garlic, Parmesan cheese, fresh herbs, and is served with a marinara dipping sauce for an Italian inspired twist.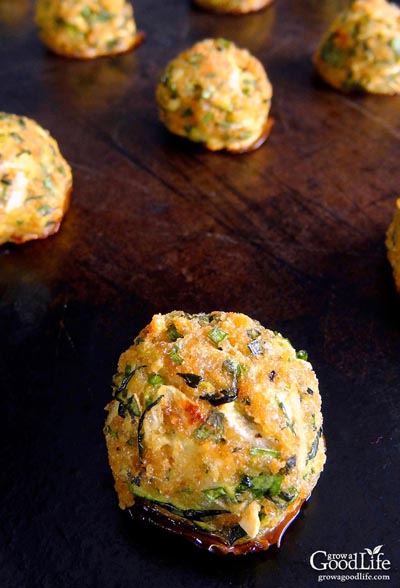 Found from growagoodlife.com
33. Firecracker Chicken Meatballs
This is my favorite way to eat chicken meatballs. They're spiced up with a sweet, savory, and spicy firecracker sauce.
They're tender, filled with flavor, and require minimum work!
Found from littlespicejar.com
34. Kahlua Pecan Brie
Kahlua Pecan Brie Bites – only 5 ingredients! Can assemble ahead of time and refrigerate until ready to bake. Perfect party food!
Found from plainchicken.com
35. Parmesan Zucchini Crisps
Zucchini slices are coated in parmesan cheese and panko breadcrumbs and then cooked until crispy. They make a great appetizer or side dish.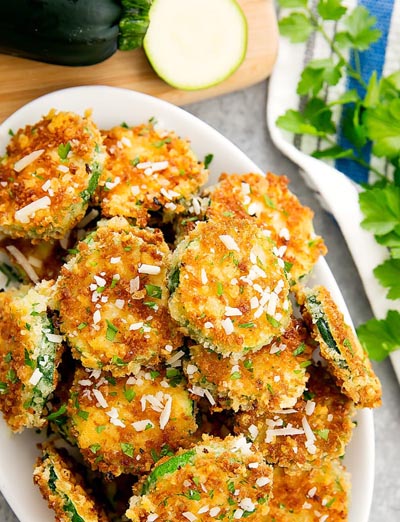 Found from kirbiecravings.com
You may also like:
Pin These Party Snack Ideas For Later!
Don't forget to pin these party snack ideas to Pinterest so you can get back to it later!
Also follow Blast Aloud on Pinterest for more great recipes and ideas!