Want to make a quick and easy dessert for Christmas this year? Then these no bake Christmas desserts might just be what you're looking for!
No Bake Christmas Desserts
No bake desserts are super popular and it's obvious why – they're just so easy to make! None of the fuss and all of the yum. So try these no bake Christmas desserts this holiday season and surprise your family and friends.
1. No Bake Cookie Bars
Flavor combinations don't get much more classic than chocolate and peanut butter.
These no bake cookie bars have a double dose of chocolate and peanut butter. They have chocolate cookies and peanut butter in the bars, and they're topped with a layer of chocolate and peanut butter.
Found from ihearteating.com
2. Candy Cane Pie
Candy Cane Pie is the only dessert recipe, you'll need this Christmas!
It's no bake pie with crumbly Oreo crust and white chocolate ganache on top. And the filling is a bomb! It's combo of cream cheese, whipped cream, instant pudding, butter, chocolate chips and crushed candy canes!
Found from omgchocolatedesserts.com
3. No Bake Twix Pie
This pie is no bake and super easy to make! Creamy and cool filling loaded with Twix candy, topped with chocolate and caramel drizzle!
Found from thesaltymarshmallow.com
4. No-bake Gingerbread Cheesecake
Top them with a dollop of whipped cream and stick a little gingerbread dude on top and you've got yourselves the best holiday dessert!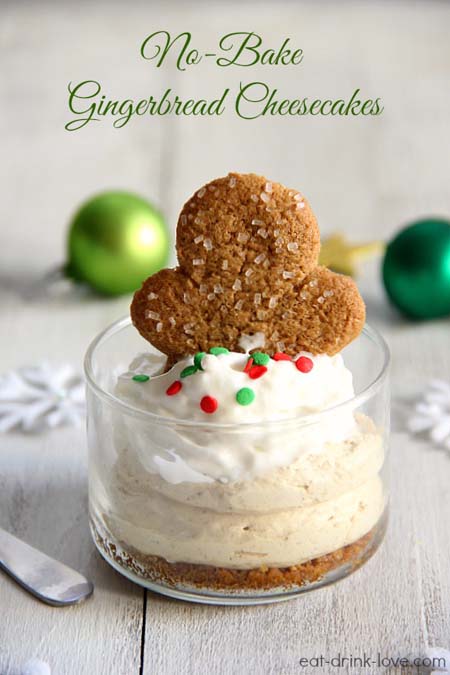 Found from eat-drink-love.com
5. No Bake Eggnog Cheesecake
If you are needing a holiday dessert that is easy and delicious, you will want to whip up this No Bake Eggnog Cheesecake. You will find the recipe super simple and your holiday guests (even the ones who do not care for eggnog) begging for the recipe.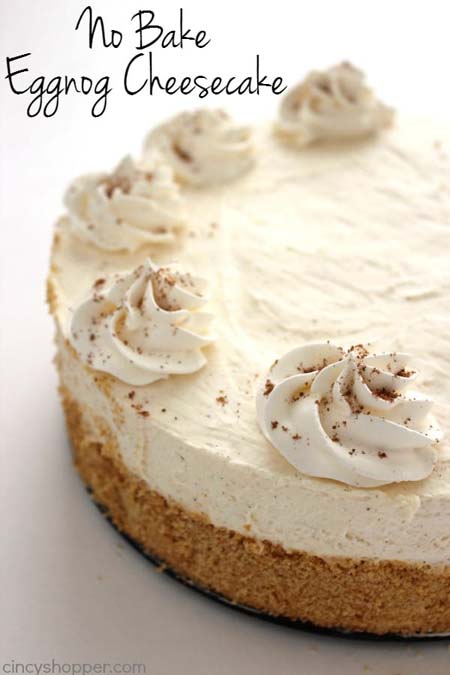 Found from cincyshopper.com
6. Chocolate And Peppermint Striped Delight
This Chocolate And Peppermint Striped Delight is so simple to make.
It requires no baking, can be made ahead of time and deliciously blends the holiday flavor of peppermint with the classic flavor of chocolate. It's a perfect holiday dessert.
Found from lovefromtheoven.com
7. Butterscotch Haystacks
These No-Bake treats are perfect to make when you don't wanna heat up your oven and are fun to make with the kids too! Chow mien noodles & marshmallows are mixed with peanut butter and butterscotch for a winning combo!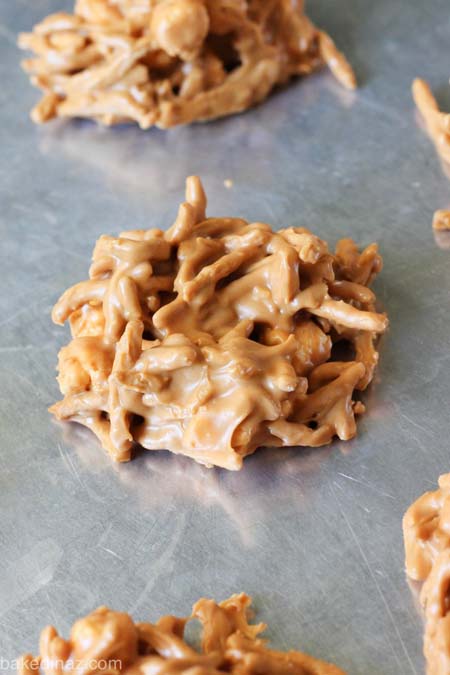 Found from bakedinaz.com
8. White Chocolate Pistachio & Cranberry Fudge
White Chocolate Pistachio & Cranberry Fudge comes together in minutes and is pretty and festive enough to give as a gift. Not too sweet, just creamy and delicious with a little crunch from the pistachio's and slightly tart from the cranberries.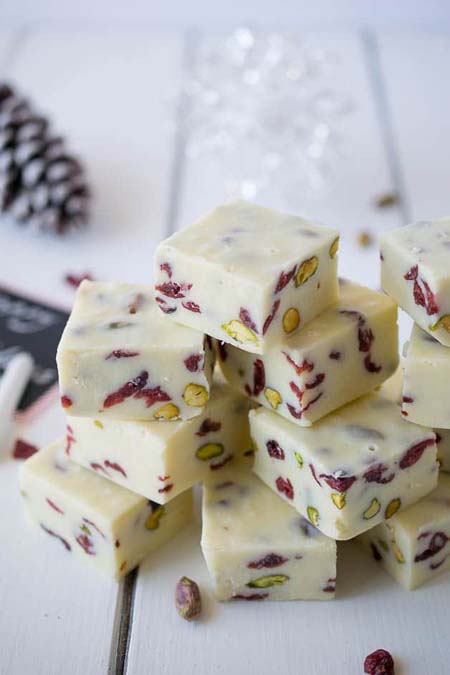 Found from culinaryginger.com
9. No Bake Eggnog Pie
A  cinnamon, brown sugar graham cracker crust filled to the edges with a an abundance of a creamy infused eggnog filling. A layer of whipped cream finishes off this No Bake Eggnog Pie. Then garnished with more cinnamon!
Found from simplygloria.com
10. No Bake Turtle Cookies
These are crunchy, chewy, chocolatey-caramel perfection. And they are way too easy for their own good!
Found from thereciperebel.com
11. No Bake Holiday Oreo Truffles
A sweet outer chocolate shell surrounds a decadent, chocolate Oreo filling. No baking necessary and only 5 ingredients needed!
Found from thecozycook.com
12. Marshmallow Roll Cookies
Easy, no-bake & freezer friendly! These cookie confections will be popular with all ages, especially around the Christmas season.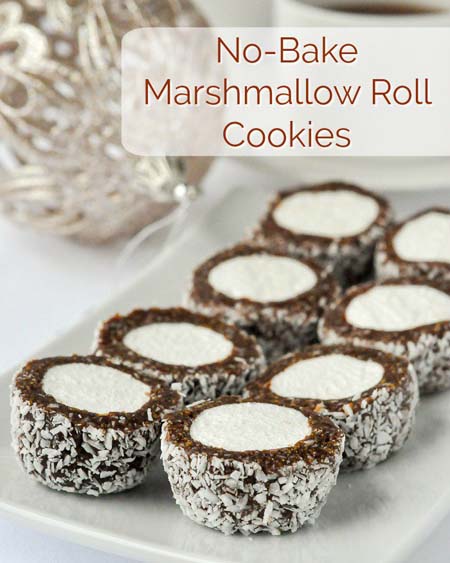 Found from rockrecipes.com
13. Chocolate Covered Cherry Fudge
Chocolate covered cherry fudge, a small batch fudge made in a 6″ cake pan!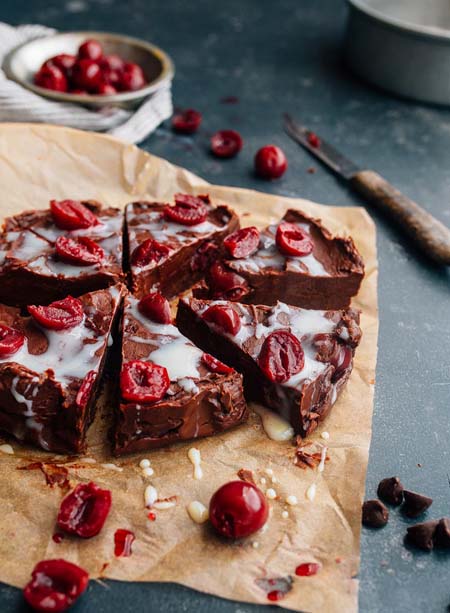 Found from dessertfortwo.com
14. Santa Hat Cheesecake Bites
These Santa Hat Cheesecake Bites are super cute and easy to make. There is no baking involved and you can whip them up in no time.
Found from sprinklesomefun.com
15. No Bake Pumpkin Cheesecake
This No Bake Pumpkin Cheesecake will make for a super easy fall and Holiday dessert. With just a few ingredients and very little time, you can have a pumpkin dessert that looks and tastes like a million bucks.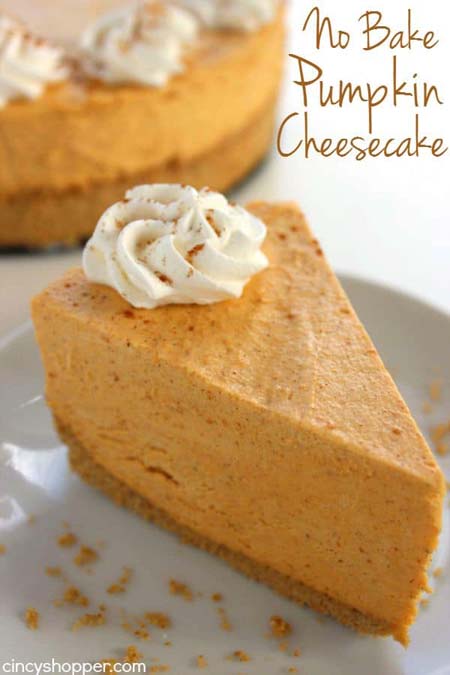 Found from cincyshopper.com
Also check out these Christmas posts:
Pin these No Bake Christmas Desserts for later!
Don't want to make any of these desserts right now but considering making them later? Then pin it to your Christmas desserts board on Pinterest so you can easily come back later!
Also don't forget to follow Blast Aloud on Pinterest for more great ideas!