Since the holidays are coming up, I thought I'd share some of my favorite cranberry dessert recipes with you all. Not that you need an excuse to enjoy cranberry desserts, right!?
So whether you're looking for something sweet or something more sour, I'm sure you'll find something to enjoy below!
30 Tasty Cranberry Dessert Recipes
Hope you enjoy these 30 tasty cranberry dessert recipes. To view the full recipe for any of these, please follow the link below each image.
1. Cranberry Pear Puff Pastry Turnover
The flavors you're going to be getting from this are going to be exceptional.
A generous dollop of cranberry pear sauce is tucked inside light, buttery layers of puff pastry, baked to golden oblivion, and dusted with feathery powdered sugar. It's sweet and tart pastry heaven.
Found from forkknifeswoon.com
2. Cranberry Cheesecake Pie
A buttery crust, sweet cheesecake, tart cranberries, and a crumb topping make this Cranberry Cheesecake Pie irresistible!
Found from bakeorbreak.com
3. Cranberry Bliss Bars
A homemade version of the popular Starbucks treat! These taste just like the original, and are easy to make right at home!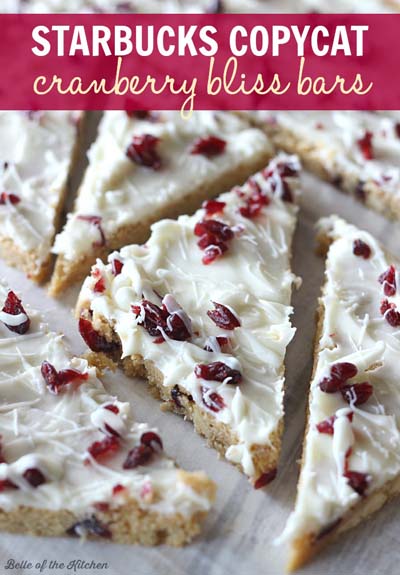 Found from belleofthekitchen.com
4. Cranberry Upside Down Cake
Cranberry upside down cake with caramel cranberry topping and orange zest speckled sour cream cake.
Found from simplyrecipes.com
5. Cranberry Sweet Rolls
Cranberry Sweet Rolls are made with a sweet yeast dough, a cranberry orange filling and frosted.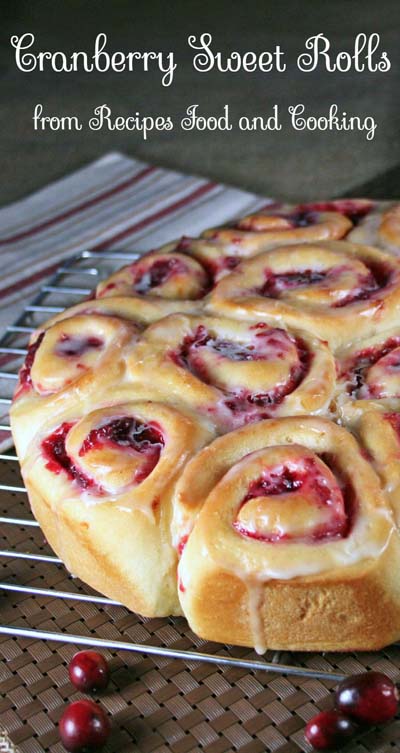 Found from recipesfoodandcooking.com
6. Pumpkin Cranberry Fudge
Pumpkin Cranberry Fudge is sweet and creamy with a subtle pumpkin spice taste and a beautiful tart cranberry swirl. You only need a few minutes to mix it and just a handful of ingredients from your pantry.
Found from imagelicious.com
7. Cranberry Chocolate Cake
Serve dusted lightly with powdered sugar, if desired. I'm thinking a melted drizzle of peanut butter on top would also be delicious.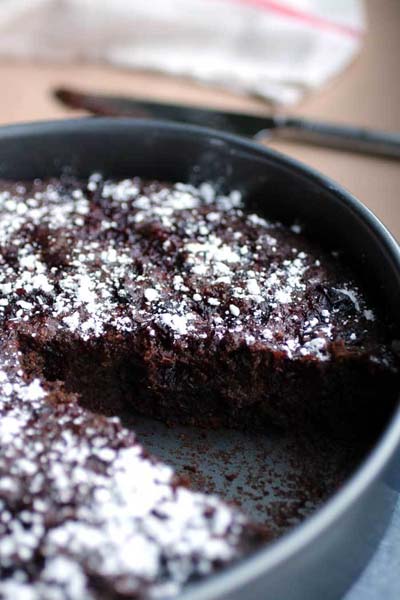 Found from foodiecitynetwork.com
8. Soft & Chewy Cranberry White Chocolate Chip Cookies
Soft, chewy and perfectly tender Cranberry White Chocolate Chip Cookies will be a hit with your family! Tart, bright cranberries and smooth, sweet white chocolate make for the ultimate irresistible flavor combination.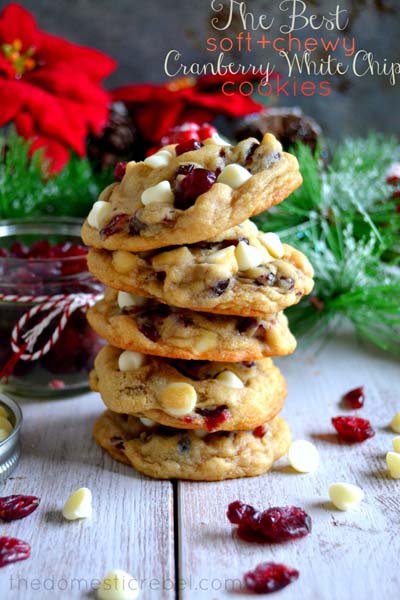 Found from thedomesticrebel.com
9. Cranberry Pumpkin Seed Dark Chocolate Bark
The best and simultaneously most dangerous part about this recipe is how painfully easy it is to make.
And it only requires 4 ingredients!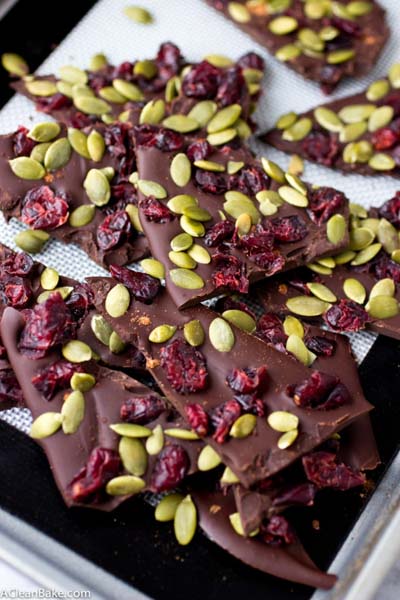 Found from acleanbake.com
10. Oatmeal Cranberry Pecan Cookies
These Oatmeal Cranberry Pecan Cookies have a chewy, moist consistency and are packed with a mix of favorites: rolled oats, chocolate, pecans, and cranberries. Perfect for holiday baking!
Found from uprootkitchen.com
11. Cranberry Pistachio White Chocolate Truffles
These Cranberry Pistachio White Chocolate Truffles are super cute and a festive no-bake dessert! They look like little snowballs and when you take a bite, you'll realize it's seriously tasty stuff! This is the tastiest Christmas dessert recipe ever!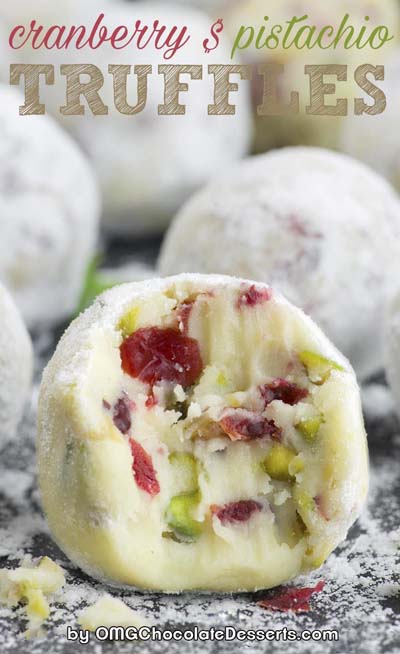 Found from omgchocolatedesserts.com
12. Cranberry Banana Muffins
These cranberry banana muffins are really easy to make and are delicious for breakfast or a mid-day snack. You can also substitute chocolate chips in place of (or in addition to) the cranberries.
Found from  momsandmunchkins.ca
13. Cranberry Walnut Crumb Bars
Tart cranberries, almond-coconut shortbread crust, toasted walnuts and dark chocolate chips. These low carb, gluten-free and sugar-free Cranberry Walnut Crumb Bars are all you will be able to think about this season.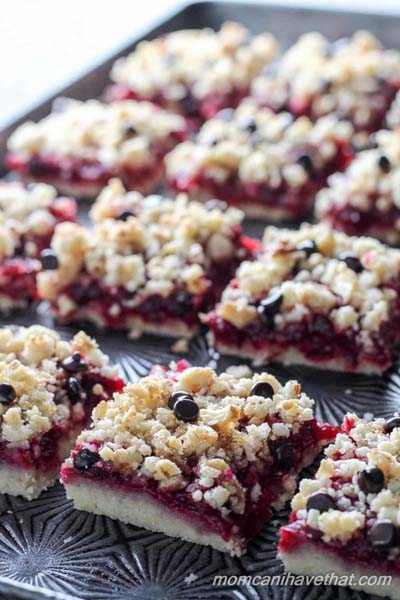 Found from lowcarbmaven.com
14. Cranberry Frozen Yogurt
This Cranberry Frozen Yogurt recipe is for those who are looking for super refreshing healthy frozen treats.
Found from giverecipe.com
15. Glazed Lemon Cranberry Muffins
These glazed lemon cranberry muffins are light and fluffy with the tart, fresh cranberries complimenting the sweet lemon glaze perfectly! With a quick recipe video!
Found from bake-eat-repeat.com
16. Christmas Cranberry Pound Cake
Thinking about Christmas recipes ? Then you should think about tasty pound cake with cranberries and white chocolate and a beautiful white glaze. However, you simply have to try this heavenly Christmas Cranberry Pound Cake !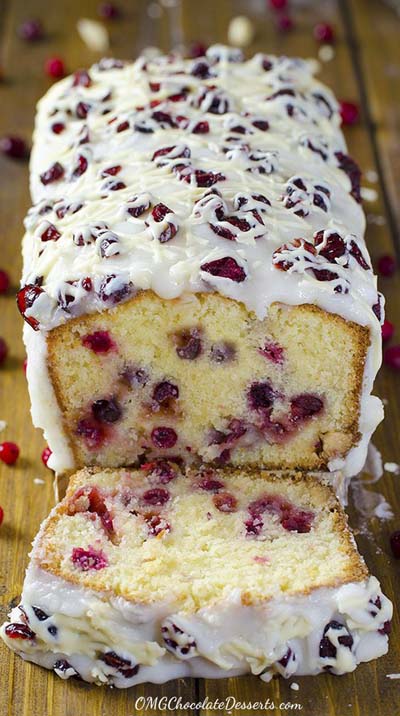 Found from omgchocolatedesserts.com
17. Cranberry Trifle Recipe
This easy cranberry trifle features soft cake layered with sweet tart cranberries and homemade custard. This beautiful dessert is perfect for any time of year!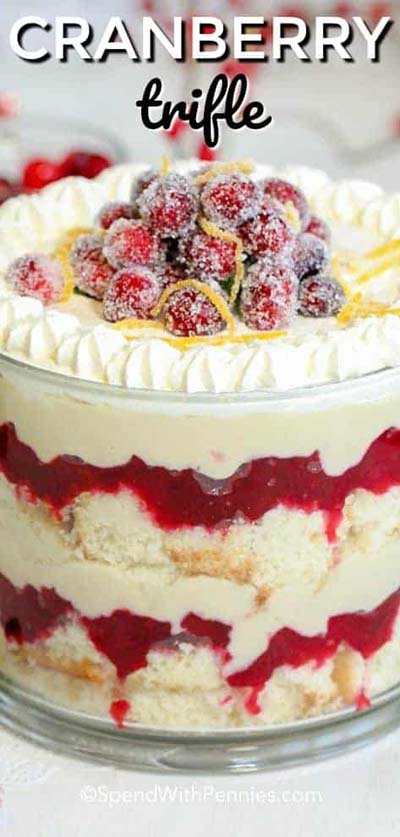 Found from spendwithpennies.com
18. Simple Orange Cranberry Pistachio Fudge
Mildly sweet, beautifully festive, and bursting with the fresh flavor of citrus. Simple Orange Cranberry Pistachio Fudge is a wonderful addition to your Holiday table.

Found from thefedupfoodie.com
19. Cranberry Walnut Swirls
These cookies make such a pretty presentation, you'll want to package them in clear containers. You can use a lot of filling, or just a sprinkling (sprinkling a bit less makes the cookies hold together better in containers)
Found from gooddinnermom.com
20. White Chocolate Cranberry Cannolis
White Chocolate Cranberry Cannolis are a new way to eat an old favorite.
Cream cheese filling with sweet Crasins and white chocolate chips in a crispy cannoli shell sounds amazing doesn't it?
It's unique and elegant with that snowy powdered sugar on top. Who could say no?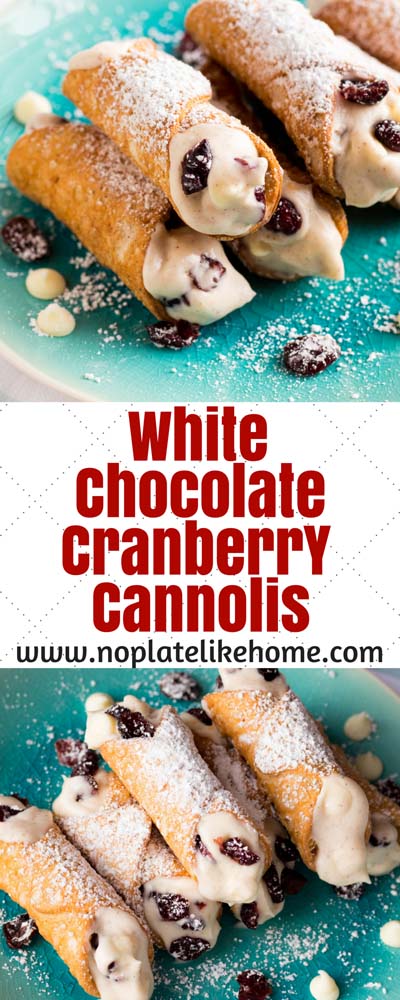 Found from noplatelikehome.com
21. One Bowl Mini Cranberry Dump Cakes
Dump cakes are the best, and this version is crushing on one of my favorite fall flavors – tart cranberries.
Found from garnishwithlemon.com
22. Cranberry Pumpkin Cake with Cream Cheese Frosting
Tart cranberries, deliciously moist pumpkin spice cake & tangy cream cheese frosting. This cranberry pumpkin cake with cream cheese frosting is perfect for Thanksgiving or Christmas.
Found from justsotasty.com
23. No Bake Cranberry Cream Tart
A sweet & tart no-bake Cranberry cream tart with a chocolate cookie crust is the perfect make ahead dessert
Found from chickenscratchny.com
24. Cranberry Lemon Ball Truffles
This healthy dessert is made with real, clean food ingredients and is raw, vegan, gluten-free, dairy-free, soy-free, egg-free, no-bake, paleo-friendly and contains no refined sugar.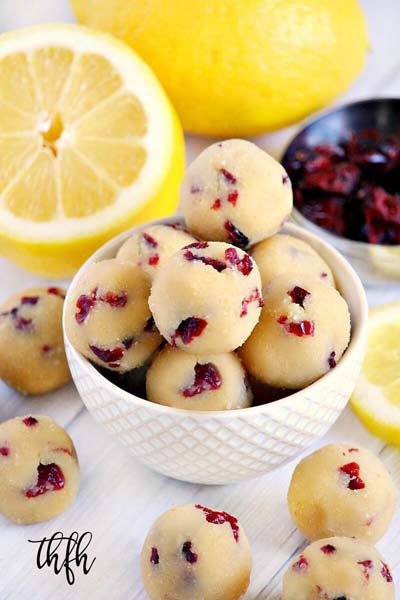 Found from thehealthyfamilyandhome.com
25. Festive Cranberry Jell-o
Festive Cranberry Jell-O combines cranberry sauce, jello, pineapple, fresh fruit and whipped topping for a refreshing and festive side to any holiday meal!
Found from butterwithasideofbread.com
26. Cranberry Orange Shortbread Cookies
Cranberry Orange Shortbread Cookies combine two of my favorite holiday flavors in one easy to make cookie that will wow friends and family this year!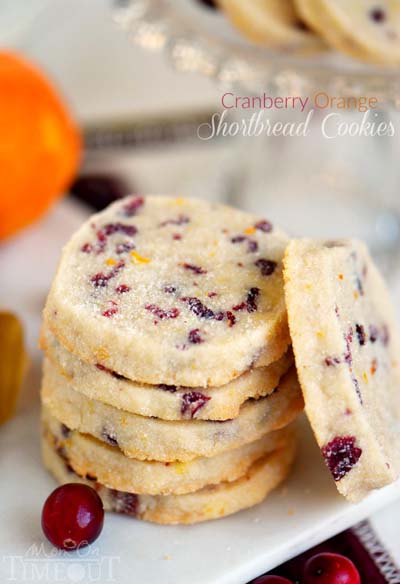 Found from momontimeout.com
27. Healthy Cranberry Oatmeal Breakfast Cookies
Breakfast "Cookies" with no butter, oil, eggs, flour, or sugar. Which means – I can approve eating cookies for breakfast. And so can you!
Found from kyleecooks.com
28. Cranberry Bars
They're not a cookie and they're not a cake…they're something in between and they're glorious.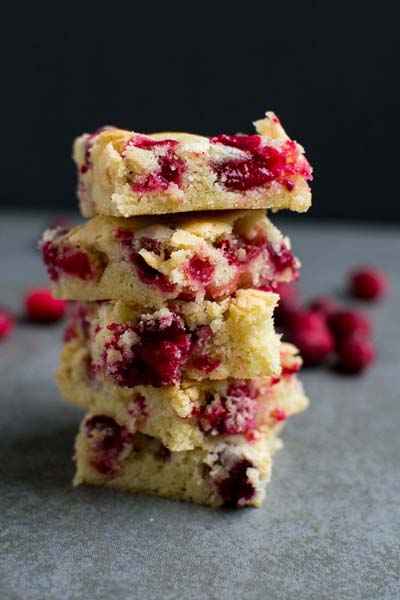 Found from stuckonsweet.com
29. Chocolate Toffee Cranberry Cookies
These Chocolate Toffee Cranberry Cookies are packed with chocolate chips, toffee pieces and dried cranberries for a cookie that will leave you craving more.
Found from tasteandtellblog.com
30. Cranberry and Walnut Pinwheels
My Cranberry Walnut Pinwheels are incredibly easy to make. They come together in minutes, and they are kid-friendly. If you have little hands that want to help, by all means, let them.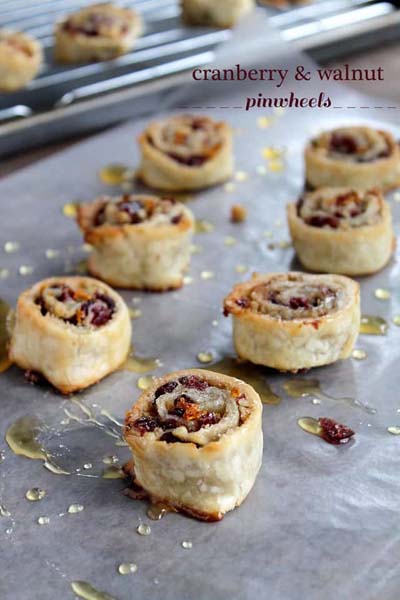 Found from diethood.com
Also check out these delightful desserts
Enjoyed these Cranberry Dessert Recipes? Then pin it for later!
If you liked this roundup of cranberry dessert recipes, please take a moment to share it to your desserts board on Pinterest!