Buying Christmas gifts for family and friends doesn't have to be expensive or stressful. Instead, I'm of the opinion that gifting should be a fun and exciting process. Nevertheless, I know some of you might be unsure of what gifts to get for some people in your lives. Maybe you just don't know them too well and you're not really sure what they'd like. Or perhaps this person already has everything you can think of and you're just out of ideas. That's why I've rounded up 30 amazing DIY mason jar gift ideas for Christmas that your family and friends will definitely love!
Mason Jar Gift Ideas For Christmas
I love the idea of giving a gift in a mason jar because it's more personal since you've taken the time to make it yourself.
It also looks really cute, and there's a wide variety of creative mason jar gift ideas for Christmas available online to draw inspiration from.
It's also inexpensive to make and won't cost you all that much except some time to put something together. I know I'll definitely be making some of these for my family and friends this year!
Note: This post may contain affiliate links. Please see my affiliate disclaimer here.
1. Brownie Mix in a Jar
Homemade Christmas presents are always appreciated, especially ones that taste good! This idea can be used with whichever recipe you like!
Found from CallMeCupcake
2. Caramel Apple in a Jar
This caramel apple in a jar is perfect for fall! It can be given as a gift in a jar, but the best part is that that caramel apple can be made in the jar!
Found from TheGunnySack
3. Cupcake in a Jar
Cover with lids and package however you like! It will be heartbreaking to eat, as it is so pretty, but it is so yummy!
Found from MyCakies
4. Gingerbread Sugar Scrub
This easy gingerbread sugar scrub is made with only 3 ingredients, smells amazing and makes a lovely handmade gift idea!
Found from APumpkinAndAPrincess
5. Pancake Mix in a Jar
Be sure to include the instructions for making pancakes with the mix when giving the jars as gifts (found at the link below).
Found from GoodLifeEats
6. Cleans Up Well
I've always wondered about making a mason jar for the guys but wasn't sure if that would be something a guy would like, but this one is sure to impress!
Found from TheGunnySack
7. DIY Beginner Sewing Kit
If you've got crafty friends to buy for this Christmas this might be just what you're looking for.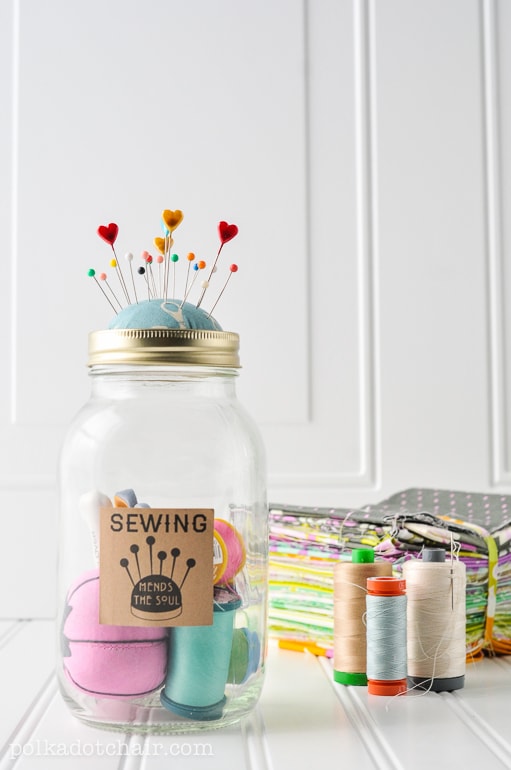 Found from PolkadotChair
8. Tea Lover's Gift in a Jar
I have quite a number of tea lovers in my life, and this gift would be perfect for them.
If you also have family and friends that love tea, why not make a cute tea time mason jar set for them?
Found from TheGunnySack
9. M&Ms Cookie Mix in a Jar
A Mason jar filled with pre-measured dry ingredients for M&M cookies. Give the jar as a gift, and all the recipient has to do is add the wet ingredients and bake.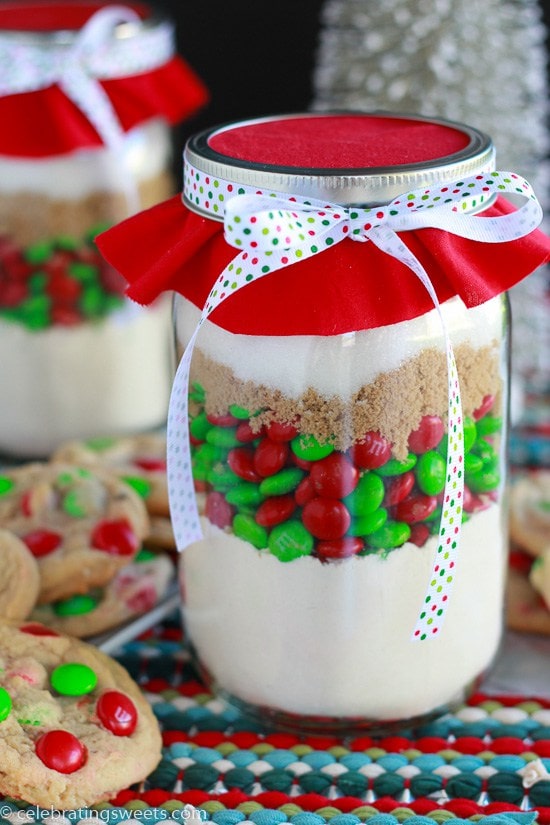 Found from CelebratingSweets
10. Vegetarian Bean Soup Mix in a Jar
These soup-in-a-jar kits not only look absolutely beautiful (pretty beans!) but they are also super healthy, vegetarian and totally delicious.
With a little bit of pretty fabric on top, a nice ribbon and a label (which you can download for free at the link below)—they package up to be an absolutely adorable holiday gift that I'm sure a lot of folks on your list would be super happy to receive.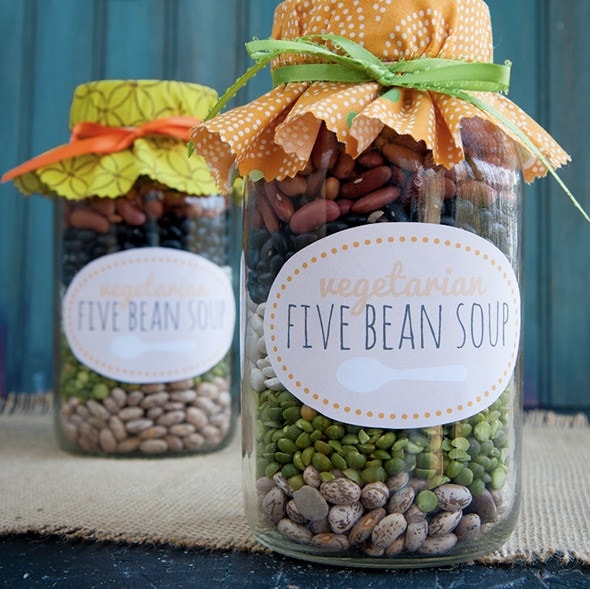 Found from Wholefully
11. Pretzel Snowman
Yes! This is even cuter in person. I couldn't get over it! My jar is still sitting in my pantry waiting to be filled again this year!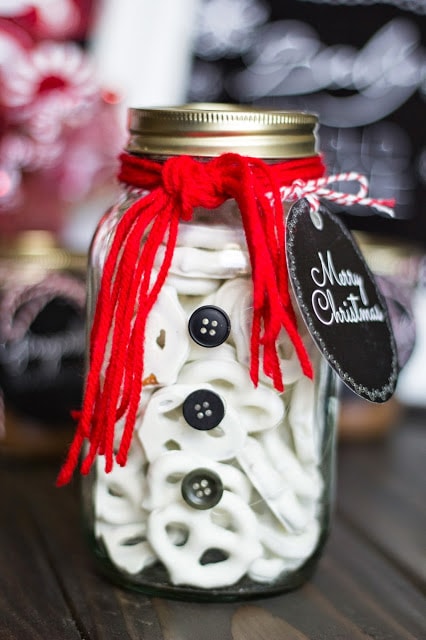 Found from TheWeatheredPalate
12. Kisses in a Jar
This is such a fun and easy gift idea for the ones you love.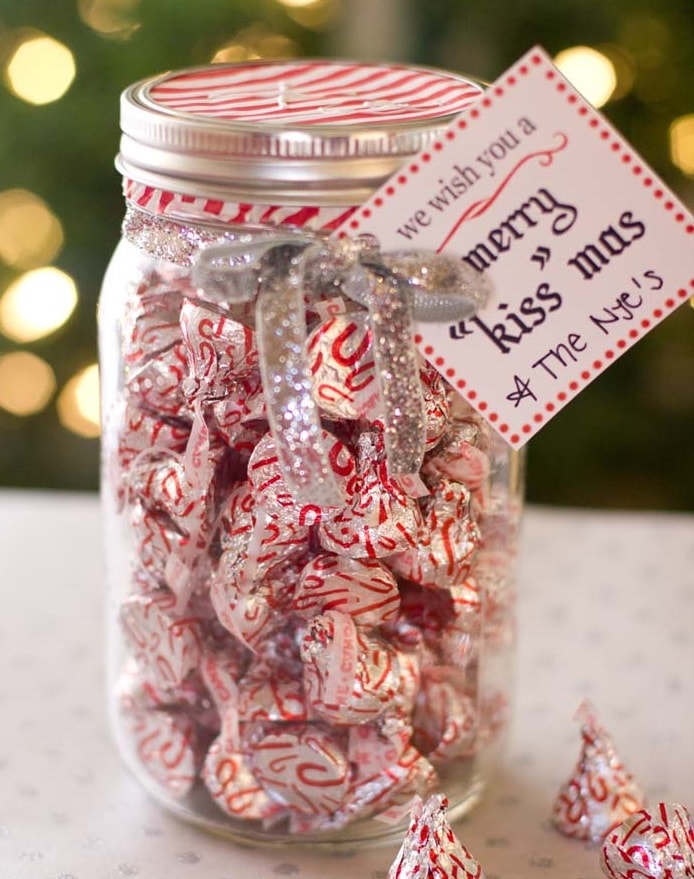 Found from IHeartNapTime
13. Snow Slime in a Jar
Mason jars make great containers for snow slime and they are cute!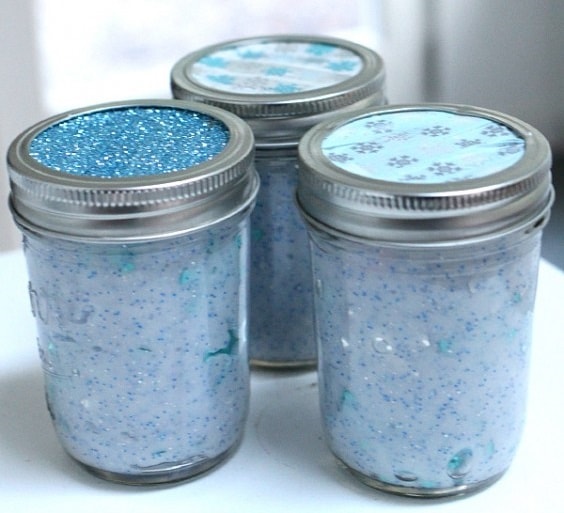 Found from NoTimeForFlashCards
14. Loves to Draw
This one is perfect for kids or anyone who frequently uses markers.
Found from TheGunnySack
15. Unicorn Spa in a Jar
This Unicorn Spa Jar is for the girly girls is your life who love all things sparkly and colorful. They can use the fun gift in a jar to have a spa day.
Found from TheGunnySack
16. Peppermint Bath Salts
These DIY Peppermint Bath Salts are layered red and white peppermint essential oil infused bath salts.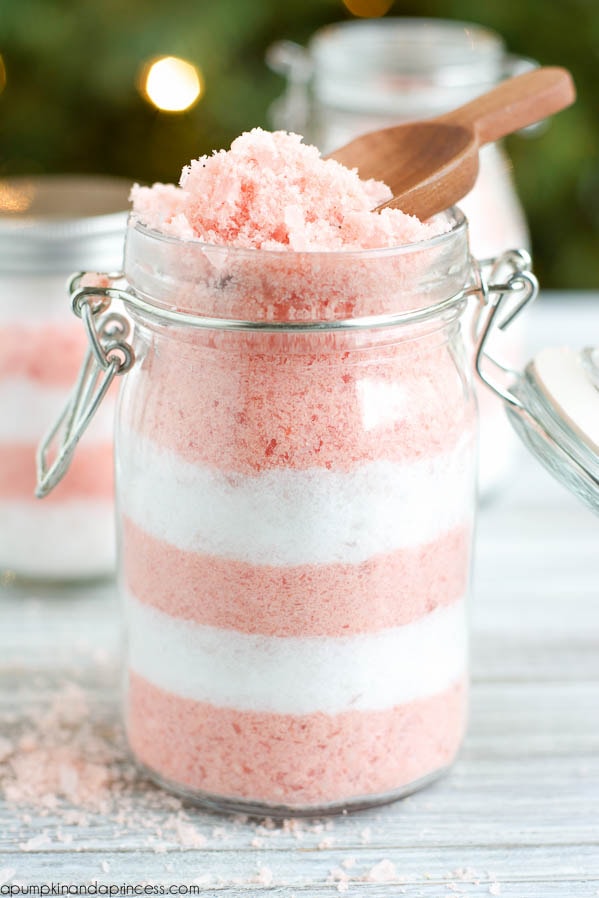 Found from APumpkinAndAPrincess
17. Reindeer Noses
These are perfect for anyone who loves chocolate!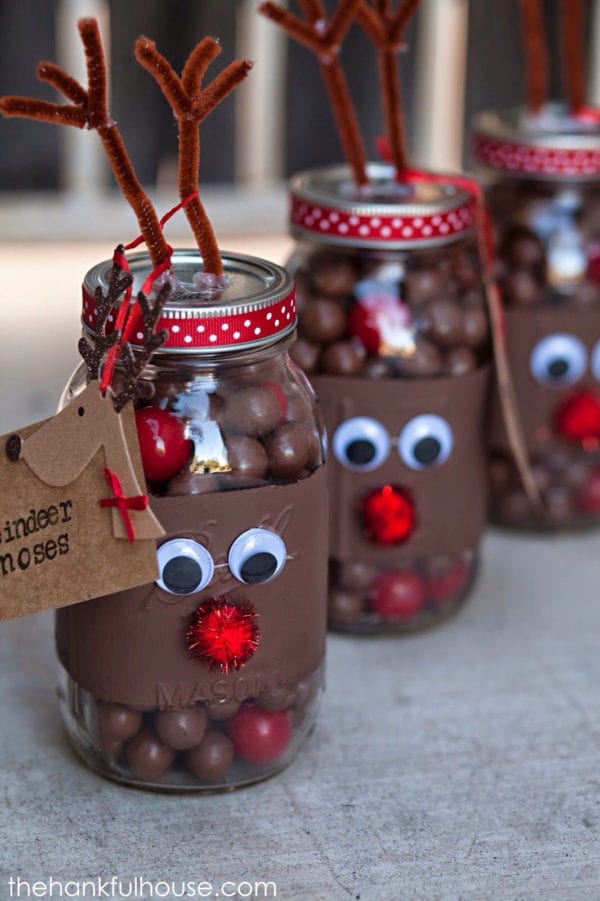 Found from TheHankfulHouse
18. S'mores Mason Jar Gift
Toss all your ingredients into a bowl and mix 'em up! That easy. Then fill up some mason jars with your holiday s'mores snack mix and you're golden!
Found from ANightOwlBlog
19. Mason Jar Candles
Pressed herb candles are a unique way to preserve the beauty of the garden. Rosemary looks great in these candles, but you can also use herbs like thyme or lavender that are readily available in the garden, grocery store, or garden center.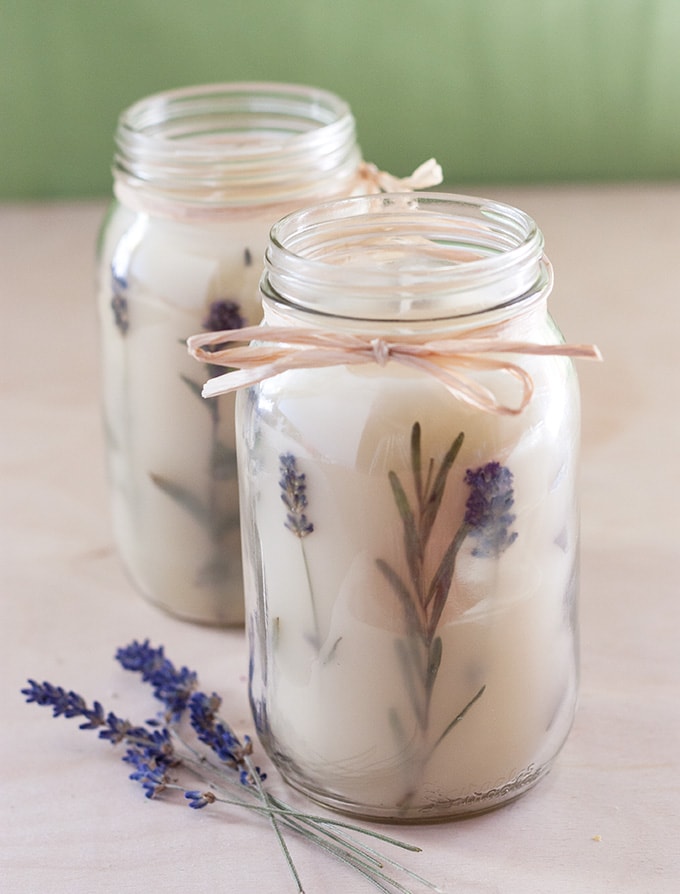 Found from GardenTherapy
20. Santa Mason Jar
This Santa Mason Jar would make a great teacher or neighbor gift!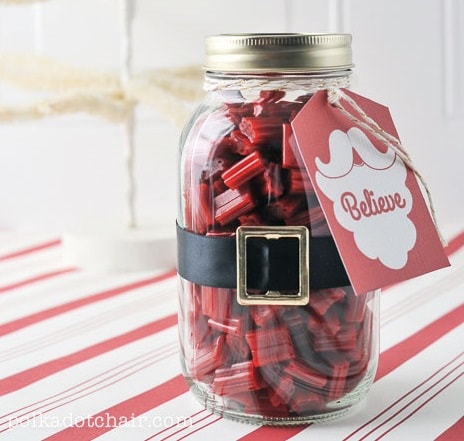 Found from PolkadotChair
21. Caramel Corn
Just toss in some of our favorite Caramel Corn into these adorable jars and wrapped them in fun plaid ribbon!
Found from ANightOwlBlog
22. Homemade Mulling Spice
Why pay for the little bags or jars of mulling spices when you can make them yourself?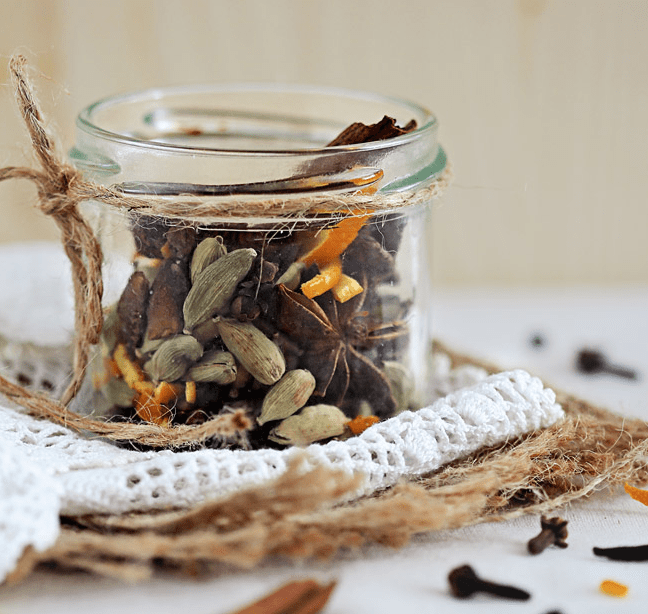 Found from HelloGlow
23. Paper Flower Mason Jar
Here the author took a plain Mason Jar and dressed it up a bit by adding an easy to make paper flower! She filled it with jelly beans but you could use any candy that you like. It makes an easy gift for neighbor, friend or teacher!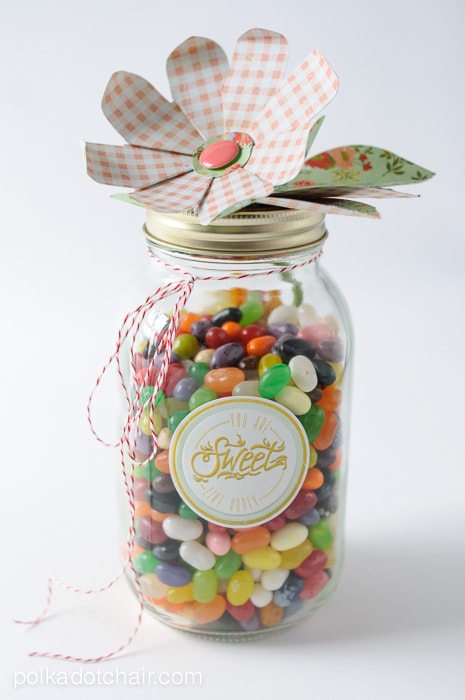 Found from PolkadotChair
24. Dried Fruit and Nut Potpourri
The potpourri you buy at the store often has very artificial scents that can be overpowering, to put it mildly. Making it yourself is fun, and you can really customize it, using elements from your yard or garden.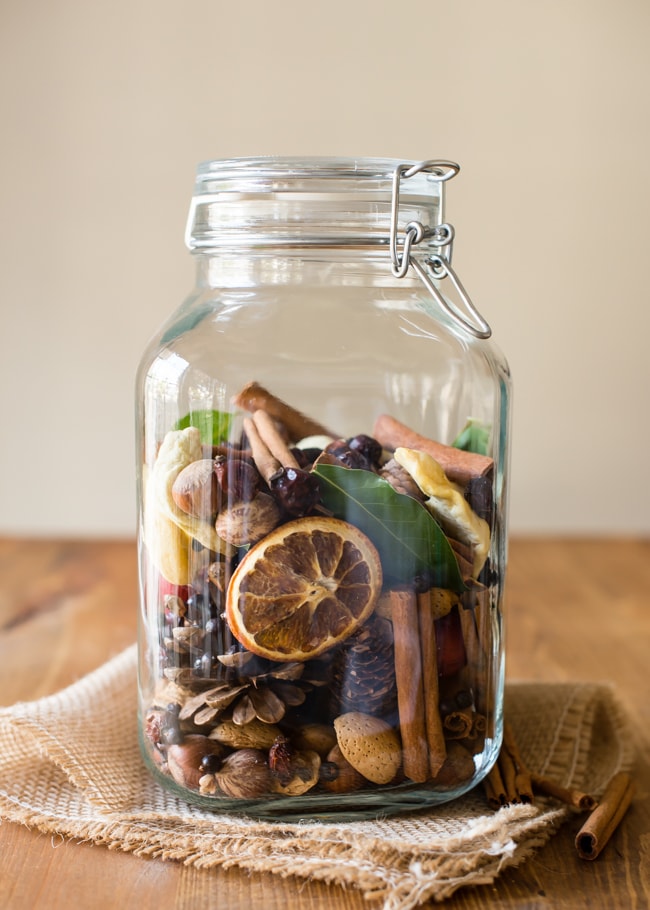 Found from HelloGlow
25. Spa in a Jar
A Spa In A Jar could be given for many occasions besides Valentine's Day!  If you are making this for a date, be sure to make two jars so that you can each use all the treatments!
Found from TheGunnySack
26. Flower Garden in a Jar
I mean, who doesn't like a gift in a mason jar, right? It's the perfect gift to all your garden and flower loving friends or family members.
Found from NestOfPosies
27. Cookies in a Jar
Simply decorate round gingerbread cookies then packaged them up in mason jars. The author used a doily for the top and some bakers twine.
Found from PolkadotChair
28. Mason Jar Succulents
LOVE how low maintenance these are = no draining necessary, yay!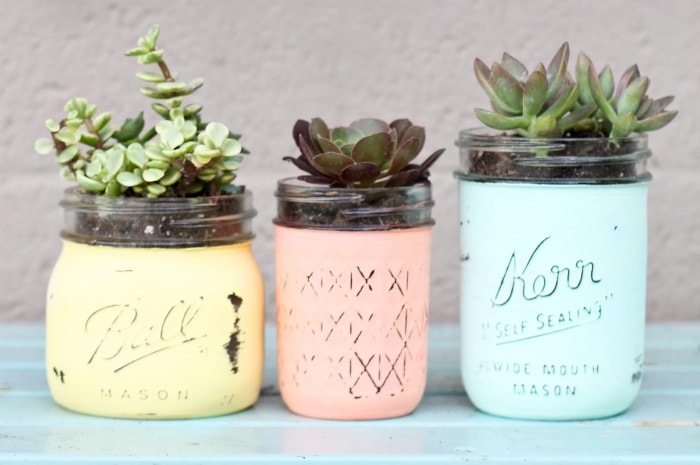 Found from LollyJane
29. Bar in a Jar
The best part of making gifts in jars is that it usually goes together super quickly. This minibar in a jar idea definitely follows suit – in just a few minutes you can create a gift for those who enjoy the occasional drink.
You could even create a themed minibar in a jar if you wanted to match your wedding or event.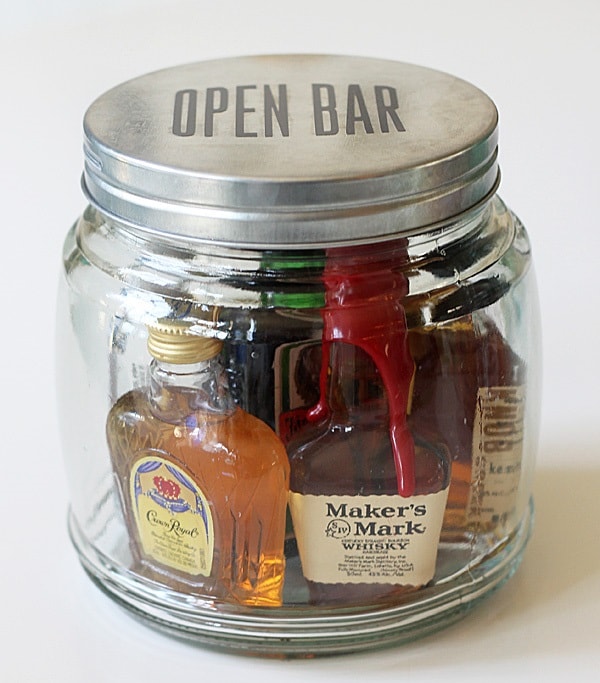 Found from TheShabbyCreekCottage
30. Jelly Jar
In a season deluged with sweet treats of every kind (treats I love and give too!) a gift as fresh and wholesome as homemade bread and jelly is always appreciated.
Found from MakeItDo
Now if you're looking for some mason jars to try some of these ideas out, I've looked around on Amazon and list the best ones I could find below:
---
Hope you found some inspiration from these easy DIY Mason Jar gift ideas for Christmas! They make great inexpensive but personalized gifts and I'm sure your friends and family will love all of them.
If you have any questions or comments, please leave them below, I'd be happy to hear from you!
Related posts you might love: Quick & Easy DIY Christmas Ornaments and 16 Amazing Eggnog Desserts Recipes
Don't forget to pin these Mason Jar Gift Ideas For Christmas to your Christmas board on Pinterest!