There are many people who seem to think that following the ketogenic diet is very expensive. This can be true depending on what you prefer to eat, but as these cheap keto dinner recipes will show, following a healthy keto diet definitely doesn't have to break the bank.
This post contains affiliate links. Please read my disclaimer policy for more info.
Cheap Keto Dinner Recipes
To save some money when eating keto, try to buy in bulk when you can. You can also cook in bulk and prepare your meals ahead of time for the whole week. I like to do this on Sundays, then I don't have to worry about what to eat during the week. And then you have no excuse to cheat on your diet.
You also don't always have to go for the most expensive meat, swap the steak for ground beef or the chicken breast for chicken thighs. You can also check out my post on tips about saving money with your groceries.
---
Struggling with losing weight on the ketogenic diet? Then you might be doing something wrong with your meal planning. Take the guess work out of keto, and get easy keto meal plans, complete with shopping lists and all delivered to your inbox every week from Healthful Pursuit.
There's also a 21 Day Whole Keto Challenge if you want to start off with a bang. It's a daily coaching program to compliment your keto lifestyle that you complete in 21 days to transform your relationship with food.
---
1. Low Carb Fried Cabbage With Bacon
Low-Carb Fried Cabbage with Bacon is loaded with flavor and can be on the table in no time when you need a quick and easy low-carb dinner or lunch!
This is so quick and easy you barely need a recipe. Just fry some bacon (use more or less, depending on how you feel about bacon), leave a little bacon fat in the pan, fry the chopped cabbage, add the bacon back in, cook a little more, season with salt and fresh-ground black pepper (and a pinch of hot pepper flakes if desired), and before you know it you're eating a delicious dish of fried cabbage and bacon.
Found from kalynskitchen.com
2. One Pot Garlic Butter Chicken Thighs And Mushrooms
Decadently delicious chicken thighs and a mushroom side dish all in one pan with the most amazingly delicious garlic butter sauce!
And seriously – can you beat any chicken recipe or mushroom recipe that gives you dinner and a side dish in just one pot?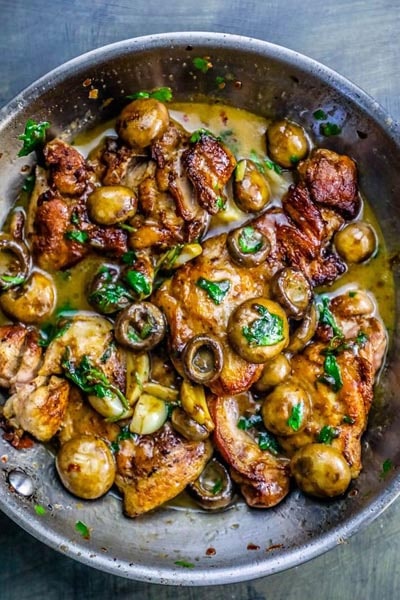 Found from sweetcsdesigns.com
3. Cabbage Soup
Learn how to make cabbage soup with ground beef, in a Crock Pot or Instant Pot. Simply the BEST cabbage soup diet recipe – or just a delicious dinner!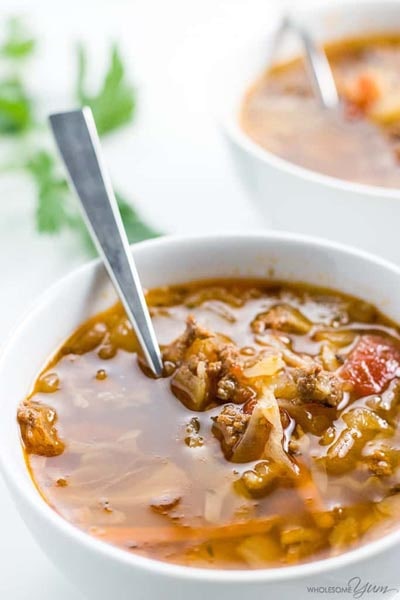 Found from wholesomeyum.com
4. Keto Fish Pie
For those who don't know, a classic fish pie is made up of a bunch of different types of fish, cooked in a creamy, and if you like, cheesy sauce. Throw in a bunch of parsley, top it with a mashed potato topping and bake until golden!
Of course, you won't actually use mashed potato on the keto diet, but there's an easy, and arguably much tastier alternative that does turn this into a low carb meal, Cauliflower!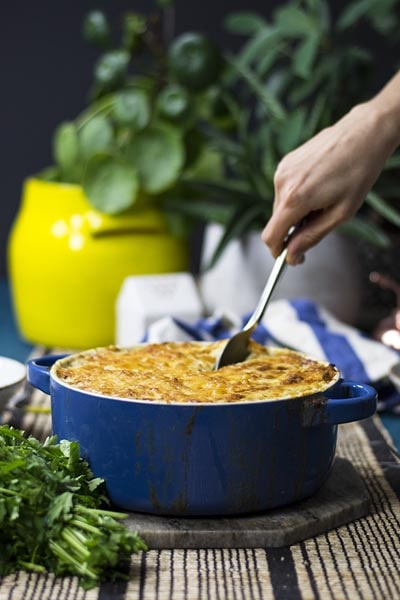 Found from ieatketo.com
5. Keto Fried Rice With Pork
This keto fried rice is made low carb by using cauliflower instead of rice!
This bowl of keto fried rice has 8g of net carbs in total (as pictured, including toppings). Take care when selecting ingredients, some common choices such as green peas and carrots are higher in carbs and should be accounted for!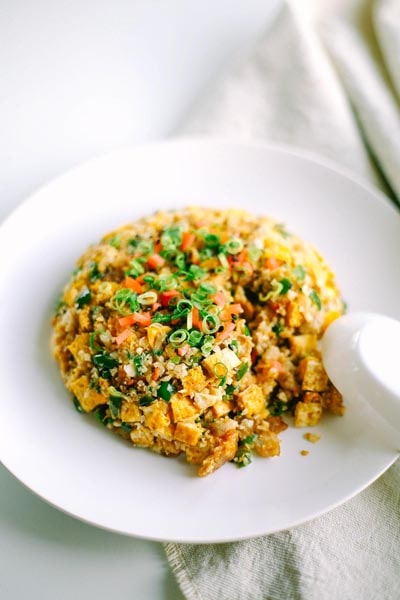 Found from happyketo.com
6. Cheesy Cauliflower Shepherd's Pie
Low Carb Shepherd's Pie with a cheesy cauliflower topping, this keto version of the classic comfort food is filling and delicious.
The creamy smooth mashed caulie will make you forget all about those potatoes!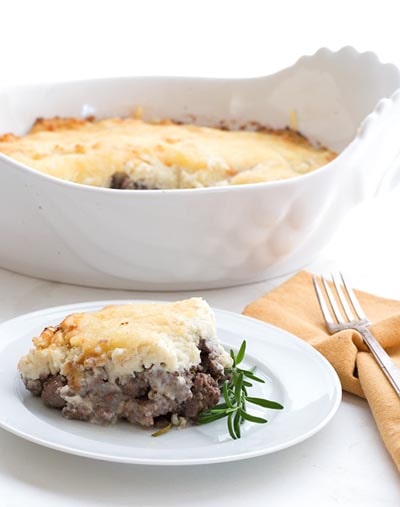 Found from alldayidreamaboutfood.com
7. Low Carb Deconstructed Pizza Casserole
You don't have to give up pizza on the keto diet! If you're in the mood for some serious comfort food, then try out this deconstructed pizza casserole.
Also, if you're looking for more keto pizza recipes, check out 10 of my favorite keto pizzas!
Found from kalynskitchen.com
8. Chorizo with creamed green cabbage
Spicy chorizo paired with creamy cabbage? Yes, please! This tasty and low-carb combination of the two is topped off with a lemony gremolata for a kiss of citrus flavor.
Found from dietdoctor.com
9. Low Carb Lasagna Stuffed Peppers
Now you can enjoy all the flavors of rich and cheesy lasagna without all the carbs!
This low carb Lasagna Stuffed Peppers recipe is so good that you won't even miss the noodles.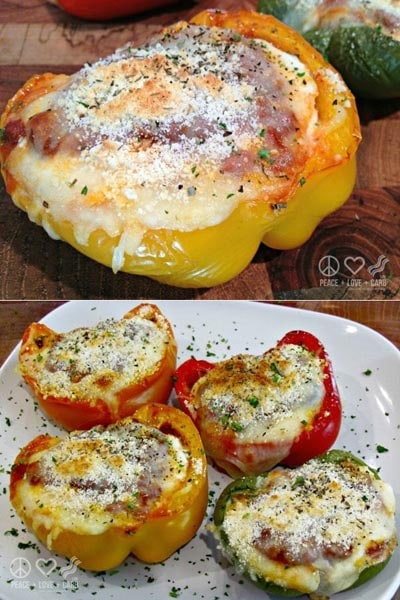 Found from peaceloveandlowcarb.com
10. Low Carb Baked Chicken Tenders
These baked chicken tenders are coated in a deliciously savory crust, yet have zero breading, which makes for an awesomely low carb meal!
Eating healthy has never tasted so good! You won't even miss the breading on these baked chicken tenders… and the flavor is crazy addictive. Who says you can't have it all?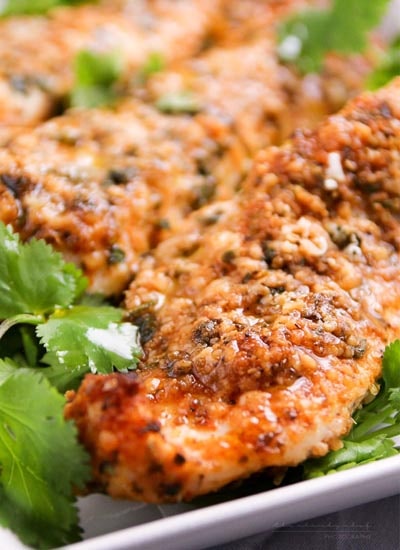 Found from thechunkychef.com
11. Keto Jambalaya with Chicken and Chorizo
This is a really quick, easy and tasty keto jambalaya recipe, perfect for a low carb weeknight dinner.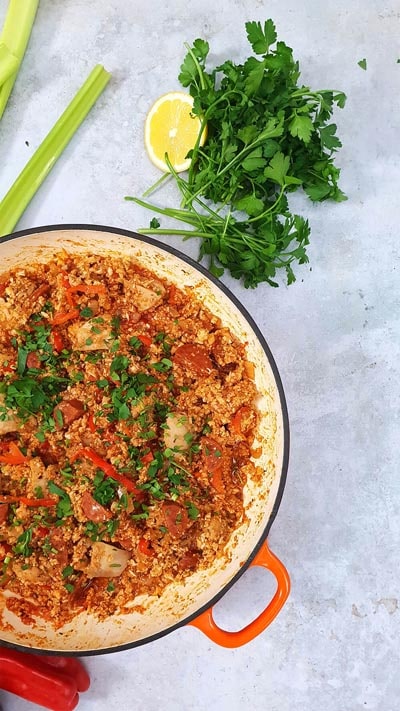 Found from ieatketo.com
12. Low Carb Crack Slaw
Watch how easy it is to make crack slaw! You just might fall in love with it and make it for dinner every night! Simple ingredients, tons of flavors and best of all, it's low carb!
Found from tasteaholics.com
13. Sausage Taco Cauliflower Rice Skillet
A nutritious low-carb, keto, paleo main dish for dinner. It's loaded with delicious sausage and veggies such as cauliflower, green peppers, onion and tomato. Ready in less than 30 minutes, everyone will ask for more!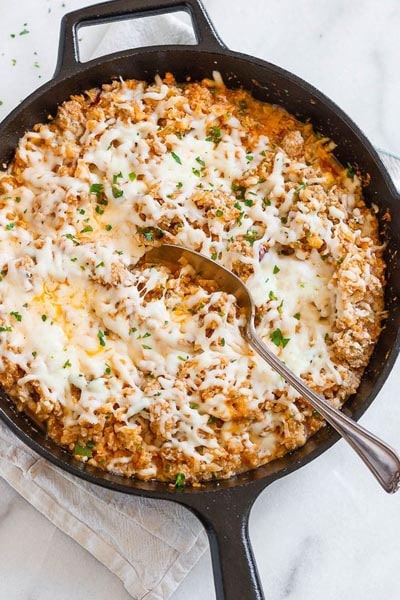 Found from eatwell101.com
14. Low Carb Bacon Cheeseburger Casserole
If you've been on the hunt for a low carb cheeseburger casserole, this is the recipe for you! Only 2 net carbs per serving and it's so filling and delicious!
Found from bunsinmyoven.com
15. Broccoli Bacon Cheddar Chicken
If you enjoy chicken and broccoli recipes, you'll love this easy Broccoli Bacon Cheddar Chicken dinner.
All you do is throw chicken breasts in a casserole dish, then top with the rest of the ingredients and bake for 30 minutes! Low-carb, gluten-free, keto friendly chicken recipe.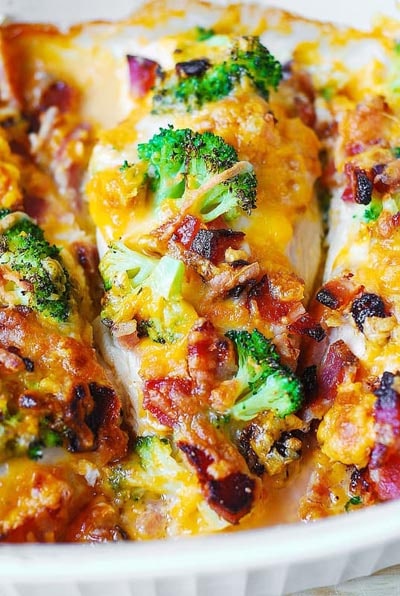 Found from juliasalbum.com
Pin these Cheap Keto Dinner Recipes for later!
If you found this post on cheap keto dinner recipes useful, I'd appreciate it if you could share it to your keto board on Pinterest. Thank you!