Hey everyone, I'm excited to share with you all my blog income report January 2018 and December 2017!
I had such a busy start to 2018 that I never got around to publishing an income report for December! And now its already February, so I decided to combine my income reports for December and January.
This post contains affiliate links to Bluehost. This means that if you use my referral link to sign up for Bluehost, I might receive a small commission at no extra cost to you. For more information, you can see my full affiliate disclaimer here.
So why would I share my income report?
So first of, I know you might be wondering why I would share my income report. My reason is simple – it's to show you that you really can make money blogging, even with a new blog!
Many people are under the false impression that it's only big bloggers who have been blogging for years that can make money. This is so not true guys!
My blog is only 5 months old now, and I've already earned $627.35 from it during the last 3 months (check out my very first income report here!).  And the truth is if I can make money blogging, then so can you!
Now, my aim is always to be completely transparent and be 100% honest with you all. Blogging is NOT a get rich quick scheme. You DO have to put some work into it, especially in the beginning if you're just starting a new blog. But once you're done with the initial setup of your blog, you can focus on actually blogging and creating posts.
Currently, I only spend about 6 – 8 hours a week on my blog (mostly over weekends as I don't have time during the week), and I've been able to earn $627.35. If you have more time to spend on your blog, you could be earning much more than me in a shorter amount of time!
If you're interested in starting your own blog, you can do so for as little as $3.95 (payable upfront) per month with Bluehost! And remember, you can earn back the money you paid for your blog easily within a couple of months (plus so much more)!
Also, if you sign up today for 12 months or more using my special affiliate link, you'll get your domain name for FREE for the entire first year! If this sounds like a good deal to you, I also have a detailed post with step by step instructions on setting up your blog with Bluehost here!
If you would like to see if your desired domain name is available, you can use the domain name checker below:


Now on to the income report:
Okay, so let's get to the part you've probably been waiting for – to see how exactly I earned $461.87 online. Here is the breakdown:
Amazon: $2.87
Google AdSense: $394
Bluehost: $65
Amazon
I know, earned only $2.87 from Amazon. But that's to be expected as I haven't really focussed on promoting items from Amazon. This is likely something I will focus a bit more on in 2018. I know of bloggers making thousands per month through Amazon referrals. So it's definitely worth signing up for if you want to monetize your blog and have products you wish to promote.
Google AdSense
Most of the income I earned during December – January was by displaying adverts on my site through Google AdSense. I receive most of my traffic from Pinterest – it's an amazing way to drive tons of FREE traffic to your blog! By the way, I'd LOVE it if you'd take the time to follow me on Pinterest! You'll be able to see all the pins for my future income reports and blogging tips!
For those of you wondering about my traffic, I received 58 922 page views in these two months. Here is a screenshot from my Google Analytics: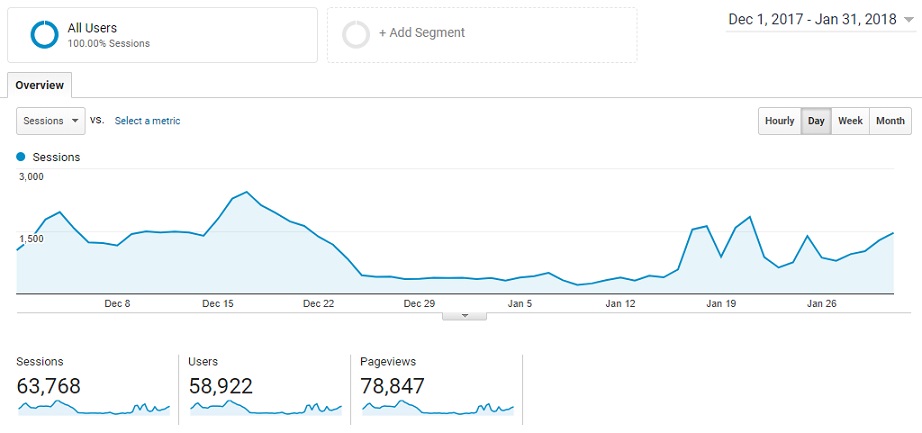 As you can see, I received a lot of page views in December, then it dropped quite a bit after Christmas until around mid-January, when it started picking up again. This is mostly because a lot of my traffic in December came from pins relating to Christmas posts, so those pins died out a bit after Christmas. In January my traffic started picking up again for posts relating to organization and dieting.
The amount of money you make through AdSense is quite low compared to other advertising networks. Once you start receiving a steady amount of page views and start exceeding 25k sessions a month, I'd highly recommend you sign up for Mediavine. I've heard great things about them and am planning on signing up with them this year.
Bluehost
Bluehost has an awesome referral program, but that's not the reason that I recommend them. I truly believe this is one of the easiest ways you can start a blog at a very affordable cost.
WordPress.org even recommends them as the #1 hosting company! So if they have such confidence in Bluehost, you can feel pretty safe with your purchase too. They also offer 24/7 support, so if you get stuck, you can use their live chat feature to help you out. And if you're still skeptical, they do offer a 30-day money back guarantee, so you have nothing to lose!
You can start your blog today from as little as $3.95/month using these step by step instructions here! If you sign up for Bluehost using my referral link, do let me know, I'd love to check out your blog!
---
I hope this income report January 2018 and December 2017 shows you that you really can make money blogging, even if it's just part-time. It's all up to you, and you really have nothing to lose just by trying. And just remember, in a year from now, you will wish you had started today!
Is anything holding you back from starting your own blog? Are there specific things you'd like me to cover on starting your own blog? Or do you have any other questions? Let me know down below in the comments section, I'd love to hear from you!
Liked this post? Pin it for later!