Since Mother's day is coming up, I've been thinking about what gift I could give to my mom (even though she says she doesn't need anything).
I always feel like I'm really bad with gifts since I struggle to pick something. But after thinking about it, I've decided to make something this year instead. So naturally, I ended up searching online for easy DIY gifts I could make.
DIY Gifts That Everyone Will Love
Now, these gifts aren't specifically for Mother's day though, you could make them for someone's birthday, as a housewarming gift, or any other occasion. You get the idea.
What I really love about DIY gifts is that they are so much more personal and special because you make them yourself. And the ones I found for you below are all really cute and useful too.
For the full instructions on how to make any of the DIY gifts listed below, please click on the link underneath each image.
1. Sharpie Dot DIY Flower Pots
Such a cool idea to write someone's name on a flower pot in such a cute way. It makes it so much more personal!
You can also get creative and experiment with different colors or patterns.
Found from Cutesy Crafts
2. Rose Petal Bath Salts
These rose petal bath salts look so pretty in their glass jars.
I think this could be a really cool gift for a bridal shower or spa day with friends.
Found from Paper n Stitch Blog
3. DIY Sweater Mittens
If you have any old sweaters lying around that you aren't using anymore, why not repurpose them and make these cute mittens?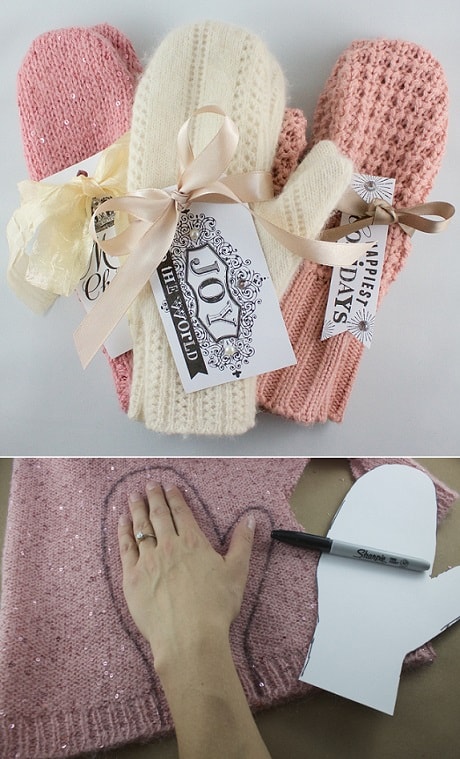 Found from Feathering My Nest
4. Colorblock Cutting Boards
Instead of giving someone a plain wooden chopping board, why not add a pop of color to it? It's a simple touch that makes it look very elegant.
Would make a great housewarming gift I think.
Found from Lovely Indeed
5. Arm Knit Chunky Blanket
Okay, I know this one might look like it would be too difficult to make, but it really isn't.
And you don't need any special knitting skills or tools to make this blanket, so why not give it a try?
The tutorial provides easy and clear step by step instructions that you can follow to make your own chunky knit blanket.
Found from Made Up Style
6. DIY Scented Room Spray
Everyone loves walking into a room that smells fresh and clean, so these scented room sprays will be a big hit with any homemaker.
You can create these using your favorite essential oils and scents.
The extra detail of putting dried flowers in the bottles also makes it more special.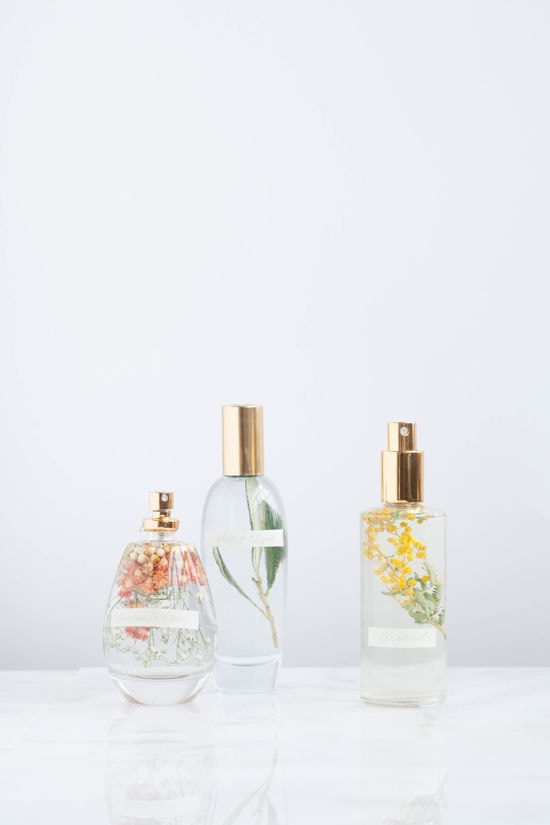 Found from Design Lovefest
7. Vanilla Brown Sugar Scrub
This sugar scrub is really easy to make, you just add all the ingredients together.
Make it look cute and gift-worthy by putting it in a pretty jar or container.
Finish it off by adding a printed tag and some string.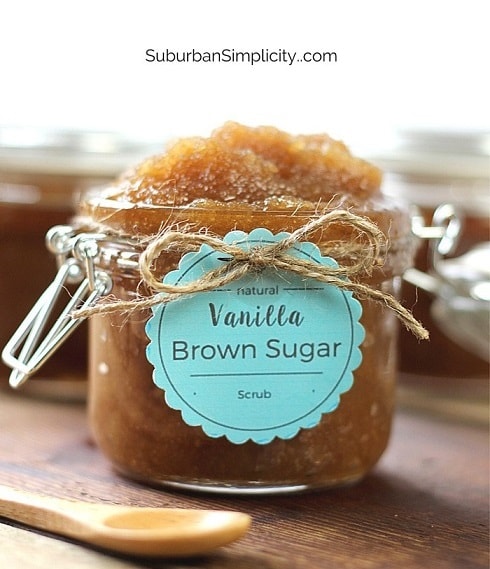 Found from Suburban Simplicity
8. Spray Paint Marble Planters
These spray paint marble planters will all come out with their own unique design.
It could take a few tries to get it right though, so the author suggests that you try it with some paper cups first.
Found from Vintage Revivals
9. DIY Rope Basket
This basket was actually a cheap dollar store basket, can you believe it?
Adding the rope, some fabric and a bit of color make it look so much more expensive!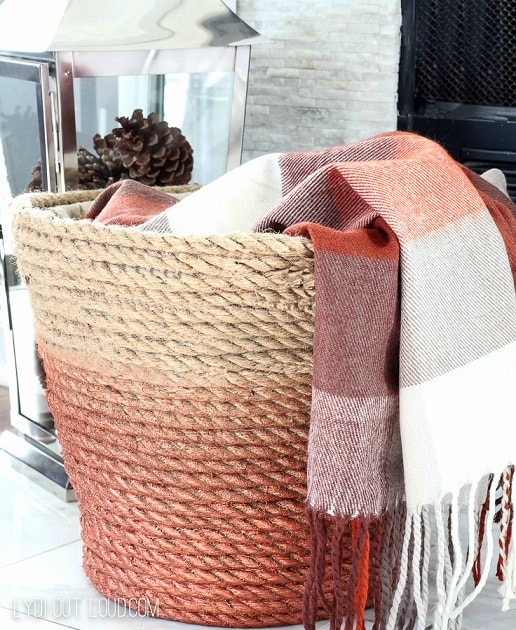 Found from Lydi Out Loud
10. Gilded Edge Agate Coasters
Instead of buying these coasters at an expensive price, you can make your own gilded edge agate coasters at about $8 each.
All you need is some round, flat agates and gilded paint.
Found from Making Lemonade Blog
11. Microwavable Hand Warmers
These hand warmers are pocket size, so you can keep them in your pockets to warm your hands. You could easily make larger ones too.
These would make great gifts for children or anyone who gets cold easily!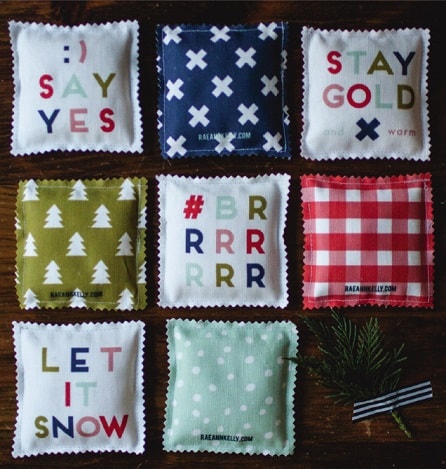 Found from Rae Ann Kelly
12. Wooden Slab Keyholder
If you know someone who's always looking for their keys, this could be a useful gift.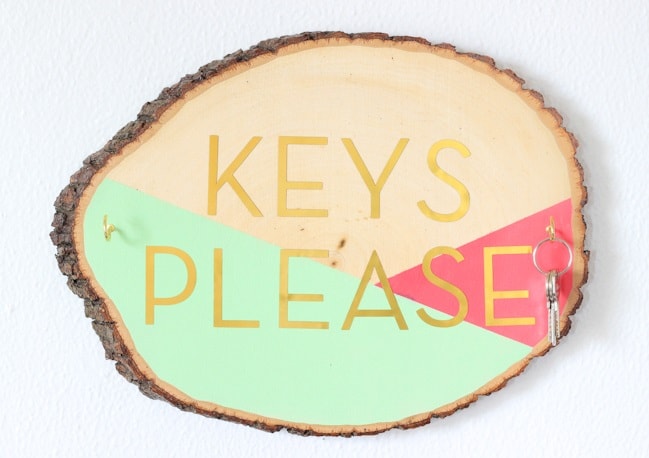 Found from The Crafted Life
13. Galaxy Marble Coasters
These galaxy marble coasters have such a cool design each one you make will be unique.
You don't have to stick to these colors though, you can experiment and make your own colored coasters.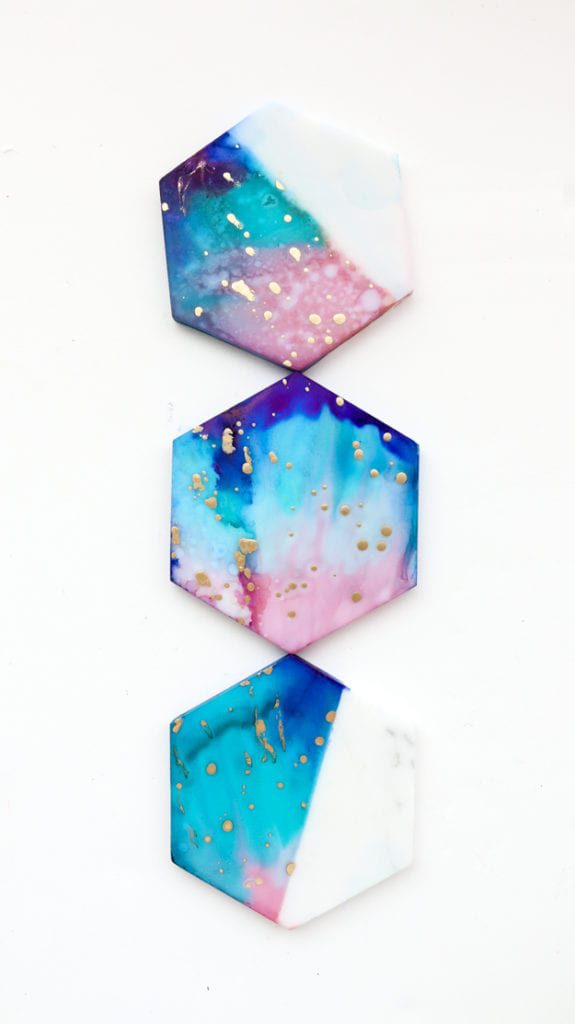 Found from A Kailo Chic Life
14. Flower Throw Pillow
Turn a plain inexpensive throw pillow into one that makes a statement!
This could be perfect as a housewarming gift. Remember to consider the color of the person's living room, you could make this in any color.
Found from West Elm
15. Easy DIY Pom-Pom Rug
This is one of my favorites. I love this fluffy and cozy pom-pom rug!
And I really like that you can choose your own wool and colors to make someone totally unique!
I'll likely be making one of these for myself!
Found from Home Lover
---
If you found some inspiration from these DIY gifts and enjoyed this post, be sure to pin it to Pinterest so you can come back to it again later!
Pin it for later!