Making your own homemade soap is much easier than you think! And it's a lot of fun too. In this post, I've rounded up some of my favorite homemade soap recipes so you can also try them out.
Making your own soap has lots of benefits and it can actually save you money depending on the soap you make.
You can also control what goes into your soap and thus avoid any ingredients that are harsh on the skin. Homemade soap is thus perfect for sensitive skin.
Homemade soap can also make a great gift for your loved ones. You can get really creative with the soap you make and can often turn it into something that looks like a piece of art.
Note: This post contains affiliate links, which means I might receive a small commission (at no extra cost to you!) if you purchase something through one of my links. Please see my affiliate disclaimer for more information.
Homemade soap recipes anyone can make
Below I've compiled a list of some of my favorite homemade soap recipes. They are all unique with different sizes, shapes, and aromas.
Combine these beautiful soaps with the right packaging and you instantly have a unique and personalized gift.
1. Lavender Honey Lemon Soap
Found from Sisoo
This is one of the easiest soaps you can make as it uses a "melt and pour" base.
Using a melt and pour base is perfect for beginners. It's basically a base that you can buy and you just have to melt it and add your desired scents, colors and textures to it to create your very own soap.
If you're looking to buy a melt and pour soap base, I'd recommend this goat's milk one from Amazon.
2. DIY Amethyst Soap Gems
Found from Mary Makes Good
These Amethyst soap gems are sure to be a hit with everyone! People will actually not believe they are really made of soap!
And don't be worried that you won't be able to make this. It's actually very easy if you follow the tutorial.
It might take a bit more time than some of the other soaps do because you have to cut the gems, but that's the fun part! And you'll end up with a unique soap gem every time!
3. Rosewater Pink Clay Soap Bars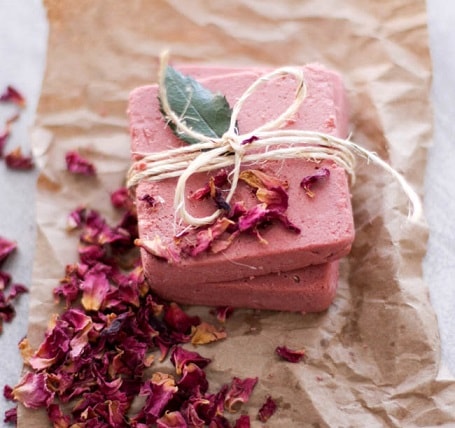 Found from Hello Glow
I just absolutely love the texture of this one! And best of all, this soap bar is not just a body soap, but can also be used as a facial cleanser.
The clay in this soap works well for absorbing any excess shine and oil from oily skin.
4. Peaches and Cream Soap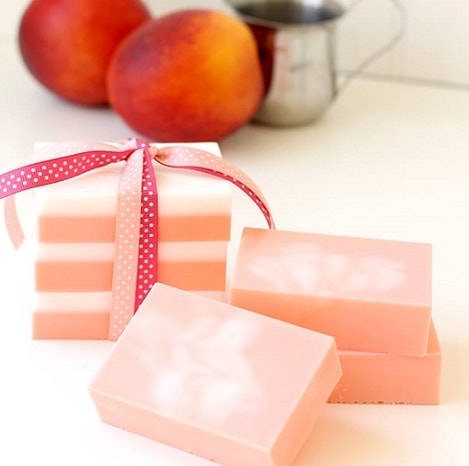 Found from Happiness Is Homemade
This peaches and cream soap smells amazing and everyone will love them!
It's also really easy to make and requires only a few ingredients.
The recipe shows how you can make either a layered soap or a swirled soap. Of course, you can also do both!
5. Honey Oatmeal Handmade Soap
Found from Creative Me Inspired You
Who doesn't love honey or oatmeal? And now you can have it in your soap too!
This honey oatmeal soap gives off a rich and deep aroma that will make you want to use it again and again.
Wrap it in some basic paper and twine and you have a cute personalized gift that anyone would love!
6. Coffee Sugar Scrub Cubes
Found from A Pumpkin And a Princess
Sometimes your skin needs a good exfoliation. These coffee sugar scrub cubes will help remove dry skin cells and improve circulation, giving you smoother and firmer skin.
And do I need to mention they have an amazing coffee and orange scent that you'll love?
7. Orange Flaxseed Soap
Found from Confessions Of an Overworked Mom
Another beautifully textured soap, this time with flaxseed and pieces of grated orange peel.
This one is also really easy to make with a melt and pour soap base that you can melt in the microwave if you wish.
8. Herb and Spice Glycerin Soap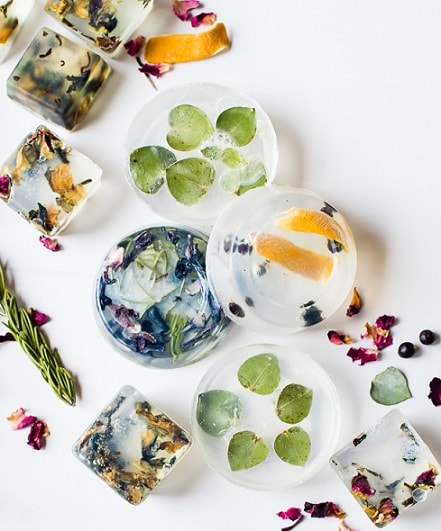 Found from Hello Glow
If you're looking for something a bit closer to nature, you will love these glycerin soaps.
You just need a clear glycerin soap base (you can get one from Amazon here) and then any decorative ingredients you wish to add.
Put them in a soap dish by the bathroom sink to add a little spring and summer to your bathroom.
9. Pumpkin Spice Soap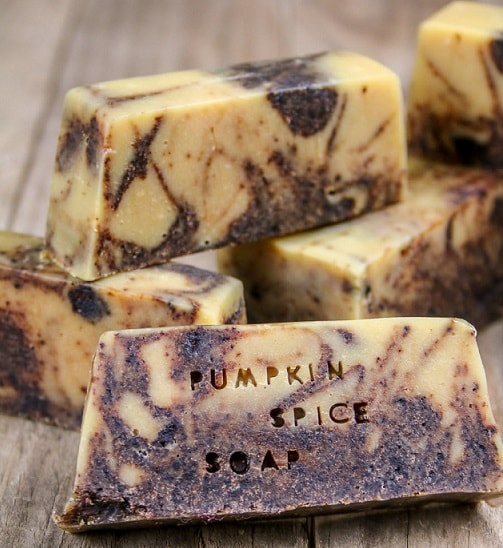 Found from The Things We'll Make
This pumpkin spice soap would make a perfect fall gift and looks really impressive.
I'll admit, this one is a bit more on the difficult side as it doesn't use a pre-made melt and pour soap base, but it's still easy enough for beginners to make.
10. DIY Lavender Loofah Soap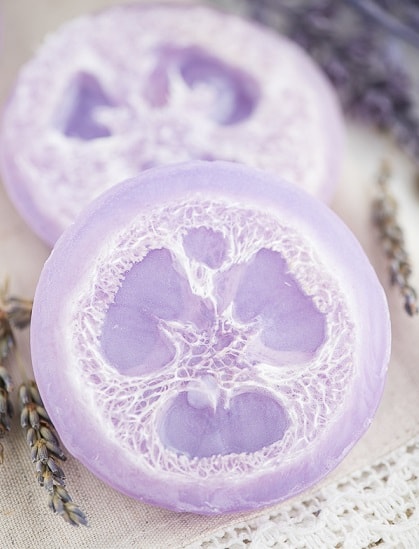 Found from A Pumpkin And a Princess
This is exfoliating loofah soap is great to get rid of dry skin cells and will leave your skin feeling fresh and smooth.
It's super simple to make loofah soaps. You can basically use any soap recipe you want and just add the loofah.
All you need is to place a loofah of the desired size in the soap mold before pouring the soap mixture into the mold.
---
If you're looking to make your own soap, I'd recommend you first experiment with the melt and pour soap bases.
You can get a goat's milk one here on Amazon, or a clear glycerin soap base here on Amazon.
Loved these homemade soap recipes? Pin it for later!
If you enjoyed this collection of easy homemade soap recipes, be sure to pin it for easy reference later!