There are so many cute, unique and easy DIY nail art ideas out there that can be formed by the most basic of shapes such as dots and lines. Here I've compiled a list of nail art ideas that you can easily do at home, mix and match the colors to your liking to form your own designs.
Neon Polka Dot Nails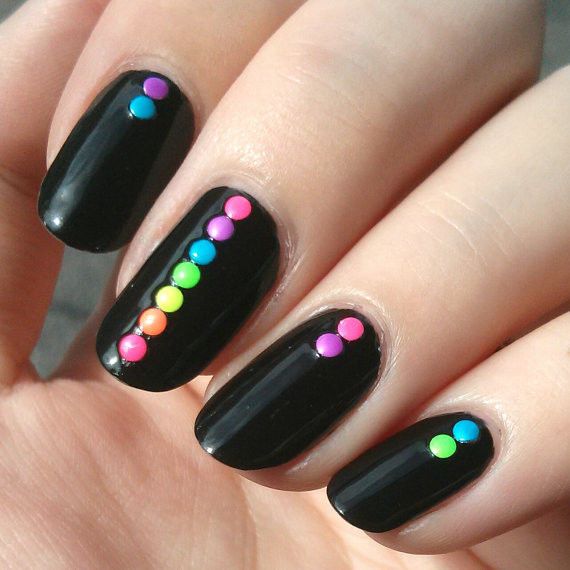 Found from Girlterest, this is a really cute way to brighten up black nails, these neon dots stand out on the dark base color.

Negative Space Stripes
With the use of some striping tape, you can create some really cool and unique designs. Just love this clean and minimal design from Lulus.
Black and Gold Nails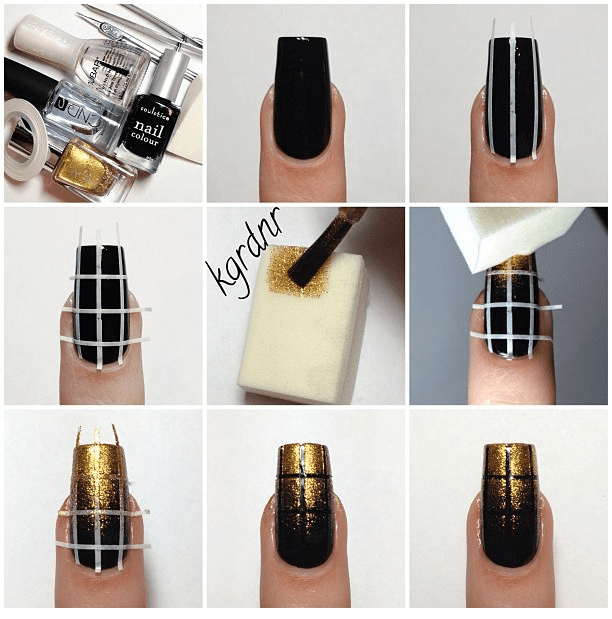 Again with the use of some thin tape as well as a sponge, this tutorial by BeautifulShoes shows how you can create a fashionable black and gold combination for your nails.
Fizzy Fun Nails
Super adorable nail art using only dots of varying sizes, this Fizzy Fun tutorial is brought to you by TheBeautyDepartment. Mix and match the colors and size of the dots to match your own unique style.
Fashionable Quilted Nails
Using a simple dotting technique, you can easily recreate this quilted nails look from Lulus. Easy to do and it looks super stylish!
Adorable Lady Bugs
Found from CasadePolish, who wouldn't love this cute lady bug design. It's fresh, fun and super adorable and showcases your playful side.
Newsworthy Nails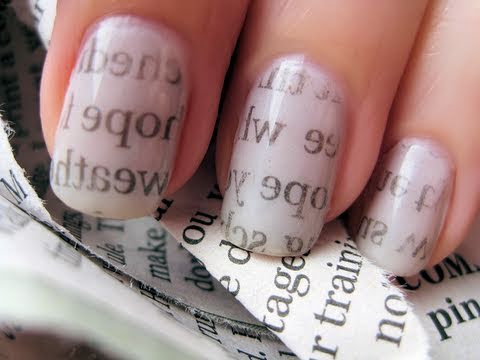 Creating your very own newspaper nail art is easier than you think! Cutepolish shows how you can use some newspaper clippings and rubbing alcohol to achieve this lovely look!
Fan Brushed Nails
If you've got an old fan brush lying around, why not use it to create this unique striped look from iCreativeIdeas? Using as many colors as you like, you can create your own unique look.
Flower Power
Found from Trend2Wear, this is another really cute and feminine design you can easily recreate using dots of varying sizes. They use a stud for the center of the flower, but you can just as easily use a dot of gold nail polish.
Cat-tastic Nails
Just love this adorable black cat nail design from LuLus! It may look intimidating, but they give some really simple steps to easily recreate this cat-tastic look.
Hey, don't forget to pin & share these easy DIY nail art designs!