There's always a bluish feeling that comes with pessimism. In an era where everywhere you turn to is filled with pessimism and toxicity, sometimes, it's hard to look on the bright side. But, it's very possible! Today I'm sharing some of my top tips on how to improve your happiness and enjoy your life.
Happiness is free! So instead of just trying to avoid negativity or get over the toxicity making rounds, focusing on the positive will be our mainstay. 
In light of this, I'll be sharing some sweet tips on how to increase your happiness. And since the goal is not only to get you excited and lift your spirit for a moment, with the tips enlisted below, I'm optimistic that you'll stay happy too!

Related reads:
1. Have A Heart Of Gratitude
Cherish and be proud of what you have, as well as the effort you put into things. It's so easy to get caught up with disappointments we face on a daily basis and welcome pessimism with open arms.
 We are not going to do that. Look within you, look around you, there are a lot of things to be grateful for. No matter how little they might be, don't take those things for granted. It's alright to want things for yourself  and want to work harder to get them but make sure you take a minute or two to be thankful for how far you have come.  
When you appreciate the things you have, you'll worry less about what you don't have (worry won't get you anywhere or anything though, just more worries). Less worry is ultimately a great way to improve your happiness.
2. Comparison Is A Killer Of Joy
I can't emphasize this enough! We are in the age where the world is populated with "social pressures"  especially on social media. Everyone seems to be in the happiest relationships and have the best of friends.
Some seem to use the latest gadgets, travel on private jets and wear the latest designer clothes. And here you are with a "stuck in one place" kind of feeling. It's like the whole world is getting their act together quite well, save you.
 Now, don't be swept off your feet by those things. FACADE is the right word for them. You're doing just fine, and the less attention you pay to those things, the better you will do. If you want to improve your happiness, be content.
Contentment in this case is not about being content with everything life throws at you. It's having a sense of satisfaction that when life throws you a lemon, you make a lemonade (not throw the lemon away and sulk).
Never compare yourself to anyone, your goals, aspirations and dreams are different from theirs, let no one set a standard as to how you are to achieve them. 
Social media is not your life coach. So have a mind of your own. It comes with great peace, you'll be happier and at ease with yourself, no pressures, no worries, and this will improve your happiness.
3. Discard The Retail Theorems
Material possessions might get you excited the moment they become yours but they won't always make you happy. It's not a bad thing to have money and own things but those things won't guarantee your happiness. 
So rather than spend money on things, you can choose to spend money on experiences. Go to the zoo, go on movie night outs, road trips aren't a bad idea, there are a lot of amazing places to tour.
 These activities won't just bring happy experiences, they'll also leave loads of sweet memories to savour during a hectic workday.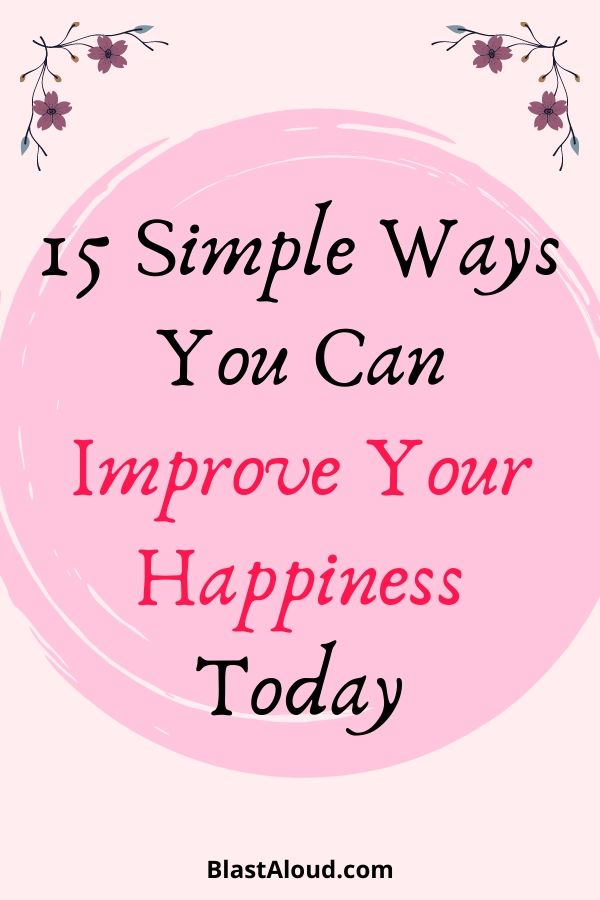 4. Don't Try Too Hard
Doing things (movies, karaoke, games) because you find pleasure in them will go a long way to improve your happiness.
However, there's a thin line between the things that make you happy and doing things so you'll be happy. Let me give a clearer picture. If you love going to the movies and watching movies makes you happy, it's different from going to the movies because you want to be happy. 
In the former, it comes naturally, however, an expectation is placed on the latter. Recent research made on psychological sciences has shown that putting too much effort on the search for happiness as if it's on sale can backfire! 
The problem here is expectations, because you tend to focus on the end result (happiness) rather than the activity itself. It's the same with people who go into relationships because they believe they'll be happy. 
When their expectations are not met, they tend to be thrice as blue as they were before the relationship. Don't be that person.
5. Work Out
 Research and of course every day experiences have shown that exercise is a very effective mood lifter. You don't necessarily have to hit the gym before you exercise your body. Early morning runs, jogging and even dancing are a good start. 
You can even create some space in the living room to stretch your muscles while watching your favourite TV show (I'd recommend 10 squats and 15 bicycle crunches for starters). 
 No matter how busy your schedule might get, try to make time out for a little work out at least thrice in a week, it's a pretty great way to improve your happiness.
6. Meditation and reflection 
An unstable mind breeds confusion and unhappiness.  It's no news that meditation helps to calm and stabilise our emotional and mental state. Signing up for a yoga class or scheduling 5-15 minutes of self reflection will not only help improve your happiness, it will also give you a sense of direction.
7. A touch of Flexibility won't hurt
Sometimes, doing the same things and going through the same daily routines can easily get us the blue feeling we dread. Except you're a die-hard stereotype, sticking with one routine for too long sometimes feels like going round in circles or staying in a box. It can be depressing. 
The good news is, you can change that narrative. Adding to and swapping some activities for others on your daily routine could be a great mood booster. If you're used to doing the laundry in the morning and dishes at night, you could swap one for the other. 
Go through your schedule and make some changes today. Be flexible, be happy!
8. You are what you eat
Do you know that there are foods which produce chemicals that influence a person's mood? Nutritionists recommend food rich in B-12 and folic acid (oatmeal, wheat germs and other fortified cereals).
 Studies have shown that these nutrients help the body produce a neurotransmitter called serotonin—a known mood stabilizer. Also, food rich in omega-3 fats such as salmon, sardine, olive oils and walnuts help alleviate depression.
There's a reason why popcorn is the cliché snack for movies. Chocolates also help a great deal. So you see, the above saying is not just about one's physical fitness. Ensure you eat well to increase your happiness today.
9. Rest Well, Sleep Enough
We all know that busy schedules could get us crazy hangovers, eye bags and sometimes 3 men banging the heaviest sledge hammers inside our head (yeah, headaches). So, if you don't get enough sleep and rest, it takes its toll not just on your physical self, but also on your mental wellbeing.
 Restlessness always leaves a trail of fatigue, depression and even lack of satisfaction. The human body, mind and soul need enough rest to be more active and function well. So to be rejuvenated and increase your happiness, ensure you get at least 8 hours of sleep daily.
10. Smile
Hey there! Have you smiled today? Whether you are sipping a cocktail drink in Santiago Bay or counting your blessings on a Sunday morning, or getting through a busy schedule, try to wear a smile. 
A daily dose of smiling lifts one's spirit and you're very likely to make others smile when you do. You see, happiness is free, spread it!
11. Do your favorites
We all like to go to eat our favourite meals, wear our favourite clothes and go to our favourite spot on special occasions. 
Yeah, they simply make that occasion special and make us happy. But who says you can't have a special day everyday? No one? Great. So please do you favourites frequently. Don't wait for special occasions, be happy now.
12. Invest In Purposeful Leisure
Channelling your time, energy and resources into something you like which is usually not a profession or work will make you happier. Purposeful leisure does contribute to one's personal development and reflects one's sense of preference. 
For instance, learning a new skill, trying out a new recipe or sport, taking up a freelance job or signing up for a language course. Doing these things increases one's happiness and when completed, they bring a feeling of satisfaction.
13. Value people that make you happy
Busy schedule or not, quality time with loved ones and friends that inspire us to be happy should not be taken for granted. Spending time with our loved ones is one of the greatest but most underrated ways of increasing one's happiness. 
It is underrated because everyone leads a busy life and people now substitute quality time spent with their loved ones with time spent on social media platforms with strangers thousands of miles away. 
Having your loved ones present and engaging in activities together helps create a bond and sense of belonging. It somehow gives us a feeling of safety and assurance that  they will always be there for us. 
Thinking about this in turn brings satisfaction and happiness. Create time out with friends, enjoy the activities, smile, laugh, embrace their  warmth, savour the memories and be happy!
14. Celebrate Good Times 
Doing things that give you nostalgic feelings and remind you of sweet memories are a great mood lifter. They help us reminisce on how far we've come and somewhat gives a sense of gratitude which ultimately helps in increasing one's happiness. 
Buy scented candles and flowers, look at happy photographs, go to places that remind you of happy memories and think back on positive memories. Indulging the senses goes a long way when it comes to increasing one's happiness.
15. Offer A Hand 
 Coming through for others who are in need can increase your happiness a great deal. Rendering a helping hand somewhat makes us appreciate the life we lead and of course there are many ways to go about it. 
You can contribute to a community project, walk a pet at animal care, help a coworker fix their computer, be a volunteer teacher at the school for children with special needs or even donate to charity in case you've got a really hectic schedule. You will be happy you did.
Bonus: Be purpose driven
Not just doing things but understanding why you do them is another great way to improve your happiness. To be happy, you need to know what you want, how and when you want it. The people who wallow in comparison and are easily swerved by others are those who don't have a set purpose. They are usually confused and end up being sad and even depressed. 
As a  purpose driven persona, you set goals and create plans to achieve them. You have a sense of direction, you know what you want and you go for it. You are not confused or under pressure, you are simply content, satisfied and happy!
Final thoughts
Finally, to stay happy, you have to come to the realisation that you cannot have it all your way. Every situation, every  thought, every expectation and every action cannot go your way. As humans,  we tend to let what we cannot control or change, our pasts and mistakes affect our happiness.
 Yes, we could have said and done things differently, but then, it is what it is. We have to move on and learn from the outcome. Remember worrying and anxiety won't help or provide a solution. In fact, they tend to add more problems. 
Happiness, they say, is a product of positivity, so choose to be positive. Rather than  beat yourself up over mistakes or get anxious about the future, understanding all these valuable tips and putting them into practice will help a great deal in increasing your happiness.
Please pin & share these tips to improve your happiness!