As humans, we are wired to always yearn for approval. We are designed to want to belong or integrate into society. That's why we are regarded as social animals. Therefore, it's natural if you always want to please people. But how right is it for you? Should you stop worrying what others think?
Remember, just because it is natural for humans to desire general acceptance doesn't make it right for you. This is because the world today is a lot more advanced for you to always act based on natural instinct.
We are past the age of nature, hence, civilization makes it possible to curtail our animalistic tendencies; the tendency to behave like animals (tendency to always want to be part of a pack).
Although man's evolution involved group survival, nowadays a man must not be generally loved or accepted for him to exist. You can be who you want to be no matter what others think about you, provided you don't break any rule.
Yes, sometimes you might be vulnerable to what people think about you, it's normal, sort of… However, if you really want to be free, you should try not to worry about other people's thoughts concerning you. Remember, it's their thoughts, they're entitled to that.
Moreover, when you concentrate too much on people's opinions, you will definitely forget who you really are… You end up living a false life.
You will live in lies! And that is not what true existence entails.
Stop Worrying What Others Think
One fact we always tend to forget is that no matter what we do, we can only change little or nothing about people's perception of us.
Someone else's opinion about you is subjective. It is personal to them. You shouldn't be bothered.
For instance, people can simply hate you because you remind them of someone that hurt them in the past. Such people don't even hate you because of who you are, but because of their past experience.
That is why you should not bother to be accepted. People's perception of you has a lot to do with them than it has to do with you. It has a lot to do with their mindset and past experiences.
As a matter of fact, it becomes a lot more difficult to understand why someone has a certain opinion about you because you cannot have access to anybody's head. You can only worry and assume. Now, why go through such stress?
If you have been trying to own up your life, but you still find yourself living a false life, and trying to impress others, then this article is what you need right now.
As you read on, you'll find out the steps you should take to stop worrying what others think.

1. Emphasize On What Matters
If you really desire to own up your life and stop worrying what others think, then you must start by focusing on what matters most.
Fundamentally, the most important thing about your life is what you intend to achieve, that is, your end goal.
Now, before you consider people's opinions, check if their opinion will help you in the long run. Will their opinions help you achieve your goals?
Focusing on the bigger picture instead of the present state of things will make you ignore what people think or say presently…and at the same time, it will give you the motivation you need to live and be your true self.
After all, it is your life and you know where you are headed, you know your destination. They simply don't know.
2. Acknowledge Your Vulnerability
Don't be scared to accept your vulnerability.
No matter the reason, always dare to step out of your comfort zone. Don't fail to bear in mind that everyone has their weaknesses. Therefore, the person who is to criticize you also has his own fair share of insecurities.
When you shy away from your insecurities or vulnerabilities, you are simply giving room to live in fear of being you. You will always hide your true identity. You will live to impress, and finally, you will live a borrowed life, not yours.
By acknowledging your weaknesses, you won't be scared to be yourself. You only need a little time to get better and better until you become the best version of yourself.
3. Always Remember That People Don't Really Pay Attention
Before you kill yourself trying to please others, remember that they are not really paying attention to your life.
Most people have their lives, their problems, and demons they're battling with. Typically, they have little or no time to scrutinize your life.
Most opinions people give about you might not really be what they had a deep thought about… It's probably an instantaneous comment. They really don't have too much time to think about you.
Now, why bother yourself? Why stress yourself to live in accordance with an opinion someone gave without thinking?
4. Locate Your Tribe
No matter how you always fall out with people, no matter how people play down or criticize your actions, no matter how they dislike you or your lifestyle, there are always people out there who still like you for who you are… Locate them.
If you intend to feel free and be yourself without holding back, then you should not waste time and energy trying to please people who will never feel pleased (neither will they accept you).
You will end up draining your body and your soul, yet you will achieve nothing. The longer you stay around them, the more you lose yourself, and your life too.
When you locate your tribe, you won't only feel free to be yourself, but you'll also grow in confidence. You will feel more fulfilled, and you will be far happier as a person.
5. Different People, Different Opinions
There is this popular mantra that "everyone is entitled to his or her opinion" and I can tell you boldly that it is true.
We all have our different perspectives, opinions, and beliefs, and most times, people's opinion about you is based on their own perspective, not yours. What works for another man can fail you totally. The road someone else travels smoothly can tumble you a thousand times…
Be yourself from your own point of view, not from others' and stop worrying what others think of your own view!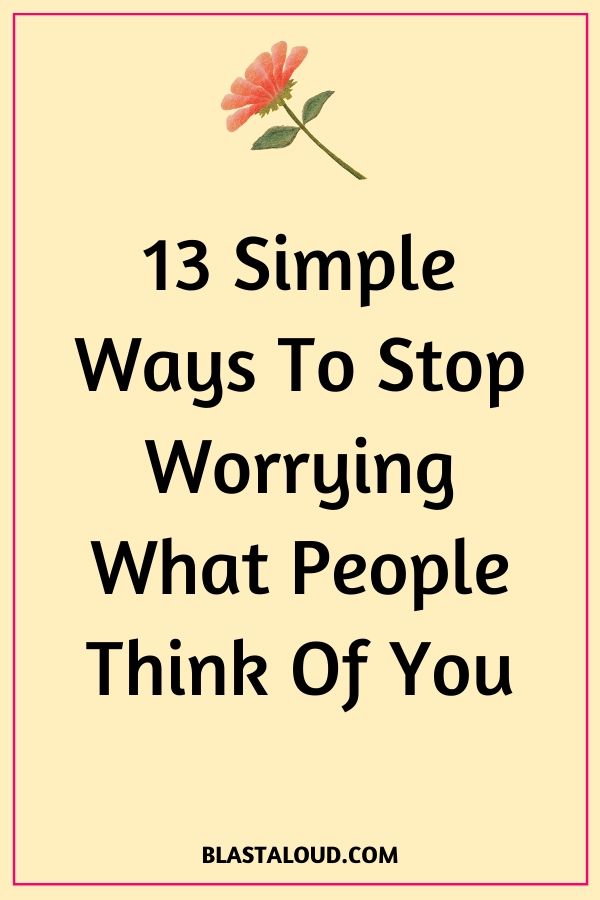 6. You Know Yourself More Than Anybody
If anybody should know you better, it is you.
Nobody else is breathing for you. You own your life and you are living it for you, not for someone else. Surely, people must have their perceptions or ideas about you, but your understanding of yourself supersedes any other person's.
Therefore, you are free to live your life your way. You are also free to make mistakes, then learn from them and get better.
7. Focus Only On Yourself
The best way to be yourself is to neglect others and focus on yourself. I know this sounds selfish…and yes it is. Sometimes you've got to be selfish for your own peace of mind.
If you really intend to focus on yourself, start by minding your business… Worry only about your lapses and how to get better. By the time you are more occupied with yourself, you'll hardly pay attention to other people's opinions about you.
You will be more concerned about your own life and how to improve it.
8. Stop Seeking For Validation
As an adult individual, the only validation you need is the law of your society. Once you obey the law, you typically don't need any extra validation from random people.
In order to stop worrying about what others think, you have to stop asking for their opinions about you. Some people are not even qualified to give you suggestions.
For instance, when you ask an unsuccessful man (that is angry about his situation) for what he thinks about you, there is a high tendency that his reply will be grossly negative. After all, their mindset is negative. They are not qualified to validate you!
9. Don't Overthink It
Have you ever found yourself being too anxious, worrying that you did something wrong and got someone you value so unimpressed (probably your crush) — and when you finally met up with him again, you found out that he didn't even consider what you did and he noticed nothing? That is a typical example of overthinking!
In that particular case, you got yourself worked up about something that really meant nothing. You started thinking that someone was judging you whereas, he had nothing like that in mind.
You really don't need to worry yourself in that manner if you want to be yourself, or if you want to live a life void of pleasing people and displeasing yourself.
Moreover, unnecessarily mental stress is not good for your social and physical well-being.
10. Be Selective
Now, consider this important.
The truth is that no matter how you try to avoid people's opinions, you will need someone's feedback at some point in your life… Especially if you are continually working on your personal development. It is not wrong to seek feedback occasionally.
What is wrong is if you overly depend on such feedback, especially from any random person you see.
You have to be very selective when it comes to people whose suggestions you require. If not, you will get yourself back to being a people-pleaser.
There are few positive-minded people out there. Some are even professionals in the field of counselling. Those are the few kinds of people you can get constructive feedback from (when necessary).
11. Remember That Opinions Change From Time To Time
The earth is not static, it's changing continuously, the same as everything that is inside of earth; including our thoughts, mindsets, and opinions.
Now, for the fact that people's opinions always change, you don't have to take it too seriously — you never know when it will change.
When you overly invest in people's opinions, you might be left stranded when it changes. What a way to disappoint yourself.
Considering this constant change of opinions, do you really want to undergo the stress involved in buying everybody's opinion and readjusting to the changes now and then?
12. It Mustn't Be Perfect
One of the reasons you are so interested in what people think is because you are engrossed by the need to make things perfect.
You might be thinking that when you make it perfect, you'll impress everyone. Unfortunately, that's not correct.
It's high time you accepted that no matter what you do, no matter how perfect you try to make it look, someone must be dissatisfied. Now, if that is the case, why waste your time striving for perfection?
Well, this is not to discourage you from giving your best when carrying out your duty. Of course, you have to do what you should do, but just don't stress yourself trying to make it perfect in order to please imperfect people.
Besides, is there anything like perfection? Is it really obtainable?
Show me that perfect person and I will show you a person with so many secrets; a person who lives a fake life!
Always remember that 'being the real you' gives room for imperfection because it is the nature of humans to be imperfect…
13. Remember, Life Is Short
What is the essence of life if not to live happily?
It is a fact that we have limited time to be alive; why waste your time being unhappy? Why spend your limited lifetime worrying about what others think?
Life is too short to worry when you should simply be happy!
Life is too short to live in the shadow of yourself.
Life is too short to be unreal.
Life is too short to live another person's life (to live to impress people)!
It really sucks to live trying to please people. Nothing can be overwhelming like living according to the dictates of another person.
The greatest freedom you can ever enjoy is the freedom of being the real you!
The greatest fulfillment in life is to live originally and authentically. That is what it means to live a fulfilled life!
Last thoughts
On a final note, you have to strive to live your life without worrying about what people think.
Although it might be a bit tasking to master the art of being yourself, with deliberate, conscious, and intentional effort, you can do it.
Just bear in mind that in life, some people will love and cherish you without you trying to please them… While others will hate and despise you no matter how hard you try to impress them.
Therefore, stop worrying what others think… Live your life!
You might also want to read about:
Don't forget to pin these tips on how to stop worrying what others think!
Hey, if you found this post on how to stop worrying what others think useful at all, please take a moment to share it. We would be super grateful to you!