Looking for some fun and easy Easter bunny crafts for kids to keep them busy this Easter? I've rounded up some of the most adorable Easter bunny crafts I could find. There's something fun to make for all ages.
I absolutely adore Easter and all the gorgeous pastel colors that normally go along with it. These crafts are fun, colorful and will make Easter a lot of fun for the little ones!
30 Enjoyable Easter Bunny Crafts For Kids
Hope you enjoy making these cute Easter bunny crafts with your kids! 
To view the full craft tutorial for any of these crafts, please click on the link corresponding to the craft number.
1. Popsicle Stick Easter Bunny Craft
This popsicle stick Easter Bunny craft is the perfect way to celebrate Spring coming with a fun activity to do indoors.
Kids of all ages will love helping to make these adorable bunnies and handing them out to friends, or using as a bookmark. Stick them in Easter baskets or use them as name cards on your Easter table!
Found from thebestideasforkids.com
2. Cute Foam Cup Bunny Craft
This super cute foam bunny craft is fun for kids to create and it makes an adorable spring decoration for around the house or on the Easter dinner table. Go grab your supplies and get ready to have a fun-filled afternoon creating this bunny craft cuteness with your kids!
Found from iheartcraftythings.com
3. Egg Carton Bunny
These bunnies are simply adorable and so easy to make. And chances are, you already have the supplies lying around the house.
Make some of these bunnies – each with their own personalities – and fill them with candy for a fun Easter activity to do with the kids.
Found from thebestideasforkids.com
4. Paper Roll Easter Bunnies
Make a cute Easter bunny craft from a paper roll.
These little guys are simple to cut out using our free template, then all they need is a little paint and decorations.
Found from thecrafttrain.com
5. Simple Finger Paint Easter Craft
Make this fun finger paint Easter craft with your little ones. 
The results are a unique piece of artwork that is both beautiful and fun!
Found from sarahinthesuburbs.com
6. Easter Friends Craft
Take advantage of those craft foam eggs you see in the stores right now and make some fun "Easter Friends".
Found from gluedtomycraftsblog.com
7. No Sew Easter Bunny Sock Craft
Do you have a bunch of unmatched socks and don't know what to do with them? You can use them to make this cute Easter bunny craft in 5 minutes!
Absolutely NO sewing involved! It's an easy Easter craft for kids and teens.
They also make fun easter crafts for adults and the elderly too.
Found from feelingnifty.com
8. Paper Bunny Craft
There's just enough time left to make this adorable and easy Easter craft – the paper bunny craft.
You've got all that you need already at home and you can make these in many different colors.
Found from easypeasyandfun.com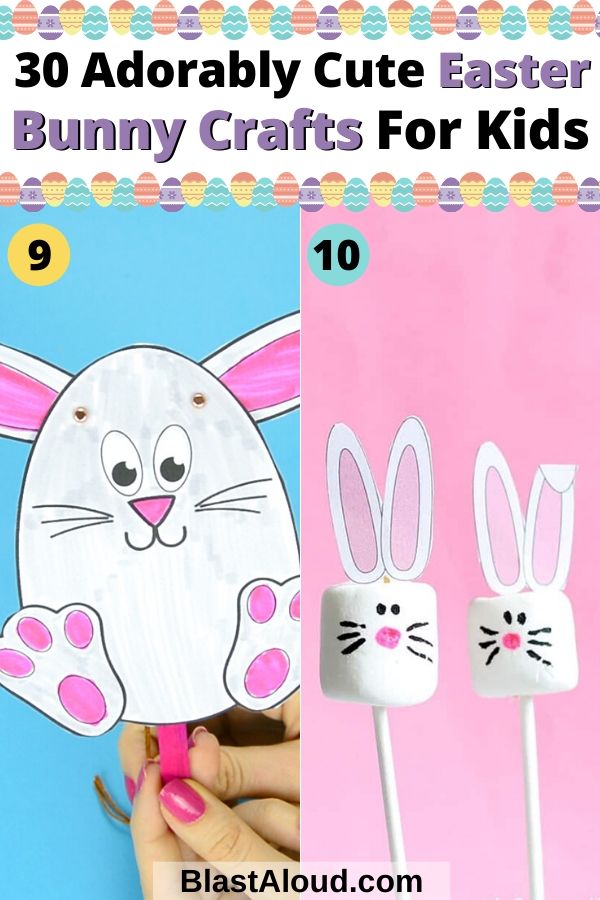 9. Movable Easter Bunny Paper Doll
Wiggle the little ears with our cool movable Easter bunny paper doll. Print out the bunny template, color, assemble and play!
Found from easypeasyandfun.com
10. Easter Bunny Marshmallows
If you're looking for a super-easy Easter treat or craft that you can whip up quickly, or, even better, that your KIDS can whip up quickly for you, this is it.
Marshmallow plus edible writers plus free printable ears equals super-easy Easter bunny marshmallows.
Found from thedecoratedcookie.com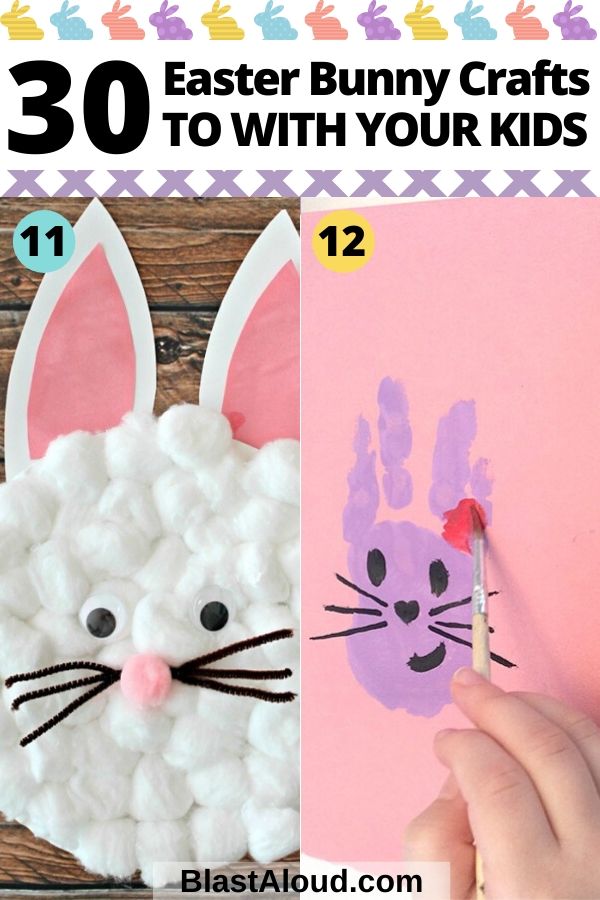 11. Easy Paper Plate Bunny
This paper plate bunny craft is the cutest thing for spring and Easter.
Not only is it an easy and fun craft, but it's perfect for kids fine motor skills and creativity.
Found from simplytodaylife.com
12. Bunny Handprint Art
Have your kids or students make an adorable little Easter keepsake – let them paint their hands and make a bunny handprint art.
Found from easypeasyandfun.com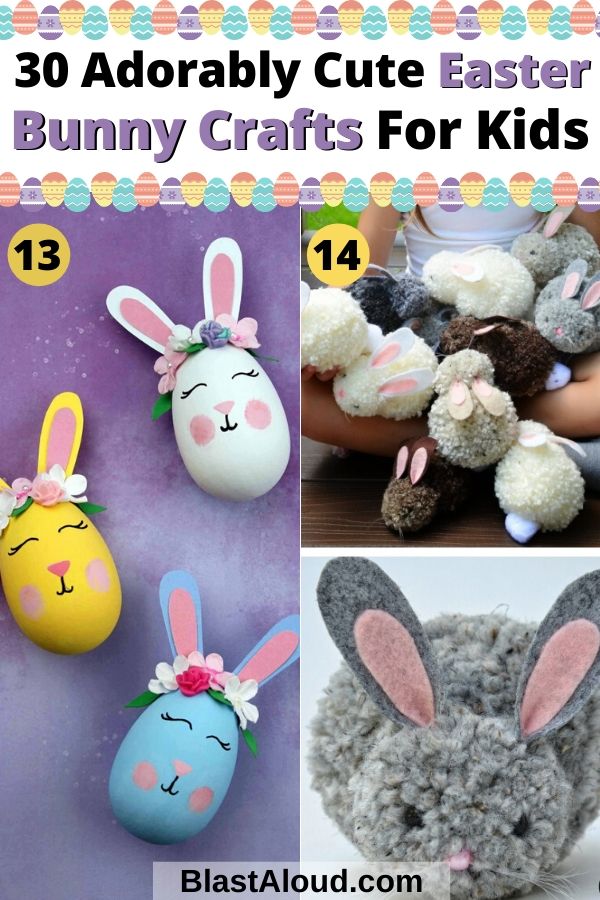 13. Bunny Easter Eggs
These Bunny Easter Eggs are an easy Easter craft that results in adorable home décor for the Easter season.
These bunnies are just the cutest with their floral crowns and rosy cheeks!
Found from frugalmomeh.com
14. Easter Pom Pom Party Bunnies
Learn how to make this easy pom pom bunnies craft. It is perfect to do with children as the result is a very soft and adorable rabbits.
It is an ideal gift or to decorate your home on Easter craft.
Found from fabartdiy.com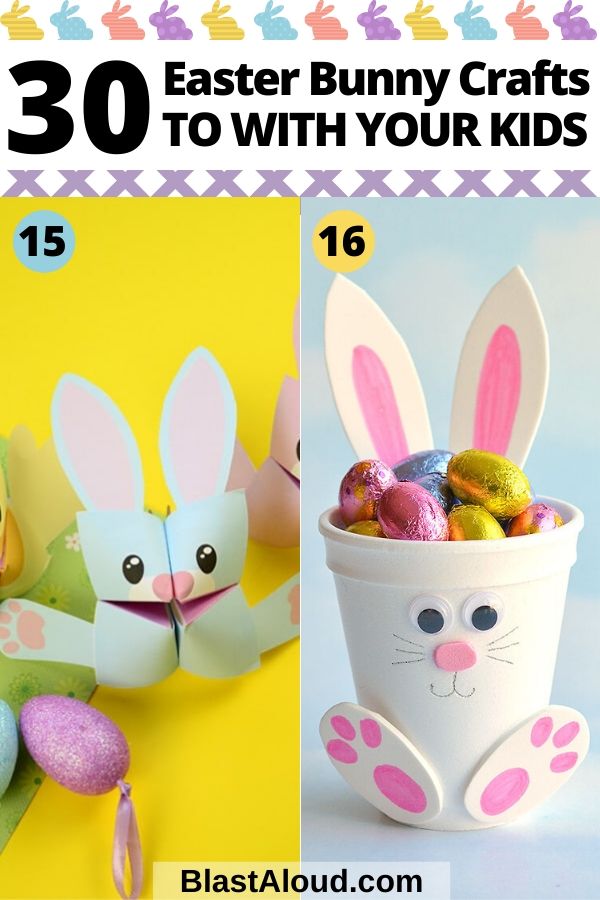 15. Easter Cootie Catchers
If you haven't already played with this origami project you just have to give them a try, they are really easy to make and kids can play with them once they are done.
Found from easypeasyandfun.com
16. Foam Cup Bunnies
How cute are these foam cup bunnies!? And they're really easy to make!
I love that you can make these little guys however you want. Use a paper cup instead of foam. Or use thick paper instead of craft foam. Just use whatever supplies are easiest for you!
Found from onelittleproject.com
17. Easter Bunny Spoon Puppets
Easter wouldn't be complete without an Easter bunny or two around the house, and these bunny spoon puppets are no exception!
The puppets are really quick and simple to make, and you may already find you have some of the components needed to make these cuties!
Found from hobbycraft.co.uk
18. Cutest Bunny DIY Easter Card
This cute bunny card is especially easy to make with the help of a downloadable template.
It makes a great afternoon Easter craft and is sure to delight anyone who receives it as a cute DIY Easter Card.
Found from iheartcraftythings.com
19. Newspaper Bunny Craft
This newspaper bunny craft is super simple to make for kids of all ages and it makes a perfect Easter Craft. The best part, it's a fabulous way to re-purpose any old newspaper you have laying around the house.
Found from iheartcraftythings.com
20. Bunny Nose Masks
These easy and cute bunny nose masks is a fantastic choice if you need a rabbit craft that is quick and simple.
You and the kids can make these rabbit masks in minutes and they're super fun for popping into Easter baskets and sharing with friends.
Found from kidscraftroom.com
21. Bunny Pudding Cup Prints
These would be great for Easter or even in your kids lunch box. They would also be great for Easter parties or an Easter Egg Hunt!
Found from lilluna.com
22. Cereal Box Feed the Bunny
Make this cute cereal bunny and turn in into an educational game with your little one!
Found from toddlerapproved.com
23. Easter Bunny Corner Bookmark
This Easter Bunny corner bookmark is a perfect little Easter origami for kids to make.
Folding your own corner bookmark is a great way to encourage reading too!
Found from easypeasyandfun.com
24. DIY Bunny Headband
This DIY Bunny Headband Craft is a simple and perfect Easter craft to make during a playdate, family get-together or for an Easter celebration at school.
Found from iheartcraftythings.com
25. Wash Cloth Bunny
Make these adorable wash cloth bunnies in a matter of minutes! Give them as gifts, decorate them, or play with them during spring.
Found from smartschoolhouse.com
26. Toilet Roll Bunny Stamp
It's always good to use up bits you already have and this Easter Bunny Craft uses just that.
You don't need much for this craft and using the toilet rolls is fab for reusing. It's such a simple idea turning the three toilet rolls into the shape of the bunny face and ears and it's a great activity for all ages.
Found from newyoungmum.com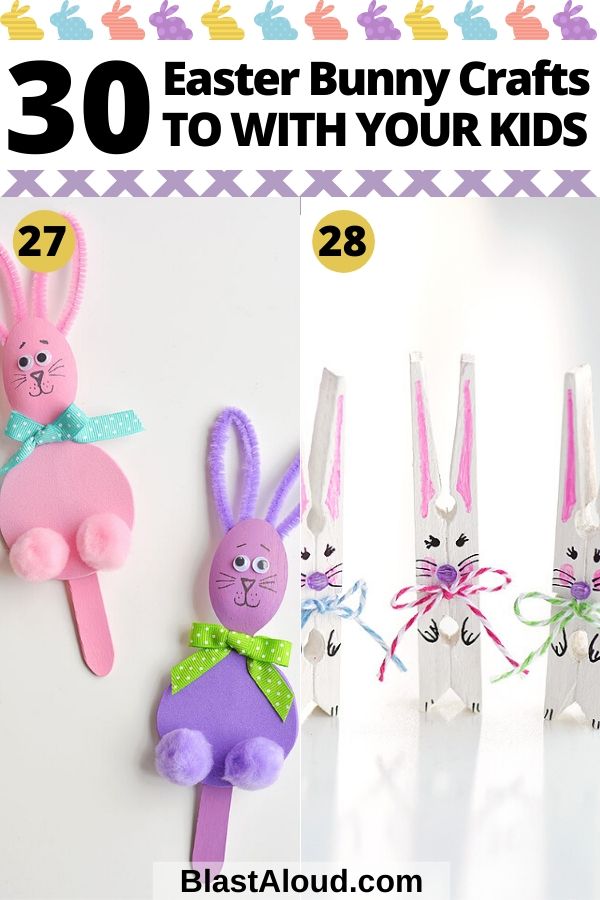 27. Wooden Spoon Bunnies
These wooden spoon bunnies and chicks are such a fun Easter craft idea! They're easy to put together and make fun little puppets for the kids to play with! It's so easy to make fun Easter characters using wooden spoons.
Found from onelittleproject.com
28. Clothespin Bunnies
These clothespin bunnies are super cute and they're really simple to make. There are so many fun and adorable things you can make with clothespins!
Found from onelittleproject.com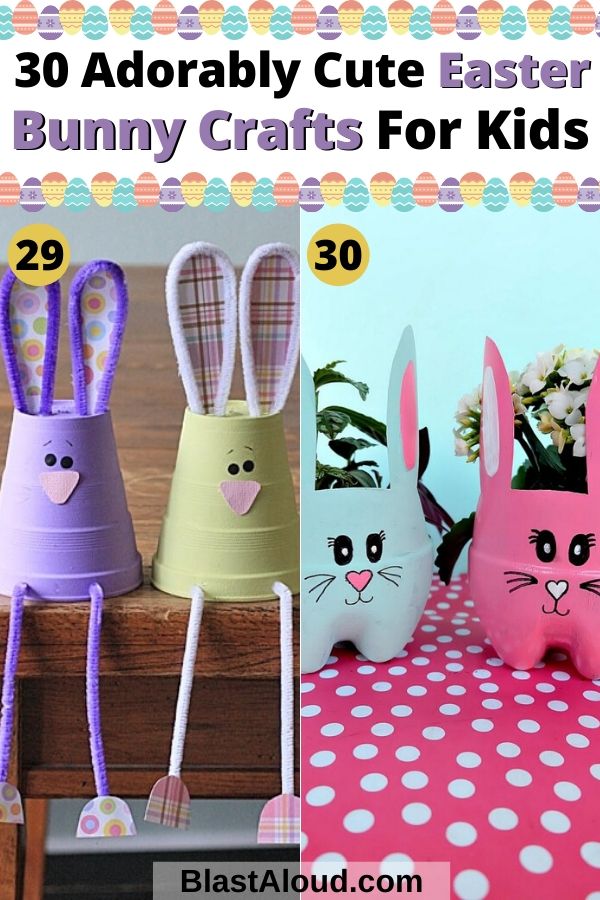 29. Foam Cup Bunnies
If you want to make this a little easier for the little ones, you can skip the pipe cleaners on the ears.
Found from craftsbyamanda.com
30. DIY Easter Bunny Planters
These DIY Easter Bunny Planters are made using recycled pop bottles! Bright and colorful they are a fun craft for a table centerpiece, front porch or handmade Easter gift idea!
Found from hellocreativefamily.com
Looking for more great craft ideas or even recipes for Easter? Then also check out these posts:
Remember to pin these Easter Bunny Crafts to Pinterest for later!
If you think your kids might enjoy some of these Easter bunny crafts, save it to your Easter board on Pinterest so you can come back to it later! You can also follow me on Pinterest for more fun ideas and tasty recipes!