With Easter just around the corner, you may be looking for some fun Easter crafts for kids that will provide some fun and keep them busy.
If your kids love cutting, gluing and generally just making things, they will have a blast with making these. And for most of these crafts, you don't really need a whole lot of supplies, so that's a win! But if you do need some supplies, grab it ahead of time and plan for some fun Easter activities for your little ones.
50 Cute Easter Crafts for Kids
To view the full craft tutorial, click on the link below the craft and you'll be taken to the tutorial. Hope your little ones enjoy making these!
1. Tin Can Bunny Planters
Want a quick and easy gardening with kids craft idea for Easter? This adorable Tin Can Bunny Planters use up recyclables already found in your home!
Found from weknowstuff.us.com
2. Pom Pom Bunnies
If you were really creative, you could probably come up with a variety of different animals to turn these pom poms into. You could also experiment with different colors and sizes!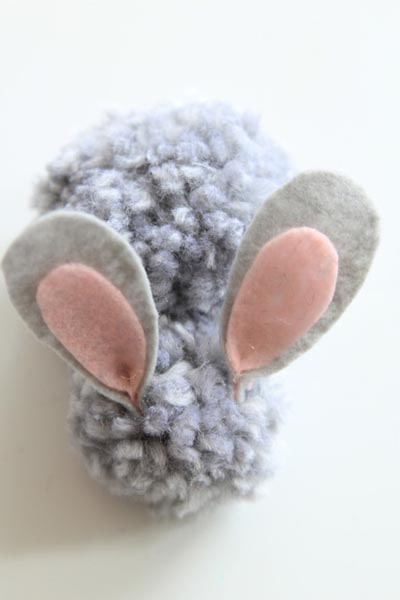 Found from onelittleproject.com
3. Paper Plate Easter Chick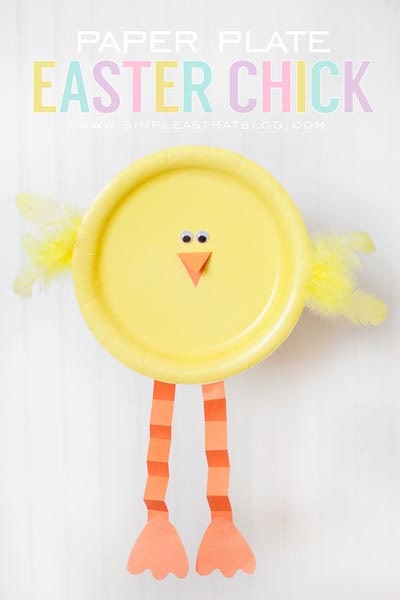 Found from simpleasthatblog.com
4. Yarn Wrapped Easter Egg Craft
Just in time for Easter, kids can learn how to make a colorful Yarn Wrapped Easter Egg Craft at school or home.
Found from firefliesandmudpies.com
5. Handmade Potato Easter Egg Stamps
Crafting with stamps is a fun way to keep kids active, and these adorable egg stamps are here just in time for the Easter and spring season.
Found from premeditatedleftovers.com
6. Paper Mosaic Easter Eggs
These paper mosaic Easter eggs are cute and easy to make and great for practicing scissors skills.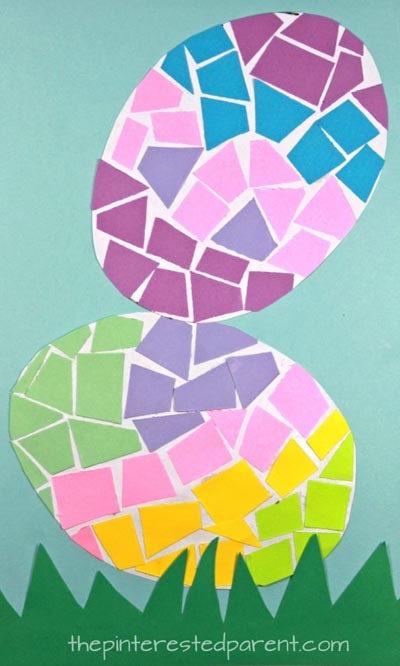 Found from thepinterestedparent.com
7. Easter Egg Doily Craft For Kids
Found from alittlepinchofperfect.com
8. Easy And Cute Bunny Nose Masks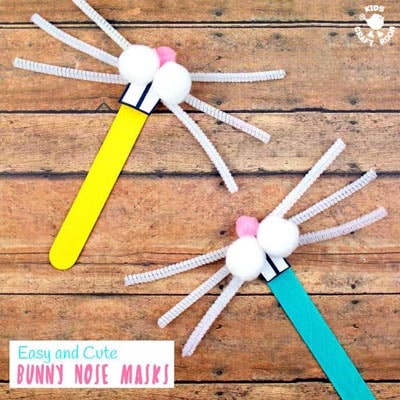 Found from kidscraftroom.com
9. DIY Easter Treat Bags Craft For Kids
These festive DIY Easter treat bags craft for kids are the perfect way to send a sweet Easter gift!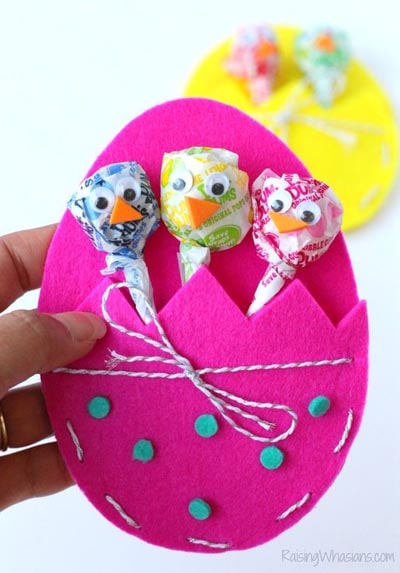 Found from raisingwhasians.com
10. Easter Bunny Corner Bookmark
Thinking of including a non candy treat in the Easter basked? Or just need a fun crafty activity to do with the kids? This Easter Bunny corner bookmark is a perfect little Easter origami for kids to make.
Found from easypeasyandfun.com
11. Easy Paper Plate Bunny Craft For Kids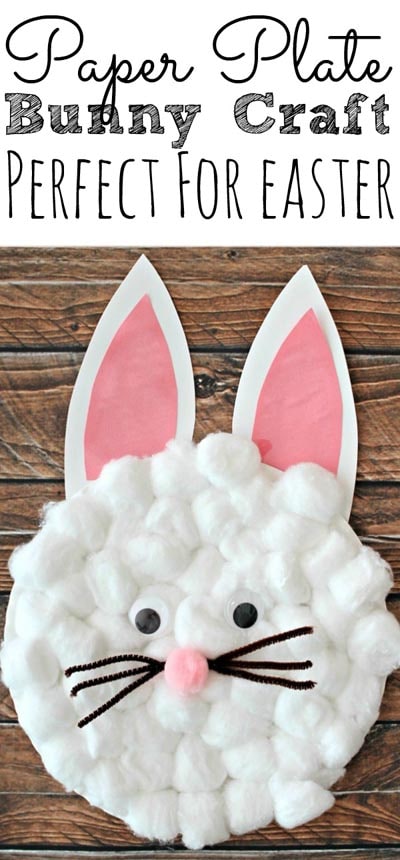 Found from simplytodaylife.com
12. Pom Pom Easter Chicks
How adorable are these sweet little Easter chicks? They would make great little favors for an upcoming Easter party or dinner, right? You could even add them to little Easter baskets as well.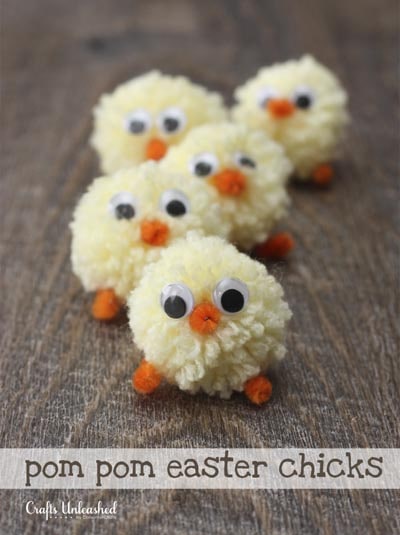 Found from consumercrafts.com
13. Paper Roll Bunnies

Found from thecrafttrain.com
14. Egg Carton Bunny
We love making crafts out of recycled items and this egg carton bunny craft is no exception! They are simply adorable and so easy to make.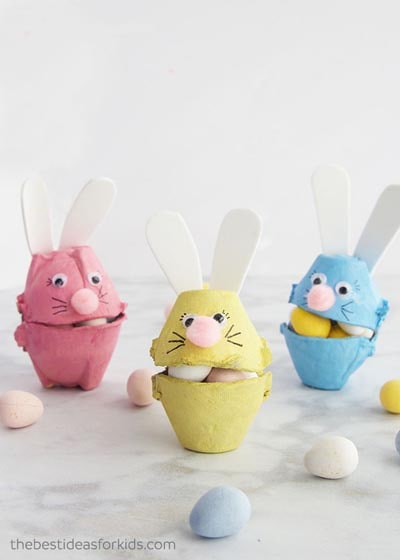 Found from thebestideasforkids.com
15. Easy Paper Easter Wreath
This paper Easter wreath is easy enough for kids to make and cute enough for you to make.
Found from theresourcefulmama.com
16. Marshmallow Easter Bunny Craft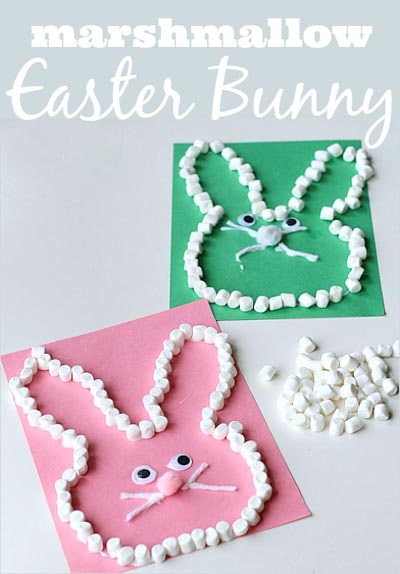 Found from notimeforflashcards.com
17. Shaving Cream Painted Easter Eggs
These shaving cream painted Easter eggs are such a fun and easy sensory Easter craft for the kiddos!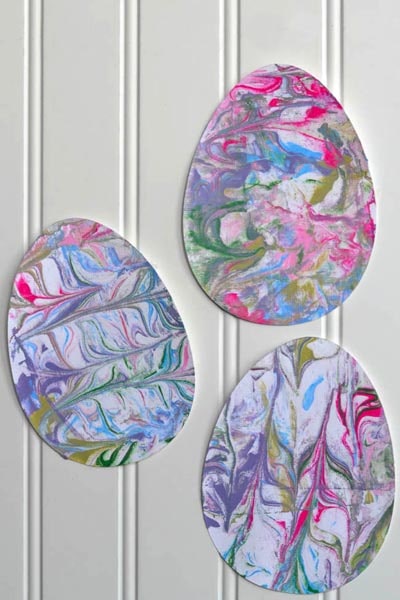 Found from anightowlblog.com
18. Stained Glass Easter Egg Suncatchers
Make stained glass Easter egg suncatchers with kids! This craft comes with four free printable Easter egg designs and makes for a quick and easy way to decorate windows for Easter.
Found from adventure-in-a-box.com
19. Simple Finger Paint Easter Craft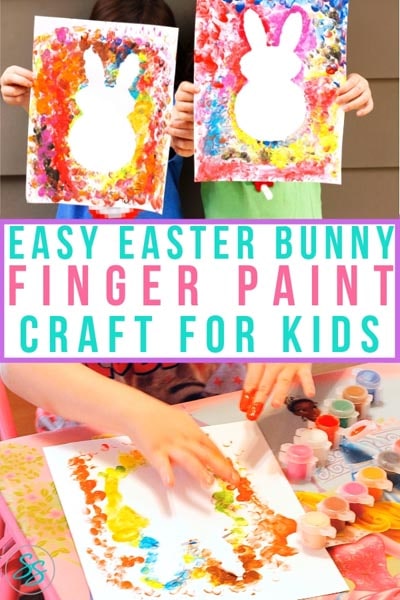 Found from sarahinthesuburbs.com
20. Unicorn DIY Eggs
Found from redtedart.com
21. Simple And Easy Newspaper Bunny Craft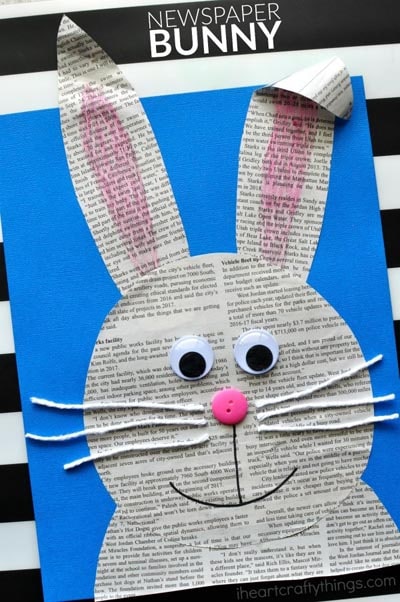 Found from iheartcraftythings.com
22. Pom Pom Easter Egg Painting Craft for Kids

Found from preschoolactivities.us
23. DIY Sock Easter Bunny

Found from apumpkinandaprincess.com
24. Easter Egg Paper Weaving
If you are not yet comfortable (especially if this will be a classroom craft) with giving scissors to the kids and have them do the cutting by themselves, this craft idea is a low prep one, so even if you do all the cutting before hand it still won't take you too long.

Found from easypeasyandfun.com
25. Toilet Roll Easter Bunnies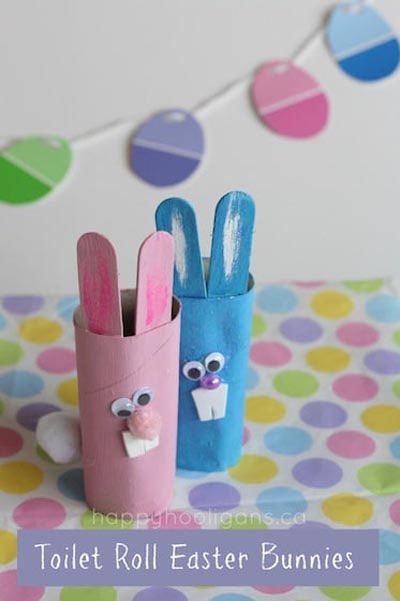 Found from happyhooligans.ca
26. Tissue Paper Easter Egg Craft
Create this stunningly simple egg craft using tissue paper! Using the technique of scrunching tissue paper, your child will create a unique egg craft perfect for Easter.
Found from schooltimesnippets.com
27. Craft Stick Bunnies
It doesn't have to be Easter to make a fun bunny rabbit craft with the kids. Spring or summer, an animal or forest unit, or even just because you want something colorful to make on a rainy day.
Found from craftsbyamanda.com
28. Pop-Up Easter Egg Card
This colorful kid made pop-up Easter egg card has the cutest surprise inside!
Found from thesoccermomblog.com
29. Movable Easter Bunny Paper Doll

Found from easypeasyandfun.com
30. Easter Egg Ornament Craft
Found from thelifeofjenniferdawn.com
31. Pop Up Paper Plate Bunny
This Pop Up Paper Plate Bunny is super fun and easy to make. Perfect for Easter crafting with the kids this Spring, who will just LOVE playing with their Easter Bunny creations!
Found from artycraftykids.com
32. Craft Foam Egg Easter Friends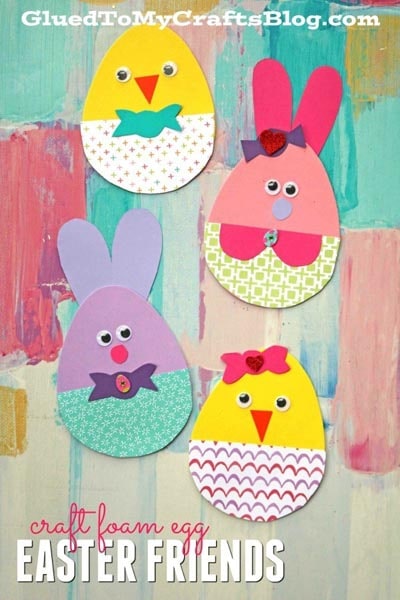 Found from gluedtomycraftsblog.com
33. Easter Egg Glitter Slime
Hippity Hoppity, the kids will go crazy for these fun Easter Egg Glitter Slime Party Favors!
Found from thefarmgirlgabs.com
34. Wash Cloth Bunny
They are easy, quick, and inexpensive to make.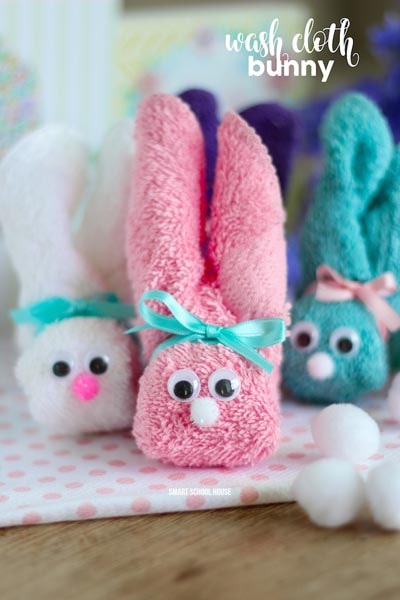 Found from smartschoolhouse.com
35. Aluminum Foil Easter Egg Craft
Found from thejoysharing.com
36. Easter Bunny Paper Plate Mask Craft
This Easter Bunny Paper Plate Mask is a fun little craft perfect for the spring holiday!
Found from shesaved.com
37. DIY Bunny Headband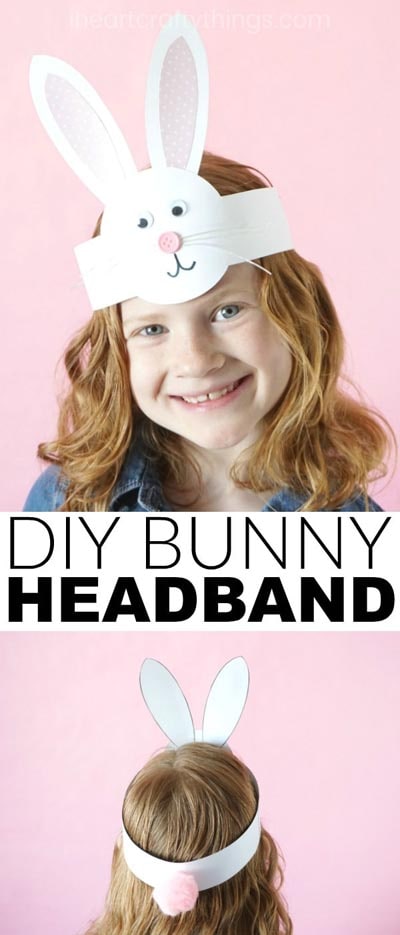 Found from iheartcraftythings.com
38. Pom Pom Bunny Tail Easter Garland
This colorful Easter garland is so easy to make with scrapbook paper and yarn! Both kids and adults will love making this together.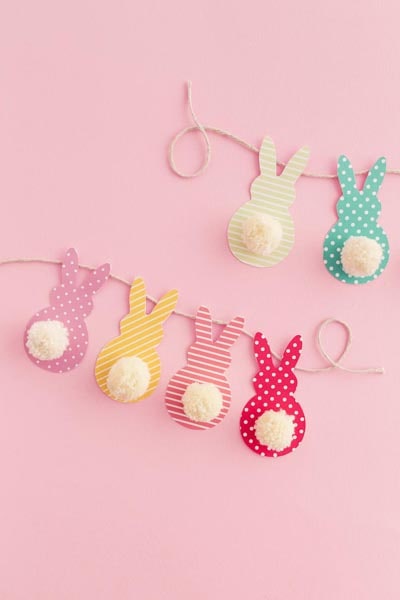 Found from diycandy.com
39. Easter Bunny Puppets
These free printable bunny puppets are perfect for Easter songs, or any bunny songs and rhymes!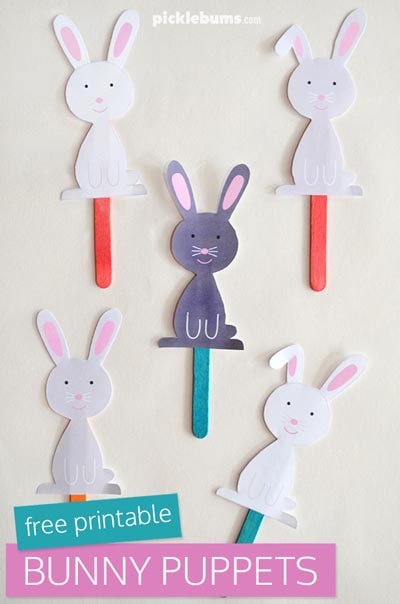 Found from picklebums.com
40. DIY Paint Chip Easter Garland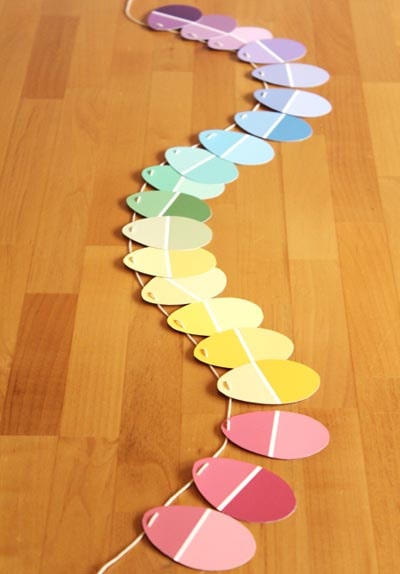 Found from modernparentsmessykids.com
41. Salt Dough Easter Eggs
Kids love helping to make salt dough and they will have even more fun decorating these salt dough Easter eggs!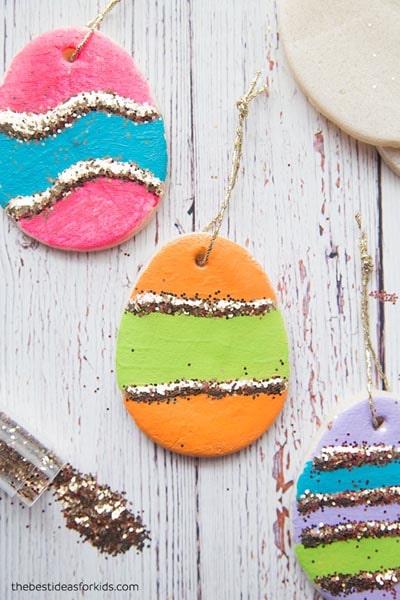 Found from thebestideasforkids.com
42. Printable Easter Silhouette Craft
This Easter Silhouette Craft comes with a free printable template and it will look wonderful as an DIY Easter decoration.
Found from easypeasyandfun.com
43. Easter Egg Decorating
This is a really simple idea that even babies can join in with using their fingers if they can't yet grasp the cotton buds (just make sure you use an edible paint).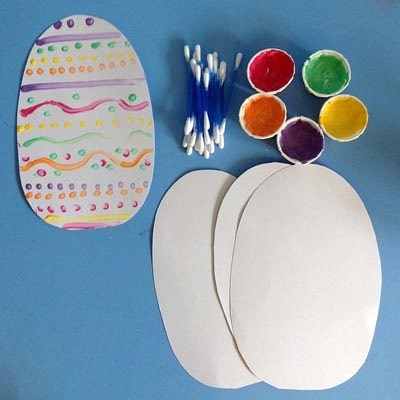 Found from clareslittletots.co.uk
44. Watercolor Surprise Easter Egg Art
Invite your children to paint watercolor surprise Easter egg art to see what magically appears!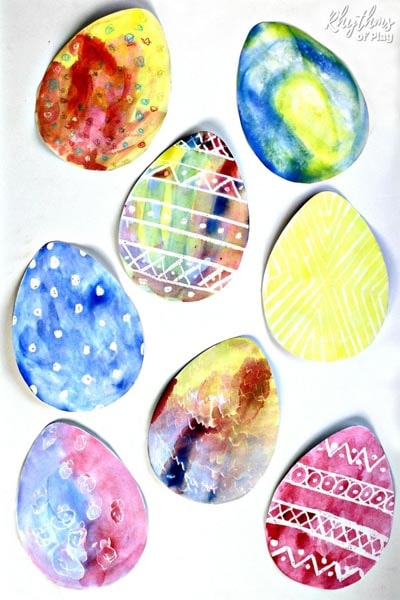 Found from rhythmsofplay.com
45. Popsicle Stick Easter Bunny
Found from gluedtomycraftsblog.com
46. Mini Egg Easter Craft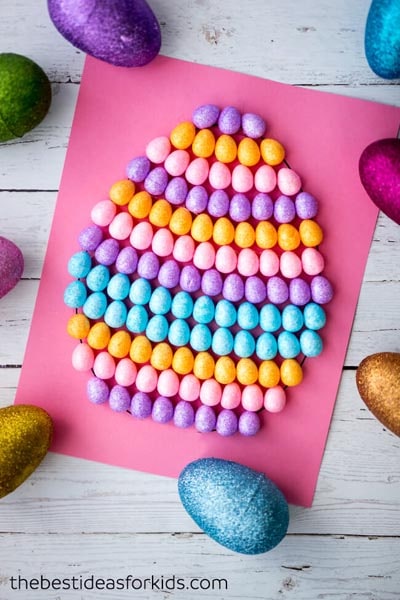 Found from thebestideasforkids.com
47. Easy Paper Bunny Craft
Hop, hop it's time to make a super duper easy paper bunny craft. This one is a great Easter craft, although you can do a rabbit craft any time of the year.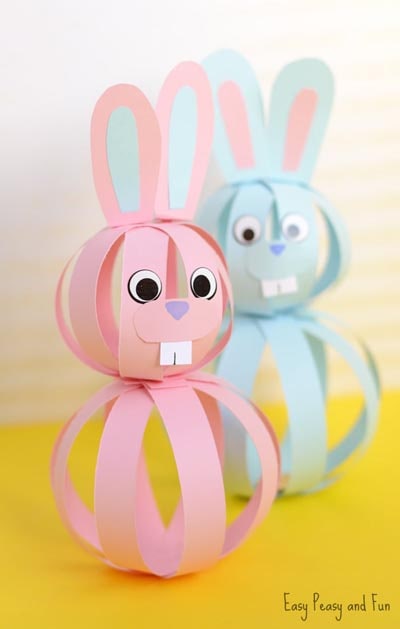 Found from easypeasyandfun.com
48 Paper Plate Easter Bunny Craft
The best part is that this cute paper plate Easter bunny only requires a few supplies. Kids will love making their own Easter Bunny and playing with it after!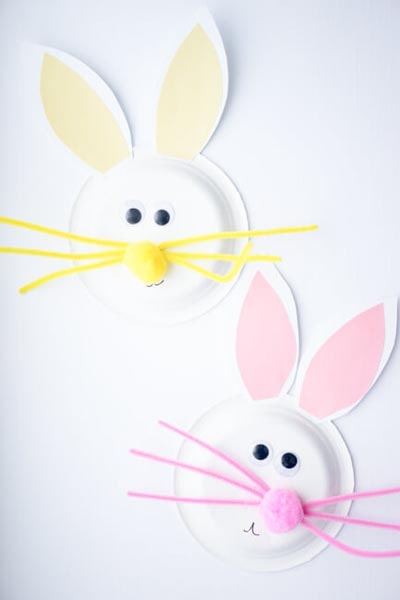 Found from thebestideasforkids.com
49. Bunny Pom Pom Garland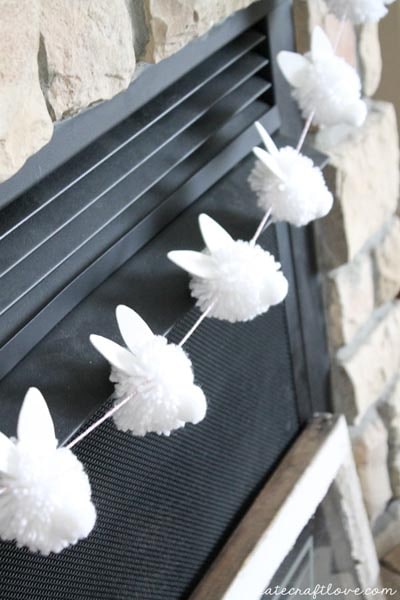 Found from createcraftlove.com
50. Tin Foil Easter Egg Art
Found from iheartcraftythings.com
Looking for more Easter inspiration? Then check out these posts:
Pin these Easter Crafts for Kids for later!
If you enjoyed this roundup of Easter crafts for kids, don't forget to pin it to your Easter board on Pinterest! Then you can always come back to this post later to look for something that will keep the little ones busy.