Being grateful in your daily life can positively change the outlook you have on life. Today we'll be sharing some gratitude journal prompts that will help you realize all the things you have to be grateful for.
---
Do you practice gratitude on a daily basis or do you just wait till Thanksgiving day before you express thankfulness for all you've got? I hope the former is the case!
But if you are the type that seldom appreciates how far you've come and what you have, then it's time to adjust your focus and learn the art of gratitude. 
Now I'm pretty sure you have come across journal prompts. They are simply known as statements or questions designed to inspire or offer you an idea on what to write about. 
One of the ways to keep track of one's life is by journaling. Journaling helps you to actively engage your thoughts and be in touch with your feelings. It boosts your emotional intelligence and strengthens your self discipline. Plus, journaling provides you with a creativity boost and helps you understand yourself better. Pretty great, yeah? 
However, not everyone understands how to keep a journal. In fact, most people are oblivious of its benefits and believe it's for childish individuals. But the reverse is the case! 
Nowadays, it's easy to get lost in the stream of bad media, crazy internet, disheartening news and other forms of negativity. We tend to forget the great things life has given us and focus more on the negative and what is yet to be accomplished. 
This often has us wondering, is there anything to be grateful for? Well, a surf through some gratitude journal prompts can answer that. Gratitude journaling simply entails keeping track of things for which one is grateful for. It's like keeping a diary of the good things and the great experiences you've had.
Gratitude journaling will shift your focus from the negatives and help you see things from a brighter and, of course, positive viewpoint. In fact, research on positive psychology has shown that gratitude is strongly and consistently associated with greater happiness. 

Benefits Of Gratitude Journal Prompts
I'm sure you can't wait to explore the 50 gratitude journal prompts I've got in store for you. But before we do, let's have a quick run-through some of the amazing benefits gratitude journaling has got to offer.
You become positive minded – Taking out time to put into writing the things you are grateful for will help you on your way to becoming more positive minded. Focusing on the goods things you have and appreciate will help you see life from the positive and optimistic point of view. The more appreciative you choose to be, the more optimistic and positive you become.
You become happier – Having a diary of things you're grateful for is one way of living a happy life. Gratitude journal prompts will help you focus more on the good things, be optimistic for better things and ultimately live a happier life.
Improves your self esteem – Gratitude journaling is a great way to build one's self esteem. Research has shown that folks who keep daily gratitude journals increase overall gratitude, positivity, enthusiasm, determination and alertness. As you go through each of these gratitude journal prompts, you get to be reminded of your abilities, skills and personal achievements. This will greatly help in building your self confidence.
Helps to reduce stress – Since  gratitude journal prompts are a great way to help you see how far you've come and how much you have achieved, they will also help you ease the worry and the anxiety of thinking about what you are yet to have. 
You become more appreciative of who you are and less worked up about who you're not. Also, studies have shown that focusing on feelings of contentment and satisfaction naturally counters stress. So, gratitude journaling will help you counter stress, feel more relaxed and eradicate anxiety.
We can go on and on about the benefits gratitude journaling has got to offer, but guess what? Time is no one's friend! So what are we waiting for? Let's get on with it!
Related reads:
Gratitude Journal Prompts: 
1. Describe your happiest childhood memory.
2. What popular song do you enjoy most and why do you like it?
3. What is one of your favorite songs from your childhood?
4. Mention that one friend you can always rely on.
5. Write down the biggest accomplishment in your personal life.
6. What is the biggest accomplishment in your professional life?
7. What memory of your father (or stepfather) do you cherish most?
8. What memory of your mother (or stepmother?) do you cherish most?
9. Give a description of your favorite pet (or former pet)? Why was it your favorite?
10. Write out 5 hobbies and activities that bring you joy.
11. What mistake(s) have you made that ultimately led to a positive experience? Write them out.
12. Describe a family tradition that you are most grateful for and why you're grateful for it.
13. Write out the name(s) of the teacher(s) or mentor(s)  that made a remarkable impact on your life and how they have helped you.
14. Write out what you like the most about your town or city and why it's topping the list of your faves.
15. Describe your favorite spot at home and why you like it.
16. Write down that one thing you have learnt this week that you're grateful for.
17. Who made you smile in the past 24 hours and why?
18. What recent purchase did you make that has added value to your life?
19. Write out the biggest lesson you learned in childhood.
20. Write out 10 ways you can share your gratitude with other people in the next 24 hours.
21. What is your favorite scent?
22.Describe your favorite sound.
23. Describe your favorite image.
24. Describe your favorite taste.
25. Describe your favorite sensation.
26. What items do you take for granted, which might not be available to people in other parts of the world (i.e. Clean water, electricity, etc.)?
27.Write about a recent time when a stranger did something nice for you.
28. What is the hardest thing you've had to do, which led to a major personal accomplishment?
29.What is one aspect of your health that you're more grateful for?
30. Who can you count on whenever you need someone to talk to and why?
31. Describe the last time you procrastinated on a task that wasn't as difficult as you thought it would be.
32.What is your favorite habit and why is it an important part of your daily routine?
33. Describe a "perfect day" that you recently had.
34. What is a favorite country that you've visited?
35. Describe a funny YouTube video that you recently watched. (If you haven't, what are you doing on this planet?)
36. List 10 qualities you like about yourself.
37. What is one thing you look forward to enjoying each day after work?
38. What was something you did for the first time recently?
39. What is one lesson you learn from rude people? 
40. When was the last time you had a great nap where you awoke feeling fully refreshed?
41. Shower or bath? Which do you prefer and why?
42. Write about a time where you felt courageous.
43. What are a few ways you can appreciate your health whenever you're sick?
44. What is a great drink that you like to enjoy each day?
46.Who has forgiven you for a mistake you've made in the past?
47. List 10 things you have now that you didn't have 5 years ago.
48. What aspects of your job do you enjoy the most?
49. What is something positive you can learn from one of your negative qualities? (e.g. Being anxious means you're really good at planning things out.)
50. Describe a recent time when you truly felt at peace.
For You
Trust you had a great time appreciating the amazing things you have? Always remember that gratitude is a powerful tool when it comes to living a fulfilled and content life. 
While going through your gratitude journal prompts, always keep in mind that life is not a bed of roses, no one is perfect so don't expect your answers to be. You've come a long way and you are doing just fine, so be grateful for that. 
Finally, if you've had a bad day and you might want to remind yourself of how great you are doing, going through the 50 journal prompts and some of these gratitude quotes below will be a perfect jump start.
Gratitude Quotes
"Gratitude unlocks the fullness of life. It turns what we have into enough, and more. It turns denial into acceptance, chaos to order, confusion to clarity. It can turn a meal into a feast, a house into a home, a stranger into a friend." ― Melody Beattie
"Being thankful is not always experienced as a natural state of existence, we must work at it, akin to a type of strength training for the heart." ― Larissa Gomez
"We can only be said to be alive in those moments when our hearts are conscious of our treasures." – Thornton Wilder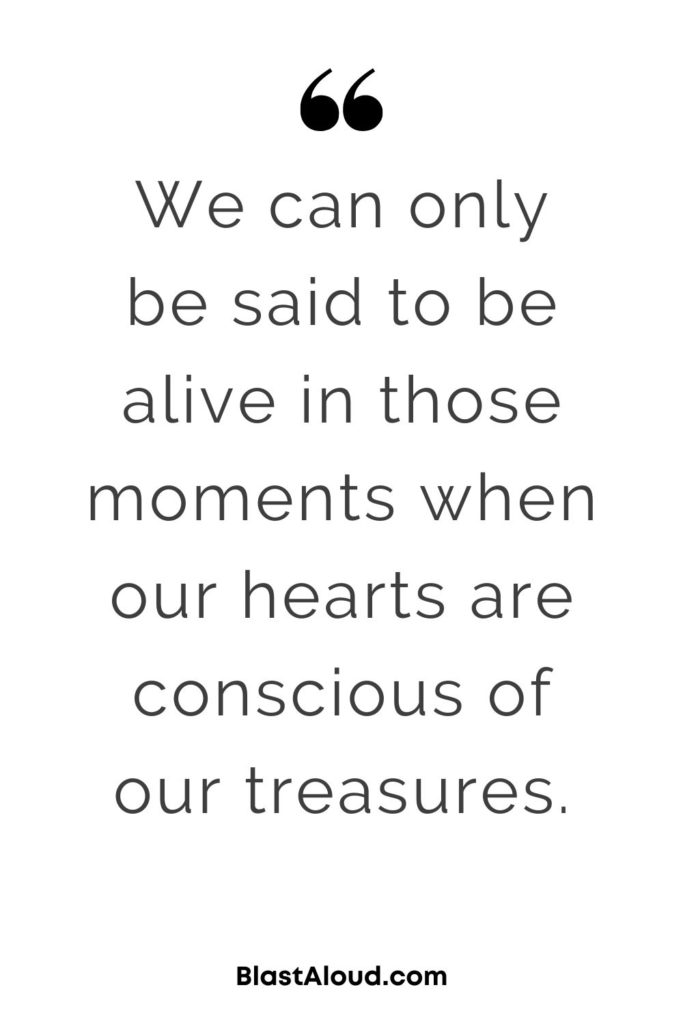 "Gratitude is the sweetest thing in a seeker's life – in all human life. If there is gratitude in your heart, then there will be tremendous sweetness in your eyes." ― Sri Chinmoy
"The more grateful I am, the more beauty I see." ― Mary Davis
"The deepest craving of human nature is the need to be appreciated." ― William James
"There is a calmness to a life lived in gratitude, a quiet joy." ― Ralph H. Blum
"Gratitude is the most exquisite form of courtesy." ― Jacques Maritain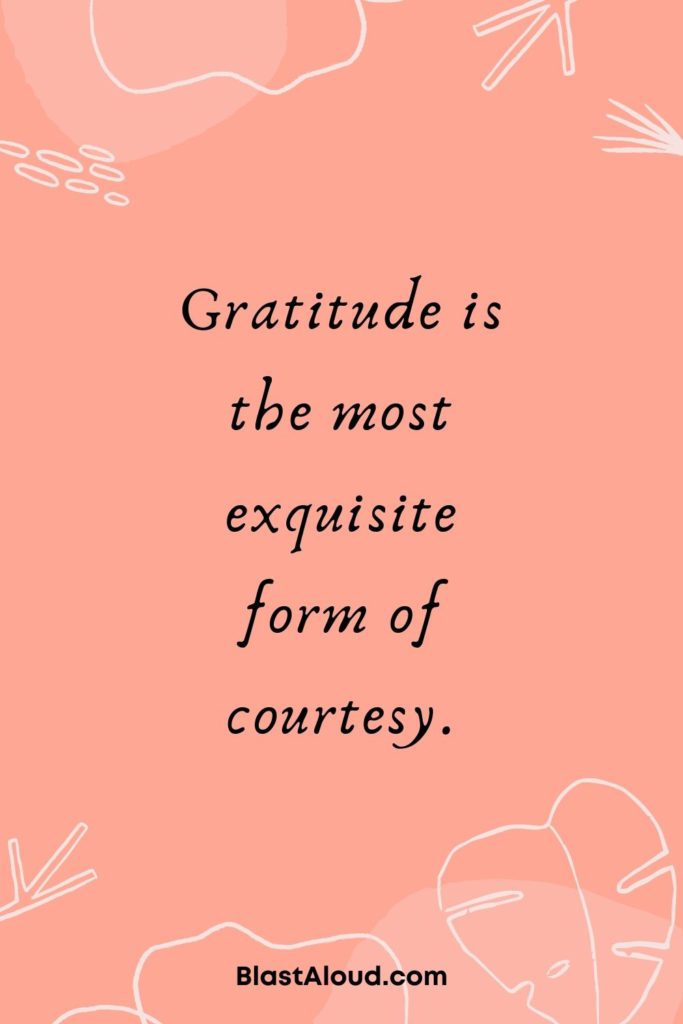 "The root of joy is gratefulness." ― David Steindl-Rast
Final Thoughts
The truth is, sometimes we get so clouded by everything that's not going our way that we just can't see what is actually working for us. There's no such thing as a life that's better than yours! (Okay yeah those are song lyrics but you get it). 
You know what's funny? You might be walking or taking a bus to work complaining that you don't have a car and you've got nothing going for you. Meanwhile, someone else is devastated about losing their job. And then again, someone else would do anything to walk again. 
It all boils down to perspective and appreciating the little things. When you do, big things come your way, and only then will you be able to be grateful for those too. So, say a word of thanks today, or better still, journal it!
Please pin & share these gratitude journal prompts!