It's no secret that along with Christmas, Halloween is one of my favorite holidays. I love all the creative and spooky desserts and food people come up with to make. I've rounded up some of my favorite Halloween party appetizers you can really impress (or scare) your guests with.
20 Creative Halloween Party Appetizers
Hope you enjoy these Halloween party appetizers and finger food ideas. Let me know if you end up making any of these, I know I will!
1. Bloody Finger Hot Dogs For Halloween
Ok, this might be the most terrifying Halloween recipe ever … and I LOVE it!
These bloody finger hot dogs for Halloween are so gross and yet so amazing, all at the same time!
If you're having a Halloween party, you have to make these, they are so simple to make and they will be a gross party hit for sure!
Found from saltycanary.com
2. Mummy Hot Dogs
How creative are these mummy hot dogs?!
They're perfect for the whole family, and also kid friendly, so get your kids to help you make these Halloween mummy hot dogs!
Found from ourordinarylife.com
3. Meatball Mummies
These Meatball Mummies are a fun, easy, and delicious Halloween finger food idea. They are store-bought meatballs, wrapped in crescent down, and topped with marinara and olives.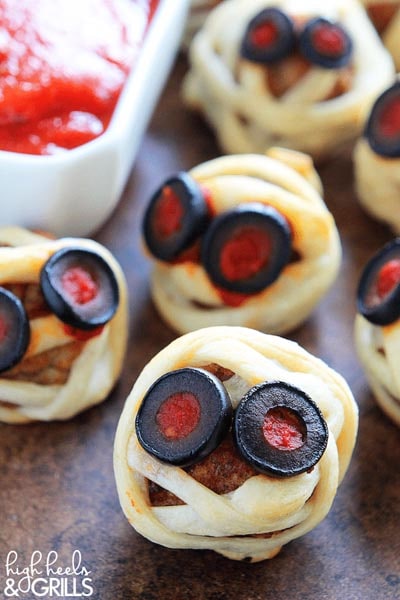 Found from highheelsandgrills.com
4. Saucy Spider with Hairy Leg Sticks
Spin a web of doughy deliciousness with this party-perfect Halloween appetizer.
If you can't find pizza dough at your supermarket, try a local pizza parlor, which will likely sell you a fresh ball.
For extra effect, sprinkle the legs with poppy seeds, in addition to Parmesan.
Found from womansday.com
5. Halloween Jalapeño Popper Mummies
These little mummies will win over your heart and your stomach! They are just so darned cute you don't want to eat them but trust me, once you have one you will be heading back for more!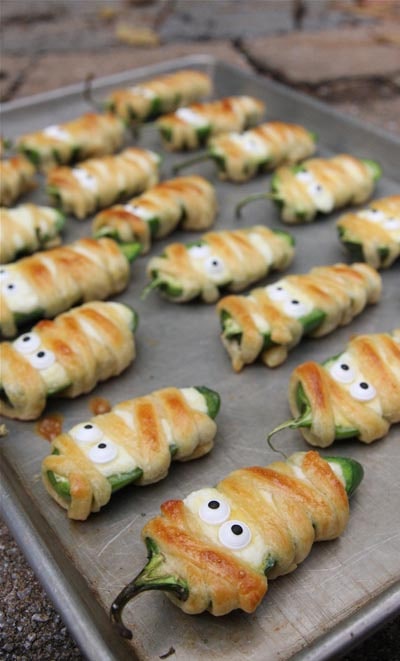 Found from thehopelesshousewife.com
6. Witch Finger Cookies
These healthier witch finger cookies use jam in place of food coloring! Can be made with all-purpose flour or with whole wheat for a 100% whole grain version.
Found from texanerin.com
7. Pepperoni Pizza Pockets
These homemade pepperoni pizza pockets are a great make-ahead meal or snack. Serve them with a side of marinara sauce for dipping!
Found from dinneratthezoo.com
8. Mummy Puff Pastry Pizza Pies
These mummy puff pastry pizza pies are a fun project to make with the kids, and would be perfect for Halloween parties or even to pack in lunch boxes.
Found from eatsamazing.co.uk
9. Halloween Jack Skellington Ricotta Olive Tarts
If you're looking for a Halloween party food that will please adults and kids alike, these Jack Skellington tarts fit the bill.
Found from snixykitchen.com
10. Buffalo Meatball Pumpkins
These Buffalo Meatball Pumpkins that are perfect for serving at fall celebrations from harvest parties and football parties to Halloween and Thanksgiving!
They have a mild buffalo sauce with a pretzel stem and a parsley leaf.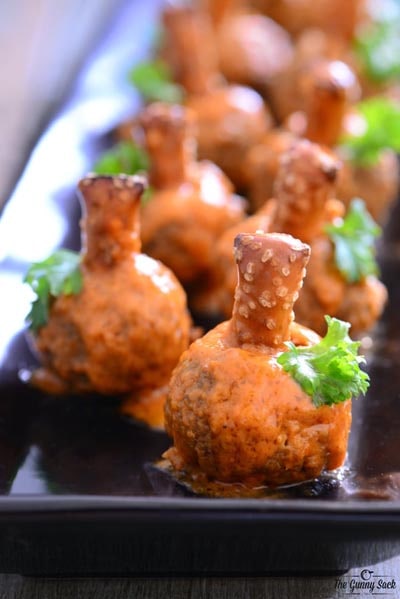 Found from thegunnysack.com
11. Bite-Size Eyeballs
Whip up these cheesy pastry puffs with just four ingredients, then make each pair come alive with slices of cucumber and olive, and squiggles of tasty Sriracha.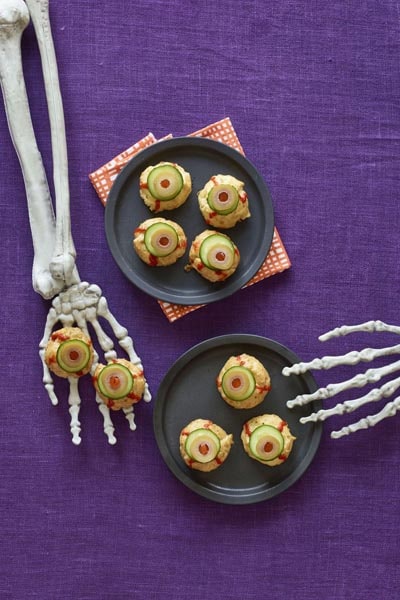 Found from womansday.com
12. Mini Spider Pizzas
Black olives are the perfect topping for these mini pizzas because you can make creepy black spiders with them.
Found from reciperunner.com
13. Spider Hotdogs
These Spider Hotdogs are perfect for your upcoming Halloween parties! They would be great before or after trick-or-treating.
You can assemble these ahead of time and just pop them in the oven when you are ready.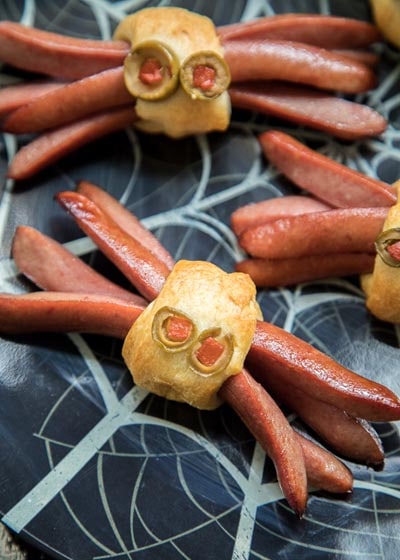 Found from plainchicken.com
14. PB&J Spider Sandwich
Easy to make and perfect as a snack or lunch box meal for the kids.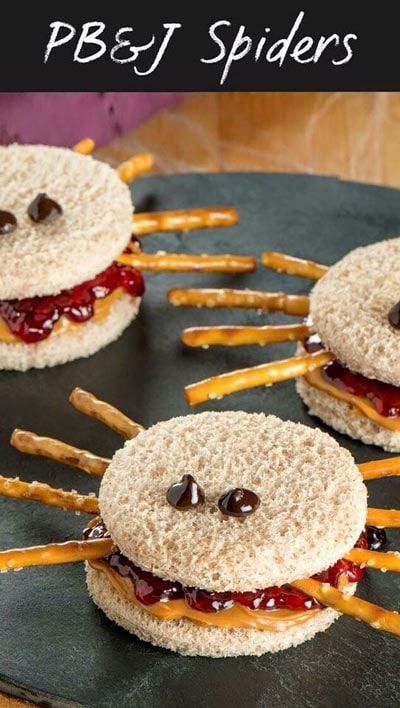 Found from welchs.com
15. Bones and Cheese Dip
So fun…and yummy too! They are easy enough to add to your Halloween Dinner for your family, and also perfect for a large party or even a spooky dinner party.
Found from pocketchangegourmet.com
16. Halloween Mummy Pizza Bites
These Halloween Mummy Pizza Bites are adorable and incredibly easy to make! Your kids will love them for your next Halloween Party!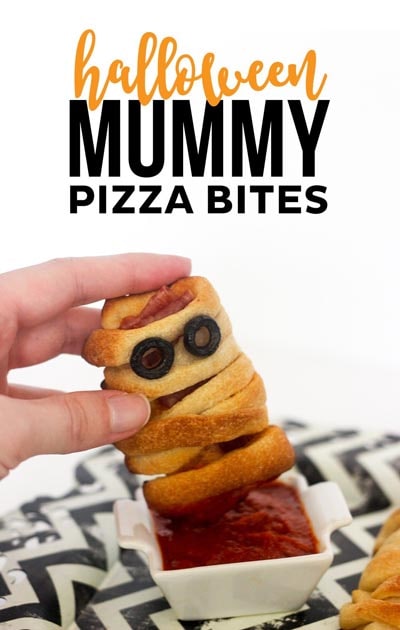 Found from printablecrush.com
17. Mummy Wrapped Brie
This mummy wrapped brie and spooky cheese & cracker board are the perfect addition to a grown up Halloween party!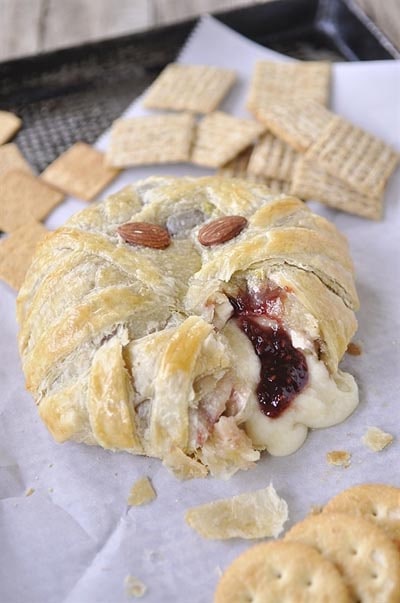 Found from yourhomebasedmom.com
18. Monster Eye Asparagus Gruyere Tart
This Monster Eye Asparagus Gruyere Tart is the perfect Halloween dish to serve at parties or just a weeknight family dinner!
Found from pizzazzerie.com
19. Mummy Mini Pizzas
These mummy mini pizzas are the perfect Halloween dinner idea.
They are easy to make, and they are even easy enough if you want you can have your kids help you make them!
They are so cute and delicious. I mean, who doesn't love pizza?!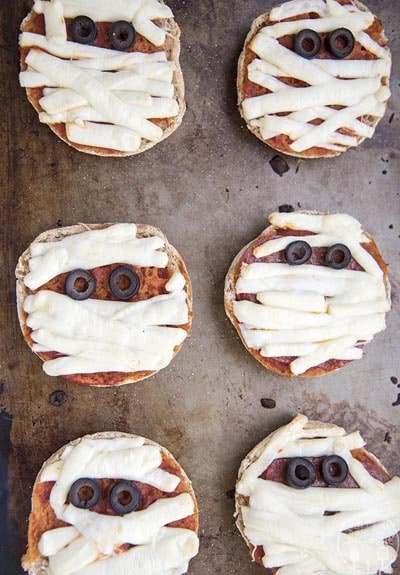 Found from lmld.org
20. Shrimp On The Brain Cracker Spread
A fun, spooky addition to any Halloween party, this 'Shrimp On The Brain' Cracker Spread is simply 'boo'-tiful.
It looks just like a fresh, bloody brain, but it tastes like a creamy, flavorful shrimp dip that the whole family will love.
Found from 4sonrus.com
Don't forget to pin Halloween Party Appetizers!
If you enjoyed this roundup of Halloween party appetizers, don't forget to pin it to your Halloween board on Pinterest! You can also follow me on Pinterest for more great recipes and ideas!