Not sure what treats to make this Valentines day? Then why not try some of these Valentines Day cupcakes? They're cute, delicious and it will be love at first bite!
25 Cute Valentines Day Cupcakes
Enjoy these 25 Valentines day cupcakes. To view the full recipe please click on the link below the images.
1. Chocolate Cupcake with Red Velvet Frosting
These chocolate cupcakes are like a shot of love potion right to the heart.
You can customize your cupcake toppers with the word "love" in chocolate.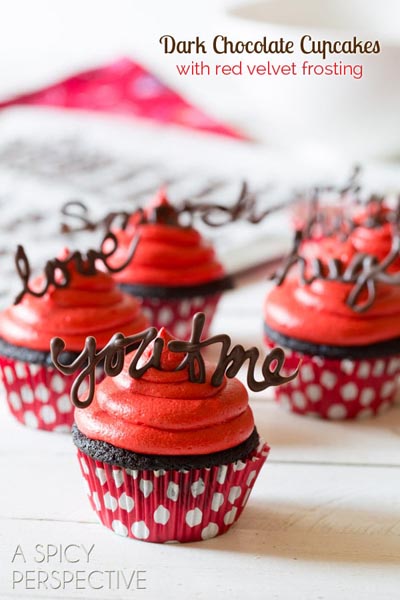 Found from aspicyperspective.com
2. Cherry Heart Cupcakes
The cupcake version of a traditional Valentine's Day candy – the cherry cordial!
Dark chocolate cake filled with dark chocolate ganache, cordial cream and topped with sweet cherries.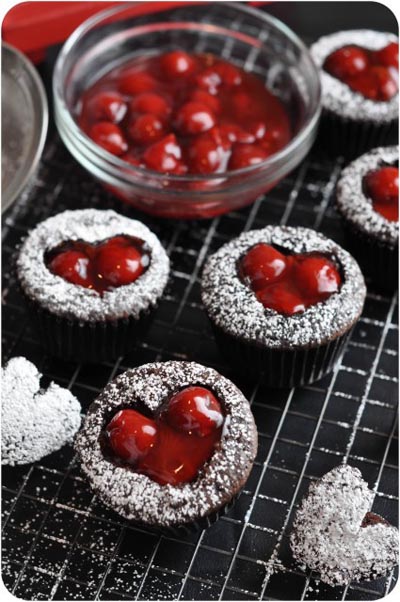 Found from lemon-sugar.com
3. Sweet Heart Cupcakes
These adorable and creative Sweet Heart Cupcakes are surprisingly simple to make!
Impress your guests or your sweetheart with these heart cutout cupcakes!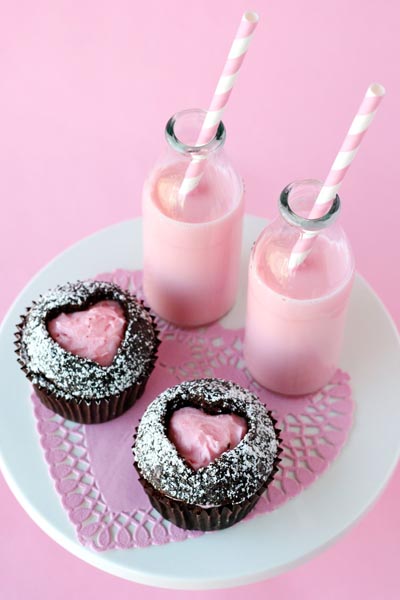 Found from glorioustreats.com
4. Chocolate Lovebug Cupcakes
Kiddos and grownups alike will be charmed by these sweet treats.
Found from countryliving.com
5. Moist Chocolate Cupcakes with Prague Frosting
These Chocolate Cupcakes are moist, decadent, ultra-flavorful and easy.
Found from natashaskitchen.com
6. Cherry Buttermilk Cupcakes with Cherry Buttercream Frosting
These buttermilk cupcakes are loaded with tart cherry chunks then piled high with creamy cherry frosting.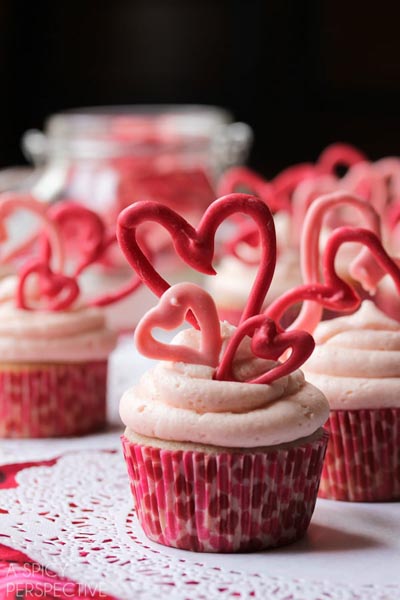 Found from aspicyperspective.com
7. Vanilla Cupcakes and Buttercream Frosting
A light and fluffy cupcake that stays together and doesn't crumble.
Found from hoosierhomemade.com
8. Easy Valentine's Day Mini Cakes
These single-serving Valentine's Day mini cakes are gorgeous, festive, and most importantly, easy!
They're made using chocolate wafers and whipped cream, which means that you can whip up a batch of them in just a few minutes.
Found from ohnuts.com
9. Raspberry Swirl Cheesecake Cupcakes
The raspberry marbling on the top is beautiful and adds a pop of color with a touch of raspberry flavor.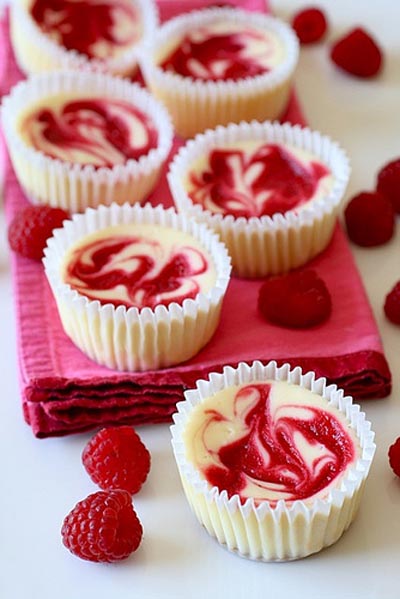 Found from everydayannie.com
10. Chocolate Sweetheart Cupcakes
Rich, moist chocolate sweetheart cupcakes topped with a thick cocoa buttercream.
Perfectly decorated for Valentine's Day!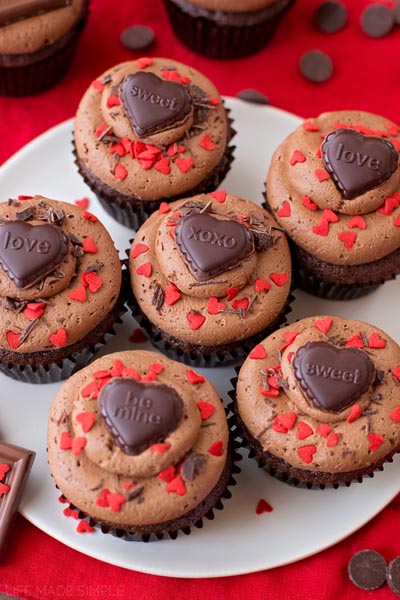 Found from lifemadesimplebakes.com
11. Chocolate Dipped Strawberry Cupcakes
Fresh strawberries and rich strawberry cream cheese frosting? It doesn't get better than that!
Found from garnishandglaze.com
12. Red Velvet Cake Batter Cupcakes
Red Velvet cupcakes topped with Cream Cheese Cake Batter frosting.
And decorated with these adorable heart sprinkles and maraschino cherries, what could be better?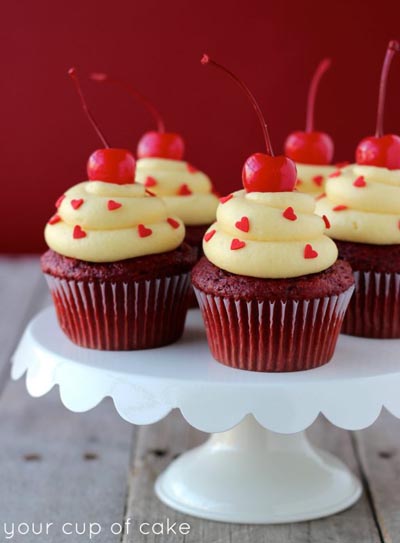 Found from yourcupofcake.com
13. Love Monster Cupcakes
Make these Love Monster Cupcakes for your Love Monster this Valentine's Day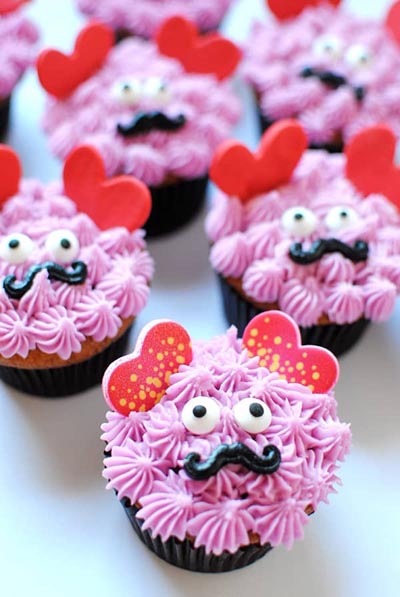 Found from letseatcake.com
14. Chocolate Covered Cherry Cupcakes
A moist chocolate cupcake flavored with a little tart cherry juice and with cherry juice buttercream.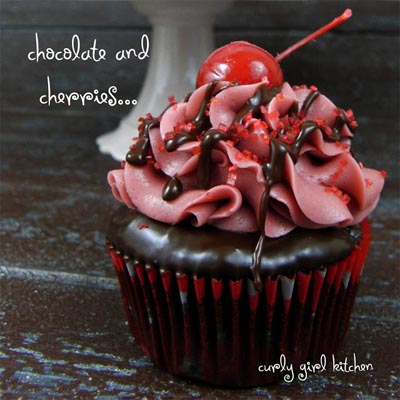 Found from curlygirlkitchen.com
15. Raspberry Chocolate Cupcakes
Spread the love this Valentine's Day with Raspberry Chocolate Cupcakes topped with two layers of rich ganache and creamy raspberry cream cheese frosting.
Found from handletheheat.com
16. Chocolate Valentine's Heart Cupcakes
No matter how many cute, or fancy, or delicious treats I bake… chocolate cupcakes are always on my list of favorites!
And when you top a delicious chocolate cupcake with rich chocolate cream cheese frosting, you have a chocolate lovers dream!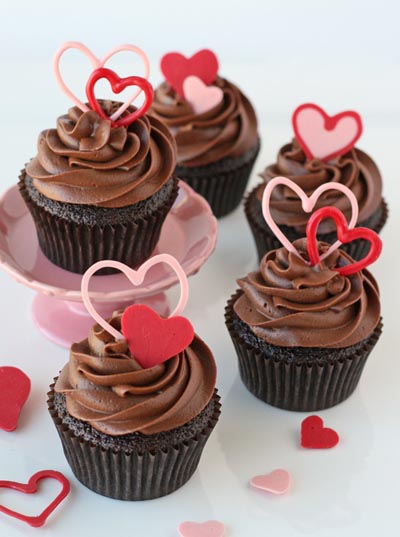 Found from glorioustreats.com
17. Valentine's Day Bear Cupcake Recipe
Know someone that needs some cheering up, friend or family? Give them a Valentine's Day Bear Cupcake and they will cheer up right away!
Found from plumcrazyaboutcoupons.com
18. Fudgy Chocolate Cupcakes with Two-Tone Roses
These beauties are a centerpiece and dessert in one. And you can't go wrong with that!
Found from thereciperebel.com
19. Valentine's Day Mini Beet Root Red Velvet Cupcakes
Cute little Valentine's Day Red Velvet Cupcakes made with natural beet root and delicious cream cheese frosting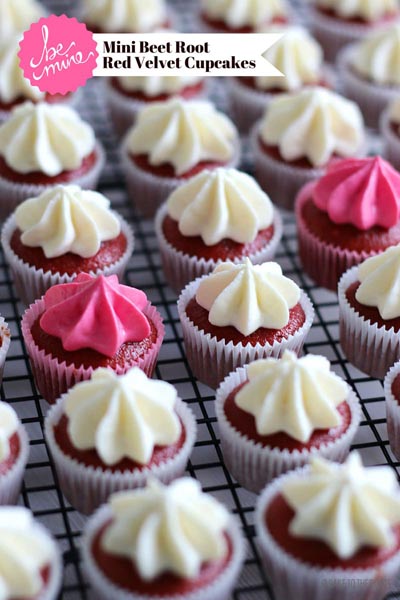 Found from baketotheroots.de
20. Valentine Cupcakes
So fun and so easy! Just whip up your favorite cupcake recipe (or a box mix), top with some frosting, add your candies and you have a darling Valentine's Day treat.
Found from lovefromtheoven.com
21. Pink Velvet Cupcakes
Pink velvet cupcakes start with soft, tender buttermilk cake.
It's topped with a tangy cream cheese frosting, giving you a delicious pink velvet cupcake, perfect for your Valentine!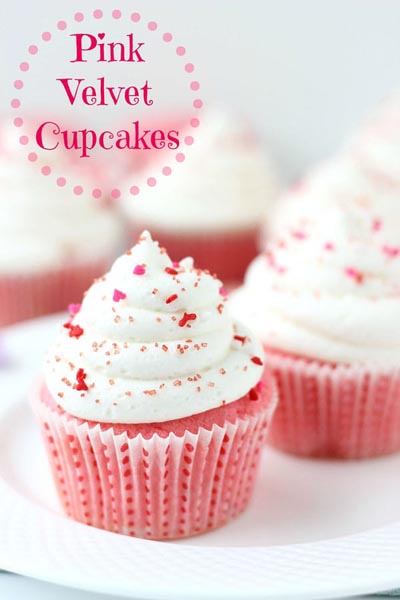 Found from aclassictwist.com
22. Champagne Cupcakes with Champagne Buttercream Frosting
Quick, easy pink champagne cupcakes recipe with champagne buttercream frosting.
You can also make these cupcakes with a filling using your favorite jam or preserve.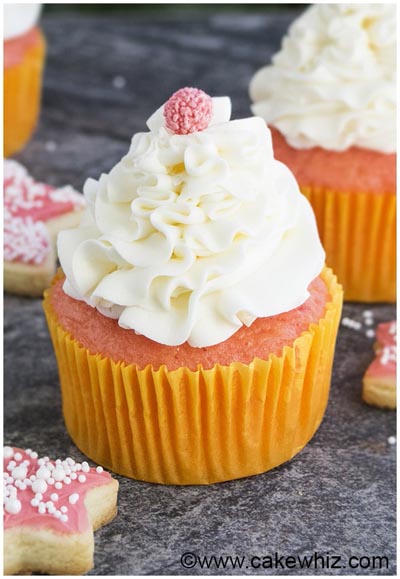 Found from cakewhiz.com
23. Galaxy Swirl Valentines Cupcakes
Valentine's Cupcakes are a simple and delicious way to celebrate Valentine's Day with your sweeties – you can even make these Valentine's Day Cupcakes with the kids!
Found from mamalovesfood.com
24. Chocolate Cherry Amaretto Cupcakes
Everything is better with a cherry on top, especially cupcakes.
These chocolate cherry amaretto cupcakes are the perfect Valentine's cupcakes!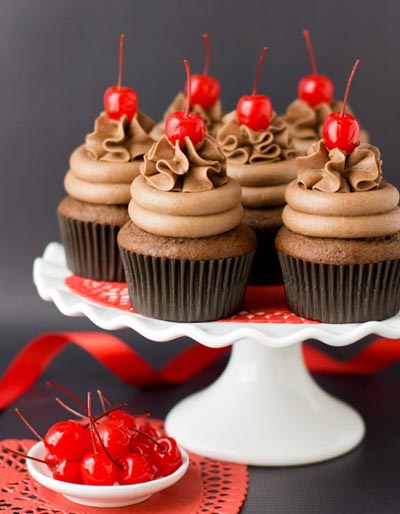 Found from thesprinklefactory.com
25. Raspberry Filled Chocolate Chip Cupcakes
Raspberries are my favorite, and when you combine them with cake and chocolate you've got a sweet that would win over any reluctant heart, which makes them perfect for February.
Found from gringalicious.com
Also check out these Valentines ideas:
Don't forget to pin these Valentines Day Cupcakes!
If you enjoyed this roundup of Valentines Day Cupcakes, please take a moment to pin it to your Valentine's recipes board on Pinterest or share it to your favorite social media platform!