Today I'd like to share some easy DIY gift baskets for men that you can make for all the guys in your life.
I've heard many people say that they find it difficult to think of gifts to buy for guys. This is true for me as well, especially if I go looking for a gift for my dad. When we think of gifts, we usually think of a specific item to buy. But what do you get for someone who already has everything? Or for someone who you perhaps don't know that well yet?
Enter gift baskets. They're easy to make, versatile and can make the perfect gift for just about anyone on any occasion.
Easy DIY Gift Baskets For Men
Below I've rounded up some easy DIY gift baskets for men to help you with some inspiration.
And if you're looking to make a gift basket for a special someone, remember you can get creative and add whatever you want to your gift basket (and it doesn't necessarily have to be a basket).
My hope is that you can use some of these ideas and personalize it to fit with whoever the lucky guy is. If you do happen to make a gift basket, let me know in the comments down below, I'd love to hear how it turned out!
1. Gifts filled cozy slippers
A really cute idea for a gift basket where you don't actually need a basket.
If you know someone in need of new comfy slippers, why not get them a pair of slippers and fill it up with all kinds of cozy goodies?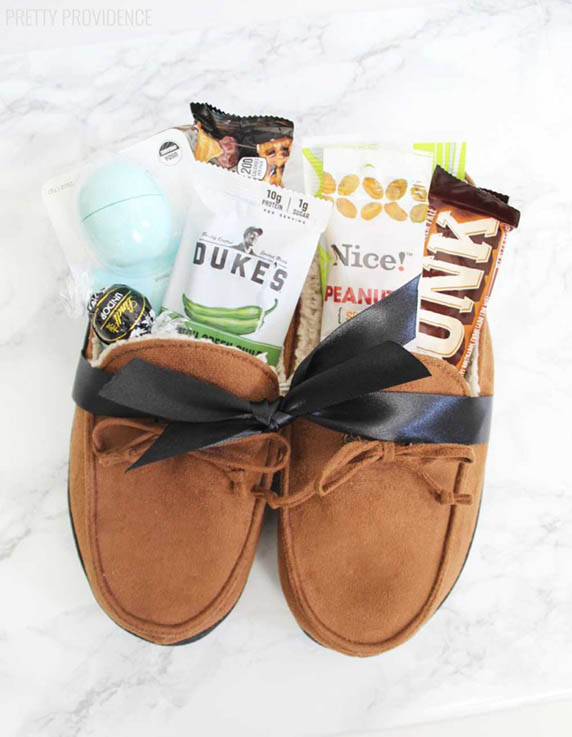 Found from prettyprovidence.com
2. Man Food in a Jar
This gift jar is stuffed full with tons of man-approved snacks and guilty pleasures.
If you have a sweet tooth in your life, surprise them with a jar filled with all their favorite sweets and treats.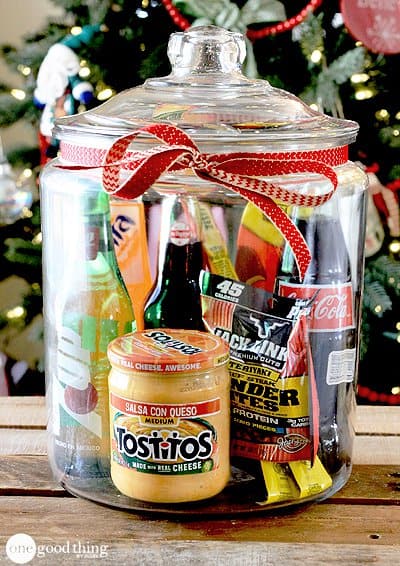 Found from onegoodthingbyjillee.com
3. Gamer's Gift Basket
Got a gamer guy in your life? Then this one would be perfect for them.
Fill up your wooden crate with your guy's favorite snacks, some batteries for his controllers, gift cards, games and whatever else you know he will love.
The awesome tags you see in the image below are all available for download at thedatingdivas.com. And if you're looking to make this for your dad, don't worry, they have dad friendly printables for this too!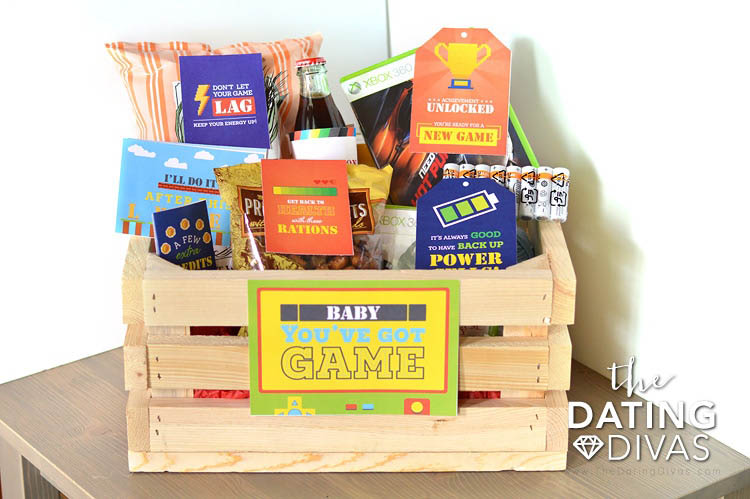 Found from thedatingdivas.com
4. Coca-cola & Hot Chocolate Gift Basket
Okay, this one is more Christmas themed, but you could probably do something similar for other occasions too by tweaking the color scheme a bit.
Found from andersruff.com
5. BBQ Lover's Gift Basket
If you have a man in your love who loves to BBQ, this would make a great gift.
Give him all the BBQ essentials he would need to be the ultimate BBQ master.
Found from jacquelynclark.com
6. Lumberjack Gift Basket
Head over to ohhappyday.com to get all these adorable lumberjack labels as free printables.
Found from ohhappyday.com
7. The Handyman Basket
This gift basket is perfect as a housewarming gift for someone who just moved into a new place, or for the guy that is always busy with some kind of project around the house.
Also, ladies, if there's something you want your guy to fix, this could also be a funny hint/nudge to inform him of the matter!
Found from justmakestuff.com
8. Candy Pop Bottle Gift Set
Get your guy a sweet six pack he'll love. If he loves sweets that is.
Again, this one is Christmas themed but could easily be changed for any occasion, just play around with the sweets and colors.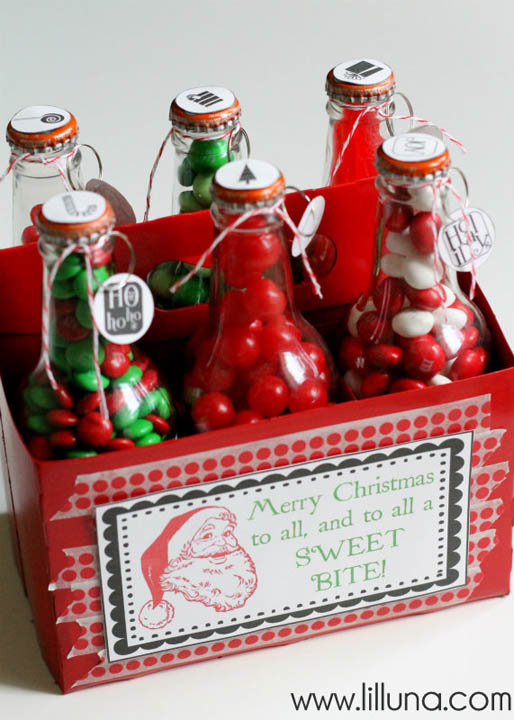 Found from lilluna.com
9. For the Grilling Lover
Another one for the BBQ lover.
Fill your grilling gift caddy with all the BBQing essentials your man could need.
Found from anightowlblog.com
10. Gourmet Coffee Lover Gift Set
This gourmet coffee gift set is perfect for Father's day or as a groomsmen gift, or for any stylish coffee lover in your life.
There are also some free Father's day and groomsmen postcard printables available over at the site.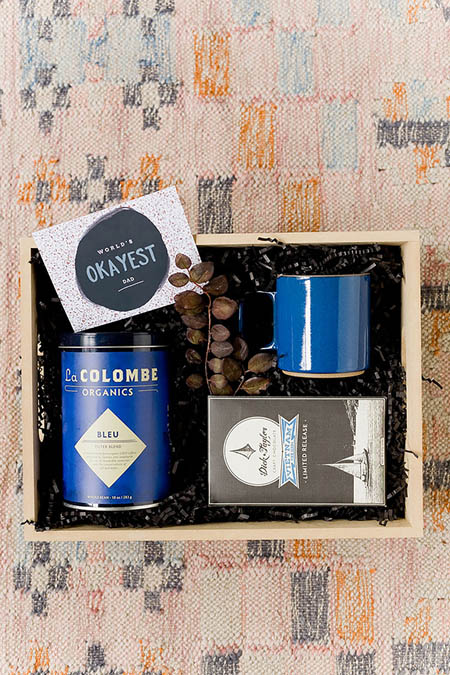 Found from ruffledblog.com
11. DIY Bar Kit
For the cocktail lover in your life, you can assemble this basket full of cocktailing necessities, complete with a shaker, decanter, coasters and some snacks.
Found from stylemepretty.com
12. For The Likely Host
This would make a great gift for the host of a dinner party if you don't want to show up empty handed.
You can fill the basket with delicious bread, cheese, wine and other treats that you know would be welcome at the dinner party.
Found from eatsleepwear.com
13. Hot Cocoa Gift Basket
What better way to ward off the winter cold and warm up than a cup of decadent hot chocolate?
If you have a guy in your life who loves a warm cup of hot chocolate, fill up a basket full of hot essentials. Include everything needed to make the ultimate hot chocolate. Think hot chocolate mix, marshmallows, chocolate syrup or chocolate pieces, stir sticks, cups etc.
Found from thetomkatstudio.com
14. Coffee Lover's Gift Basket
Another idea for a coffee themed gift basket, cause who doesn't love coffee? (Ha! Actually, I don't drink coffee… but your man probably does right?)
Fill it up with everything he needs for the perfect morning coffee!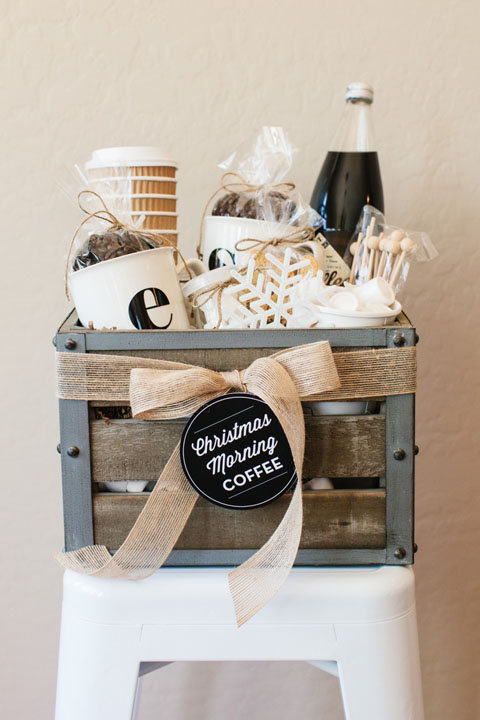 Found from thetomkatstudio.com
15. For the Baseball Lovers
Got a baseball lover in your life? Then he'll love this gift basket full of baseball goodies. Find out who his favorite team is and fill it up with team merchandise.
You can also create something similar for other sports as well.
Found from todayseverymom.com
16. Commuter's Gift Basket
If your guy has a long commute to and from work each day, why not give him gift to make the commute a little less frustrating?
Fill it with anything you can think of that would make his commute a bit better. Think of snacks, a water bottle perhaps, backup phone charger, gift cards for music or audio books he could listen to in the car, car air fresheners, etc.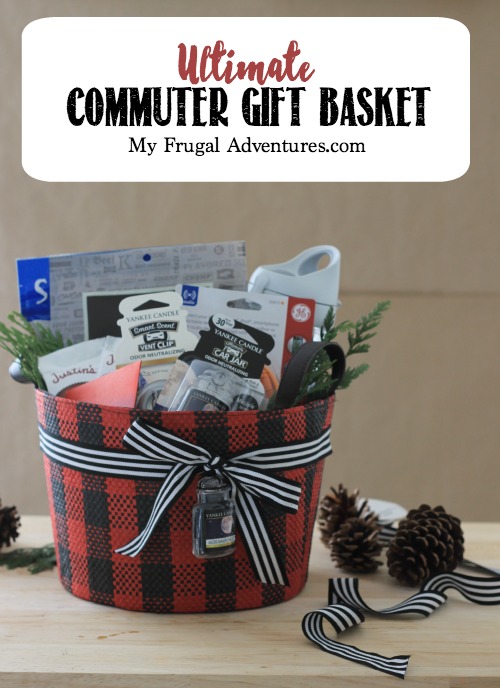 Found from myfrugaladventures.com
17. Spiked Movie Night Gift Basket
Planning a movie night with your guy? Surprise him with this basket full of treats and drinks to enjoy while watching the movie.
You could also include movie tickets or gift cards to buy movies.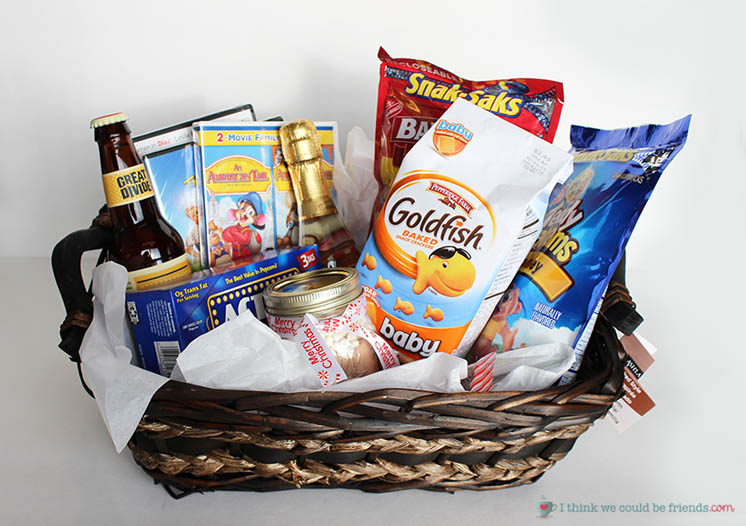 Found from ithinkwecouldbefriends.com
18. Snow Survival Kit
If you're having lots of snow days or know that it's coming up, a snow day survival gift basket would be a very thoughtful gift.
You can fill it up with all kinds of things you think would be helpful or fun for spending a day stuck at home due to snow.
The pretty labels are also available for download for free!
Found from thediymommy.com
19. Root Deer Float Kit
Yes you read that correctly, this is a root deer – not beer – float kit. You add your ice cream and root beer to your mug. And then you add 2 candy canes for antlers and a cherry for a nose to create your Rudolph deer float. Check out the website below for a picture of what it looks like.
This is a fun and easy to put together gift basket and kids will also love this.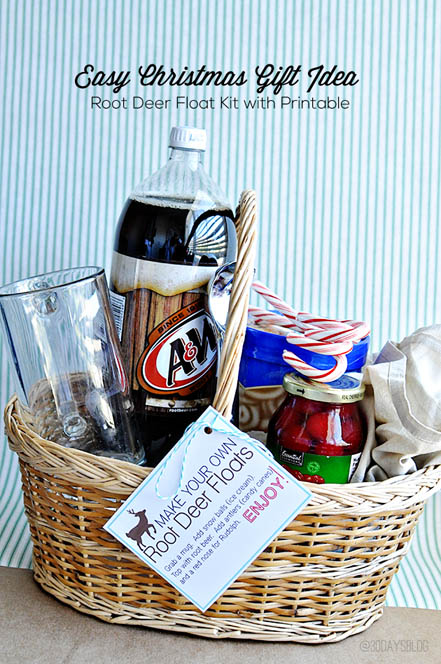 Found from thirtyhandmadedays.com
20. Cooking Themed Gift Basket
If you have a man in your life who loves to cook (lucky you!) or want to learn how to cook, this would make a great gift.
Fill a basket full of cooking essentials, complete with a cookbook and ingredients for one of the recipes. You could also include gift vouchers to a local or online cooking class.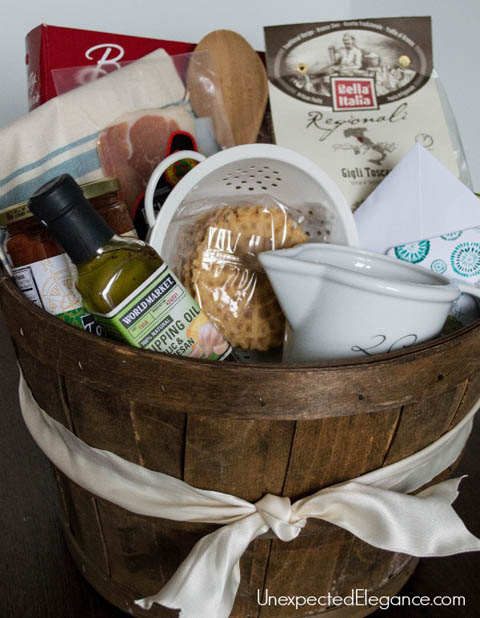 Found from unexpectedelegance.com
You can find a lot more gift ideas on my Gift Ideas and DIY Christmas Gift Ideas boards on Pinterest.
Want more gift ideas? Check out these posts too:
Loved these DIY gift baskets for men? Don't forget to share it!
If you found some inspiration from these DIY gift baskets for men, don't forget to pin it to your gift ideas board on Pinterest or share it to Facebook!