If you've been reading my blog for a while, you know that I absolutely love any sort of holiday dessert recipes. My favorite holidays are probably Christmas and Halloween, but there are some pretty amazing and creative 4th of July dessert ideas on the web too!
And since 4th of July is just around the corner, I've rounded up some of my favorite patriotic themed dessert recipes. So if you're hosting any sort of party or get together this July, consider impressing your guests with some of these gems!
4th of July Dessert Ideas For the Perfect Party
To view the full recipe for any of these 4th of July dessert ideas, please click on the link below the image. Hope you enjoy!
1. Cheesecake Stuffed Strawberries
Try these easy red, white, and blue Cheesecake Stuffed Strawberries for a healthier patriotic dessert!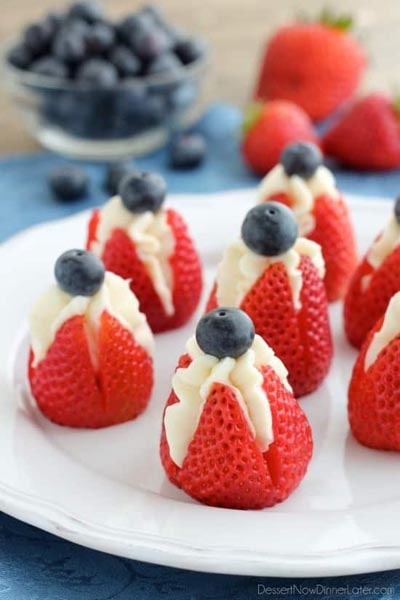 Found from dessertnowdinnerlater.com
2. Patriotic Popcorn
This Patriotic Popcorn is a fun Red White and Blue 4th of July treat or Memorial Day snack that is so easy to make!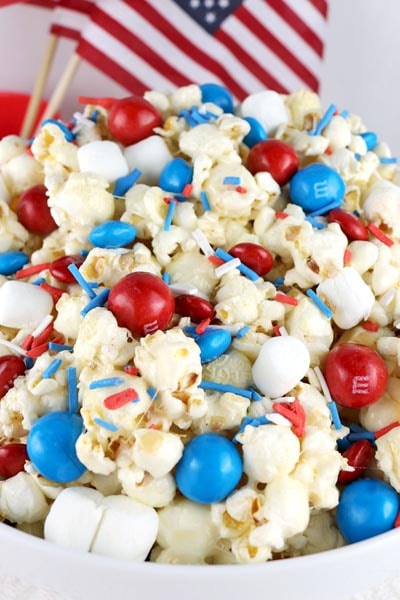 Found from twosisterscrafting.com
3. 4th of July Bark
Melt up some chocolate and wow your guests this 4th of July with a truly amazing 4th Of July Bark.
Found from lifewiththecrustcutoff.com
4. Fireworks Pudding Cookies
So, pretty much, when you add brown sugar AND pudding mix to a cookie? Softness explosion.
If you like a soft cookie that still has some chew, these are for you.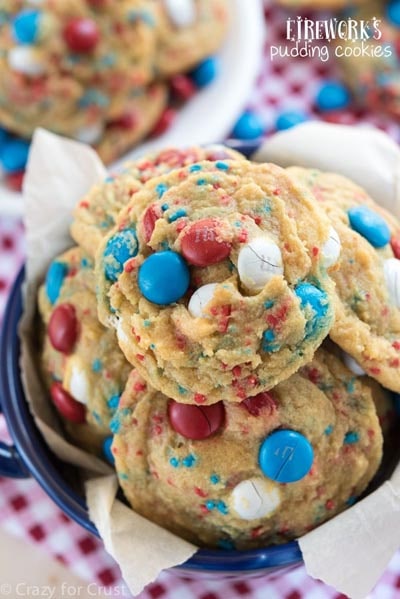 Found from crazyforcrust.com
5. 4th Of July Red White And Blue Fudge
A patriotic red white and blue fudge recipe perfect for Flag Day or the 4th of July. This easy marshmallow creme fudge recipe is made using evaporated milk, white chocolate chips, sugar, butter, and food coloring.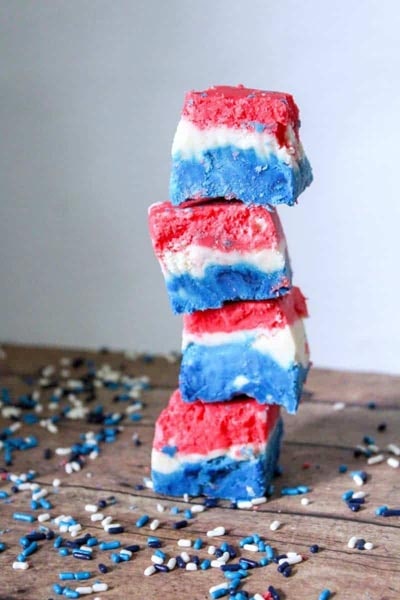 Found from crayonsandcravings.com
6. Patriotic Pinwheel Cookies
If soft and chewy cookies set off flavor fireworks in your world, then consider your taste buds dazzled. These buttery rounds are made with basic pantry ingredients (think butter, sugar, eggs and flour).
And best of all, the dough can be prepared in advance and stashed in the fridge, so all that's left to do is slice and bake them as your guests arrive.
Found from justataste.com
7. Starstruck Berry Marshmallow Pies
The EASIEST PIE EVER topped with a true taste of Summer berries and citrus lemon zest over a lightly sweetened marshmallow crème!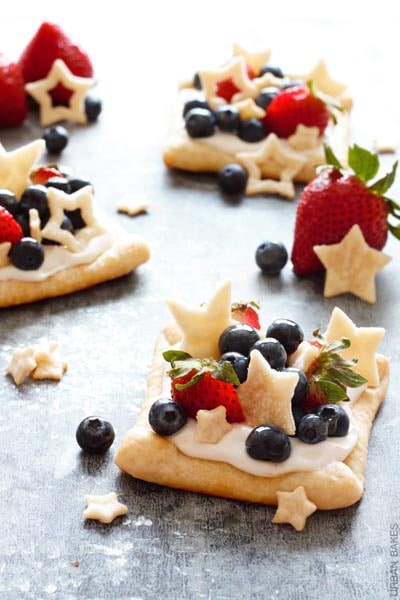 Found from urbanbakes.com
8. Star Spangled Pretzel Twists
An easy, fun and yummy treat for these Red, White and Blue holidays!!
Found from pinkcakeplate.com
9. Red White & Blue Dipped Oreos
These Oreo's are dipped and colored for 4th of July but you could easily do this for any Holiday. It's so easy to make these delicious treats and they are super cute for a Summer or 4th of July party! Enjoy and let the kiddos help out.
Found from raininghotcoupons.com
10. July 4th Sprinkle Cookies
Whether you're hosting the star spangled party or just going as a guest, having cookies on the table are a huge hit!
Found from simplygloria.com
11. Easy Flag Fruit Dessert
All you need is the fresh fruit, a big tray, and some little pretzels covered in yogurt or white chocolate.
Just spread those out in rows, alternating with the red berries, and group all the blueberries together in the corner. And presto: a light, easy, festive dessert that will be the hit of any patriotic party.
Found from familyfreshmeals.com
12. Sprinkle Dipped Red, White and Blue 4th Of July Ice Cream Cones
These are such a fun way to serve up even just a simple scoop or two of vanilla ice cream, and you can prep the cones the day before.
All you need are sugar cones, white chocolate and all the cool sprinkles you can find.
Found from thesweetestoccasion.com
13. Fourth Of July Dipped Pretzels Dessert
This is a fun and easy dessert idea for Memorial Day and the 4th of July! They can be whipped up ahead of time too! These Red, White and Blue Dipped Pretzels are perfect for your summer celebration!

Found from the36thavenue.com
14. American Flag S'mores Dip
The original American flag s'mores dip dessert is a super-easy 4th of July dessert to celebrate Independence Day.
Found from thedecoratedcookie.com
15. 4th of July Rice Krispie Treats
Patriotic Red White and Blue Rice Krispies treats. Perfect for 4th of July or any other holiday! Easily adaptable for different colors.
Found from asouthernfairytale.com
16. 4th of July Snack Mix Recipe
You can use any candy you want here, so feel free to be creative with your color combinations and flavors!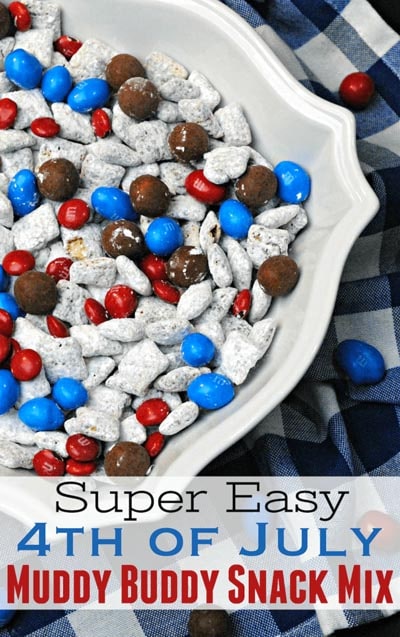 Found from babysavers.com
17. Red White & Blue Tortilla Cups
These Red White & Blue Tortilla Cups are a delicious and perfectly portioned holiday treat! Wonderfully patriotic with a light creamy filling finished off with the right touch of fruit!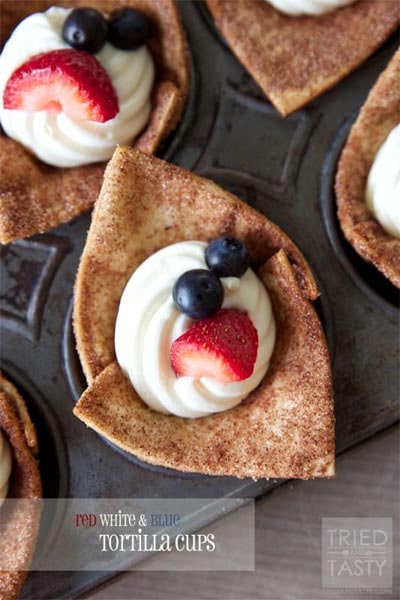 Found from triedandtasty.com
18. No Bake Coconut Strawberry Cheesecake Jars
The perfect pairing of coconut cheesecake and fresh strawberry pie filling makes these the perfect Fourth of July dessert!
Found from theflavorbender.com
19. Patriotic Caramel Pretzel Bites
Sweet, salty, crunchy and delicious – Patriotic Caramel Pretzel Bites are an easy and fun treat for 4th of July.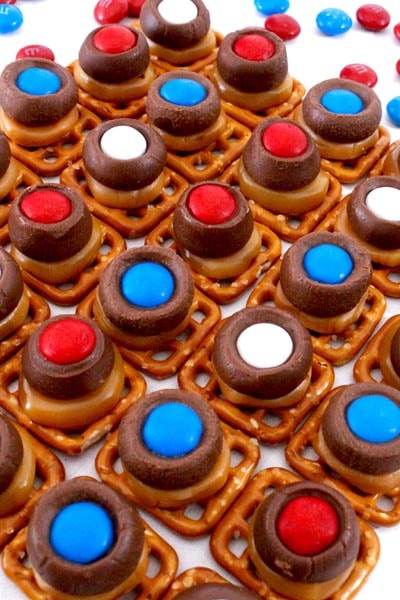 Found from twosisterscrafting.com
20. Patriotic Chocolate Covered Strawberries
Fourth of July, Memorial Day and Labor Day – these Red, White and Blue Chocolate Covered Strawberries will be the perfect way to celebrate these patriotic holiday's!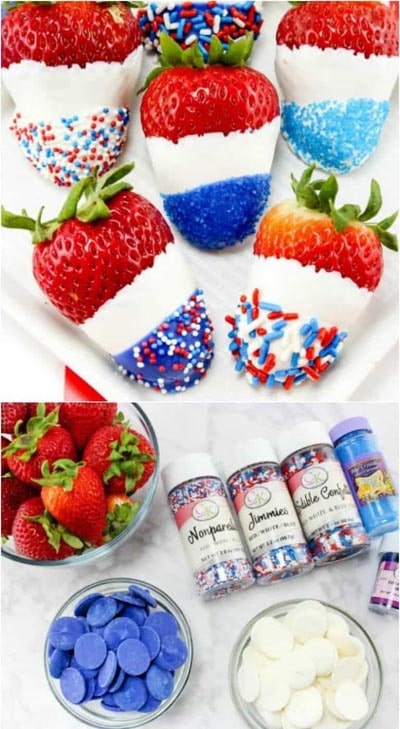 Found from princesspinkygirl.com
21. Red White And Blue Cupcakes 
Red White and Blue Cupcakes are the perfect patriotic treat. Fluffy and soft vanilla cupcakes are topped with sweet red, blue and white buttercream swirl.
Found from sweetandsavorymeals.com
22. Patriotic Thumbprint Cookies
These red, white, and blue patriotic thumbprint cookies are perfect for the upcoming summer holidays. There's nothing tastier than a cookie to celebrate!
Found from moneywisemoms.com
23. Patriotic 4th Of July Donut Pops
These patriotic donut pops are fun and easy for kids to make and are the perfect bite-sized treat for your Memorial Day Weekend or 4th of July celebration!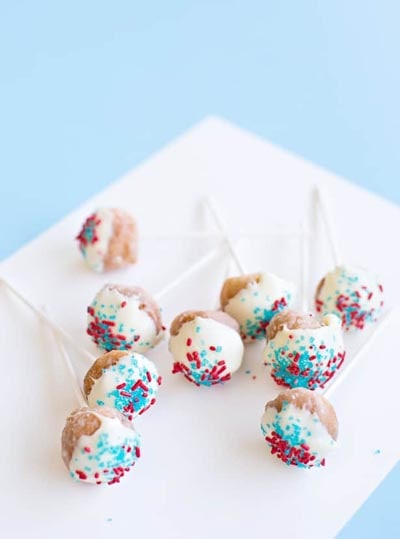 Found from hellowonderful.co
24. Red White And Blue Cheesecake Bars
Red White and Blue Cheesecake Bars are the perfect sweet treat to show off your American spirit. Creamy cheesecake with red and blue swirls, these Red White and Blue Cheesecake Bars are the perfect dessert to celebrate Fourth of July.
Found from awickedwhisk.com
25. Star Spangled Blueberry Pie
A simple and beautiful 4th of July dessert idea that packs a major wow factor. Star shaped cookie cutters take this classic blueberry pie recipe to a festive new level.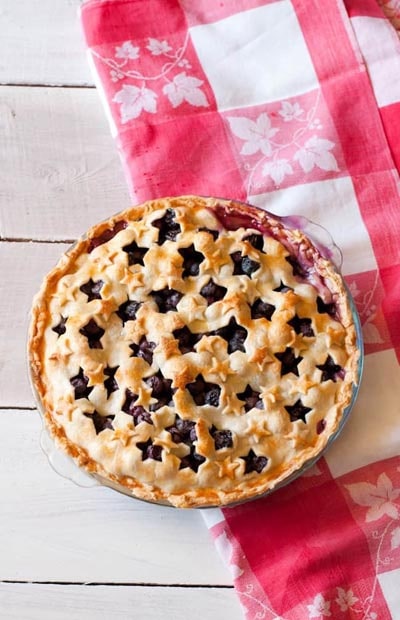 Found from betsylife.com
26. Star Spangled Layered Finger Jello
Jello recipes aren't just for kids. This Star Spangled Layered Finger Jello recipe is a red white and blue dessert great for all ages!
Found from boulderlocavore.com
27. 4th Of July Cake Mix Whoopie Pies
4th of July Cake Mix Whoopie Pies are easy, fast and perfect for all of your 4th of July festivities!!
Made using a box cake mix and butter cream frosting, these 4th of July Cake Mix Whoopie Pies are delicious, festive and the perfect way to show off your red, white and blue!
Found from awickedwhisk.com
28. 4-ingredient Patriotic Brigadeiros
Patriotic Brigadeiros are gluten-free fudge balls made from 4 staple ingredients cooked in 15 minutes. A fun treat on-the-go to celebrate your 4th of July!
Found from easyanddelish.com
29. Funfetti Red White and Blue Skillet Biscuits
Highly customizable biscuits for any occasion, just switch up the colored candy sprinkles for a festive look.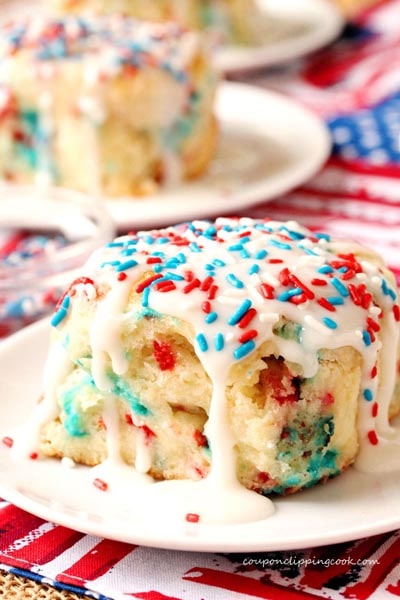 Found from couponclippingcook.com
30. Sprinkle Chocolate Balloon Bowls
Fill your patriotic chocolate bowls up with your favorite vanilla bean ice cream, and top it off with some lovely fresh raspberries.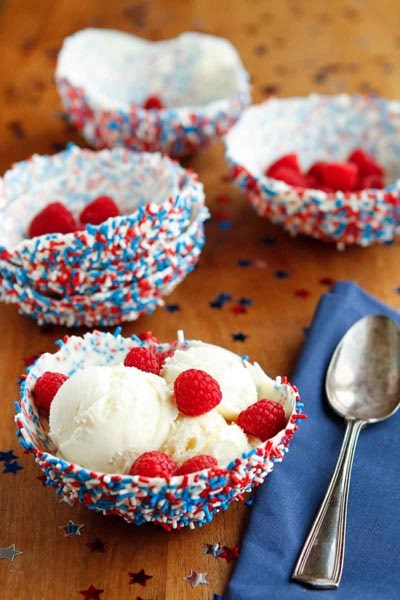 Found from unsophisticook.com
Also check out these posts:
Pin these 4th of July Dessert Ideas for later!
Don't forget to pin these 4th of July dessert ideas to your 4th of July board on Pinterest. Also follow me on Pinterest for more fun recipes and ideas!