Let's be honest, Thanksgiving is just not the same without some yummy desserts. And when most people think of Thanksgiving desserts, they think of some sort of yummy pie, whether it be pumpkin pie, apple pie, pecan pie or something else. But if you're looking to put a spin on things and make something different this year, I've rounded up 30 tasty and easy dessert recipes for Thanksgiving that are not just pie.
Don't get me wrong, I love pie as much as the next person. But sometimes just making the same dessert pie each year can get a little boring. So if you want to try something different this year, give one of these a try. They're all super delicious and perfect as both a fall or Thanksgiving dessert.
30 Tasty and Easy Dessert Recipes For Thanksgiving
Hope you enjoy these easy dessert recipes for Thanksgiving!
As always, please click on the link below each image and you'll be taken to the full recipe.
1. Carrot Cake Roll
This delicious Carrot Cake Roll recipe is everything you love about classic carrot cake with cream cheese frosting…rolled up into this cute dessert!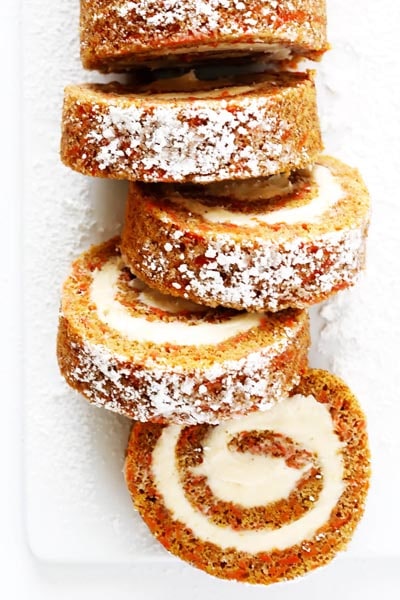 Found from gimmesomeoven.com
2. Pecan Pie Cheesecake
Two beloved classic Thanksgiving and Christmas dinner party desserts in one! Pecan Pie and Cheesecake combined to create your new favorite yummy holiday dessert
Found from dreamingindiy.com
3. Pumpkin Roll With Cream Cheese Filling
This delicious homemade Pumpkin Roll recipe is easy to make and walks you through the steps on how to make it.
The roll is so moist and delicious! The post also includes a how to make video!
Found from brooklynfarmgirl.com
4. Pumpkin Crunch Cake With Cream Cheese Frosting
What better way to celebrate the season than with the original Pumpkin Crunch Cake!
It will definitely bring smiles to your table and soon become your new family fall tradition.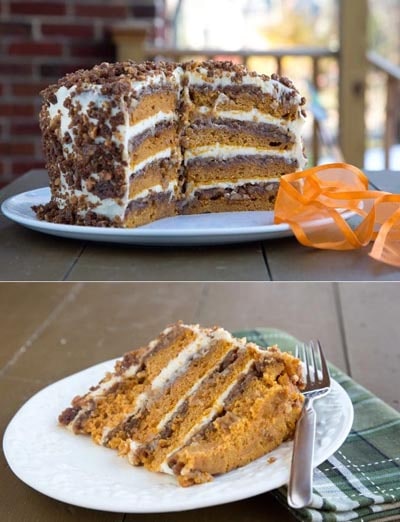 Found from askchefdennis.com
5. Autumn Spice Cake with Cream Cheese Frosting
This cake is perfectly moist and brimming with lots of those sweet autumn spices. It has a tender crumb and so much flavor in every bite.
No one can resist a slice!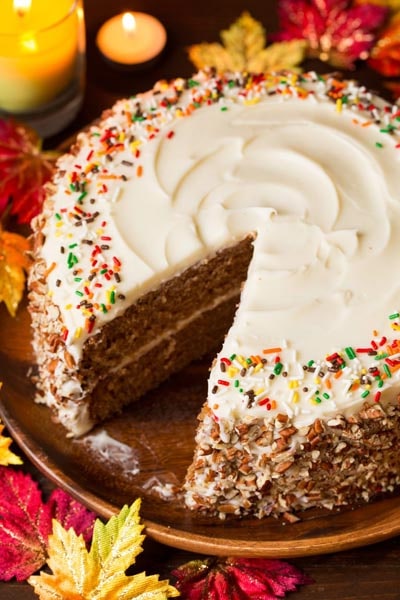 Found from cookingclassy.com
6. Apple Cider Cupcakes With Brown Sugar Cinnamon Buttercream
Moist and flavorful recipe for Apple Cider Cupcakes made from scratch with Brown Sugar Cinnamon Buttercream Frosting makes for a mouthwatering fall dessert!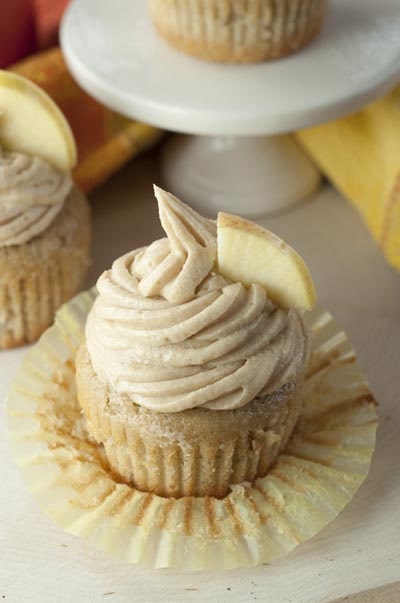 Found from wishesndishes.com
7. Chai Spiced Pumpkin Layer Cake
Pumpkin Layer Cake with chai spices, a thin layer of pumpkin cashew filling, and topped off with creamy dairy free cinnamon buttercream frosting.
Found from veggieinspired.com
8. Pumpkin Cheesecake Bars
These Pumpkin Cheesecake Bars have so many delicious layers, including a graham cracker crust, cheesecake layer and pumpkin layer.
They're full of fall spices and are sure to impress at any holiday gathering.
Found from lilluna.com
9. Praline Pumpkin Upside Down Cake
Combine two favorite fall flavors to make the ULTIMATE Thanksgiving dessert: Praline Pumpkin Upside Down Cake!
This cake is decadently moist and perfect!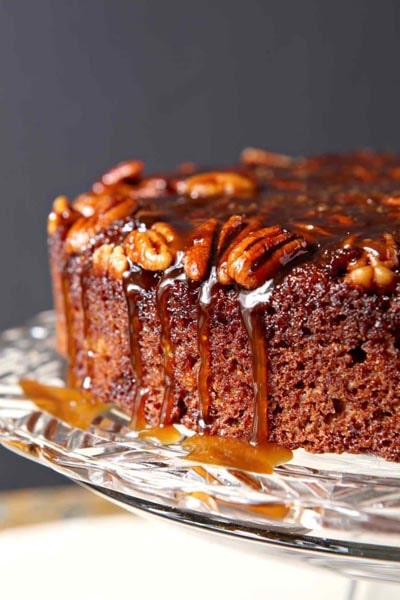 Found from thespeckledpalate.com
10. Pumpkin Cinnamon Rolls
These Pumpkin Cinnamon Rolls could not be any easier to make or taste any more delicious.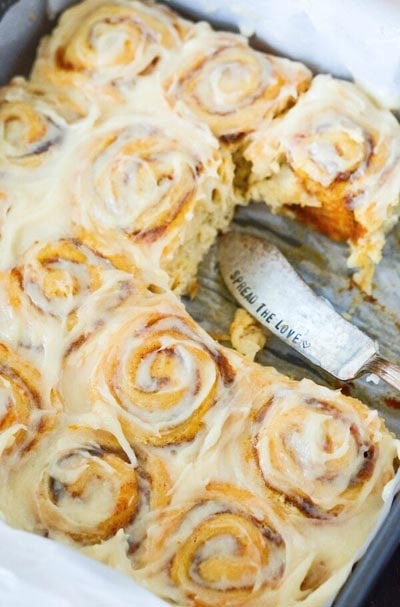 Found from thenovicechefblog.com
11. Cheesecake Brownies With Caramel Apples
Vegan, quick & easy to make, these gluten free brownies come out moist and sweet without added refined sugar.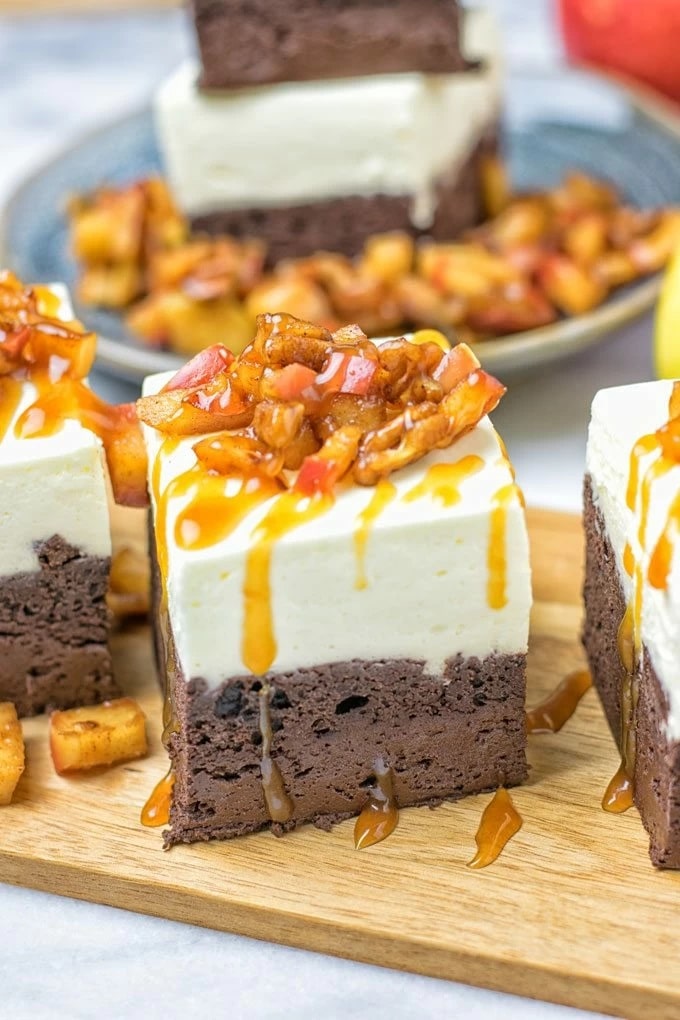 Found from contentednesscooking.com
12. Mini Pumpkin Cheesecakes
These mini pumpkin cheesecakes have a delicious and easy homemade chocolate cookie crust and can be made gluten-free, whole wheat or with all-purpose flour.
Found from texanerin.com
13. Salted Caramel Apple Galette
As delicious and impressive as pie, but half the work! This salted caramel apple galette is the easiest fall dessert.
Found from sallysbakingaddiction.com
14. Cheat's Danish Apple Cake
This traditional Danish dessert consists of layers of sweetened stewed apple with vanilla and oaty biscuit crumbs which are topped with a layer of whipped cream and a grating of dark chocolate.
Found from fabfood4all.co.uk
15. No Bake Pumpkin Cheesecake
This no bake pumpkin cheesecake recipe is rich, creamy and so simple to make.
Top it with caramel sauce for the perfect finish to any fall meal or holiday!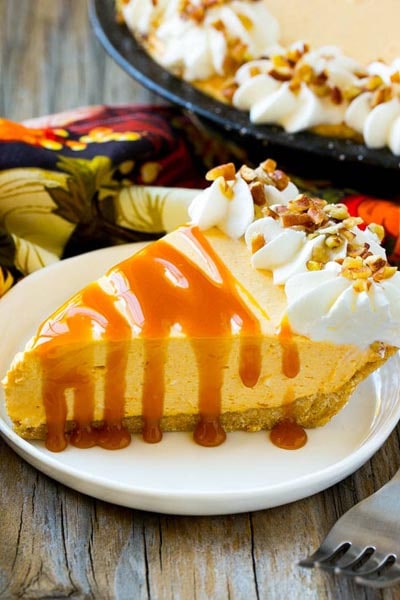 Found from dinneratthezoo.com
16. Maple Streusel Pumpkin Cake
Moist, delicious pumpkin cake, layered with maple cinnamon buttercream and crunchy streusel.
Perfect for Thanksgiving or any fall celebration!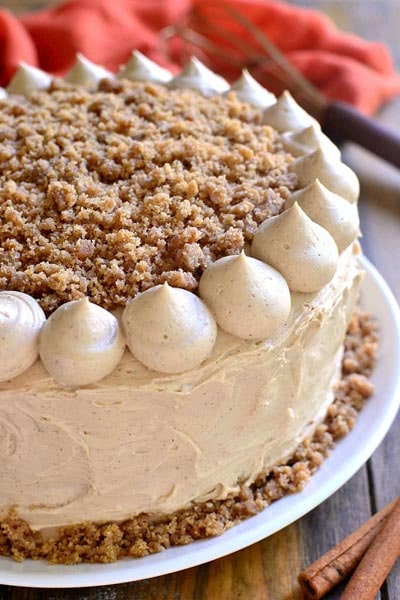 Found from lemontreedwelling.com
17. Pumpkin Whoopie Pies
The classic New England dessert gets an update with pumpkin, spices, and maple!
This Pumpkin Whoopie Pies with Maple Cream Cheese Frosting recipe is the perfect fall dessert!
Found from foodfolksandfun.net
18. Pecan Pie Brownies
These pecan pie brownies are a chocolaty twist on the traditional pecan pie!
They make a great Thanksgiving dessert but I like making them all year long!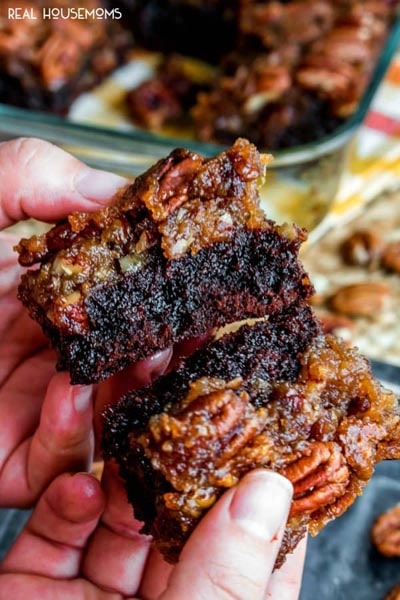 Found from realhousemoms.com
19. Pumpkin Pecan Bread Pudding
Looking for the ultimate breakfast dish or dessert for Thanksgiving?!
Look no more! this super-decadent caramel pumpkin pecan bread pudding is an awesome addition to any Thanksgiving table.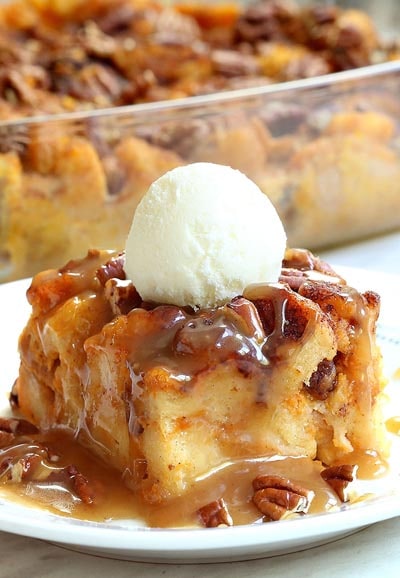 Found from cakescottage.com
20. Pumpkin Cannoli
Filled with a lightly spiced sweet pumpkin ricotta filling, the classic Italian dessert gets a fall-themed twist in these pumpkin cannoli.
Found from atreatsaffair.com
21. Sweet Potato Marshmallow Bars
Let's face it, sweet potato casserole is basically dessert anyways. These bars with a marshmallow topping just celebrate that.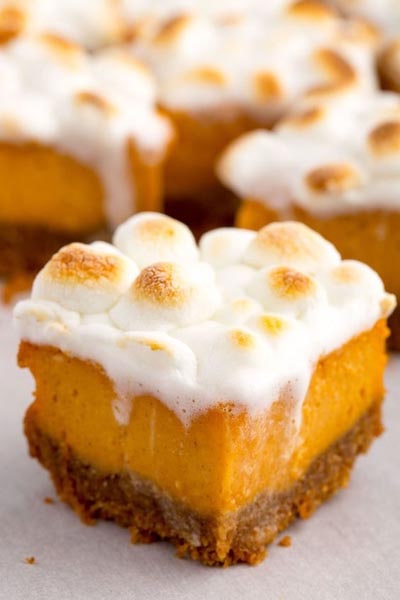 Found from delish.com
22. Gingerbread Bread Pudding With Vanilla Sauce
Bread pudding is really a simple and easy recipe to make and there are so many variations out there that are absolutely amazing.
Moist and flavorful, this Gingerbread Bread Pudding has all the delicious flavors of your traditional gingerbread with a sweet and creamy glaze.
Found from tornadoughalli.com
23. Apple Crisp Stuffed Apples
Everything you love about apple crisp but baked inside an apple. This fun fall dessert is something everyone will love!
Found from lifemadesimplebakes.com
24. Pumpkin Butterscotch Spice Cake Trifle
This Pumpkin Butterscotch Spice Cake Trifle is an easy and elegant trifle with layers of pumpkin butterscotch pudding, cinnamon-spiced maple whip cream, and spice cake!
This Pumpkin Butterscotch Spice Cake Trifle is an amazing fall dessert!
Found from thegoldlininggirl.com
25. Pumpkin Chai Tiramisu
Combining the flavors of a creamy pumpkin latte & warm chai spices, this no-bake Pumpkin Chai Tiramisu is a must-make dessert for fall.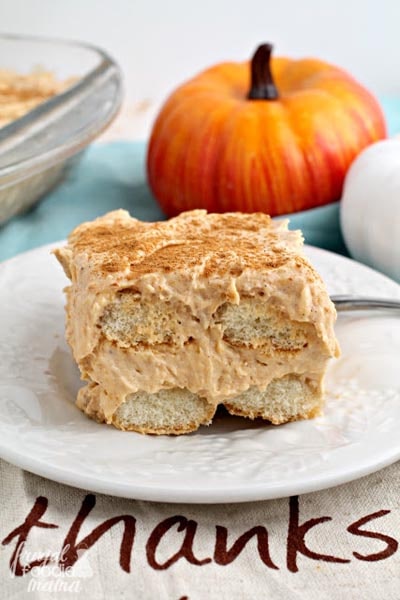 Found from thefrugalfoodiemama.com
26. No Bake Pumpkin Spice Lush
Easy layers of pecan shortbread, creamy pumpkin spice, whip cream topping and crushed pecans come together to create your new family favorite holiday dessert.
You are going to love how easy and quick this is to throw together and chill.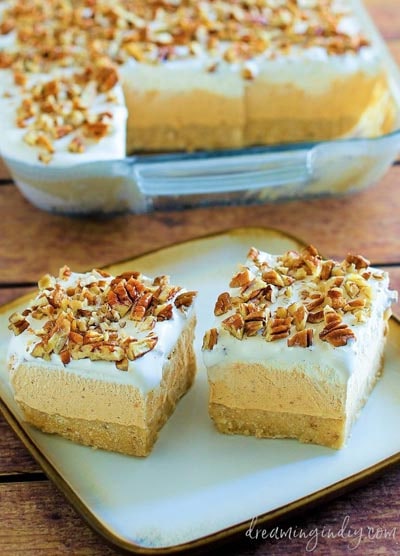 Found from dreamingindiy.com
27. No Bake White Chocolate Ganache Tart
An irresistible vegan white chocolate ganache tart. It's perfect for mother's day or any occasion.
It's so creamy, so smooth, so delicious and it melts in your mouth.
Found from nmmeiyee.com
28. Pecan Streusel Pumpkin Cheesecake
This Pecan Streusel Pumpkin Cheesecake recipe is one of my favorite Fall desserts!
The thick and creamy pumpkin cheesecake with the streusel on top and the crunch from the pecans is pure heaven!
Found from lifeloveandsugar.com
29. Puff Pastry Apple Tart with Goat Cheese and Honey
Individual puff pastry apple tarts get a classy twist with lightly sweetened goat cheese and a drizzle of honey.
A little bit savory, a little bit sweet, these individual desserts are just right.
Found from umamigirl.com
30. Apple Spice Cake with Coconut Cream Vegan Frosting
Spiced apples and a sweet coconut cream vegan frosting are the perfect components to this apple spice cake.
It's the ultimate fall cake!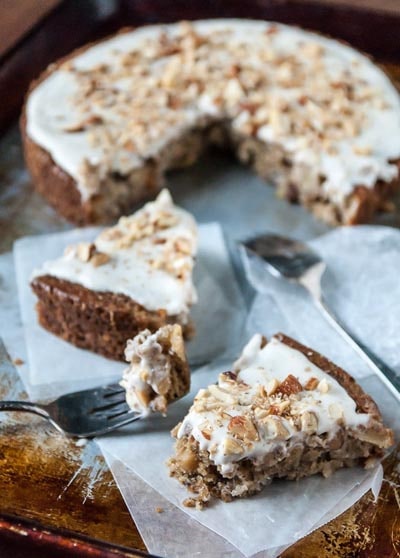 Found from heartofabaker.com
Looking for more Thanksgiving recipes? Check out these posts:
Pin these Easy Dessert Recipes For Thanksgiving to Pinterest!
Don't forget to pin these yummy and easy dessert recipes for Thanksgiving to your Thanksgiving desserts board on Pinterest. You can also follow Blast Aloud on Pinterest for more great recipes and ideas!