With Halloween just around the corner, I'm already busy planning which Halloween recipes to make this year. There's just so many to choose from! And if you're like me, you might also be looking for some fun recipes to make this Halloween.
I've rounded up some of my favorite fun and family friendly Halloween recipes, including sweet and savory recipes. Make them for a Halloween party or get together, as gifts or treats for friends, or simply for yourself to enjoy a festive treat or snack.
You can also get the kids involved in making these fun recipes, it'll keep them busy and you'll have something yummy to eat afterwards. Win win!
40 Fun Family Friendly Halloween Recipes
Hope you enjoy! To view the full instructions for any of these items, please follow the corresponding link and you'll be taken to the full recipe.
Also, don't forget to follow me on Pinterest for more great recipes, hacks and ideas!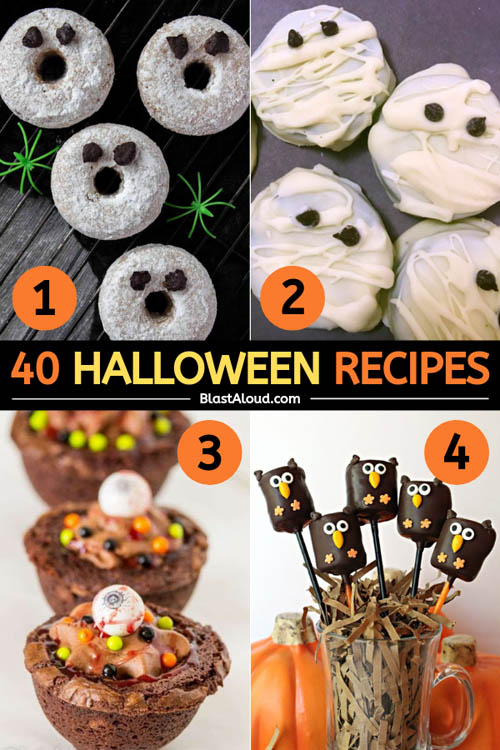 1. Halloween Ghost Vanilla Donuts
Halloween ghost vanilla donuts are the perfect kids party treat.
These sweet vanilla flavored donuts are made with all wholesome ingredients, refined sugar-free and with no extra fat. Super healthy and super scary. Boo!
Found from natalieshealth.com
2. White Chocolate Covered Mummy Cookies
Looking for a really quick and easy Halloween treat?
These white chocolate covered mummy cookies are really easy to make and adorable.
Found from retrohousewifegoesgreen.com
3. Leaky Cauldron Brownies
These Leaky Cauldron brownies are a lot of fun and are perfect for a family Halloween party, a group Halloween party or just for fun. Your family will love them. And they are rather rich, so you may want to share them with neighbors and friends. They will love you for it.
Found from busycreatingmemories.com
4. Owl Marshmallow Pops
Almost too cute to eat, Owl Marshmallow Pops make great owl party favors or Halloween snacks!
Found from themondaybox.com

5. Asparagus Mushroom Scramble Pepper Jacks
A fun, fast and flavorful Halloween breakfast – or breakfast for dinner – stuffed into some Silly Spooky Pepper Jacks
Found from spabettie.com
6. Spiderweb Pizzas
Serve up a piping hot slice of spookiness with these super-simple pizzas made with pre-baked crust, pizza sauce, strategically placed string cheese and a black olive spider.
Found from womansday.com
7. Mummy Hot Dogs
These are the first and original Mummy Hot Dogs with cut arms and legs, a great idea for kids!
Found from ourordinarylife.com
8. Bloody Hot Dog Fingers
These bloody finger hot dogs for Halloween are so gross and yet so amazing, all at the same time!
If you're having a Halloween party, you have to make these, they are so simple to make and they will be a gross party hit for sure!
Found from saltycanary.com

9. Mummy Rice Krispies Treats
These fun themed treats are super easy because you can make homemade Rice Krispies treats or just decorate pre-made Rice Krispies treats. Just unwrap rice krispie treats and start decorating!
Found from desertchica.com
10. Ghost Cake Pops
This Halloween cake pop recipe makes a super fun and totally delicious holiday treat, and they're the perfect way to impress party guests, too.
If you've never made cake pops before, you might be surprised at how easy they are too make. All you need is a little time and patience.
Found from hellolittlehome.com
11. Pumpkin Spice Air Fryer Baked Apples
These pumpkin spice air fryer baked apples are a healthy treat that come together in a fraction of the time it takes in the oven.
Found from glueandglitter.com
12. Jack o'Lantern Cupcakes
You can get creative with these if you like by making different expressions and such.
Found from cosmopolitancornbread.com

13. Halloween Oreo Brownie Pizza
This Halloween Oreo Brownie Pizza is perfect for a festive party and can be topped with other items, like whipped cream or sprinkles, if you wish.
The opportunities are endless here!
Found from thismamaloves.com
14. Spooky Chocolate Vanilla Oreo Fudge
Layers of chocolate, vanilla, Oreo cookies, and sprinkles make this Spooky Chocolate Vanilla Oreo Fudge a fun treat to make and eat. Candy eyes give it the spooky "Eye will be watching you" feel.
Found from insidebrucrewlife.com
15. Stitched Sugar Cookies
Whip up a batch of easy Halloween sugar cookies with a Tim Burton twist thanks to food coloring and chocolate stitches inspired by Sally's dress from The Nightmare Before Christmas
Found from chickenscratchny.com
16. Halloween Mummy Pizza
These mummy mini pizzas are the perfect Halloween dinner idea.
They are easy to make, and they are even easy enough if you want you can have your kids help you make them!
They are so cute and delicious. I mean, who doesn't love pizza?!
Found from lmld.org

17. Buffalo Meatball Pumpkins
These Buffalo Meatball Pumpkins are perfect for serving at fall celebrations from harvest parties and football parties to Halloween and Thanksgiving!
Found from thegunnysack.com
18. Spider Eggs
Yummy little deviled eggs, topped with creepy little spiders.
Found from makeit-loveit.com
19. Mashed Potato Monsters
These little mashed potato monsters are not only creepy, but they are delicious to snack on as well!
Found from helpfulhomemade.com
20. Haunted Graveyard Rice Krispies Treats
Whip up a 100% edible graveyard for Halloween this year with these easy to make Haunted Graveyard Rice Krispies Treats!
Found from thefrugalfoodiemama.com

21. White Chocolate Boo Bark
This White Chocolate Boo Bark is is filled with creamy white chocolate, Oreo cookies, chewy candy corn, and festive sprinkles.
It's such an easy recipe and is the perfect snack to munch on with friends on Halloween!
Found from pumpkinnspice.com
22. 4 Ingredient Halloween Cookies
These Halloween Cookies are soft, fluffy, and made with just 4 ingredients.
The sprinkles lend some Halloween fun and using cake mix makes it so easy. It's a simple recipe for a spooky night!
Found from pumpkinnspice.com
23. Easy Halloween Spider Pizza
You don't get second chances to have Halloween pizza–and this is, hands-down, the best pizza for Halloween dinner.
You simply cannot go wrong with this Easy Halloween Spider Pizza!
Found from nerdymamma.com
24. Ghost Pretzels
White chocolate dipped pretzels are made into ghosts with candy eyes and a little bit of imagination.
Found from dessertnowdinnerlater.com

25. Monster Halloween Popcorn
This Monster Halloween Popcorn is one of those easy Halloween treats that require only 5 ingredients and a few minutes to whip up.
Found from recipesfromapantry.com
26. Mummy Pigs in a Blanket
Make these mummy pigs in a blanket with regular sized hot dogs or mini cocktail sausages for a spooky bite.
Found from thatfitfam.com
27. Spooky Chorizo Hand Pies
Are you looking for a simple yet scrumptious savory snack for your Halloween party? Then these Spooky Chorizo Hand Pies will be the PERFECT choice!
They are easy and really fun to make, and are stuffed with a flavor-packed filling!
Found from theflavorbender.com
28. Halloween Jalapeño Popper Mummies
These Halloween Jalapeño Mummies are sure to be a crowd pleaser and are so easy to make!
Found from frugalcouponliving.com

29. Chocolate Peanut Butter Protein Ball
These cute little spiders are actually made from a chocolate peanut butter protein ball.
They're perfect for some quick energy, and make an adorable healthy kid snack for Halloween.
Found from eatingrichly.com
30. Spider Whoopie Pies
These spider whoopie pies are made of a chocolate cake and filled with a dark red velvet frosting.
Found from cookiedoughandovenmitt.com
31. Halloween Trifle
This Halloween Trifle is packed with Peeps and chocolate, but is so easy that anyone can make it.
With all of the Halloween items in stores in July and August, grab the supplies you need early!
Found from dancingthroughtherain.com
32. Monster Halloween Marshmallow Pops
These cute Monster Halloween Marshmallow Pops are easy Halloween treats that anyone can make.
They require only 5 ingredients and come together in just a few minutes. 
Found from recipesfromapantry.com

33. Double Chocolate Rice Krispie Mummies
These are homemade rice krispies dipped in white chocolate and "wrapped" in milk chocolate!
Found from willcookforsmiles.com
34. Poop Emoji Cupcakes
These Gluten Free "Poopcakes" Poop Emoji Cupcakes are a fun and delicious take on the poop emoji icon.
They will be a hit at your next party and will most likely spark some silly conversations!
Found from allergyfreealaska.com
35. Cheese Mummy
Isn't he the cutest cheese mummy ever?
Whether you're looking for a Halloween recipe for kids or for adults, he's your guy! It's the perfect Halloween appetizer and makes a stunning contribution to any Halloween potluck.
Found from eatingrichly.com
36. Witch Hat Cookies
These no-bake Halloween witch hat treats are so easy and fun to make and to eat!
Found from dizzybusyandhungry.com

37. Monster Eye Balls Rice Krispie Bites
These Monster Eye Balls Rice Krispie Bites are these yummy, bite-sized balls of crunchy, marshmallow-y delight with creepy monster eyes!
Found from twosisterscrafting.com
38. Halloween Boo Bark
In need of a super quick Halloween treat? Luckily it only takes a few minutes to make this super fun and seasonally appropriate Halloween Boo Bark.
Found from asthebunnyhops.com
39. Halloween Spiderweb Caramel Apples
Caramel apples with spiderwebs are a spooky-sweet Halloween treat! Caramel and apples just go together, and they taste even sweeter when there's a creepy chocolate spider on the side!
Found from tarateaspoon.com
40. Bloody Halloween Cupcakes
These bloody cupcakes are a delicious way to celebrate the Halloween season.
Whether you're looking to create a Halloween party treat or something fun in the kitchen with your family this Halloween season, these bloody cupcakes will surely be a spectacular choice.
Found from thirdstopontheright.com
If you enjoyed this roundup of tasty Halloween recipes, you might also be interested in these yummy Halloween party appetizers, quick and easy Halloween treats or even these cute and spooky edible Halloween gifts!
Don't forget to pin these 40 Fun Family Friendly Halloween Recipes to Pinterest for later!
If you enjoyed this roundup of fun family friendly Halloween recipes, please take a moment to share it to your Halloween board on Pinterest!
You can also follow me on Pinterest for more great recipes and holiday content!