If you're a sucker for desserts like I am, but don't want to spend hours whipping them up, then let me introduce you to skillet desserts. These yummy creations don't require a lot of work and are easy to make (and eat!) for a crowd.
1. Salted Caramel Skillet Cookie
Salted Caramel Skillet Cookie is a thick & chewy chocolate chip cookie (often called a Pizookie) that's baked in a skillet & loaded with salted caramel.
Found from kleinworthco.com
2. Blueberry Skillet Crumbles
There's nothing quite so fine as a bubbling berry crumble, especially when baked in mini cast iron skillets with plenty of golden crumb topping.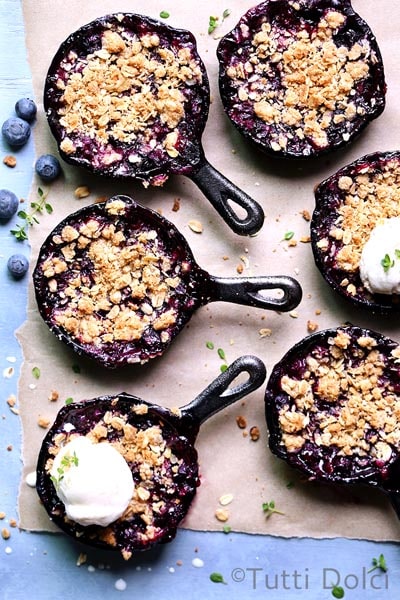 Found from tutti-dolci.com
3. Pumpkin Cheesecake Skillet Blondie
Take the great taste of pumpkin pie and give it an upgrade. Pumpkin Cheesecake Skillet Blondie is a trifecta of flavors all in one decadent dessert, a first-class ticket to pumpkin heaven.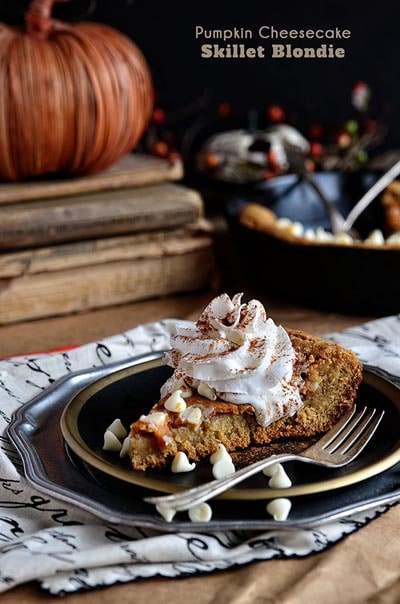 Found from tidymom.net
4. Skillet Carrot Cake with Cream Cheese Frosting
Who can say no to carrot cake, right?! So of course I had to include this delicious and easy carrot cake in this list.
This icing isn't at all traditional, and is instead very light and refreshing.
Found from uprootkitchen.com
5. Chocolate Skillet Cake
Make this whenever you want something rich, chocolaty and molten in the middle.
Found from purewow.com
6. Vanilla Sugar Skillet Cake
Make the best vanilla cake recipe from scratch for an impressive yet easy dessert.
Bake it in a cast iron skillet or a regular cake pan. Both are wonderful!
Found from onsuttonplace.com
7. Brown Butter Cinnamon Roll Skillet Cake
Imagine having a warm slice of cake that tastes exactly like a freshly baked cinnamon roll to stuff into your pie hole in only a fraction of the time?! Yes friends, that is what we call a win.
Found from onceuponarecipeblog.com
8. Skillet S'mores
No need for a campfire with this one. Enjoy Skillet S'mores anytime! They are amazing!!
Found from yourhomebasedmom.com
9. Skillet Pumpkin Pie
Cool creamy pumpkin on a soft crust with a dollop of delicious whipped cream. There's no other way!
Found from kitchenswagger.com
10. Butterscotch White Chocolate Skillet Cookie
Soft and chewy cookie dough filled with butterscotch and white chocolate chips.
Baked until golden and served with ice cream, this skillet cookie is almost too good to share!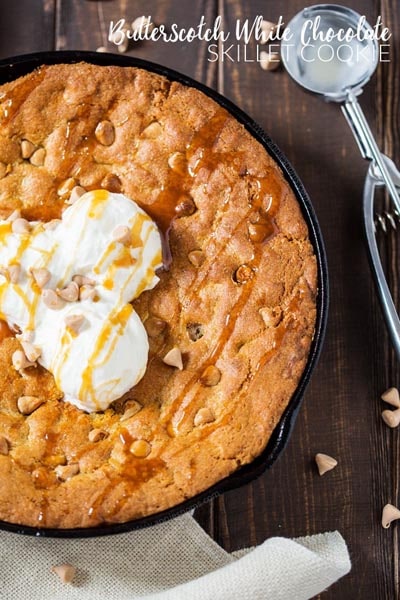 Found from anniesnoms.com
11. Deep Dish Chocolate Chip Cookie Skillet Brownie
This Deep Dish Chocolate Chip Cookie Skillet Brownie has an outer skillet brownie layer with a deep chocolate chip cookie center.
The result is a decadent, gooey dessert. Use the leftover batter to make brookie cups – the instructions are included for those, too!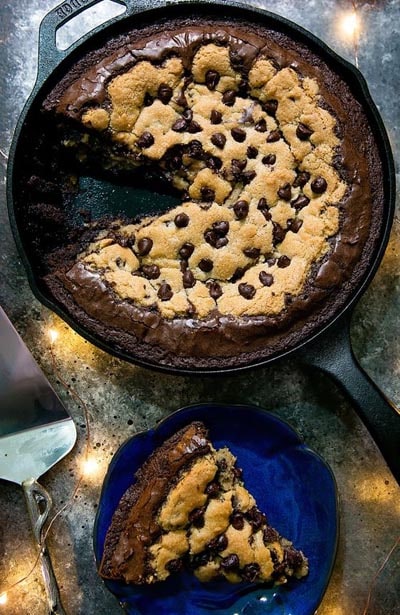 Found from kirbiecravings.com
12. The Ultimate Chocolate Chip Skillet Cookie
This Deep Dish Chocolate Chip Cookie is stuffed with a layer of gooey caramel and sprinkled with sea salt. Simple and over-the-top delicious.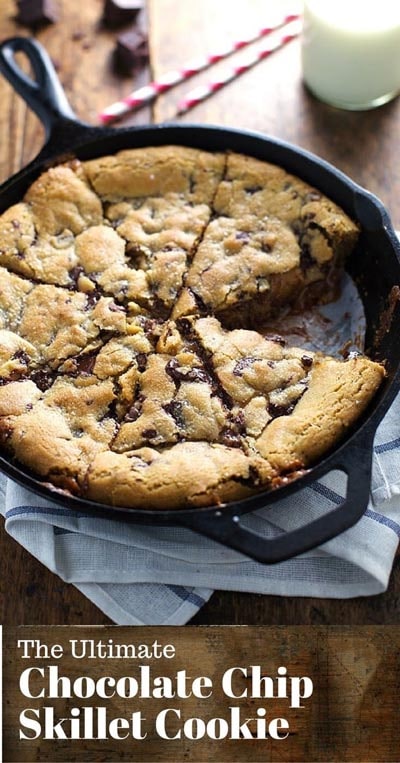 Found from pinchofyum.com
13. Maple Syrup Cinnamon Rolls
Make these suckers this weekend! You won't be sorry!
Found from thekitchenpaper.com
14. Chocolate Peanut Butter Skillet Cookie
This peanut butter chocolate skillet cookie is decadent and ready with just 15 minutes of prep work!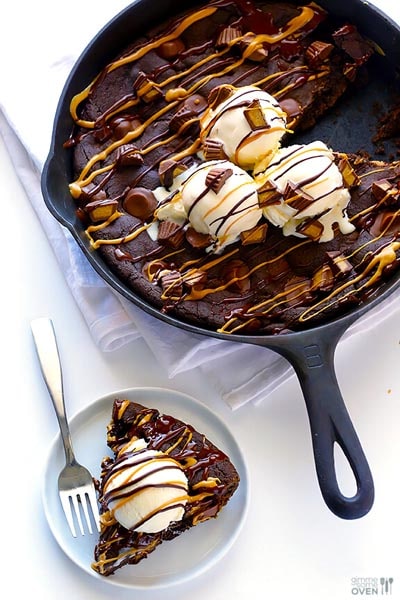 Found from gimmesomeoven.com
15. Peanut Butter Skillet Cookie with Peanut Butter Syrup
For my fellow peanut butter lover this Skillet Peanut Butter Cookie is loaded with peanut butter and even has a peanut butter syrup on top.
Found from domestically-speaking.com
16. Hot Cranberry Orange Cake
This beautiful and simple cake is glazed right out of the oven. It's the perfect balance of tart and sweet, and would be ideal for Christmas breakfast or dessert.
Found from willowbirdbaking.com
17. Snickerdoodle Skillet Cake
A thick and chewy snickerdoodle cake baked in a cast iron skillet and topped with ice cream and caramel sauce. A delicious, dessert that's just perfect for sharing!
Found from anniesnoms.com
18. Texas Skillet Chocolate Sheet Cake
Classically decadent Texas Chocolate Sheet Cake with a fudgy, pecan-studded chocolate frosting made in a cast iron skillet.
Found from livelytable.com
19. Cinnamon Apple Skillet Cake
If you love apples as much as I do and you're looking for something to bake with them – try this cake!
It's definitely different than your standard apple pie, but it has the same flavors, just a cake for a base with no need to make a crust.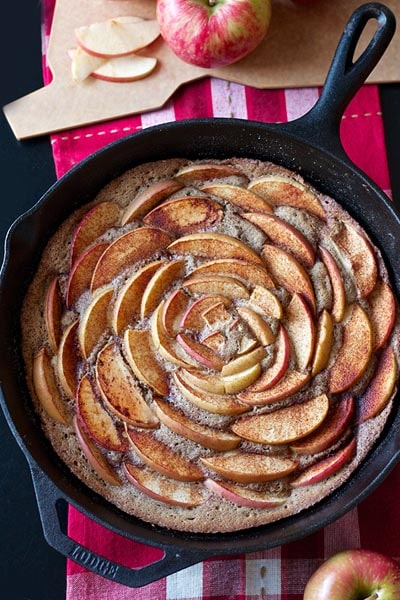 Found from ericasweettooth.com
20. Slutty Skillet Brownies
Make these ridiculous skillet brownies, scoop some vanilla ice cream on top, grab a handful of spoons and a handful of friends, and go to town.
You don't need bowls or plates to enjoy this, just eat it straight in the pan!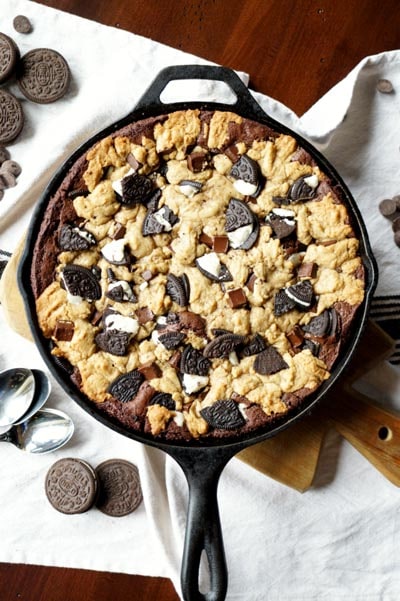 Found from thebakingfairy.net
Also check out these yummy posts:
Don't forget to pin these Skillet Desserts!
If you enjoyed this roundup of skillet desserts, please take a moment to pin it to your desserts board on Pinterest or share it on your favorite social media platform.