On the ketogenic diet but tired of plain old eggs? Then put a twist on them by making one of these crazy delicious keto friendly deviled eggs recipes. You won't be disappointed, I promise!
These keto deviled eggs are perfect as a snack and also make great appetizers at a party. And no one will even know how healthy they are!
20 Keto Friendly Deviled Eggs
Some of these deviled eggs look almost too good to eat! If you're serving them as an appetizer, you can take inspiration from some of these images on how to display deviled eggs. Hope you enjoy!
To view the full instructions for any of these keto friendly deviled eggs, please head over to the full recipes linked below each image.
1. Smoky Deviled Bacon And Eggs
These Angel Eggs are filled with yolks, mayo, Dijon, a squeeze of lemon, green onions, bacon and smoked paprika…then topped off with more smoked paprika, bacon and green onions – yummalicious!!!
Found from tasteandsee.com
2. Smoked Salmon Deviled Eggs
Smoked Salmon Deviled Eggs are a favorite twist on the classic deviled eggs from Serena Bakes Simply From Scratch.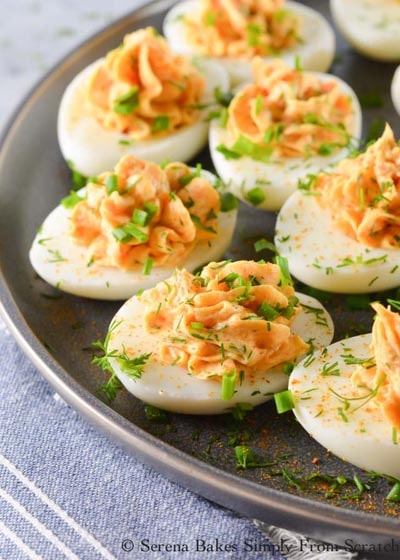 Found from serenabakessimplyfromscratch.com
3. Spicy Asparagus Deviled Eggs
These deviled eggs are so pretty that they look like a decoration for a dinner table or appetizer bar. The vibrant colors from the ingredients and garnishes look so appetizing and appealing that they are almost too pretty to eat.
And most importantly, they taste wonderful!
Found from couponclippingcook.com
4. Quick Blend Avocado Deviled Eggs
Whether you call them deviled eggs or not where you come from they are amazing as a healthy eggy snack and perfect for dinner parties.
Found from recipethis.com
5. Bacon Blue Cheese Deviled Eggs
If you absolutely cannot stomach blue cheese, substitute a good, aged cheddar instead.
The smoky bacon pairs nicely with either flavor.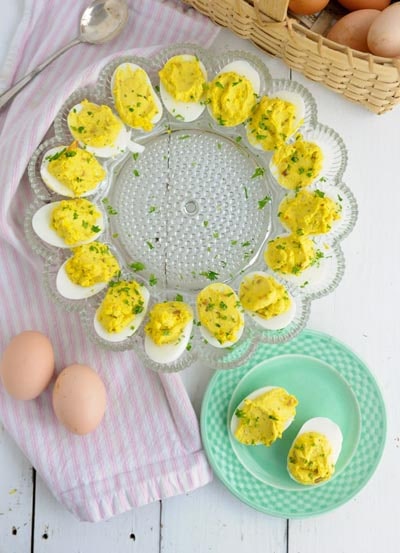 Found from twoluckyspoons.com
6. BLT Deviled Eggs Recipe
Bacon is also hard to argue with, am I right?
These BLT deviled eggs combine two classic recipe icons: the Bacon, Lettuce and Tomato Sandwich and Deviled Eggs. Who could ask for anything more?
Found from umamigirl.com
7. Pickle Deviled Eggs
Healthy and filling pickle deviled eggs are the perfect snack or appetizer that's paleo, keto and Whole30-friendly!
Found from whatgreatgrandmaate.com
8. Buffalo Deviled Eggs
This recipe for buffalo deviled eggs has a spicy, tangy buffalo filling and blue cheese topping.
It's great for serving at Easter, Independence Day, on game night or just to share with family and friends!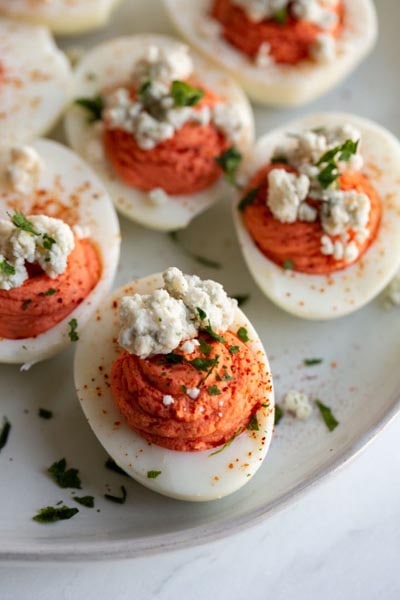 Found from awayfromthebox.com
9. Spicy Deviled Eggs
If you've wondered how to make Spicy Deviled Eggs, this recipe is for you!
A spicy sriracha kick and a sprinkle of red chili flakes take creamy deviled eggs from just okay to extraordinary!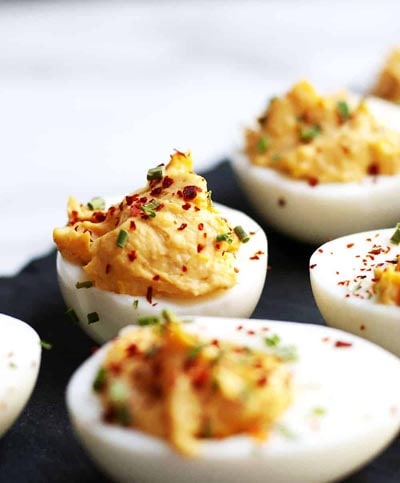 Found from pinchandswirl.com
10. Double Decker Deviled Eggs
If you are craving a retro recipe with a modern update, these double decker devilled eggs are what you need!
These eggs are stuffed with with creamy egg yolk, then topped with smoked mackerel pate and micro greens for more texture.
Found from vikalinka.com
11. Keto Deviled Egg Recipe With Capers
If you enjoy deviled eggs, then this recipe is one to try!
The capers add a salty and delicious touch to an already comforting favorite! Keto friendly and non-keto friendly approved so perfect for your next party or picnic.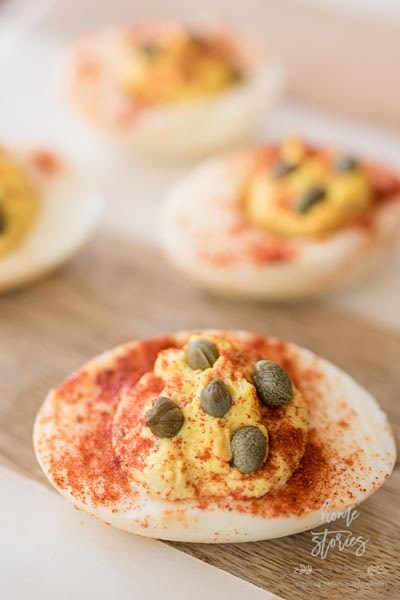 Found from homestoriesatoz.com
12. Avocado Deviled Eggs
Avocado Deviled eggs is a brilliant and easy way to spice up the appetizer party platter with a unique twist on an old favorite.
No mayo needed to create a creamy delicious deviled egg that is KETO friendly, low carb and ready to make its debut.
Found from saltysidedish.com
13. Everything Seasoning Deviled Eggs
These keto, paleo, and Whole30 Everything Seasoning Deviled Eggs make a perfect appetizer or side dish for any get-together!
Even deviled egg-haters love them!
Found from allthenourishingthings.com
14. Sriracha Deviled Eggs
These sriracha deviled eggs are creamy and perfectly spicy, with a back-of-throat tingle you'll just love.
These sriracha deviled eggs are Whole30 and paleo, making them a perfect addition to your primal meal rotation. 
Found from 40aprons.com
15. Jalapeno-lime Deviled Eggs
These Jalapeno-Lime Deviled Eggs aren't your mamma's deviled eggs!
Packed full of chopped fresh jalapeno, cilantro, fresh lime juice, and lime zest, Jalapeno-Lime Deviled Eggs deliver up a zippy little spicy-yet-refreshing flavor punch.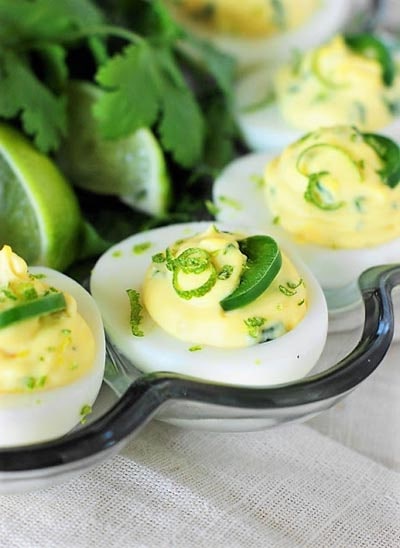 Found from thekitchenismyplayground.com
16. Bacon & Scallions Deviled Eggs Recipe
Perfect for family reunions, church functions, summer picnics and holiday get-togethers, this Bacon & Scallions Deviled Eggs Recipe is easy to make.
A word of caution though: Bring copies of this recipe. Everyone who tries one of these is going to want it.
Found from plattertalk.com
17. Guacamole Deviled Eggs Recipe
Boiled eggs are stuffed with flavorful guacamole to make these guacamole deviled eggs for a perfect BBQ side dish.
Found from eatingrichly.com
18. Pepperoni Stuffed Deviled Eggs
Classic deviled eggs with a delicious flavor burst that makes this BBQ and picnic food even better!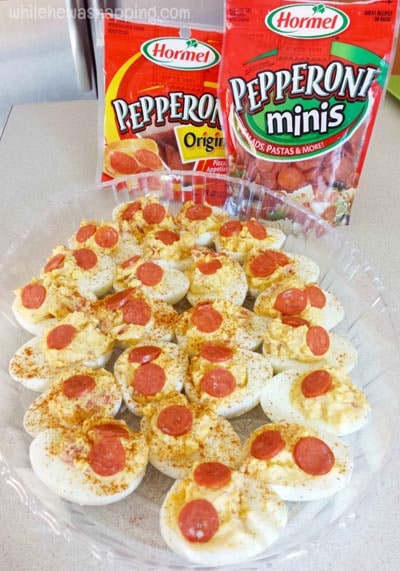 Found from whilehewasnapping.com
19. Bok Choy Deviled Eggs With Bacon
These easy bok choy deviled eggs with bacon are perfect for a party or picnic.
If you love to hide vegetables in foods for your kids, you will love this recipe!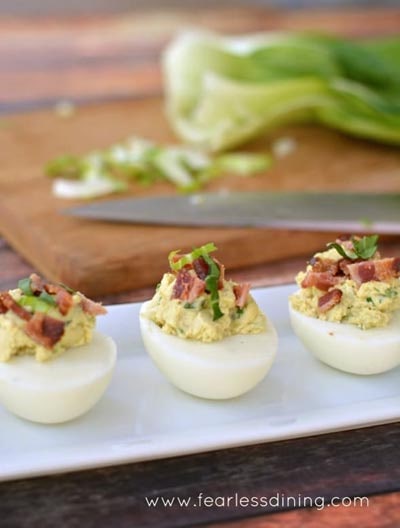 Found from fearlessdining.com
20. Spicy Pimento Cheese Deviled Eggs
These Pimento Cheese Deviled Eggs are extra special, because they are made with pimento cheese and a little heat.
For ease, you can buy your best gourmet pimento cheese or simply make your own.
Found from spinachtiger.com
Also check out these other tasty ketogenic recipes and snacks:
Pin these Keto Friendly Deviled Eggs for later!
If you enjoyed this roundup of Keto Friendly Deviled Eggs, please take a moment to pin it to your keto board on Pinterest so you can easily get back to it later! You can also follow me on Pinterest for more great recipes and ideas!