Looking for yummy treat ideas for Valentine's day to make for your loved ones? Then I've got just the thing! These Valentine's day truffles make for the perfect bite sized desserts to share with that special someone in your life. I love truffles since they're so easy to make and also easy (and yummy) to eat!
You can make a batch of different truffles and also give them as edible gifts to the special people in your life. Just think of how cute they will look in a decorated box or mason jar!
30 Yummy Valentine's Day Truffles – Bite sized treats
Hope you enjoy and get some ideas for V-day!
You can view the full recipe for any of these truffles by clicking on the link corresponding to the picture of what you want to view.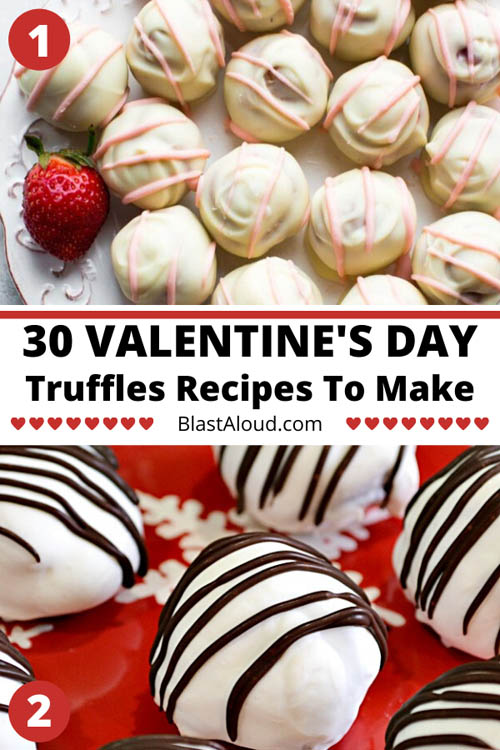 1. 5 Ingredient Strawberry Cheesecake Truffles
Easy 5 ingredient strawberry cheesecake truffles made with cream cheese, fresh strawberries, white chocolate, and graham crackers.
Found from sallysbakingaddiction.com
2. ChocolatRouge Wine Truffles
These festive ChocolatRouge Wine Truffles are for adults only. Sinfully full of decadent chocolate with a hint of chocolate wine.
Found from ladybehindthecurtain.com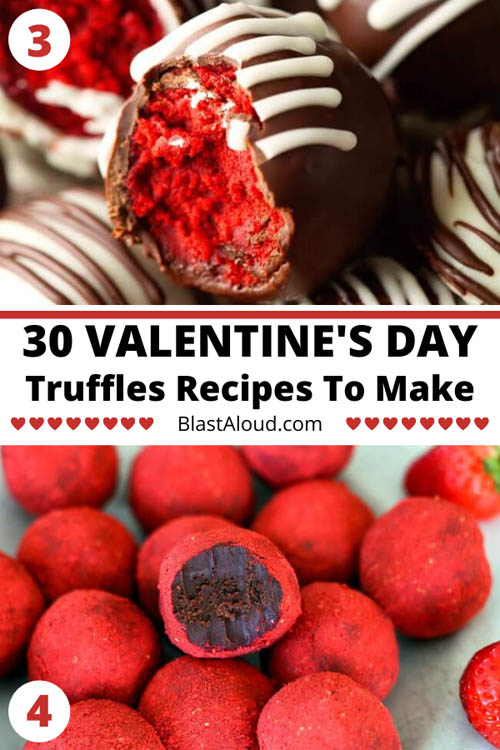 3. Red Velvet Cake Truffles
Red Velvet Cake Truffles are the ultimate Valentine's Day treat. Be prepared to fall head over heels for these sweet bites!
Found from julieseatsandtreats.com
4. Chocolate Covered Strawberry Truffles
Skip the candy store and make these deliciously creamy strawberry-infused dark chocolate truffles at home.
These Chocolate Covered Strawberry Truffles get their bright red color from freeze-dried strawberries.
Found from imperialsugar.com
5. Easy No Bake Oreo Cookie Truffles
A super easy recipe for no-bake Oreo cookie truffles with just 3 ingredients! You can use a silicone mold to make them into fun shapes.
Found from busybliss.com
6. Chocolate Orange Truffles
These chocolate orange truffles make the perfect valentine's day gift. The recipe makes 25 truffles, so 10 for him and 15 for you!
Found from brit.co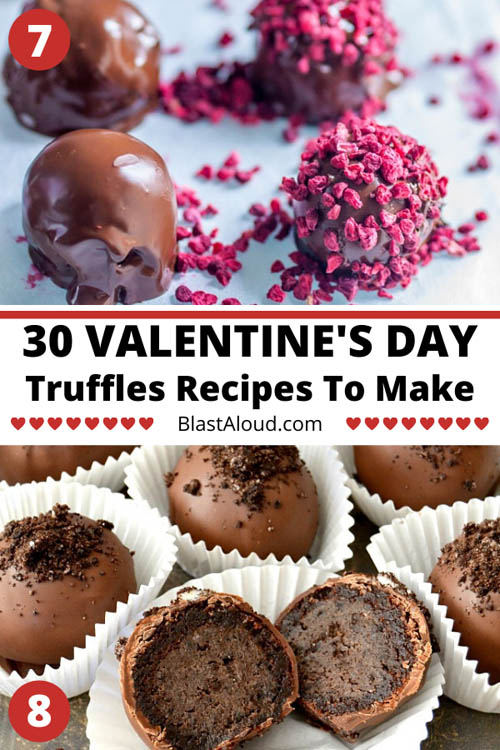 7. No Bake Raspberry Chocolate Truffles
These no bake decadent Raspberry Chocolate truffles are your perfect recipe for Valentine's day!
Very simple to make and yet very impressive, much more personal than store-bought chocolates.
Best of all, they are vegan and made healthier with just natural ingredients!
Found from myfoodandhappiness.com
8. Oreo Truffle Brownie Bombs
These Oreo Truffle Brownie Bombs are a chocoholic's dream come true! Easy, no-bake Oreo truffles are surrounded by a fudgy baked brownie and coated in chocolate!
Found from thedomesticrebel.com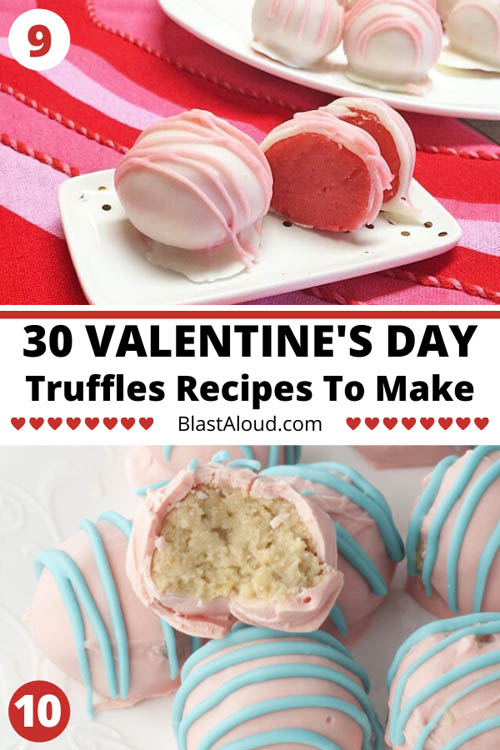 9. Homemade Strawberry Truffles
These Homemade Strawberry Truffles are a cinch to make. And they are also DELICIOUS!
Your loved ones and family will love this fun treat for Valentine's Day – or any day!
Found from lifeshehas.com
10. Cotton Candy Oreo Truffles
Cotton Candy Oreo Truffles have that childhood favorite cotton candy flavor and are the perfect dessert for summer, baby showers, Valentine's Day, or Mother's Day.
Found from wishesndishes.com
11. Red Velvet Truffles
Make someone you love these decadent and rich Red Velvet Truffles for Valentine's Day this year! They'll definitely love you for it!
Found from crazyadventuresinparenting.com
12. White Chocolate Oreo Truffles with Raspberry Surprise
This recipe is of a no bake, super easy and super delicious white chocolate Oreo truffle.
And to give it a little twist for Valentine's day, there's some raspberry jam in the center so that when you bite into it, other than the soft Oreo truffle you also have a raspberry surprise in the center!
Found from cookwithmanali.com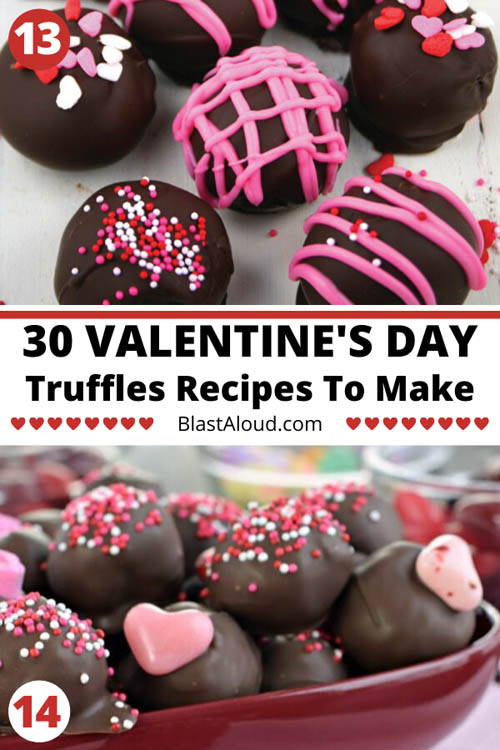 13. 3-ingredient Berry Oreo Truffles
These are to die for! And so super easy. Just 3 ingredients – berry flavored Oreos, cream cheese and chocolate!
Found from momlovesbaking.com
14. Chocolate Covered Cherry Truffles
Chocolate Covered Cherry Truffles for your love! You can whip them in an afternoon for the sweetest Valentine's Day yet.
Found from shugarysweets.com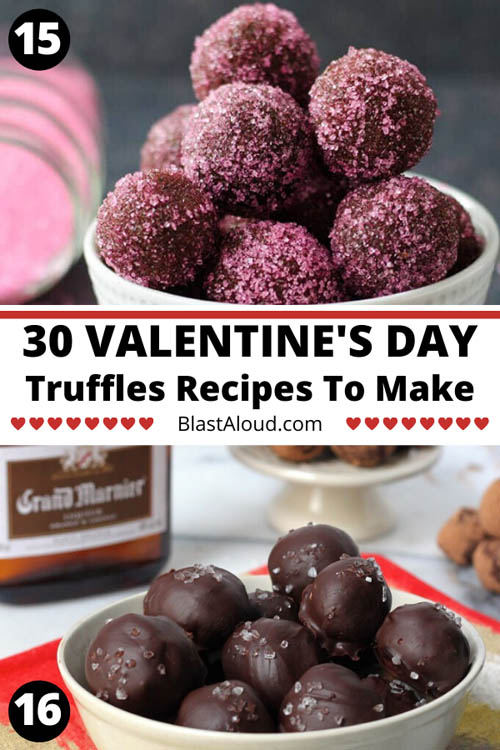 15. Easy Valentine's Day Truffles
Valentine's Day Truffles will make your beloved one feel special. These are easy, rich and decadent chocolate truffles. A cheap yet elegant gift!
Found from giverecipe.com
16. Grand Marnier Truffles
Rich and Creamy Grand Marnier Truffles are made with just 8 simple ingredients. Spiked with orange-flavored liqueur, they make a delicious gift to give during the holiday season!
A must try for anyone who loves the combination of orange and chocolate.
Found from bakerbynature.com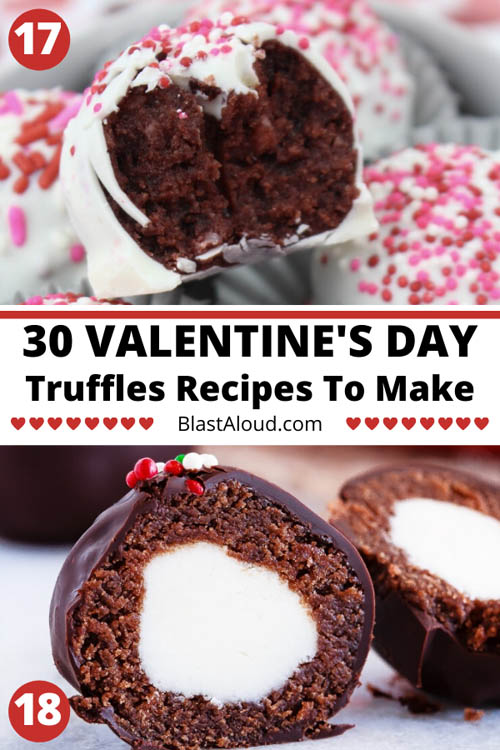 17. Red Velvet Oreo Truffles
These Red Velvet Oreo Truffles feature a delicious red velvet oreo cheesecake filling enrobed in white chocolate. They are a perfect Valentine's Day treat for your sweetie!
Found from lifeloveliz.com
18. Peppermint Brownie Truffles
Rich, delicious, peppermint brownie truffles – a homemade peppermint patty filling surrounding by rich brownie crumbles and coated in chocolate!
Found from bake-eat-repeat.com
19. Cherry Chocolate Chip Cookie Dough Truffles
A delicious treat for Valentine's Day. These Cherry Chocolate Chip Cookie Dough Truffles are packed with maraschino cherries, homemade cookie dough and festive M&M's.
Found from shugarysweets.com
20. Raspberry Cheesecake Truffles
Raspberry Cheesecake Truffles are delicious, sweet and tart bites of creamy cheesecake filling stuffed inside a rich chocolate shell. These truffles make the perfect Valentine's Day dessert!
Found from omgchocolatedesserts.com
21. No Bake Lemon Truffles
This simple four ingredient cake mix recipe can be made in just a few minutes which makes Lemon Truffles the perfect easy dessert recipe.
There are just a few ingredients needed and from start to finish you can have these Lemon Truffles plated in less than a half hour.
Found from kenarry.com
22. Raspberry Chocolate Truffle Recipe
Raspberry and dark chocolate come together in this Raspberry Chocolate Truffle recipe to create the most beautiful and delicious raspberry truffles you will ever make.
They are tart and sweet, with an amazingly colorful center. They are perfect for an everyday sweet treat as well as for a special occasion, such as for Valentine's day!
Found from wildwildwhisk.com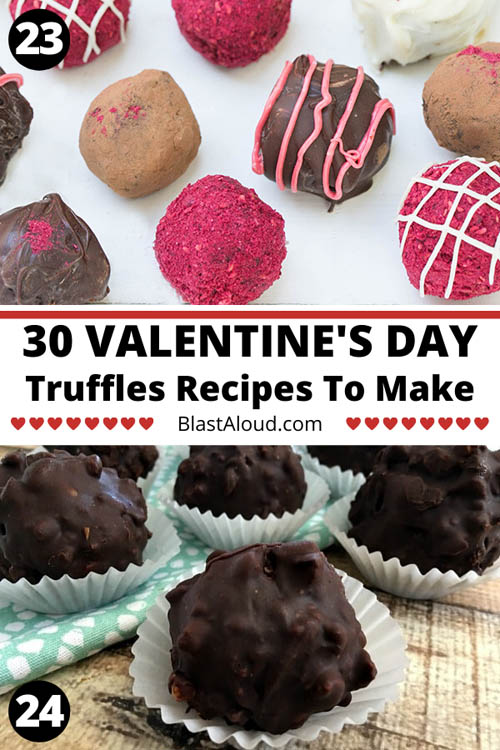 23. Red Wine Chocolate Truffles
These red wine chocolate truffles are exquisite!
The chocolate and berry flavors, in this no-bake dessert, match so well!
Plus, this is a really easy chocolate truffle recipe to make. They're great for special parties or as a gift…or just for you!
Found from sugarandcharm.com
24. Nutella Hazelnut Chocolate Truffles
Umm, Nutella truffles? Yes please! Everyone will love you when you show up with these!
If you want a bit more color, you can easily add some heart sprinkles for V-day!
Found from freebiefindingmom.com
25. Healthier Valentine's Day Truffles
You won't believe what's packed into these delicious bite sized truffles!
So good and so healthy, you can eat as many as you want! Happy Valentine's Day!
Found from hipfoodiemom.com
26. Red Velvet Oreo Truffles
This recipe will give you a dozen yummy balls that are perfect for Valentine's Day.
You can change up the sprinkle colors to make them for other holidays, too!
Found from momontheside.com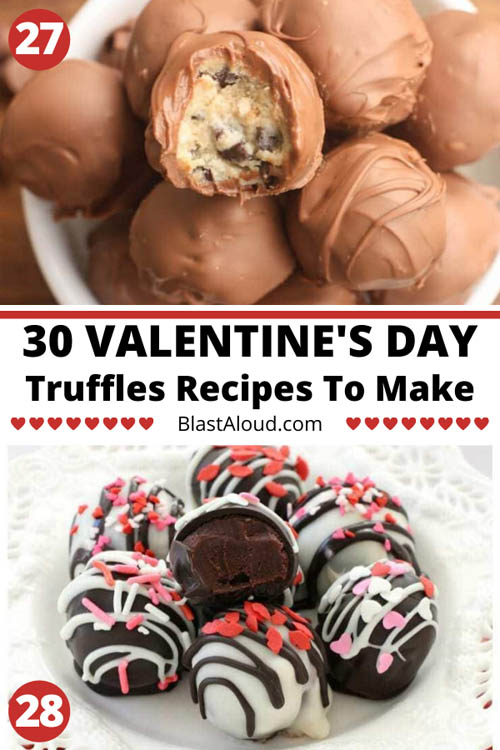 27. Chocolate Chip Cookie Dough Truffles
These Chocolate Chip Cookie Dough Truffles win on all counts. A simple, egg-free cookie dough recipe dipped in melted chocolate. They're amazing!
Found from tastesbetterfromscratch.com
28. Sweetheart Truffles
These simple Chocolate Sweetheart Truffles are smooth, creamy and perfectly sweet; your sweetheart will swoon over these tasty little treats!
A few simple ingredients come together to make delicious, smooth & rich chocolate truffles.
Add a festive touch with contrasting chocolate and colorful Valentine's Day sprinkles on top!
Found from butterwithasideofbread.com
29. Simple Homemade Truffles
What chocolate lover wouldn't be thrilled with rich, decadent truffles for Valentine's Day?
Instead of heading to the nearest chocolate shop, pick up a few items from the market and make these simple homemade truffles with your own two hands!
Found from  mybakingaddiction.com
30. Valentine's Day Gelato Truffles
Three flavors of homemade gelato made into bite-sized truffles that are dipped in chocolate then covered in sprinkles. Trust me, everyone will absolute love these!
Found from cookingwithjanica.com
Looking for more yummy Valentine's Day ideas? Then check out these posts:
Don't forget to pin these Valentine's Day Truffles!
Loved this roundup of Valentine's Day Truffles? Then please take a moment to share it and pin it to your Valentine's Day board on Pinterest! That way, you can easily come back to it later closer to the day!
Remember to follow me on Pinterest too for more yummy recipes and fun ideas!